I was introduced to macarons during my first trip to Paris when I was 14 years old.  At the time, I didn't care too much for the dainty little treat as I was more obsessed with breads and pastries.  Years later, I fell madly in love with macarons in 2009.  My mother was helping me move into my dorm at St. Helena for culinary school.  We made a quick stop at Bouchon Bakery in Yountville and ordered every flavor they had for the day.  And while my mom hates to admit it, we devoured them all.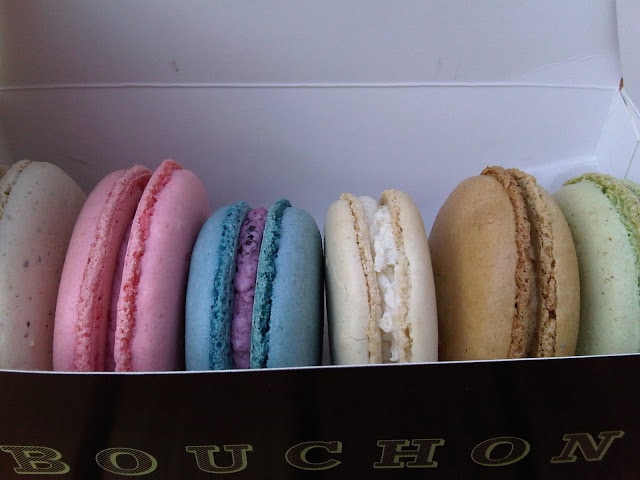 I love macarons when they are done well.  And Bouchon sure knows how to do them.  Along with Paulette and Bottega Louie in Los Angeles.
It seems like macarons are popping everywhere.  I hear that macarons are supposed be the next big thing However, I have a hard time believing that macaron shops are going to be opening up like wildfire, the way cupcake shops did. While its hard to find someone that doesn't like macarons, they can be a bit difficult to make.  Ugh, I sure have had my share of macaron failure stories.  I'm still trying to find the perfect recipe.
To me, the perfect macaron should have a nice smooth, egg shell-like crust. (I didn't grind my almonds fine enough so my crust is a little bumpy)  The interior should be soft, moist and a little chewy.  I absolutely hate macarons that have a hollow interior.   French macarons traditionally have the little feet that go around the bottom of each cookie.  And finally, the filling should complement the sweet macaron.
I recently bought a jar of raspberry preserves and a bag of white chocolate chips from Trader Joe's.  Next thing you know, I'm making raspberry white chocolate macarons.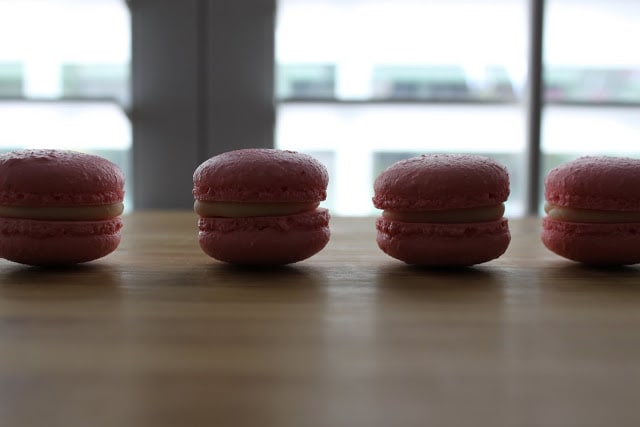 Once I have fine tuned my macaron recipe I will be sure to post it up.