This Peanut Butter Honeycomb Pie features a graham cracker crust, creamy peanut butter filling, and homemade honeycomb.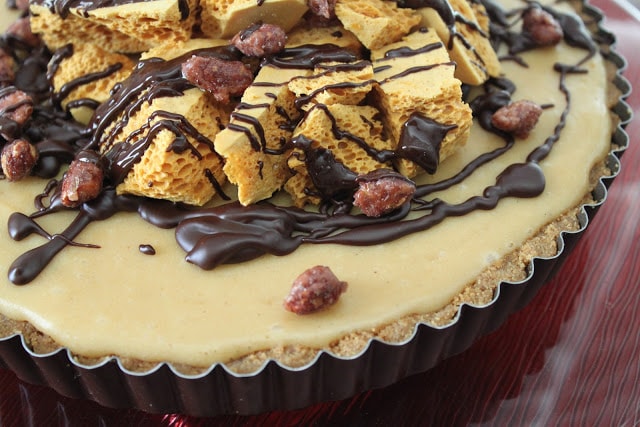 Flipping through the latest issue of Bon Appetit I found this awesome recipe for Peanut Butter Honeycomb Pie.
I must warn you. This dessert is super rich and decadent. The Bon Appetit website estimates a slice of this peanut butter honey pie is close to a 1,000 calories.
Yes. 1,000 calories. That's half of the daily caloric intake an average person should be consuming.
Oh well. A dessert is just an occasional treat. This pie is perfect for birthdays, milestones, and holidays. It's the kind of treat that should only be enjoyed once a year.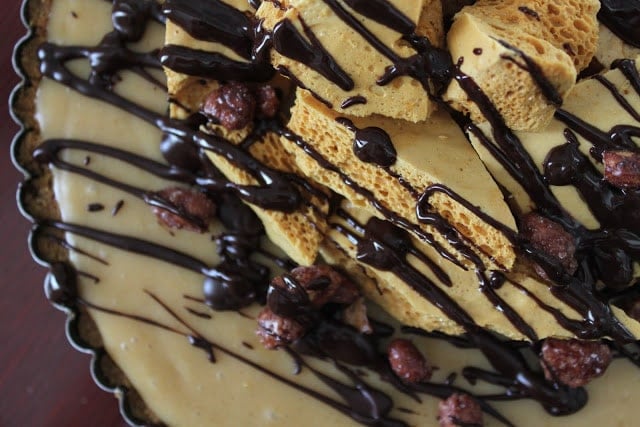 recipe can be found through this link
Fans of the Australian chocolate bar Violet Crumble will love this pie. It's a popular candy bar through Hawaii and Asia. As such, I ate a lot of it growing up.
The combination of honeycomb and chocolate is a perfect duo. Matched with the creamy peanut butter filling and crunchy graham cracker crust, this peanut butter honeycomb pie is absolutely heavenly!
Peanut Butter Honeycomb Pie