These baked chocolate hazelnut crunch donuts are a great alternative to traditional fried doughnuts. They are dipped in chocolate glaze and topped with chopped roasted hazelnuts.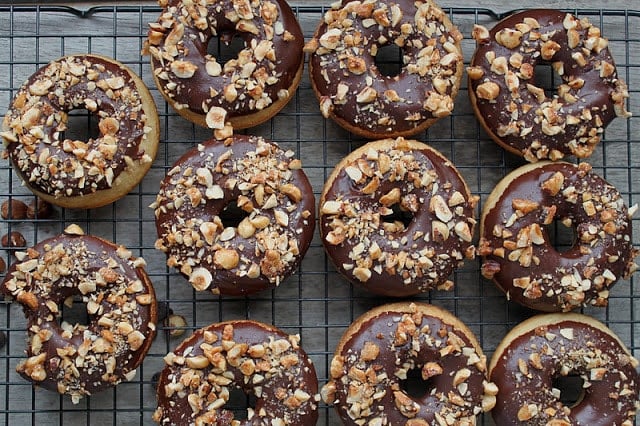 Chocolate and hazelnuts. Such a winning combination. Think about the success of Nutella, Ferrero Rocher, and Perugina Baci. Such delicious and delectable treats.
Now combine that with donuts and I introduce to you, chocolate hazelnut crunch donuts.
Ever since I visited
Portland this summer
I have become obsessed with donuts. Especially those from Voodoo Doughnuts.
With crazy flavors like the Memphis Mafia which had banana chunks, cinnamon sugar, chocolate frosting, peanut butter, peanuts and chocolate chips all piled on a fried piece of dough, its no surprise that my boyfriend and I were hooked.
It also didn't help that they had a 24 hour location walking distance from our hotel. I don't want to talk about how many times I wandered over there.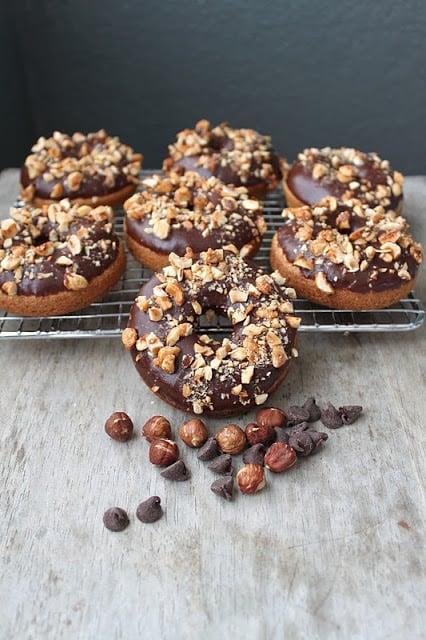 I really need to get over my fear of hot oil so I can make some proper fried donuts. In the meantime, I'll stick to baked donut making. I had so much fun with my
mini Halloween donuts
that I ended up purchasing the large donut molds as well.
Too often, I buy kitchen gadgets and baking tools that end up unused, tucked somewhere in my pantry never to be seen again. Luckily, these donut molds are destined with a better fate.
Especially with Christmas around the corner, I know friends and family will be asking me to make holiday inspired donuts. No complaints. I already have some ideas in mind.
I'm thinking apple cider donuts drizzled with some bourbon caramel or peppermint chocolate donuts dipped in white chocolate and sprinkled with crushed candy canes.
What do you think? Any suggestions?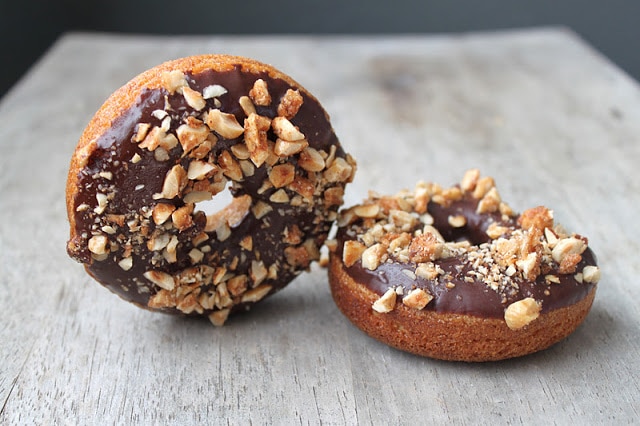 Chocolate Hazelnut Crunch Donuts
Yield: 6 standard sized donuts
Ingredients
Baked Donuts:
3/4

cup

all-purpose flour

1/4

cup

pastry flour

1/2

cup

granulated sugar

2

Tablespoons

light brown sugar

1

teaspoon

baking powder

1/4

teaspoon

baking soda

1/4

teaspoon

ground nutmeg

1

teaspoon

ground cinnamon

1/4

teaspoon

fine sea salt

3

Tablespoons

dried buttermilk powder

2

large eggs, room temperature

3

Tablespoons

vegetable oil

2

Tablespoons

water
Hazelnut Crunch:
1

large egg white

1

cup

hazelnuts, blanched, lightly toasted and roughly chopped

2

Tablespoons

granulated sugar

1/4

teaspoon

fine sea salt

1/4

teaspoon

ground cinnnamon
Chocolate Glaze:
3/4

cup

semisweet chocolate chips

3

Tablespoons

unsalted butter

1

Tablespoon

light corn syrup
Instructions
Baked Donuts:
Preheat oven to 375 degrees F. Lightly grease donut pans.

Whisk together flours, sugars, baking powder, baking soda, nutmeg, cinnamon, salt, and dried buttermilk powder. In another bowl, whisk together eggs, oil, and water

Pour all of the mixed wet ingredients into the large bowl with the dry ingredients. Fold together until batter is smooth and there are no more traces of the dry mixture.

Transfer batter into a large piping bag fitted with a large piping tip. (I used an 18 mm tip) Pipe batter into the donut pans, filling each cavity until half full.


Bake for 10-12 minutes or until cake springs back when lightly touched. Remove from the pan and let cool on rack.

Hazelnut Crunch:
Preheat oven to 325 degrees F.

If you have raw hazelnuts with skins on, toast them lightly in a preheated 325 degree F oven for 7-10 minutes. Rub the toasted nuts together using a kitchen towel to remove the skins. Once cooled, roughly chop the nuts. Set aside.

Hand whisk the egg whites until foamy. Pour in the chopped hazelnuts and stir to coat evenly with the whites.

Sprinkle sugar, salt, and cinnamon over the nuts. Spread the nuts onto a parchment lined sheet tray. Bake for 10-15 minutes, stirring the nuts halfway thru, until almonds look golden. Remove the nuts from the parchment before allowing to cool. If chunks have formed, break into smaller pieces. Set aside until ready to chocolate dip donuts.
Chocolate Glaze:
Over a bain-marie, melt together chocolate, butter, and corn syrup. Stir until chocolate mixture is silky and smooth. To make sure the chocolate does not overheat, keep the bain-marie at low heat (keep the water from boiling).

Let the chocolate cool slightly and thicken a little bit before dipping cooled donuts in and sprinkling with hazelnuts.