Prepare this Overnight Steel Cut Oatmeal the before you go to bed and wake up to a quick, easy, and healthy breakfast!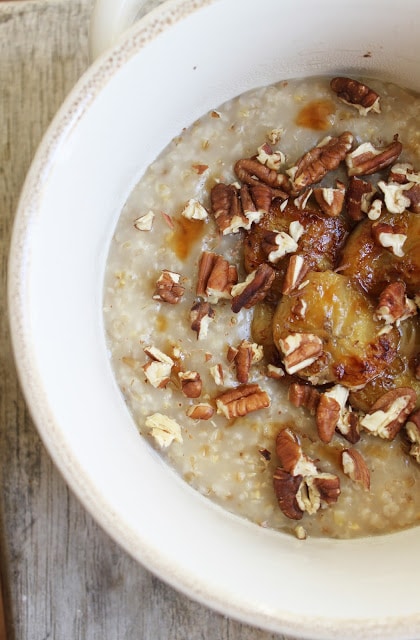 Breakfast is my favorite meal of the day. Forget alarm clocks. Nothing wakes me up faster than the sweet smell of breakfast in the morning.
Plus, breakfast is the one meal that its totally appropriate and acceptable to eat sweets (think: donuts, cinnamon rolls, maple drenched pancakes, chocolate croissants).
And then there are other mornings when you feel guilty that you had a little too much chocolate cake the night before and your body is aching for something healthy and filling.
What are steel cut oats?
Steel cut oats, also known as Irish oatmeal or coarse oatmeal, is less processed than the more popular old fashioned or rolled oats. Steel cut oats are simply whole oats that have been cut into smaller pieces, meaning they've got a ton of nutrients.
As such, steel cut oats take some time to cook, upwards to 40 minutes.

Why cook steel cut oatmeal overnight?
I'm used to the pre-packaged oatmeal. You know, the one that requires to just add water, microwave, and voila, you have instant oatmeal.
In the morning, I am usually too rushed or too hungry to wait half an hour or more for good wholesome homemade oatmeal.
This overnight oatmeal is heaven sent. It just requires a little preparation the night before and you are off to a wonderful morning.
Good morning, steel cut oatmeal.
Overnight Steel Cut Oatmeal
Yield: serves 2
Ingredients
2 1/2

cup

water

1/2

cup

steel cut oats, also called Irish or Scottish oats

1/2

teaspoon

fine sea salt

1

Tablespoon

honey

2

Tablespoon

dark brown sugar

2

Tablespoons

toasted pecans, roughly chopped

1

banana, sliced

1-2

Tablespoons

granulated sugar
Instructions
Bring 2 1/2 cups water to a boil. Remove from heat. Add 1/2 cup steel cut oats and cover. Let sit overnight.

In the morning, uncover pot. The mixture should be creamy and slightly thickened. Add salt, honey, and brown sugar. Stir and bring to a boil. Let boil for about 30 seconds then reduce heat and let simmer uncovered for 5-8 minutes stirring occasionally.

While oatmeal is heating, heat up a sauté pan. Sprinkle a little sugar. Wait for the sugar to get warm then place banana slices on top. Let sugar caramelize. Sprinkle sugar on top banana slices then flip. Allow other side to caramelize. Transfer caramelized bananas to small bowl.

Once oatmeal is to your desired consistency, ladle into serving bowls. Adjust sweetness adding more sugar or honey to taste. Sprinkle toasted pecans and caramelized bananas on top. Enjoy your healthy and satisfying breakfast.