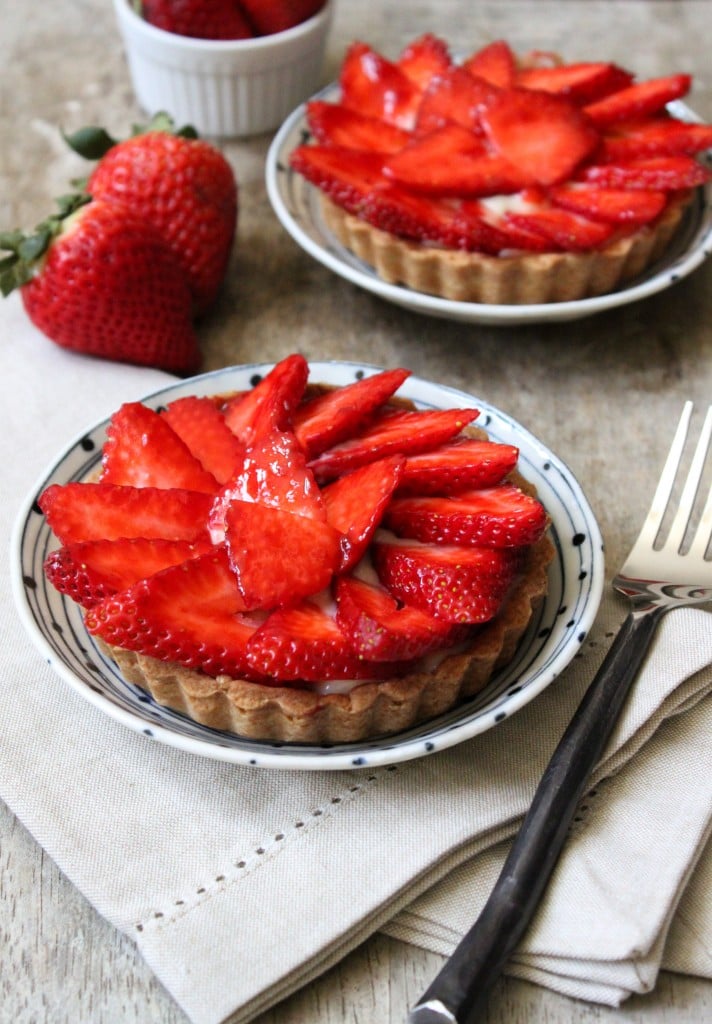 Fresh sweet strawberries.  Rich and luscious pastry cream.  Buttery shortbread tart shell.  A delicious combination of my dad's favorites, a strawberry tart is perfect for his celebrating his 69th birthday.
Some dads are sports fanatics, some are into electronics and technology, others are chefs and grill masters, and then there is my dad who is the hardest person to shop for.  He never wants to buy anything for himself and often uses the excuse that he doesn't need anything.  My dad makes it his duty to simply provide and give to our family.
My dad has been my hero since day one.  He has always been there whenever I needed him.  He picks me up whenever I fall, offers to take me shopping whenever I'm sad, and always has good movie and TV show recommendations.  He has supported me in all my (crazy and sane) endeavors.  He laughs at all my jokes (even when they aren't funny or even when he doesn't understand the punch line).  He thinks everything I cook or bake is delicious, and everything I draw or paint is a masterpiece.
I am very lucky and fortunate; I've grown up pampered and well-taken care of.  My dad probably doesn't know that we (my mom, my brother, and I) notice every little thing he does for us.  Whenever I visit home, he suddenly disappears and comes back handing me my car keys.  He'll tell me that he went out to fill my gas tank.  Somehow, the trash magically gets taken out every night.  Dishes from dinner and midnight snacks are always washed and put away.  Without fail, there are bottles of water in the garage and juice in the fridge. On weekend mornings, he is the first to wake and leave the house.  Before my mom is up, he goes to the farmer's markets around the area in search for the best fruits and/or prettiest flowers to surprise my mom with.  It's not really much of a surprise nowadays because he's been doing it every weekend since he retired.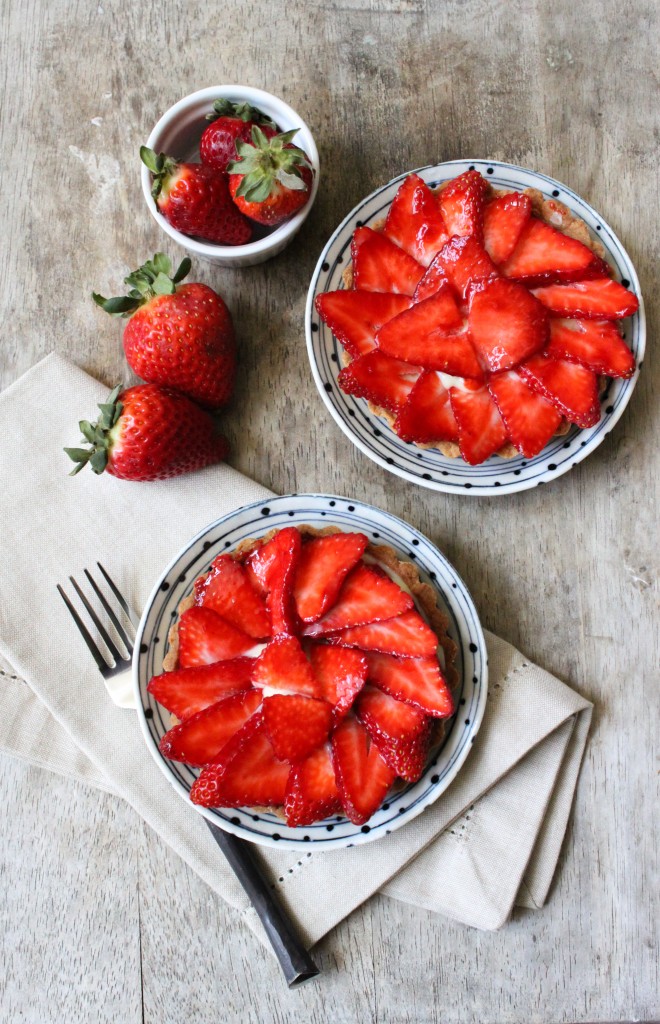 He is the smartest, wisest, and most practical person I know.  He loves unconditionally despite the many antics my brother and I pull and the challenges and obstacles we bring.  He has taught me many things about life– but mostly to enjoy it, be happy, and sing out loud despite where you are, who is listening, or your incorrect lyrics.
It's a good thing that strawberries are in season all year round in California.  I can make this dessert all the time to show my dad how much I appreciate and love him.  Through this simple dessert, show him how important he continues to be in our family and how sweet our lives are because of him.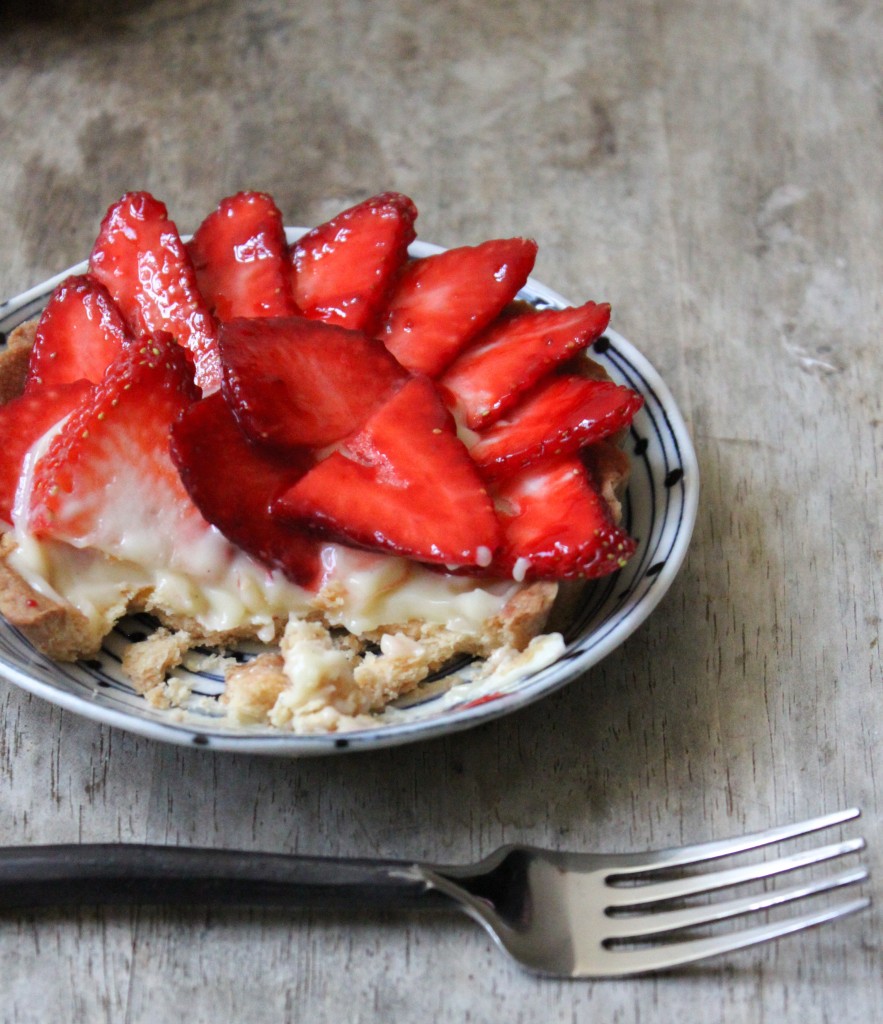 Strawberry Tart, adapted from Culinary Institute of America: Baking at Home
Tart Dough, makes 5- 4 inch tartlets or 1- 8 inch tart
Ingredients
8 Tbsp (1 stick) unsalted butter, softened, room temperature
1/4 cup granulated sugar
1/4 tsp fine sea salt
1/2 tsp vanilla extract
1 large egg yolk
1 1/2 cups cake flour
Method
1.  In the bowl of stand mixer fitted with a paddle attachment, cream together butter, sugar, salt, and vanilla on medium speed.  Mix until smooth.  Scrape down the sides of the bowl as needed.
2.  Add the yolk and continue to mix on medium speed until incorporated.  Add all the flour and mix on low until the dough is crumbly and moist- about 45 seconds.
3.  Dump dough onto a lightly floured surface and press dough together into a cohesive mass.  Press down until dough is about 1/2inch thick.  Wrap tightly in plastic wrap and let chill in the refrigerator for at least 30 minutes.
4.  Preheat oven to 400 degrees F.
5. Place chilled dough on a lightly floured surface.  Divide into 5 equal parts.  Working with one piece at a time, sprinkle a little flour on the top of the dough.  Roll it out into an even layer circle about 1/4" thick and about 1/2" larger than the tartlet pan.  Gently lift the dough and position it over the tartlet pan.  Using your fingertips, gently press the dough against the sides and bottom of the pan.  Use a knife or mini offset spatula to trim the overhang over the edge of the pan.  Repeat with remaining pieces.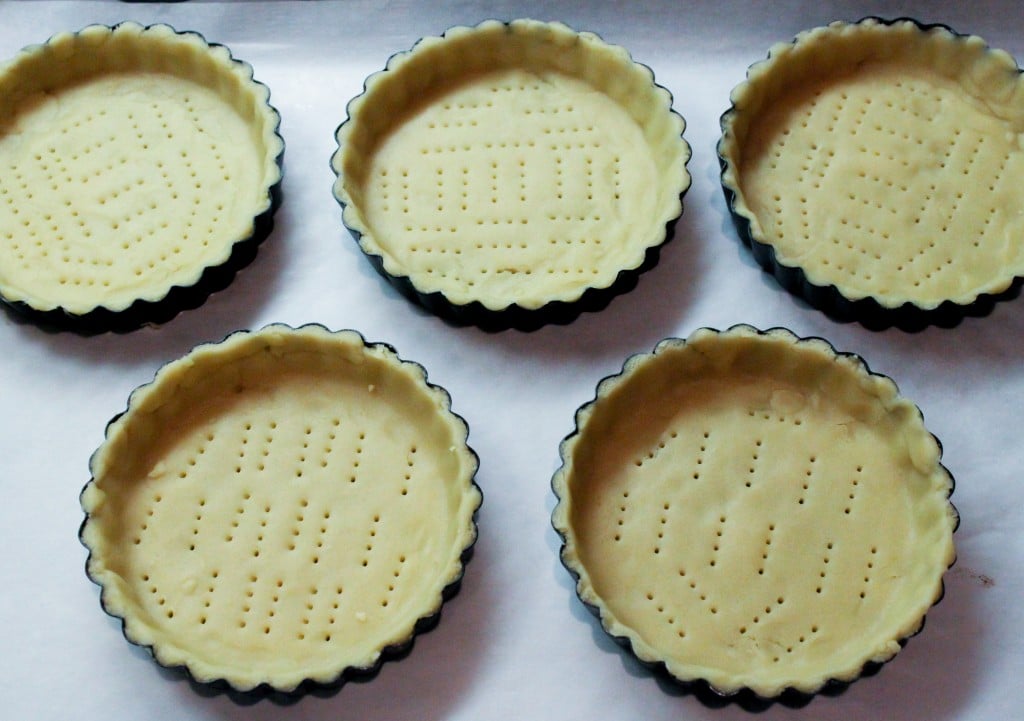 6.  Use a dough docker or a fork to dock/punch holes in the bottom of the dough.  Bake tart shells in preheated oven until shell is a nice golden brown throughout- about 15-20 minutes.  Let the crust cool in pan for 5 minutes because unmolding and allow to cool completely on wire rack.
Vanilla Bean Pastry Cream, makes about 2 cups
Ingredients
1/3 cup cornstarch
3/4 cup granulated sugar (divide into 1/2 cup and 1/4 cup)
2 cups whole milk (divide into 1 1/2 cup and 1/2 cup)
4 large egg yolks
1/8 tsp fine sea salt
2 tsp vanilla bean paste, or 1 vanilla bean split and scraped, or 2 tsp vanilla extract
2 Tbsp unsalted butter
Method
1.  Line a half-sheet baking pan with plastic wrap, make sure the sides of the tray are also covered.  Set aside.
2.  Pour 1 1/2 cup of milk into a large heavy bottomed saucepan.  Add salt and 1/2 cup sugar.  Whisk together.  Place over medium-high heat and bring to a boil.  Stir occasionally to make sure the milk does not burn along the sides or bottom of the pan.
3. Meanwhile, in a medium bowl, whisk together cornstarch and 1/4 cup sugar.  Add in remaining 1/2 cup of milk and yolks.  Whisk until smooth.
4. When the milk has boiled, slowly add a little bit of the milk into the egg mixture.  Whisk constantly to distribute the heat.  Continue to pour and whisk until only a couple tablespoons of milk are left the saucepan.  Then pour the egg-mik mixture back into the saucepan.
5.  Whisk constantly over medium heat until the custard has thickened. Keep whisking and let the custard come to a boil to cook the cornstarch out.  Remove from heat. Whisk in butter, whisk until smooth.  Add vanilla and whisk until combined.
6. Pour the hot pastry cream into the prepared plastic wrapped sheet pan.  Spread evenly.  Cover with plastic wrap and freeze for 10-15 minutes until the pastry cream has cooled to room temperature. Remove from freezer and continue to cool in refrigerator until ready to use.
Assembly
Components
baked and cooled tart shells
1/3 cup strawberry jam
1/4 cup melted white, milk, or dark chocolate (optional)
2 cup pastry cream
2 pints fresh strawberries, washed, hulled and sliced
Method
1. Heat the jam in saucepot over low heat until it is loose and warm.  Alternatively, microwave the jam.
2. Brush the bottoms of the tart shell with chocolate, if using.  This will help keep the bottom of the tart crispy and prevent it from getting soggy. Let chill in the freezer for a couple of minutes to harden chocolate.
3. Refresh the pastry cream by giving it a good whisk.  Using a small ice cream scooper, distribute pastry cream among the tart shells.  Spread into an even layer.
4.  Arrange the strawberries over the pastry cream.  Use a brush to lightly coat the strawberries with the warm jam.  Let the glaze set up in the fridge for at least 10 minutes.  Serve immediately or keep it covered in the fridge for up to 2 days.