Move over strawberry shortcakes, these lemon thyme biscuits with mixed berries are a modern twist on a classic favorite.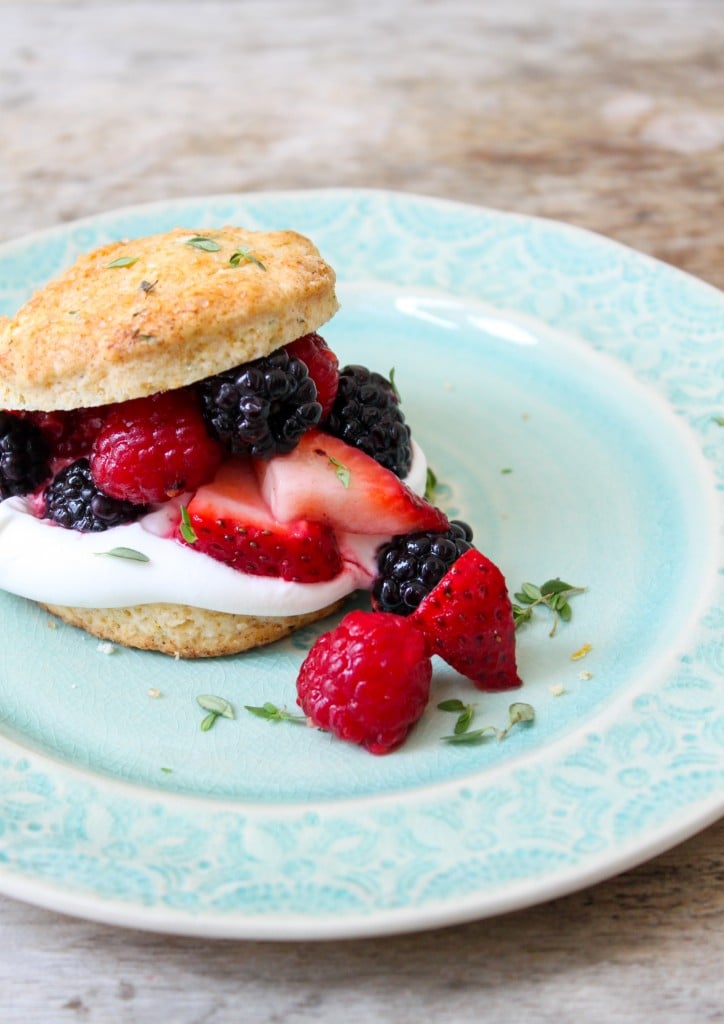 Why does it feel like time happens faster and faster the older I get?  Monday felt like yesterday but tomorrow is already Saturday.  You know what helps me slow down time and always keeps me feeling young?  Dessert.
Dessert is my secret fountain of youth.  Its why 95% of what I make on my blog is sweet.
Don't believe me?  I am 27 years old and I still get carded when I try to buy rated R movie tickets (17+) or order a glass of wine (21+).  I'm telling you, dessert is the key.
Let me prescribe you this lemon thyme biscuit with a berry medley and a dollop of fresh whipped cream.  It'll takes years off your face, relax your tired feet, and rejuvenate your youthful energy. Okay, I can't promise you miracles, but it will sure excite your taste buds.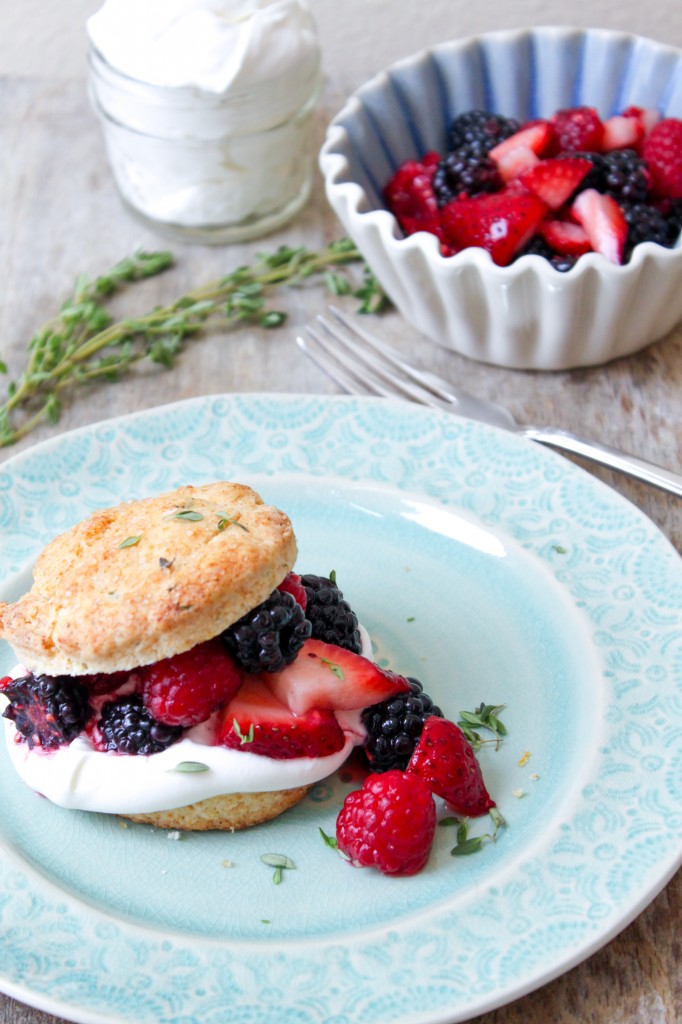 I don't normally make desserts with herbs.  I associate herbs with savory foods like grilled lamb kabobs with mint pesto or roasted red snapper with rosemary.  And then I met lemon thyme, and my whole understand of herbs changed.
I accidentally picked up lemon thyme instead of my regular thyme at the market.  I didn't even know this herb existed.  And now I can't stop using it.  (It was the kick I needed in my green pea soup.)
Today, I was feeling adventurous and decided to try lemon thyme out in a sweet application.  Biscuits are the perfect base to experiment with herbs and spices.  Plus, who doesn't love biscuits?
Biscuits are one of the easiest and quickest breads to make.  It can accompany any meal, including dessert.  Strawberry shortcakes are great, but lemon thyme biscuits with mixed berries are better.
Enjoy the weekend with this lovely treat.  Kick up your feet, let down your hair, and let time slowly pass.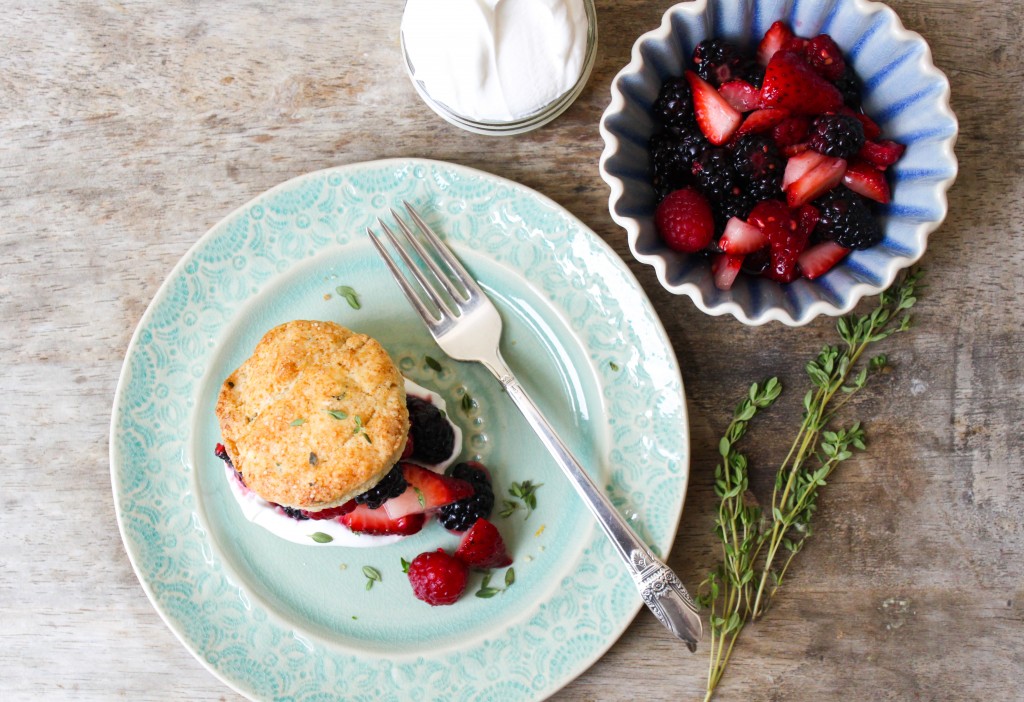 Lemon Thyme Biscuits with Mixed Berries and Whipped Cream
Ingredients
Lemon Thyme Biscuits:
1 1/2

cups

all-purpose flour

1/2

teaspoon

fine sea salt

2

Tablespoons

granulated sugar

2

teaspoons

baking powder

1

Tablespoon

fresh lemon thyme leaves, chopped

finely grated zest of 1 lemon

6

Tablespoons

unsalted butter, sliced into small cubes, chilled

3/4

cup

heavy cream

1

teaspoon

turbinado sugar
Berries:
4

cups

berries or fruits of choice

2-4

Tablespoons

granulated sugar, depending on sweetness of fruits

juice of 1 lemon
Whipped Cream:
1 1/2

cups

heavy cream, chilled

3

Tablespoons

powdered sugar
Instructions
Lemon Thyme Biscuits:
Preheat oven to 400 degrees F. Line baking sheet with parchment paper.

In a large bowl, whisk together flour, salt, sugar, baking powder, lemon thyme, and lemon zest.

Add chilled butter cubes to dry mixture. Cut in butter using a pastry blender, a fork, or your fingers until mixture resembles coarse sand.

Reserve 1 Tbsp of heavy cream. Pour remaining cream into mixture and stir until combined. Turn dough onto a lightly floured surface and gently pat/roll out to a little over 1/2 inch thickness.

Cut biscuits using a 2 1/2 inch round cutter dipped in flour. Arrange biscuits on prepared baking sheet. Gather remaining dough and roll out again to punch out more rounds.

Brush reserved 1 Tbsp of heavy cream over the tops of biscuits. Sprinkle with turbinado sugar. Bake for 15-18 minutes until biscuits are golden.
Berries:
Rinse and dry berries of choice. If using strawberries, slice into smaller segments.

Add 2-4 Tbsp of sugar, depending on the sweetness/tartness of berries. Add juice of 1 lemon. Toss to combine. The addition of sugar will draw juices out of fruit, creating a light syrup.

Whipped Cream:
In a clean bowl, add chilled heavy cream and powdered sugar. Using a whisk, beat cream until medium-firm peaks. Do not over mix because the cream will separate or turn into butter. Alternatively, place cream and powdered sugar in a large jar with a lid and shake until cream thickens.