This s'mores pie is a sophisticated s'more that deems to be eaten with a fork. It includes the components of a traditional s'more updated into a modern pie!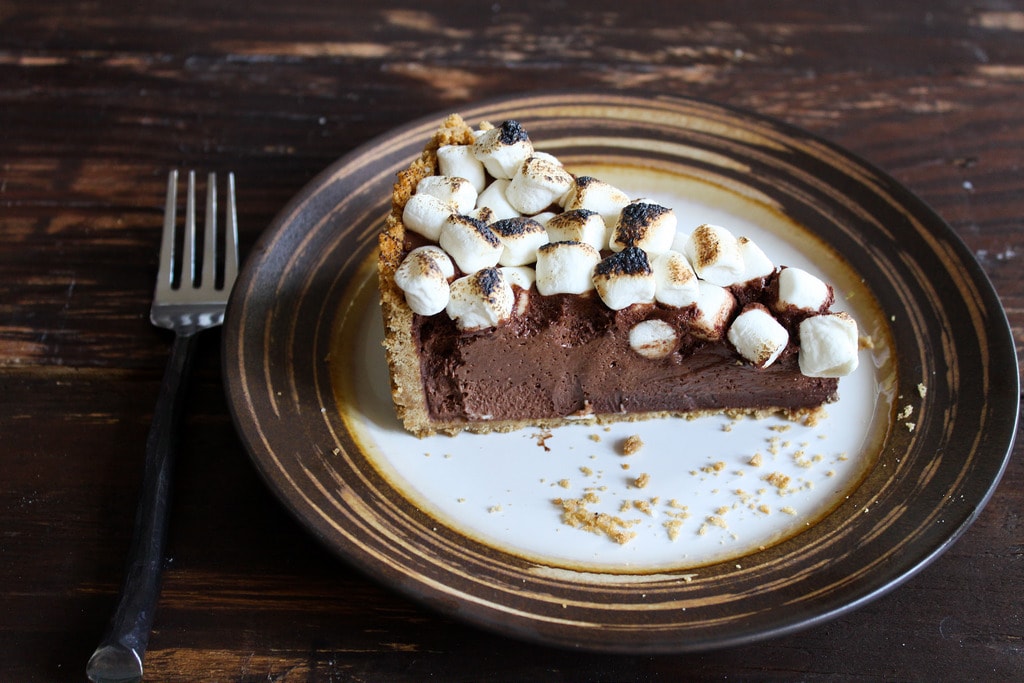 I didn't go camping much as a kid. Okay, to be honest, I didn't go camping at all.
I saw camping as a series of inconveniences and too much of a challenge to prepare for.
However, I do love campfires, bonfires, and all other opportunities that permit marshmallow roasting.
Oh, how I loved s'mores growing up. It was a staple at any sleep-over party. It was required at any 4th of July barbecue or picnic.
Most of all, s'mores meant school was out and summer was in session.
Chocolate Pie with Graham Cracker Crust
This s'mores pie is a sophisticated s'more that deems to be eaten with a fork. It includes all the components of a traditional s'more but updated and revamped for the adults.
While this pie would work for parties, I think children would prefer making real s'mores. If you decide to serve this pie to only those 21+, I say spike the chocolate mousse with a little whiskey.

Graham Crust Crust
This recipe uses a lot more graham crackers than usual to make the crust. I wanted the crust to be thick and substantial but it is a major component of s'mores.
Use the flat bottom of a heavy drinking glass to smooth the bottom and sides of the crust. The bottom of measuring cups works well too. Make sure the crust goes all the way to the top of the pan.

Chocolate Mousse Filling
Traditionally, I would make my s'mores with Hershey's milk chocolate bar. But over the years, I have leaned more and more towards dark chocolate.
Since the chocolate mousse would be considerably lightened with whipped cream, I used more twice as much more dark chocolate than milk chocolate.
It helps to keep the milky chocolatey flavor without overpowering with the bitter taste often associated with dark chocolate.
It's best to chop your chocolate into small pieces to allow for easy and even melting. Once the chocolate is smooth and melted, let it cool for a couple of minutes so it does not melt the whipped cream.
Add the whipped cream in small batches to chocolate. Doing so will ensure that cream gets thoroughly incorporated.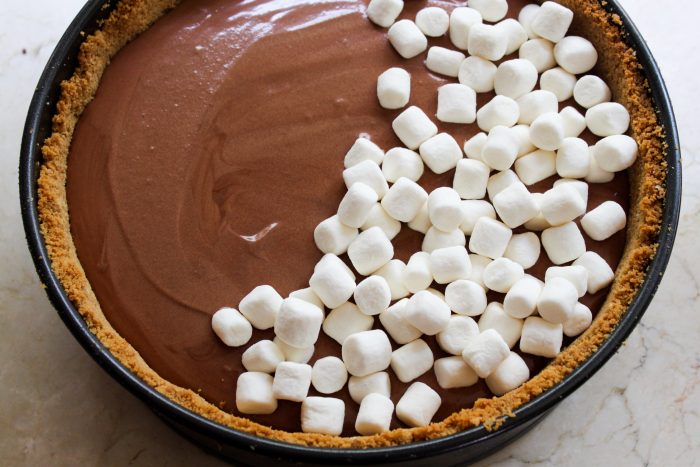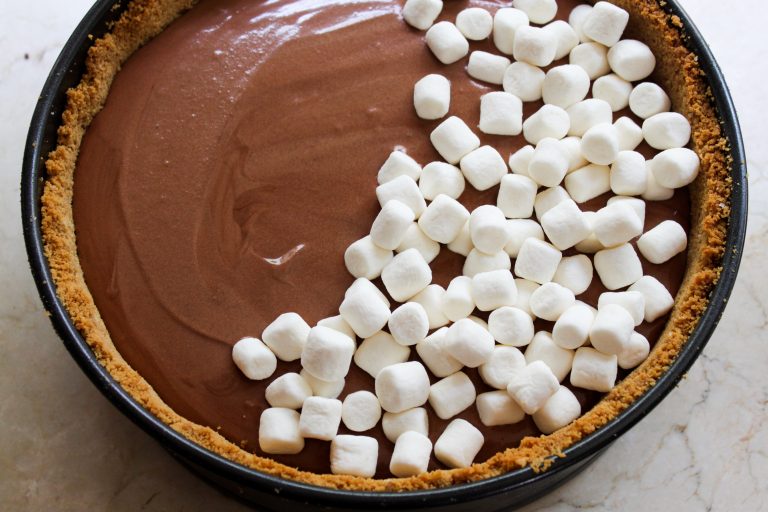 Chocolate Pie Assembly
Pour the chocolate mousse into the prepared graham cracker crust. The mousse shouldn't reach to the top. Smooth it out with a mini offset spatula.
Then add as much mini marshmallows that can comfortably fit in the pie. Pat the marshmallows down into the mousse to make sure they adhere.
Let the s'mores pie chill in the fridge for at least 3 hours before slicing and serving.
And then comes my favorite part– use a kitchen torch to toast the marshmallows before serving.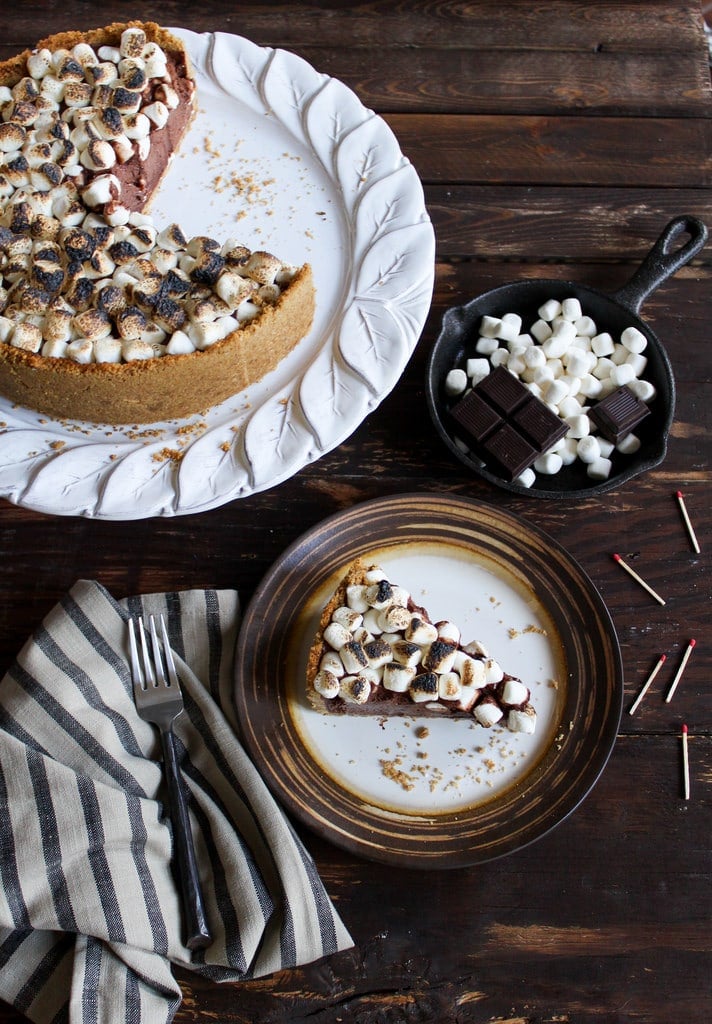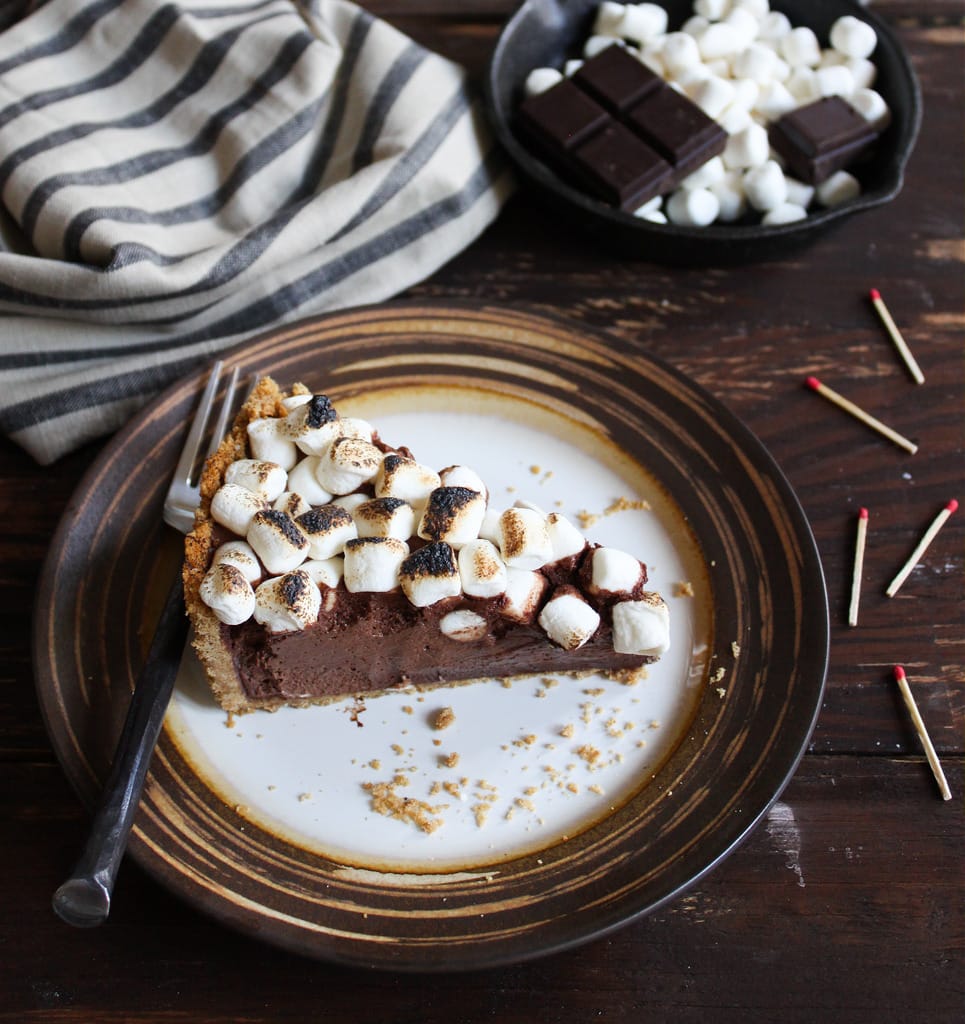 Interested in more s'mores treats? Here are some favorites: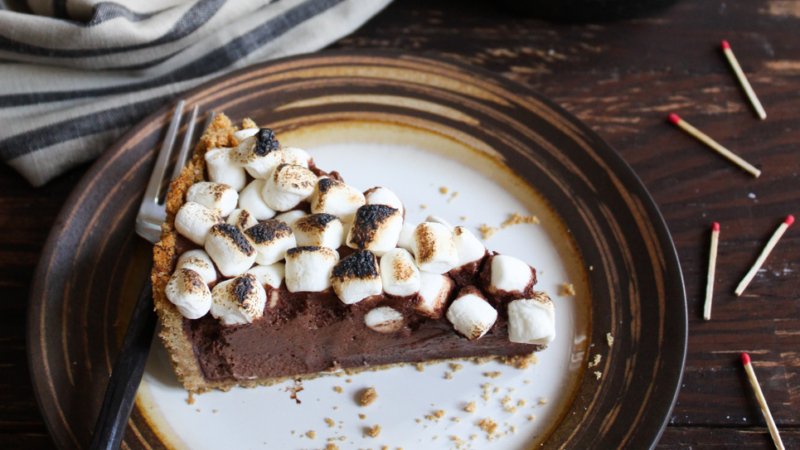 S'mores Pie
Graham cracker crust, chocolate mousse filling, topped with toasted marshmallows. This s'mores pie is an updated version of the classic childhood treat! Yield: 9-inch pie
Ingredients
Graham Cracker Crust:
3 cups ground graham crackers (about 22 full cracker sheets)

3/4

cup

unsalted butter, melted

1/2

tsp

kosher salt
Chocolate Mousse:
3 silver gelatin sheets, bloomed

*

3/4

cup

whole milk

8

oz

dark chocolate (72% cacao), finely chopped

4

oz

milk chocolate, finely chopped

2

cups

heavy cream, soft peaks, chilled
Marshmallows:
2 1/2

cups

mini marshmallows
Instructions
Graham Cracker Crust:
Preheat oven to 350 degrees F.

Thoroughly combine ground graham crackers, melted butter, and salt in a bowl. Transfer to a 9-inch springform pan. Press in an even layer on bottom and up sides of pan.

Bake for 10 minutes until crust is set and lightly golden. Cool while you prepare chocolate mousse.

Chocolate Mousse:
Bloom gelatin sheets in a bowl of ice cold water for 3-5 minutes until gelatin has softened. Remove gelatin from bowl and squeeze out excess moisture. Place gelatin in microwave safe bowl with milk.

Heat milk and gelatin in microwave for 30 second intervals until gelatin has dissolved and milk is warm.

In a large bowl melt together dark chocolate and milk chocolate. Either melt chocolate in the microwave at half power in 30-45 second intervals or over a bain-marie. Once chocolate is smooth and melted, let cool for 5 minutes.

Pour warm gelatin milk mixture into chocolate in three intervals. Fold to combine.

In another bowl, whip heavy cream to soft peaks. Add whipped cream to chocolate mixture in three additions. Fold until combined and there are no white streaks left.

Pour into baked and cooled graham cracker crust. Spread with a mini off set spatula to create an even layer.
Assembly:
Sprinkle mini marshmallows over chocolate mousse. Pat marshmallows into mousse, making sure marshmallows adhere.

Let chill in fridge for at least 3 hours before slicing and serving. Use a kitchen torch to toast marshmallows before serving.
Notes
3 silver gelatin sheets = 1 (0.25 oz) envelope gelatin powder, or 1 Tbsp gelatin powder