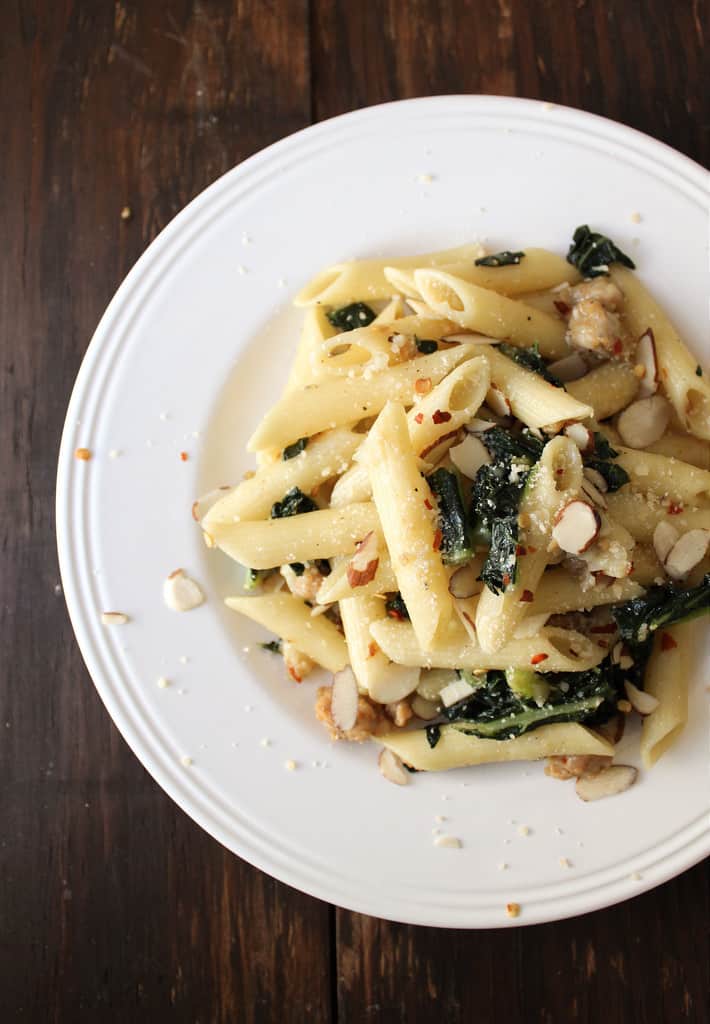 What's for dinner?  Every night the question is difficult to answer.  When the boyfriend and I have nothing prepared or planned, it's usually at least a 30 minute discussion on all the possible take out/restaurant options within the area.
We debate over it for so long that I can't stand it anymore and just decide to whip something quick in the kitchen.  And usually, at this point in the night, I have already changed into comfy home clothes, tied up my hair, and refuse to get ready to go out.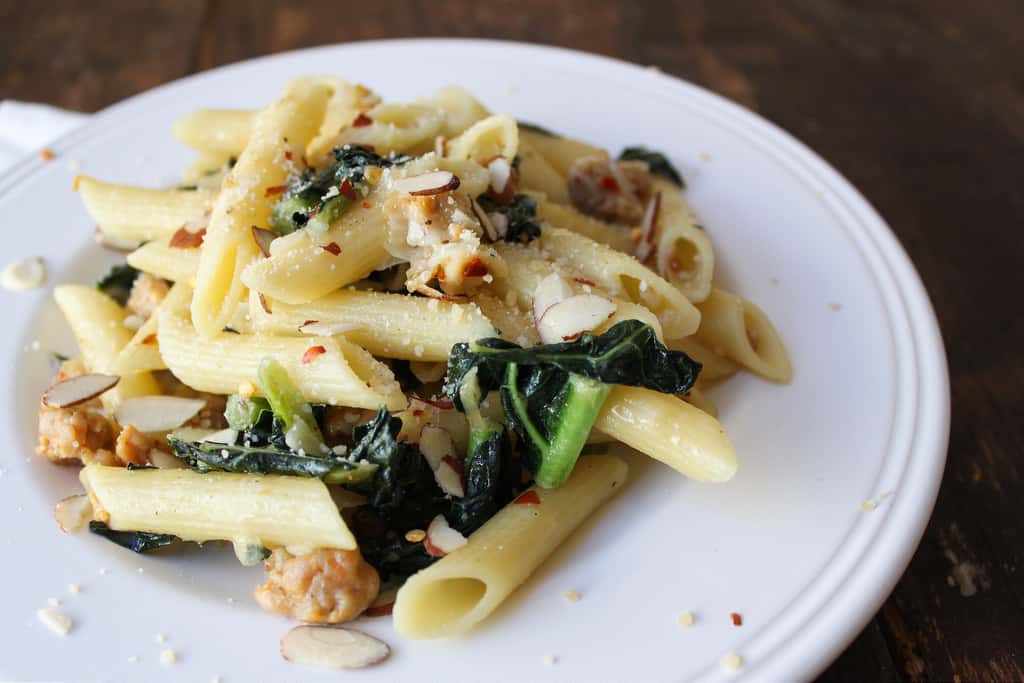 Pasta is a sure winner for moments like this.  I love carbs and the boyfriend loves cheese.  It has something we both will be happy with.  It's an easy meal that looks like I took the time to plan ahead.
I've been on a kale craze these last couple of months.  Kale is always good to have around.  In the morning, I use it to make green smoothies.  Kale Caesar salad with grilled chicken is good for lunch and this penne with kale is quick and easy for dinner.
The uses for kale seem limitless.  I opted for the leaner Italian chicken sausage for this pasta dish, but you can also use traditional pork sausage.   Since I didn't use a lot of meat, I added toasted almonds for additional protein as well as extra crunch and flavor.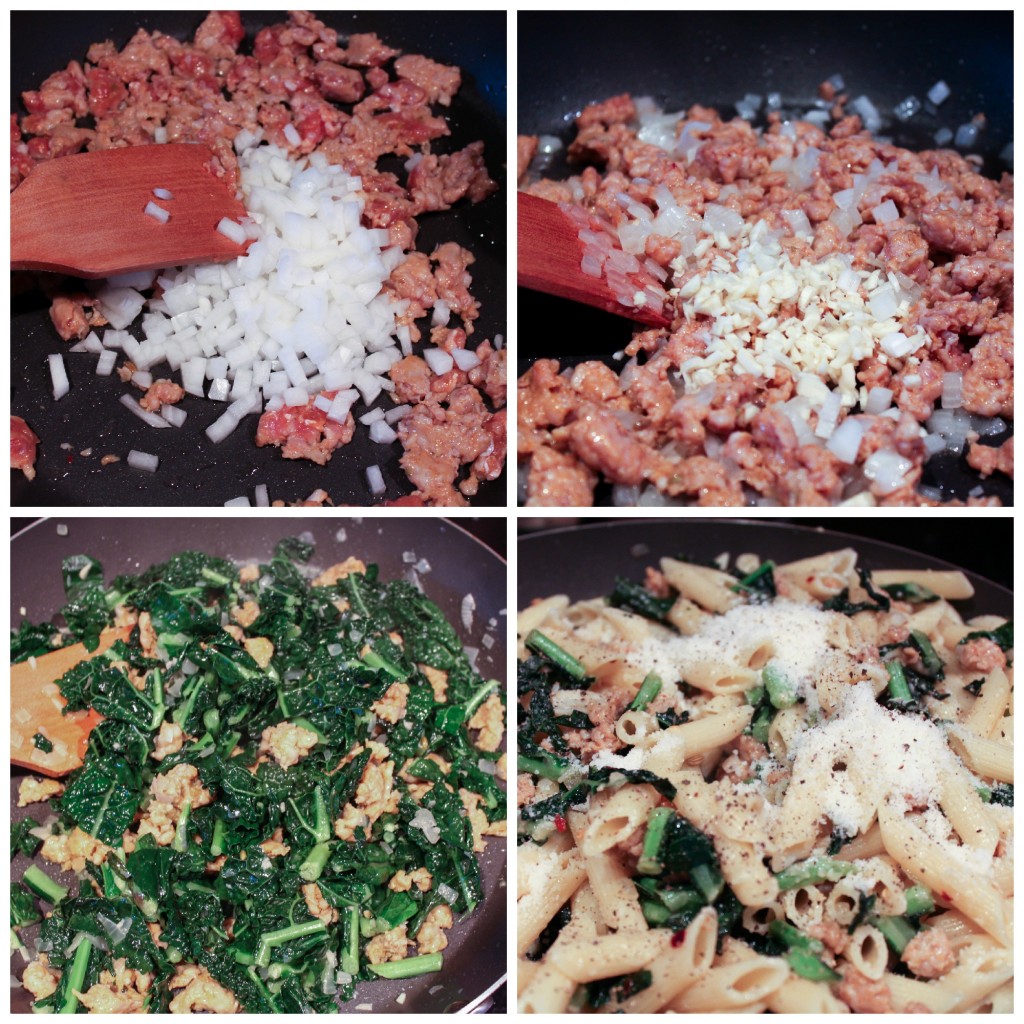 I'll be back at the start of next week!  Be prepared to see an overload of pictures from my trip!  I can't wait to share with you all the beautiful scenes and delicious foods!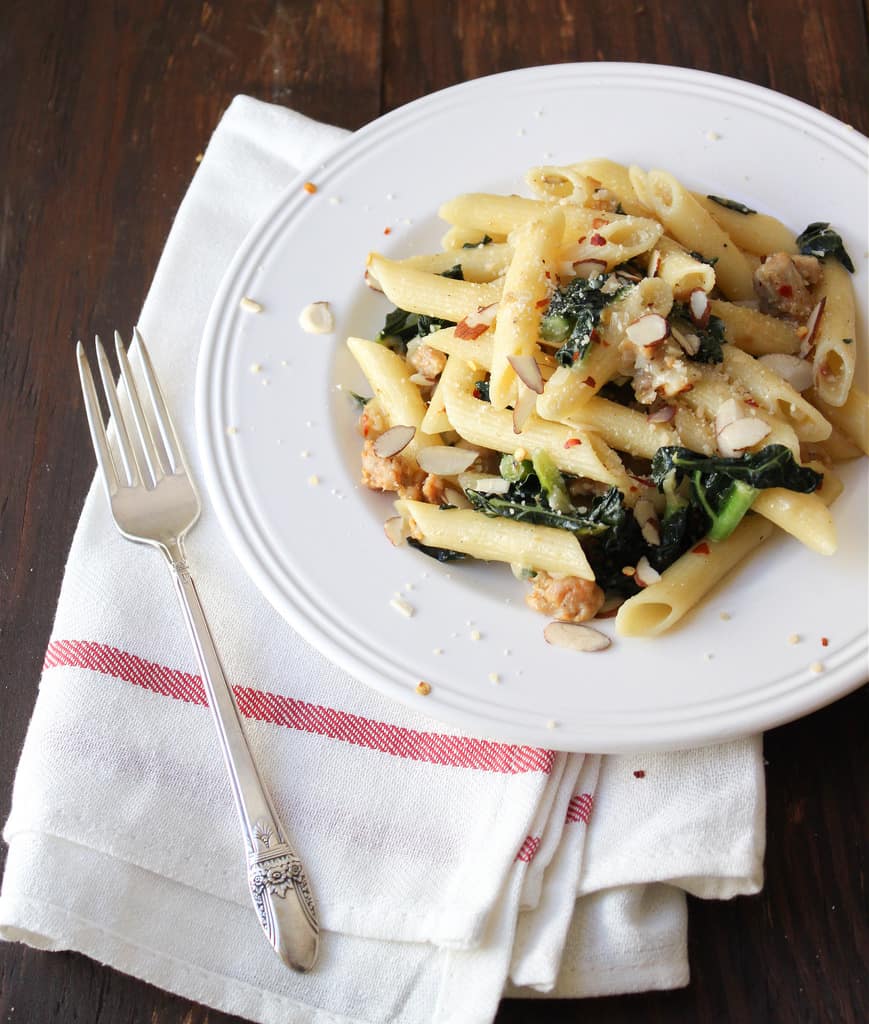 Penne with Kale and Chicken Sausage
Ingredients
16

oz

dried penne pasta

3

Tablespoons

olive oil

8

oz

spicy Italian chicken sausage, removed from casing

1/2

medium onion, diced

3

garlic cloves, minced

16

oz

(1 pound) coarsely chopped kale, removed from large center ribs

1/2

teaspoon

red pepper flakes

kosher salt and freshly ground black pepper, to taste

1/2

cup

grated parmesan cheese

1/3

cup

sliced almonds, lightly toasted
Instructions
Cook penne in a large pot of boiling salted water. Cook to al dente according to pasta's package directions. Before draining water, reserve about 1/2 cup of pasta water.

Heat a large nonstick skillet. Add oil. When pan is hot, add chicken sausage. Cook over medium-high heat. Use a wooden spoon or spatula to break up chicken into bite size chunks as it cooks.

Once chicken starts to brown, add diced onions. Cook until onions begin to soften and become translucent. Add minced garlic and stir to combine.

Slightly reduce heat. Add kale in two additions if it does not fit in the pan. Add red pepper flakes and season with salt and pepper. Cook until kale as wilted and chicken sausage has fully browned.

Remove from heat and add parmesan cheese and cooked pasta. Toss to combine and distribute ingredients. If pasta is too dry, add reserved pasta water 1 Tbsp at a time until moist.

Serve with toasted almonds and additional parmesan cheese.