Disclosure: I received a review copy of Melt from the publisher (Little, Brown and Company). This product review was not sponsored. All opinions expressed are entirely my own.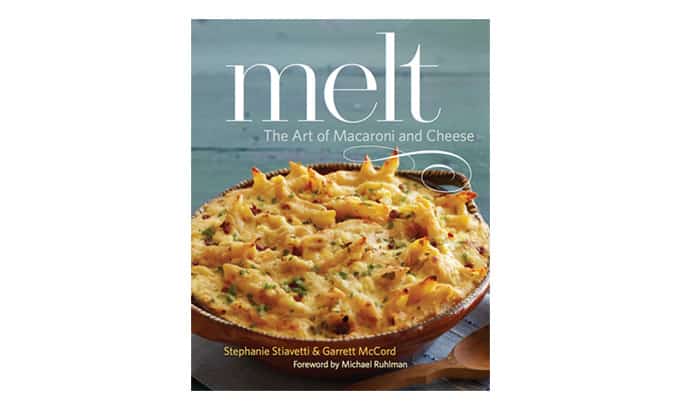 I read cookbooks the way people read novels and magazines- cover to cover.
I study the recipes, the list of ingredients, the methods of preparation and cooking.
I analyze the photographs, making note of the lighting, looking at the different plates and props used, and the way the food is presented.  
Is that strange? I don't think so!
I was very excited to read through Melt: The Art of Macaroni and Cheese.
Honestly, who doesn't love mac and cheese? (Even though I am lactose-intolerant I take one of those enzymes that allow me to enjoy my macaroni properly. I'll do whatever it takes.)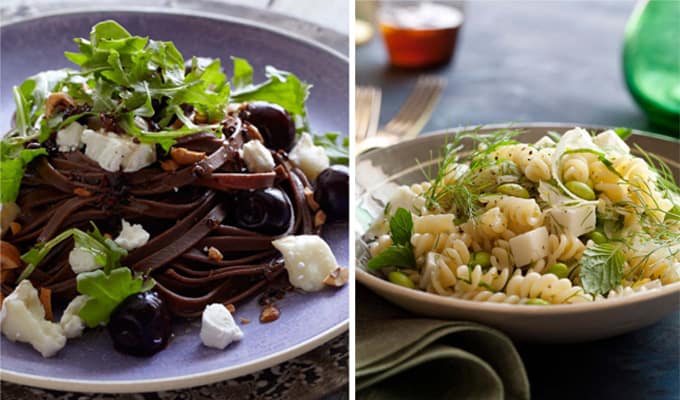 Melt is a beautiful cookbook by Stephanie Stivaetti of The Culinary Life and Garret McCord of Vanilla Garlic.  
As a kid I was only aware of two cheeses: cheddar (grilled cheese and cheeseburgers) and mozzarella (string cheese and pizza). I love the way Melt incorporates the history of cheese into their cookbook.
I learned about the different milks used to make cheese and the methods of cheese making. There's even a brief lesson in pasta varieties.
Look at the image above on the left- chocolate pasta with Bucherondin, hazelnuts, and cherries or that Drunken Goat with edamame, fennel and rotini photographed above on the right. How delicious do they look?!
The book is not just limited to baked casseroles dishes.  Learn to make chicken breast stuffed with Leonora goat cheese, star pasta and crushed gingersnaps or orzo pudding with poached dried fruit.  
It seems like the possibilities of pasta and cheese are endless.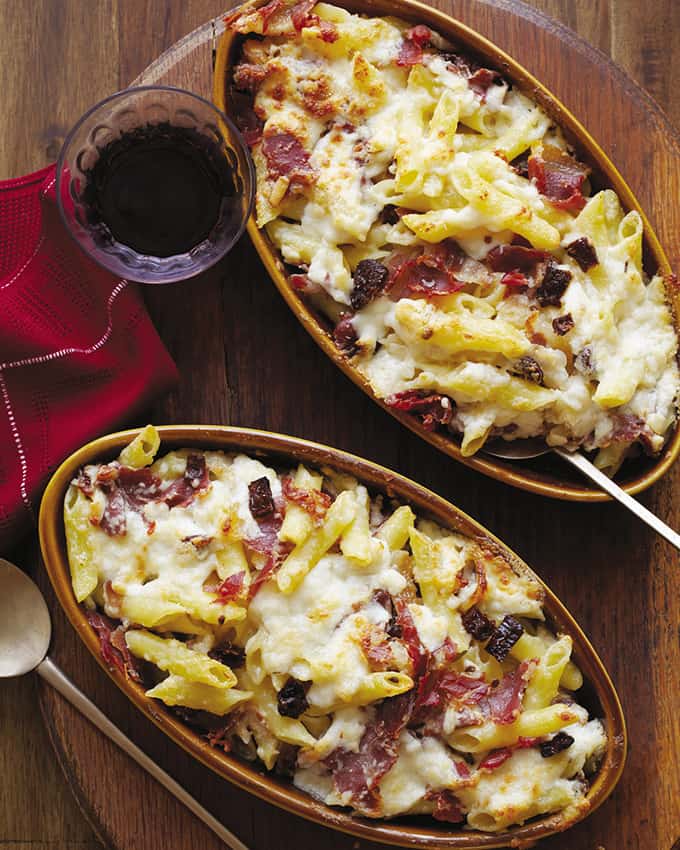 While some of the recipes seem daunting and intimidating (because they use all sorts of cheese I've never heard of), I appreciate that each recipe also comes with alternative cheese options that are easier to find.
I also really like the wine and food pairings suggested with each recipe.  
After reading this cookbook, I feel more sophisticated.  Now when I hear someone mention "Roaring Forties" or "Shropshire", I know that they're talking about blue cheese.
I found the recipes and instructions well written. The cookbook is well organized and even includes a dessert section. (Always a plus for me and my sweet tooth!) The authors really have an impressive and extensive knowledge of pasta and cheese.
With the chilly winter months upon us, I foresee making many of these intriguing and comforting pasta dishes.  
Let's start with my favorite recipe from Melt so far- this baked penne with Garrotxa, Serrano ham and sun-dried tomatoes.
Cookbooks aren't just a collection of recipes, Melt: The Art of Macaroni and Cheese proves that cookbooks are so much more!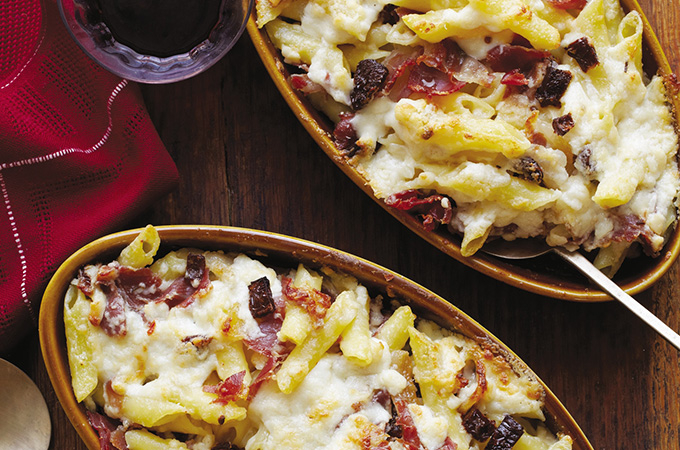 PENNE WITH GARROTXA, SERRANO HAM, AND SUN-DRIED TOMATOES
Native to Catalonia, Spain, Garrotxa is a throaty, goaty cheese that imparts an almost Cheddar-like tanginess. A gray mold blankets this pasteurized flavor titan, which gets its smooth earthiness from the lush coastal grasses that feed the goats raised to make it. Cutting away the rind on this firm cheese is easy, and a sharp knife run down the sides will shave off the moldy exterior without sacrificing much of the Garrotxa beneath.
Here, Garrotxa coalesces with two other signature Spanish ingredients, sun-dried tomatoes and Serrano ham, to create an ethereal cheese gratin polished with just a touch of butter, milk, and crème fraîche. This recipe isn't your typical melty, creamy macaroni and cheese; rather, it's a drier dish that allows the ingredients to mingle coyly while remaining somewhat independent.
Yield: serves 2 to 4
Ingredients
8

oz

penne

1

pound

Garrotxa, shredded

1/4

cup

milk

1/2

cup

crème fraîche

1

Tablespoon

butter

1/2

teaspoon

freshly ground white pepper

1/2

cup

chopped sun-dried tomatoes

6

oz

Serrano ham slices, torn coarsely by hand into chunks
Instructions
Cook the pasta in salted boiling water until al dente. Drain through a colander. Set aside.

In a saucepan, combine cheese, milk, crème fraîche, and butter. Cook over medium-low heat until cheese is mostly melted and you have a creamy sauce. To keep the cheese sauce from breaking, remove the sauce from the heat before the cheese is entirely melted. Season with pepper, adding more to taste if you'd like.

In a shallow buttered casserole dish, toss pasta with sun-dried tomatoes and Serrano ham. Pour the sauce over the pasta and stir together until combined. Bake for 15-20 minutes, until the top is golden brown and bubbling around the edges. Serve immediately.
Notes
RECIPE REPRINTED WITH PERMISSION FROM 

STEPHANIE STIAVETTI
From Melt: The Art of Macaroni and Cheese
Recipe: Stephanie Stiavetti and Garret McCord. Photos: Matt Armendariz.