I know what you're thinking… buttermilk ice cream? Is that even good? YES! It's ridiculously, wonderfully amazing.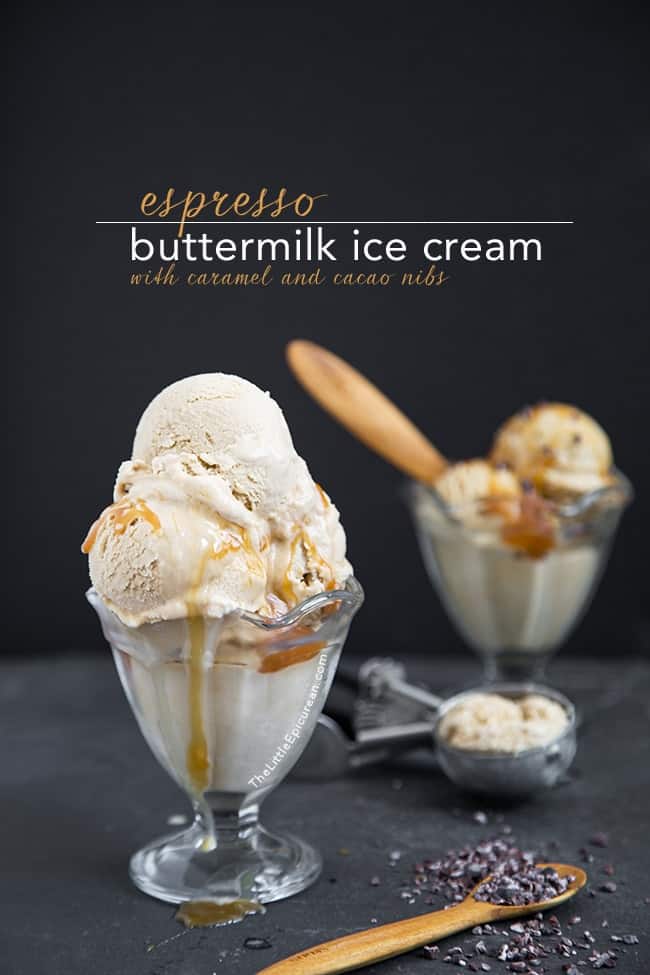 While buttermilk is best known for making fluffy and tasty waffles, pancakes and biscuits– it also does wonders in a wide array of other foods.
It makes ranch tangy, it's a perfect marinade for fried chicken, and it makes for delicious pies. And now, you know that it makes great ice cream.
Despite its name, buttermilk is actually healthier than whole milk. Crazy, right? Buttermilk is surprisingly lower in calories and grams of fat than whole milk.
With this new found knowledge, I set out to make buttermilk ice cream. But not just some plain old buttermilk ice cream, I wanted to make espresso buttermilk ice cream with caramel and cacao nibs. (It sounds fancy, but it's quite simple to make.)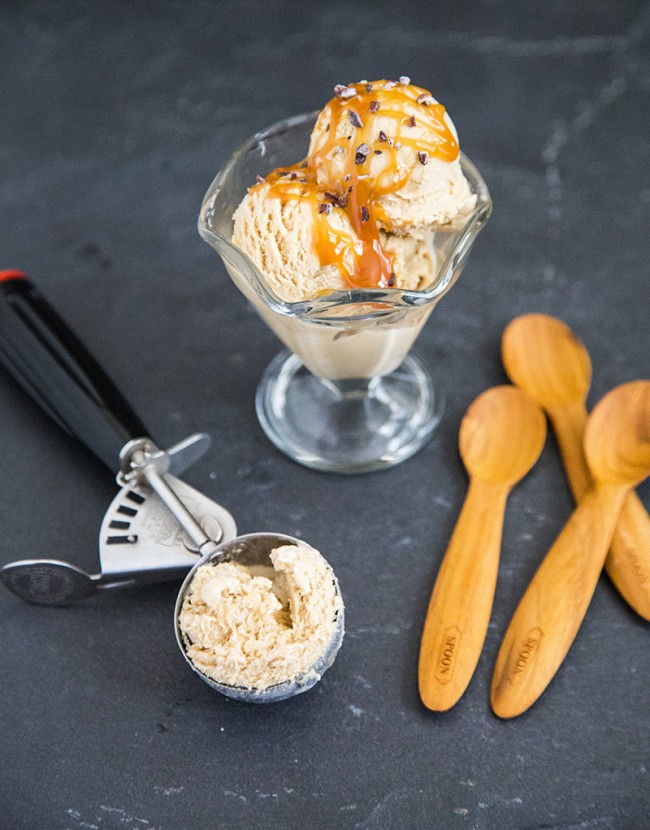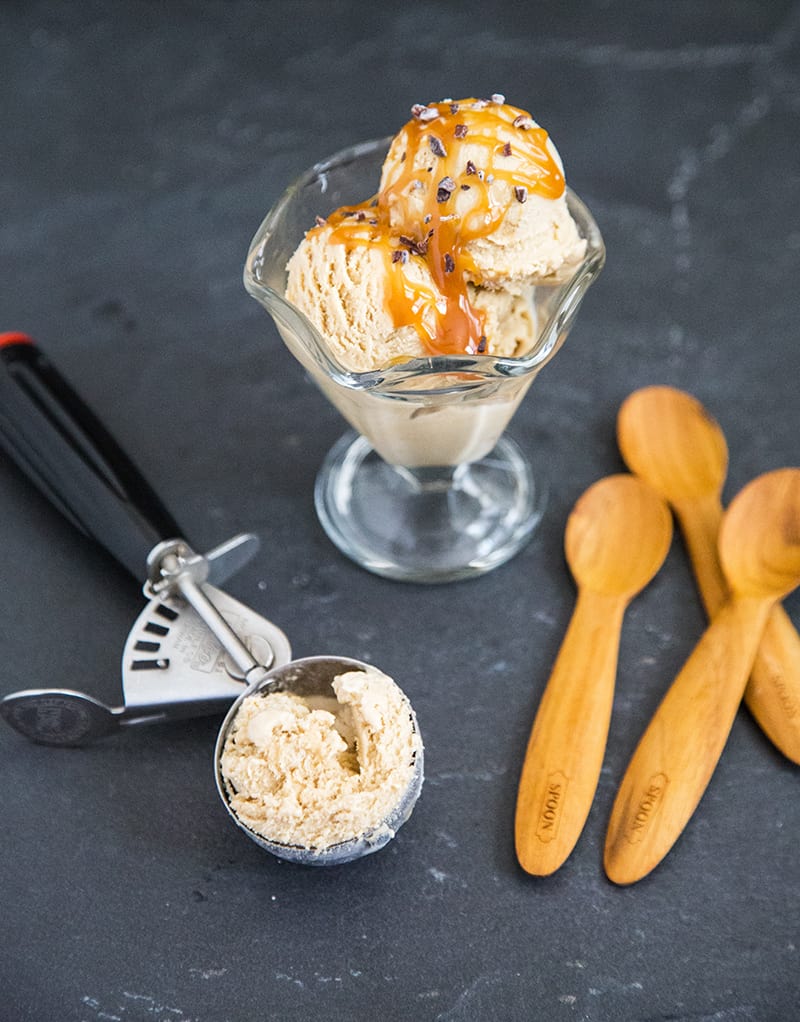 I love coffee ice cream. It's rich, luscious, and oh so decadent. However, I can only eat a scoop and then I'm stuffed.
During the warmer months, I want something a little fresher, a little more tart, a bit more lively. That's where espresso buttermilk ice cream comes in.
This espresso buttermilk ice cream is so cooling and refreshing.  It's smooth, creamy, and full of flavor.  The combination of the tart buttermilk, sweet milk, acidic espresso, and the richness of the egg yolks creates this addicting ice cream that's hard to stop eating.
After churning the ice cream, I drizzled caramel to add another dimension of flavor.
Any caramel with do, even the store-bought ones found near the ice cream. Pop it in the microwave for a couple seconds to make it liquid and runny before using. But if you are feeling adventurous (and have some extra time on your hands), I suggest making this homemade sea salt caramel.
Because I'm such a big fan of crunch, I serve this ice cream with a sprinkling of cacao nibs. If you like super dark chocolate, you'll love cacao nibs. Nowadays, they are widely available at supermarkets and health food stores, and of course, online.
I was surprised at how much I ended up loving this espresso buttermilk ice cream. I let Alex taste it before telling him what it was. After a sample of it, he was hooked and ready for a double scoop on a sugar cone.
Espresso buttermilk ice cream may sound like an unusual combination, but it tastes so great together!
Espresso Buttermilk Ice Cream with Caramel
Buttermilk isn't just for baked goods. It works magic in ice cream as well! With a little espresso powder and a touch of caramel, this tart and fresh espresso buttermilk ice cream is a perfect sweet treat.
Yield: about 1 quart
Ingredients
1 1/2

cup

heavy cream

2

cup

low-fat buttermilk (reduced-fat)

3/4

cup

granulated sugar

5

large egg yolks

1

Tablespoon

instant espresso powder

1/2

teaspoon

fine sea salt

4

Tablespoon

store-bought caramel sauce, or homemade caramel

cacao nibs, for topping

additional caramel sauce, for topping
Instructions
Combine heavy cream, buttermilk, and half of sugar in a medium sized sauce pot. Set over medium heat and bring to a simmer.

Meanwhile, in a medium bowl whisk together remaining sugar and egg yolks. Slowly pour the hot liquid mixture over the yolk mixture, whisking constantly to distribute the heat. Mix well, then pour mixture back into sauce pot.


Set pot over medium heat. Using a wooden spoon or spatula, gently stir the mixture making sure to pay attention to the bottom and sides of the pan as to not burn the yolks. Continue to stir and heat the mixture until it reaches nappe consistency (thickens and coats the back of a spoon), or until it reaches a temperature of 180 degrees F on a thermometer. Remove from heat and add in espresso powder and salt. Stir until dissolved.


Cool mixture over an ice bath. Alternatively, pour mixture into a plastic wrap lined sheet tray. Spread over the sheet tray and cover with plastic wrap. Let cool in the freezer for 5-10 minutes until mixture has cooled to room temperature. Transfer cooled mixture into an airtight container and let mature in the fridge overnight.


Freeze mixture in ice cream maker according to your unit's instructions. Once the volume has increased by 1/2 and mixture has reached a soft-serve consistency, about 20-25 minutes, turn off machine. Transfer 1/3 of ice cream into an airtight, freezer-safe container. Drizzle a heaping tablespoon of melted caramel sauce over ice cream. Spread another 1/3 of ice cream into container and drizzle with caramel. Add remaining ice cream on top and drizzle with remaining caramel. Cover container and let rest in the freeze for at least 1 hour before serving.


Let ice cream sit out for 5 minutes before scooping. Serve with additional caramel sauce and a sprinkling of cacao nibs for crunch.