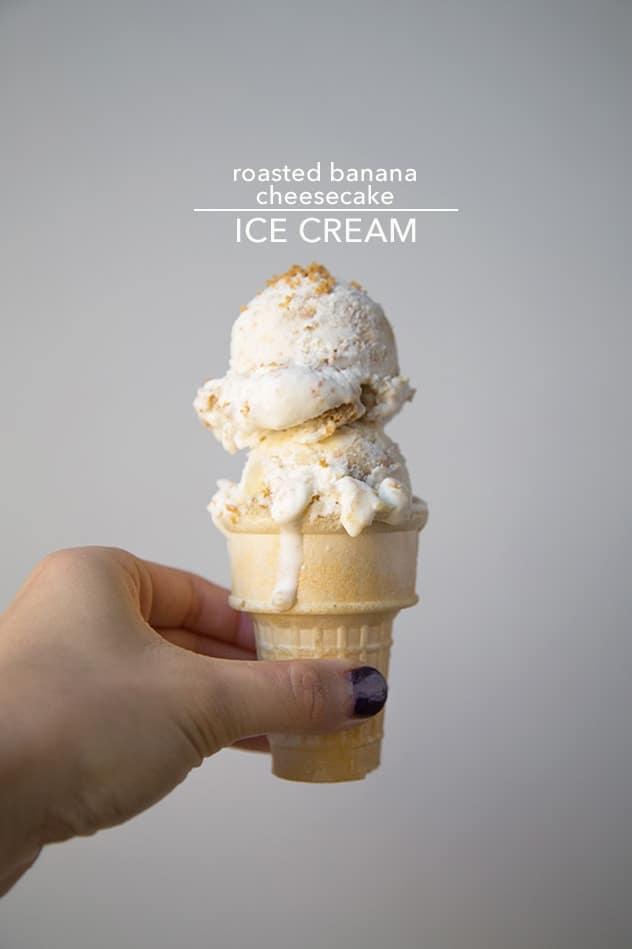 Is it possible to make cheesecake better?  YES!  The answer is roasted banana cheesecake ice cream.
When Alex and I first starting dating he thought it was weird that I didn't like cheesecake.  Yes, it's true.  I don't really like cheesecake.  Something about the texture throws me off.  It's light and fluffy, but at the same time, heavy and dense.  If there is cheesecake in front of me, I'll usually just pick at the graham cracker crust.  But if I happen to have cheesecake at home, I stick it in the freezer and eat it later when it's frozen like ice cream.
I thought I'd skip a step and just make my own cheesecake ice cream.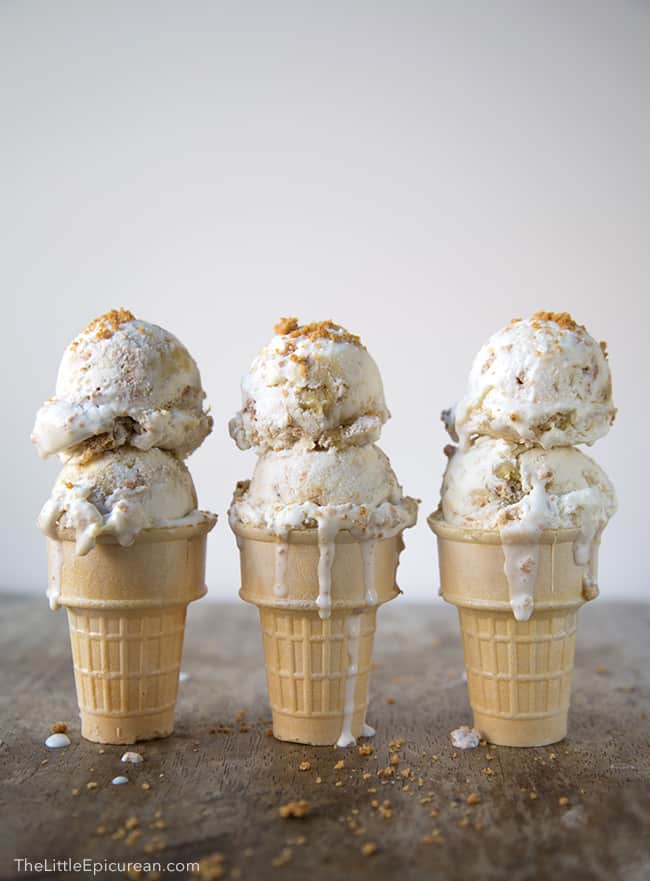 Cheesecake is probably one of the most ordered desserts at restaurants.  There's even a restaurant named after this popular dessert!
I think cheesecake is the perfect dessert to turn into an ice cream.  It's already rich, creamy, and satisfying.  It's only natural for it be a frozen treat.  During the summer months, I love making ice cream.  Frozen treats last longer thanks to the freezer.  Ice cream not only cools you down, but it provides you with the perfect excuse to call your friends over.  (Yes, I am known to text my friends pictures of ice cream.  They know the drill and head on over to my place after work.)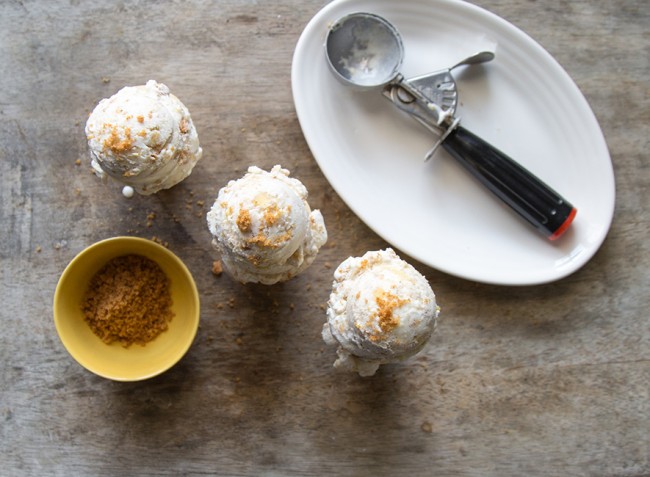 This ice cream has all the ingredients of a traditional cheesecake minus the eggs.  I've even included a graham cracker crumble to top the scoops.  I didn't include the crumble in the ice cream because I like the extra crunch and texture it provides on top of the ice cream.  Plus, having the graham cracker crumble separate means you add as much as you want!  And to make this cheesecake ice cream even more special, I've added roasted bananas.  Roasted bananas are sweet and very flavorful.  It makes for a wonderful complement to fresh and tart flavors of cheesecake.  If you want a plain cheesecake ice cream, simply omit the bananas.
Do you need more reasons to try this fun, exciting, and luxurious cheesecake ice cream?  Think about it this way: you need a fork to eat regular cheesecake.  No utensils are needed to enjoy a scoop of cheesecake ice cream!
Roasted Banana Cheesecake Ice Cream
Take cheesecake to the next level with this roasted banana cheesecake ice cream. Enjoy a scoop, make a sundae or whip it into a decadent milkshake!
Yield: about 1 1/2 quarts
Ingredients:
Cheesecake Ice Cream Base:
8 oz cream cheese
zest of half a lemon
3 tsp fresh lemon juice
1/2 cup creme fraiche, or sour cream
1 1/2 cup whole milk
3/4 cup heavy cream
1/2 cup granulated sugar
Roasted Banana:
3 medium bananas, ripe, sliced
3 Tbsp light brown sugar
1 Tbsp unsalted butter, melted
1/4 tsp fine sea salt
Graham Cracker Crumbs:
1/2 cup graham crackers, ground
1/8 tsp fine sea salt
2 Tbsp unsalted butter, melted
Directions:
Cheesecake Ice Cream Base:
In a large food processor, process cream cheese, lemon zest, lemon juice, and creme faiche until smooth.  Slowly add milk, cream, and sugar.  Process until smooth.
Transfer mixture to an airtight container.  Store in fridge and let mature overnight.
Roasted Banana:
Preheat oven to 350 degrees.  Toss sliced bananas in a bowl with brown sugar, melted butter, and salt.  Spread bananas out on parchment lined baking sheet.  Bake for 20-25 minutes until bananas have softened and sugar has begun to caramelize. Remove from oven and transfer bananas and any liquids into another container.  Allow to cool to room temperature.  Store in the fridge until ready to use.
Graham Cracker Crumbs:
Preheat oven to 350 degrees F.  In a small bowl, combine ground crackers, salt, and melted butter.
Assembly:
Churn ice cream base according to ice cream maker according to your unit's instructions.** Once the volume has increased by half and mixture has reached a soft serve consistency, add roasted bananas.  If necessary, break up cold roasted banana into chunks before dropping to into ice cream maker.
Once bananas have been distributed, transfer mixture into an airtight container and let harden in the freezer for at least 45 minutes before serving.