These baked matcha doughnuts are dipped in matcha glaze and sprinkled with toasted black sesame seeds.
Have your matcha tea and eat it, too!
Of course the easiest way to have your matcha is making it into a tea (or latte), but I prefer to put in a little more effort and have my matcha in doughnut form.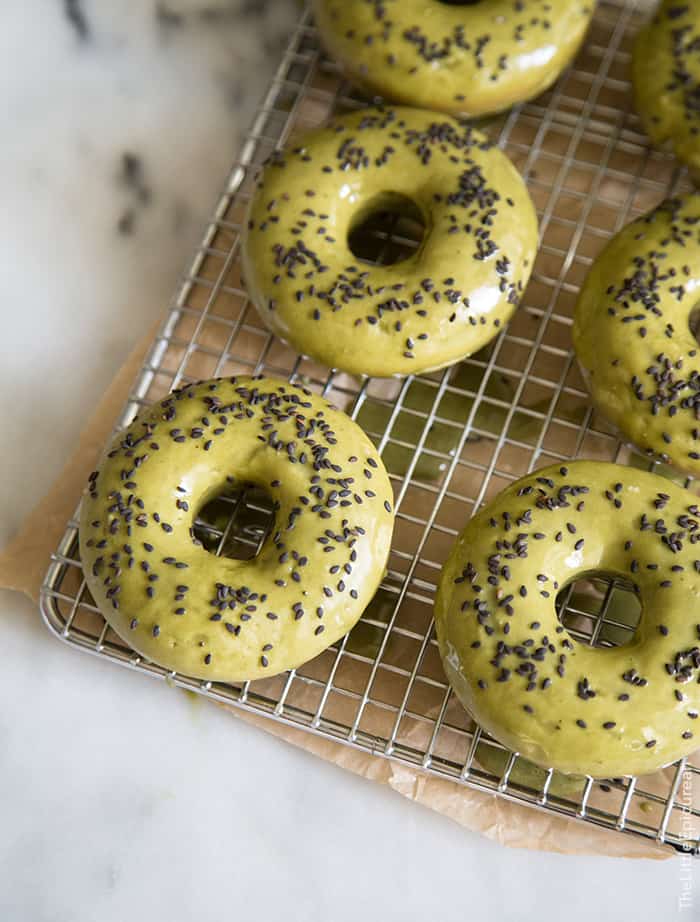 Baked Matcha Donuts with Black Sesame
Baked doughnuts are easier to make than muffins and cupcakes. Plus, they are less time consuming.
It roughly takes about 13 minutes to bake a batch of these babies. Whereas, cupcakes usually require about half an hour of baking.
The proper donut baking pan is essential to success. This recipe cannot be made without a donut pan.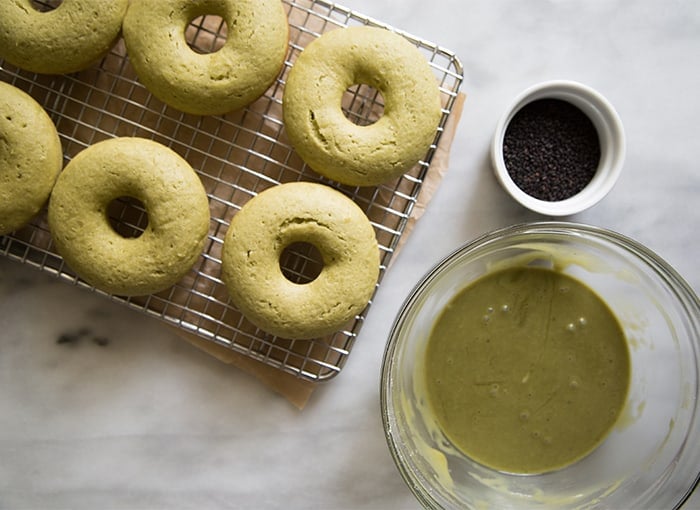 My donut pans get used a lot. Little did I know when I bought them three years ago that they'd be a staple in my kitchen.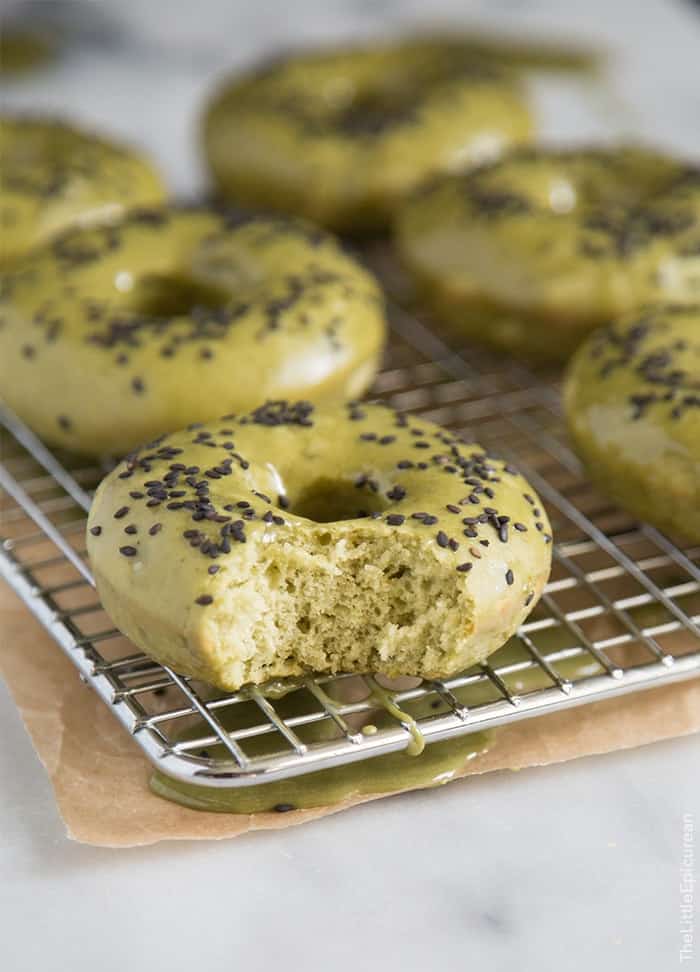 Maybe I should have called these double matcha doughnuts. It's a matcha cake doughnut dipped in matcha glaze. I could call it triple matcha doughnuts if I could find some matcha sprinkles (do they exist?).
I love the slightly bitter yet lingering sweet taste of matcha. I didn't make the cake doughnuts too sweet because I knew the glaze would provide just the right amount of pop.
Be careful when glazing the doughnuts. It can become one sweet, sticky mess. Keep parchment paper underneath your wire rack to make for easy clean up.
I like to fully submerge the doughnut in the glaze. Just glazing the top of the doughnut isn't enough. I want the entire doughnut to be encased in sweet matcha.
It takes about 10 minutes for the glaze to set. Once the top is dry, flip it over and allow the other side to set. While this is not necessary (you could totally eat the doughnuts while the glaze is wet), it makes for easier transport and sharing.
Stacking wet glazed doughnuts one top of each other is a bit messy and I don't have any tips on cleaning that up.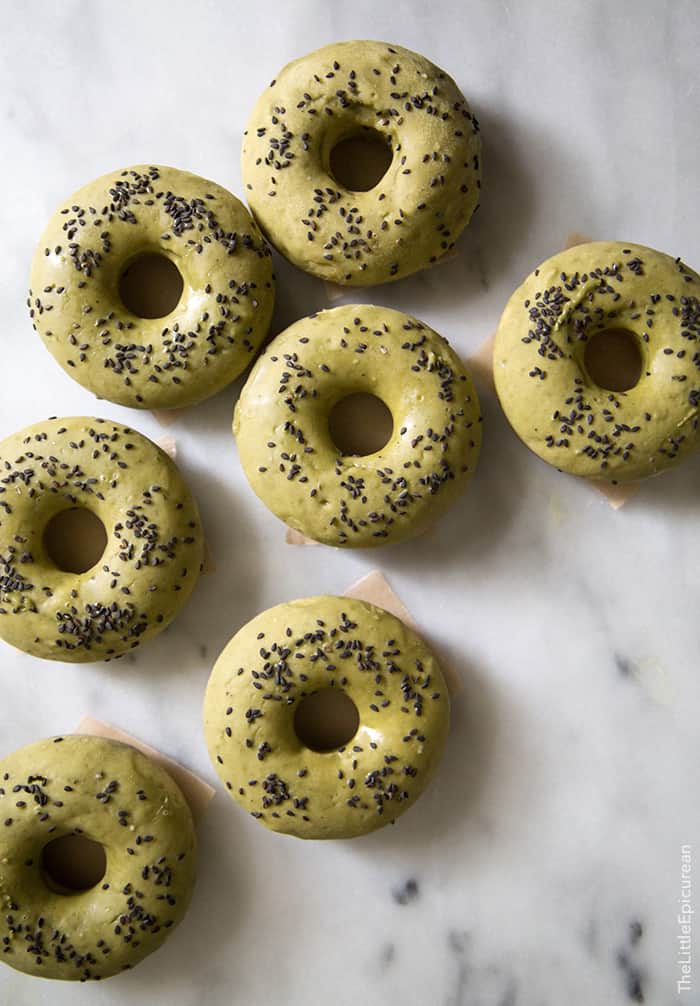 Once the glaze is completely dry, it turns into this matte green color.
My perfect afternoon would include a stack of these doughnuts, a really strong latte, and a couple free hours to read.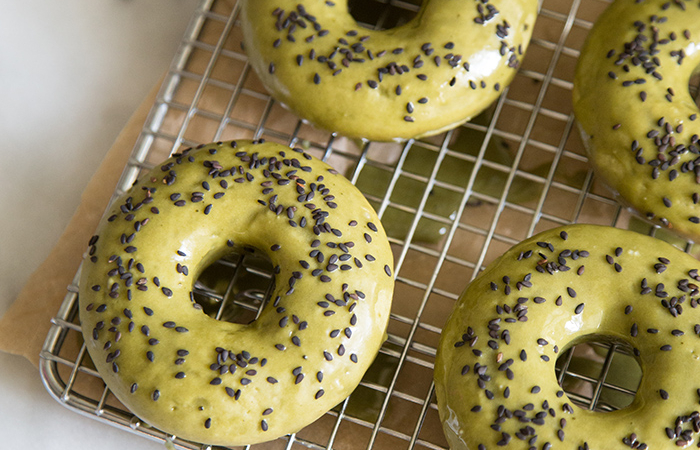 Black Sesame Matcha Doughnuts
Have your matcha tea and eat it, too! These matcha cake doughnuts are dipped in matcha glaze and sprinkled with toasted black sesame seeds.Yield: makes 8
Ingredients
1 ½

cup

all-purpose flour

(195 g)

1

teaspoon

baking powder

¼

teaspoon

kosher salt

1

Tablespoon

matcha powder

½

cup

+ 2 Tablespoons granulated sugar

1

large egg

2

Tablespoons

unsalted butter, melted

¼

cup

sour cream

½

cup

whole milk
Matcha Glaze:
1 ½

cup

confectioners' sugar, sifted

2

Tablespoons

whole milk

2

teaspoon

matcha powder

black sesame seeds, as needed
Instructions
Preheat oven to 350°F.  Lightly grease donut pan and set aside.

In a large bowl, whisk together flour, baking powder, salt, matcha powder, and sugar. In another bowl combine egg, melted butter, sour cream, and milk. Add wet ingredients to dry ingredients. Stir until there are no longer any dry streaks of flour.

Transfer batter to a piping bag fitted with a large round tip. Fill greased donut pan about ⅔ full of batter. Bake for 13-15 minutes until donuts have puffed up. Allow doughnuts to cool in pan for 2 minutes before unmolding. Cool cake doughnuts to room temperature on a wire rack.

To make matcha glaze: whisk together confectioners' sugar, milk, and matcha powder. Dip cooled doughnuts into matcha glaze. Place dipped doughnuts on a wire rack and immediately sprinkle black sesame seeds. Allow glaze to set. Once top glaze is set, invert doughnuts to allow bottom to set.