All the flavor of pound cake into a small layered strawberry vanilla cake. Frosted with honey cream cheese and strawberry glaze, this is the perfect spring cake!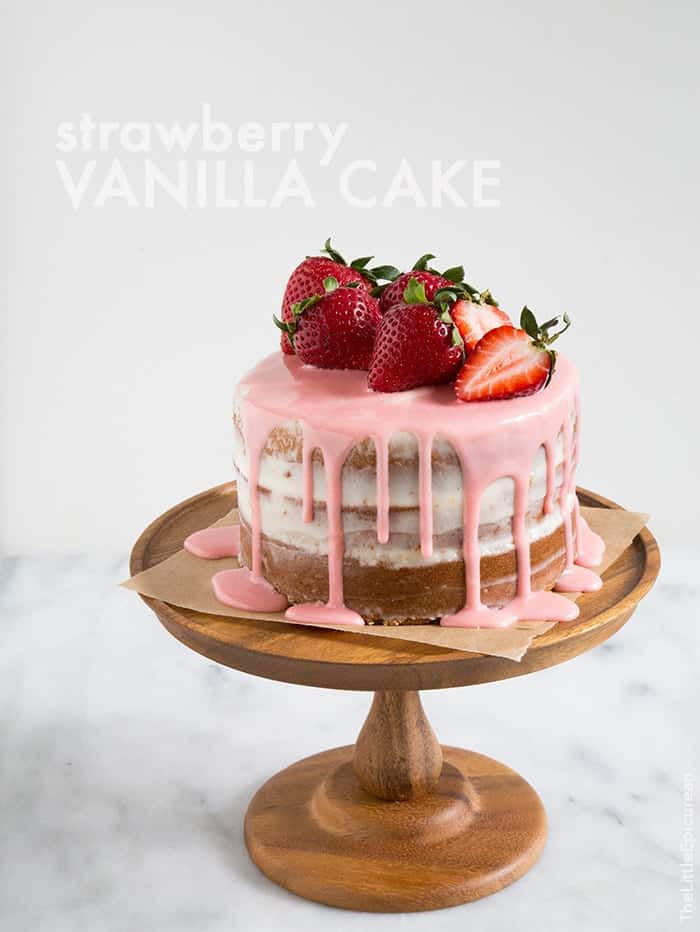 Cake. It's what's for breakfast.
According to Kate Spade, it's totally acceptable to "eat cake for breakfast". I keep seeing those tote bags/phone covers/laptop sleeves at neighboring tables at my favorite coffee spots.
The last cake recipe I shared came about because I spent hours trying to figure out how to fix my blog's email troubles. This strawberry vanilla cake was born out of frustration with Google's new mobile friendly rules.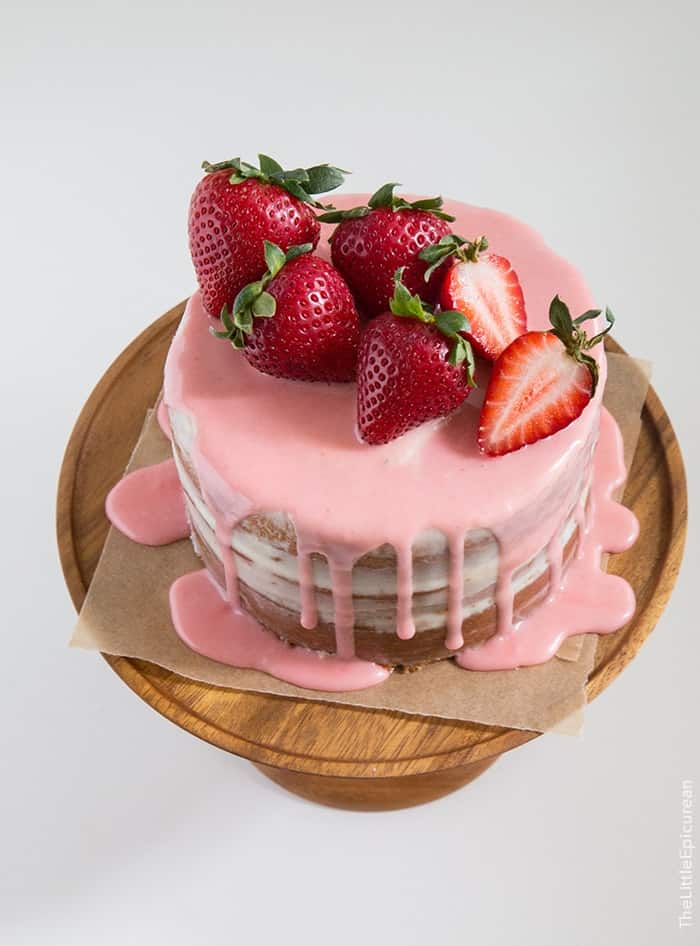 Vanilla Cake with Cream Cheese Frosting
This brings us to cake. I'm tried of making large 8 or 9-inch layer cakes. They end up teasing me in the fridge until I end up eating all of it.
From now on, I'm going to try to use my 5-inch cake pan more often. It's a small cake that's big enough to share, yet doesn't take much up space in the fridge.
I used a 5-inch cake pan (3 inches high), but this recipe also works for one 9-inch cake pan (2-inch high).
3-inch vs 2-inch pan
When you use the little 5-inch cake pan, the cake will puff up a little over the edge creating somewhat of a muffin top (better known as your snack while you build the cake).
Once the cake has completely cooled to room temperature, slice off the little muffin top and level off the cake.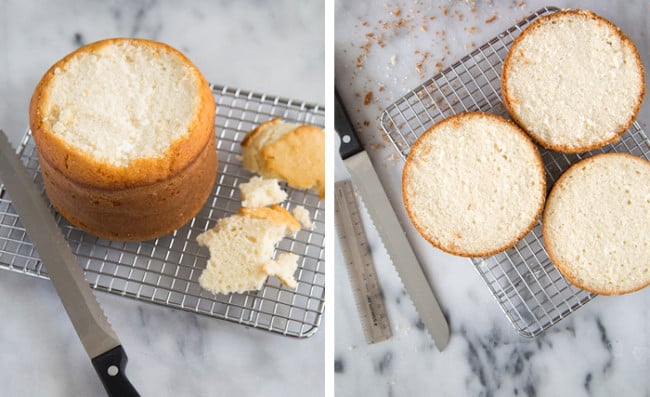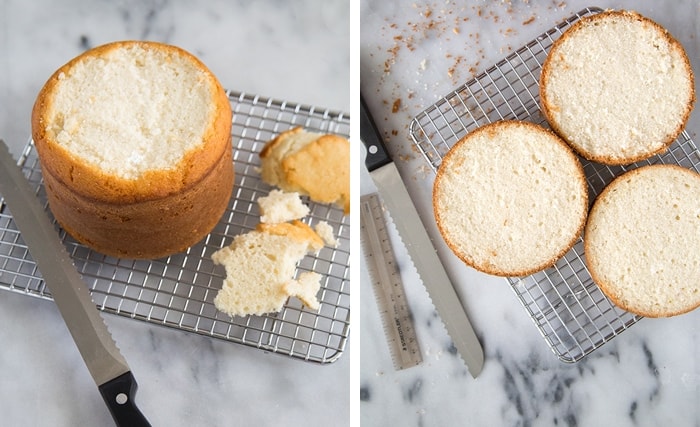 Cake Lessons For Life:
One thing that cake making has taught me is patience. Ask friends and family; I'm not the patient type. When I want it, I want it now.
But you can't have that kind of attitude with cake. Cake will punish you.
Have you tried to slice a warm cake? Sometimes the knife sticks to the cake, or the cake starts to tear apart, or you burn yourself because the inside of the cake is much hotter than the outside.
Anyway, regardless of what happens, when you slice into a warm cake, you'll only end up regret. TRUST.
A cooled cake is sturdier, stronger, and much easier to cut. I like to use a serrated knife because it does a much cleaner job.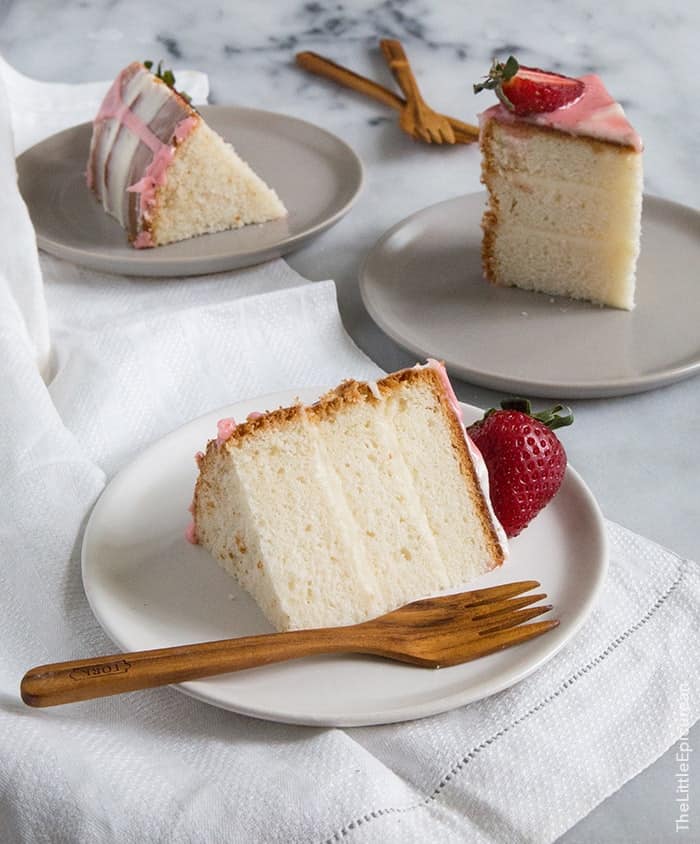 Are cupcakes still popular?
Remember the cupcake craze? I was only into it because I liked to spoon off the frosting and just eat cake. I love cakes that don't require too much frosting.
This cake uses the tiniest amount of honey cream cream frosting. There's just enough frosting to stick the layers together and just a touch on the outside to seal in the crumbs.
But if you LOVE frosting, don't worry, the recipe makes plenty. You can slather on as much or little as you like.
P.S. I finally got the memo that "naked" cakes are cool. Expect a lot of more them.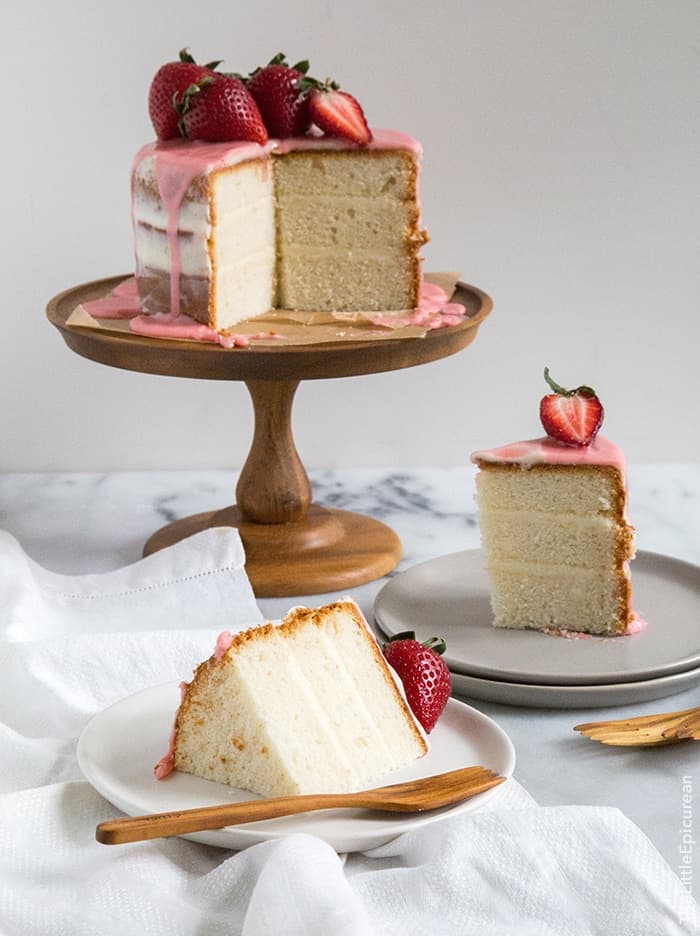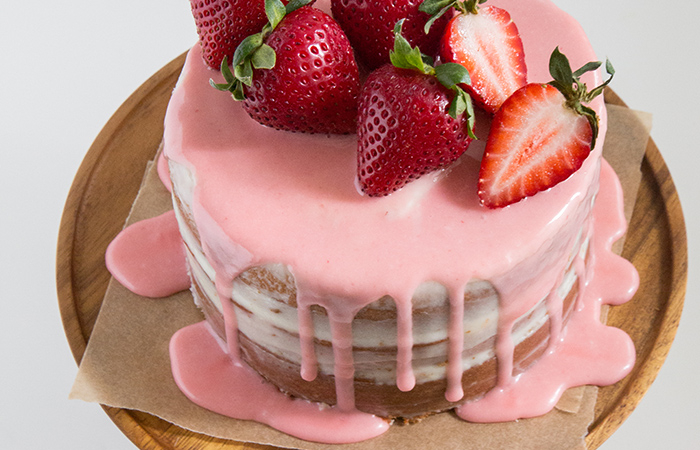 Strawberry Vanilla Cake
All the flavor of pound cake into a small layered strawberry vanilla cake. Frosted with honey cream cheese and strawberry glaze, this is the perfect spring cake!Yield: 5-inch cake
Ingredients
Vanilla Cake:
1 ½

cup

cake flour

½

Tablespoon

baking powder

½

teaspoon

kosher salt

½

cup

whole milk

3

large egg whites

1

teaspoon

vanilla extract

6

Tablespoons

unsalted butter,

room temp

¾

cup

granulated sugar
Honey Cream Cheese Frosting:
8

oz

cream cheese,

room temp

½

cup

unsalted butter,

room temp

2

cups

powdered sugar

2

Tablespoons

honey

¼

teaspoon

kosher salt
Strawberry Glaze:
1

cup

powdered sugar

4

strawberries,

hulled and sliced

3

raspberries*

1

teaspoon

fresh squeezed lemon juice

fresh strawberries,

as needed to top cake
Instructions
Vanilla Cake:
Preheat oven to 350°F. Butter and lightly flour a 5-inch cake pan (at least 3 inches tall). Line bottom with parchment paper. Set aside.

Sift together cake flour, baking powder, and salt. Set aside. In another bowl, whisk together milk, egg whites, and vanilla. Set aside.

In the bowl of a stand mixer, beat butter until smooth. Add sugar and mix until combined. Scrape down bowl as needed to ensure even mixing.

 Add ⅓ of the dry ingredients. Mix on low speed while adding half of the liquid ingredients. Add another ⅓ of dry, follow with remaining liquid ingredients and end with dry ingredients. Mix until batter is evenly combined.

Spoon batter into prepared cake pan. Level off the top. Bake for 60 minutes, rotating pan midway through baking. If top of cake is browning too much, cover with foil tent. Bake until toothpick inserted in center of cake comes out clean. Cake batter will rise slightly over the 3-inch cake pan. Let cool in pan for 5 minutes before unmolding. Allow to cool to room temperature on wire rack.

Once cake is cool, use a serrated knife to slice off excess muffin top. Divide cake into three even layers.

Honey Cream Cheese Frosting:
In the bowl of a stand mixer fitted with a paddle attachment, cream together cream cheese and butter. Add powdered sugar, honey and sea salt. Mix until smooth.

Strawberry Glaze:
Puree strawberries and raspberries with lemon juice. Strain and measure out 2 Tbsp of juice. Combine powdered sugar and 2 Tbsp strawberry juice. Stir until smooth. If glaze is too thick, continue to add strawberry juice, 1 tsp at a time until desired thickness is achieved.