These Pimm's Popsicles are a frozen version of the classic Pimm's Cup cocktail!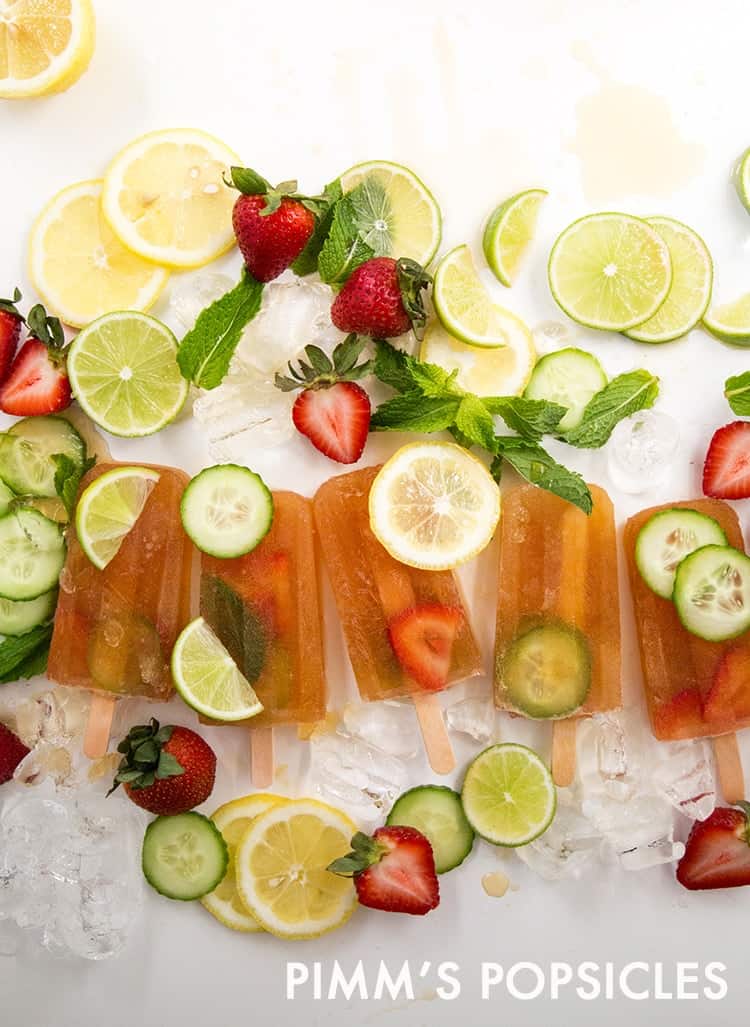 Last week I was at Disney World celebrating my 30th birthday.
I'm from LA, land of dry heat. I could not deal with the high humidity, unpredictable thunderstorms, and brilliant sunshine of central Florida.
While I was melting in the sun or being confused by the sudden downpour and lightning, all I could think about were these Pimm's popsicles I had waiting for me back in LA.
What I would have done for a sweet boozy popsicle. All I had was this portable cooling mist fan to keep me cool.
Now, I'm back home just in for Popsicle Week and I can finally share them!
FYI, #popsicleweek is this delicious internet potluck where a bunch of bloggers (thanks to Billy of Wit and Vinegar) come together and share a whole lot of popsicles recipes to keep you cool this summer.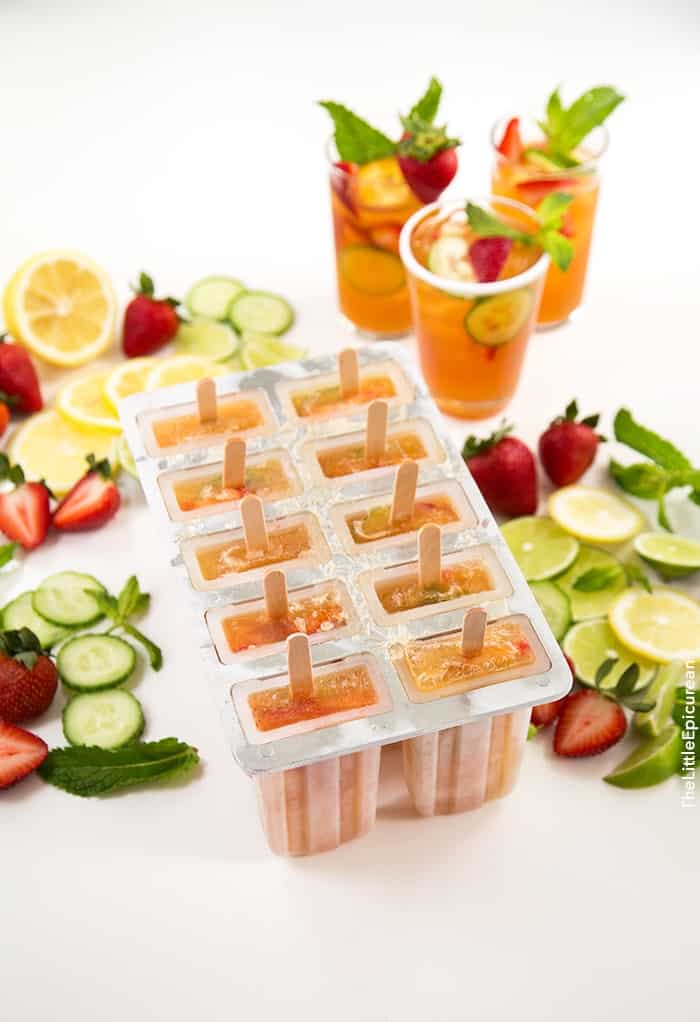 Pimm's Popsicles
I was first introduced to the lovely Pimm's Cup cocktail last year. So intrigued by the cocktail I made my own version: my summer Pimm's Cup using cucumber mint lemonade.
I called 2014 the year of Pimm's because it was my go-to beverage that year. However, I lied. It seems like every year from here on out is a Pimm's year for me.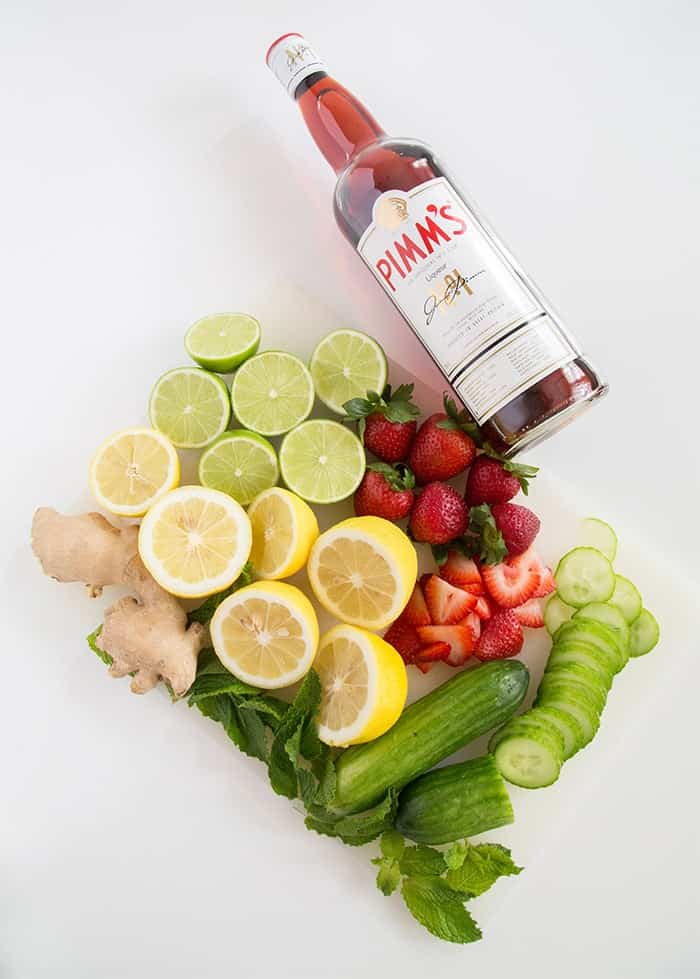 I'm not really sure what spices and herbs are in Pimm's No.1. But it is certainly delicious, intriguing, and refreshing.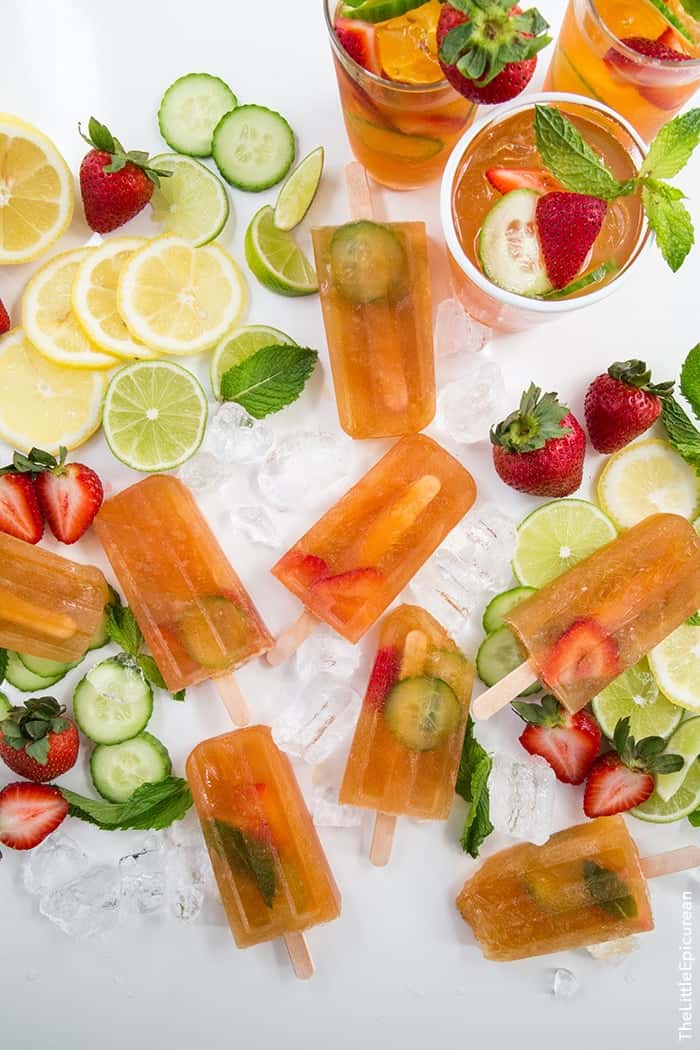 Why stop with a cocktail that is bound by a glass, freeze it and turn it into take anywhere popsicle!
The popsicle base is a mixture of Pimm's No.1, fresh squeezed lemon and lime juice, ginger simple syrup and a splash of water.
Just like the traditional cocktail, these Pimm's popsicles are served with strawberries, cucumbers, and fresh mint.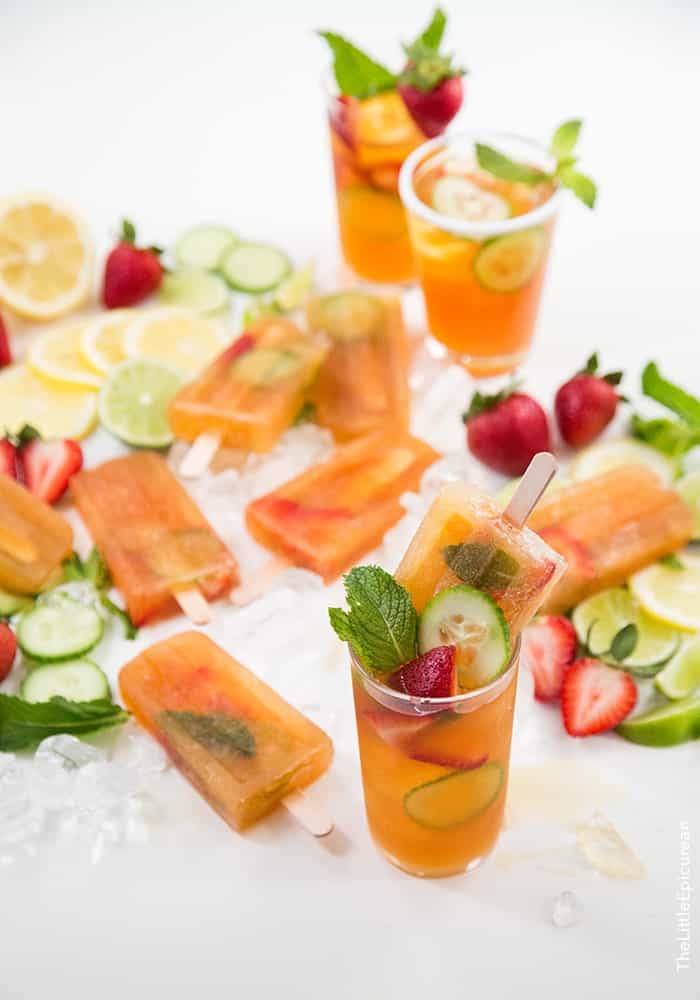 Might as well make a double batch: freeze one batch into popsicles and save the other batch for drinking. Nothing beats Pimm's on Pimm's.
Think about it… Pimm's popsicles served in a glass of ice cold Pimm's Cup! Genius!! Have your cake and eat it, too.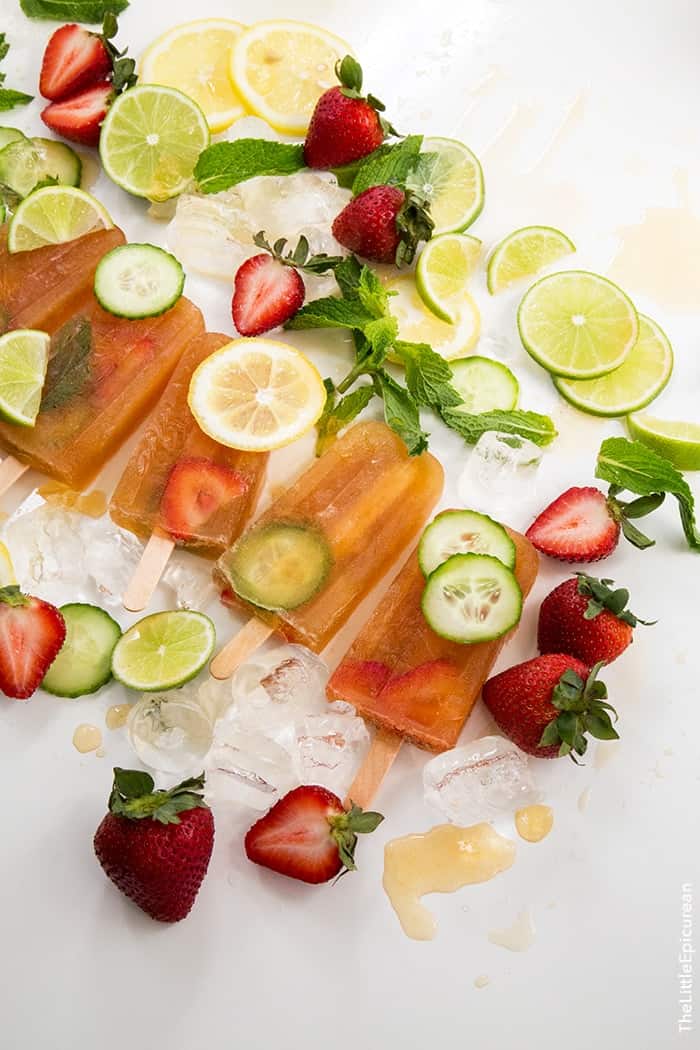 Pimm's Popsicles
Yield: makes 10
Ingredients
1/2

cup

lemon juice

1/3

cup

lime juice

1

cup

water

1 1/3

cup

ginger syrup (recipe follows)

1 1/4

cup

Pimm's No.1

cucumber, thinly sliced

strawberries, hulled and quartered

fresh mint leaves, to garnish
Ginger Syrup:
1

cup

water

1

cup

granulated sugar

1/2

cup

sliced ginger, peeled
Instructions
Combine lemon juice, lime juice, water, ginger syrup and Pimm's.

Add a mixture of sliced cucumbers, strawberries and fresh mint into each popsicle mold cavity. Fill popsicle molds with Pimm's mixture. Insert wooden stick into molds. Freeze for at least 6 hours until solid.
Ginger Syrup:
Combine water, sugar and ginger in a medium pot. Bring to a boil. Once sugar has dissolved, remove from heat. Allow ginger to steep for one hour until mixture has cool to room temperature. Chill until ready to use.

All images and text © The Little Epicurean