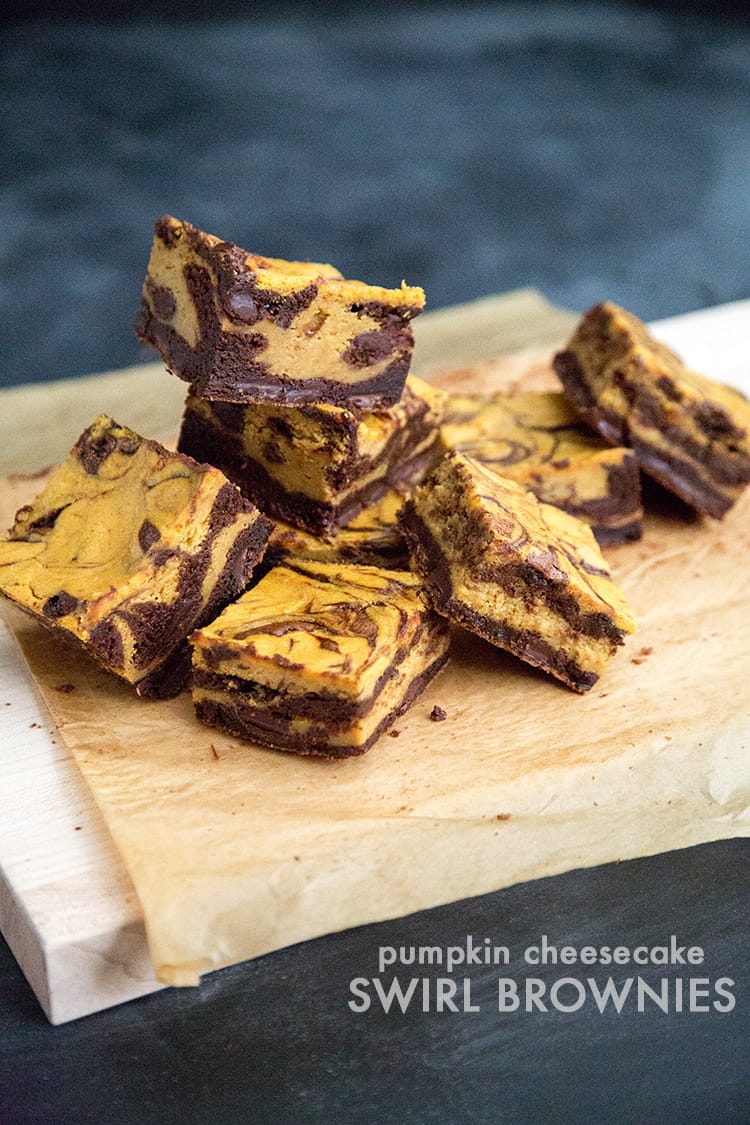 Even though we are halfway done with September, it still feels too early for pumpkin. I just can't come to terms with the end of summer when I'm still sweating wearing shorts and flip flops.
While I'm not ready to go full on Halloween and autumn mode just yet, these brownies are a little teaser for what's to come. These pumpkin cheesecake swirl brownies have just enough pumpkin to get you excited about autumn and all the upcoming festivities in store.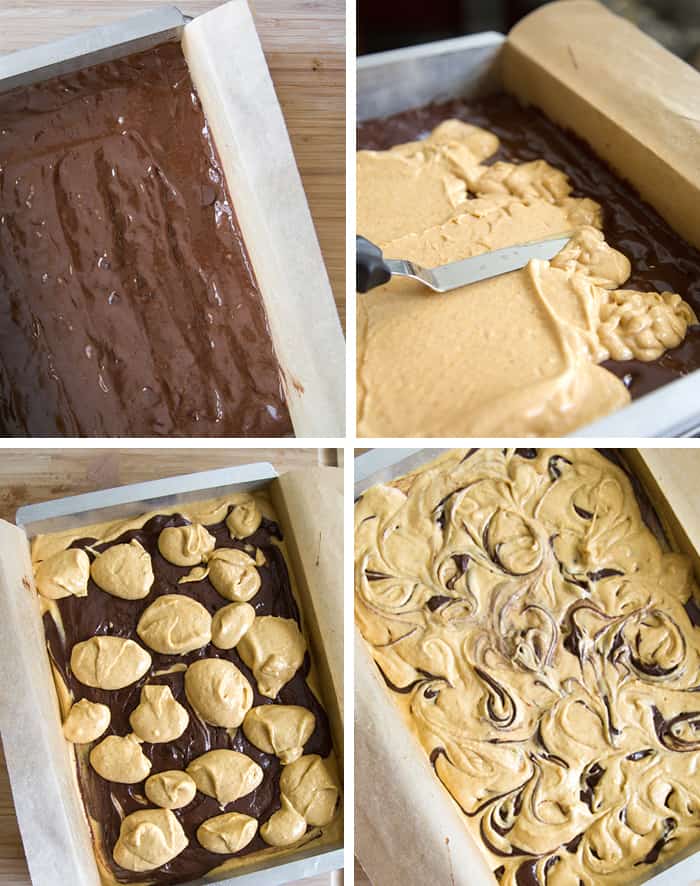 Pumpkin Cheesecake Swirl Brownies
I am very particular about swirl brownies. I'm not happy with just a little swirl on top. Nope. I need the cheesecake and brownie to be completely intertwined. I need lots of marbling, lots of swirls, and lots of chocolate chips.
You start with a layer of chocolate chip studded brownie batter. Top it with a layer of pumpkin cheesecake, followed with the remaining brownie batter. And then you dollop on the remaining pumpkin cheesecake batter. Using a mini offset spatula or a knife, swirl the brownie and cheesecake mixture together.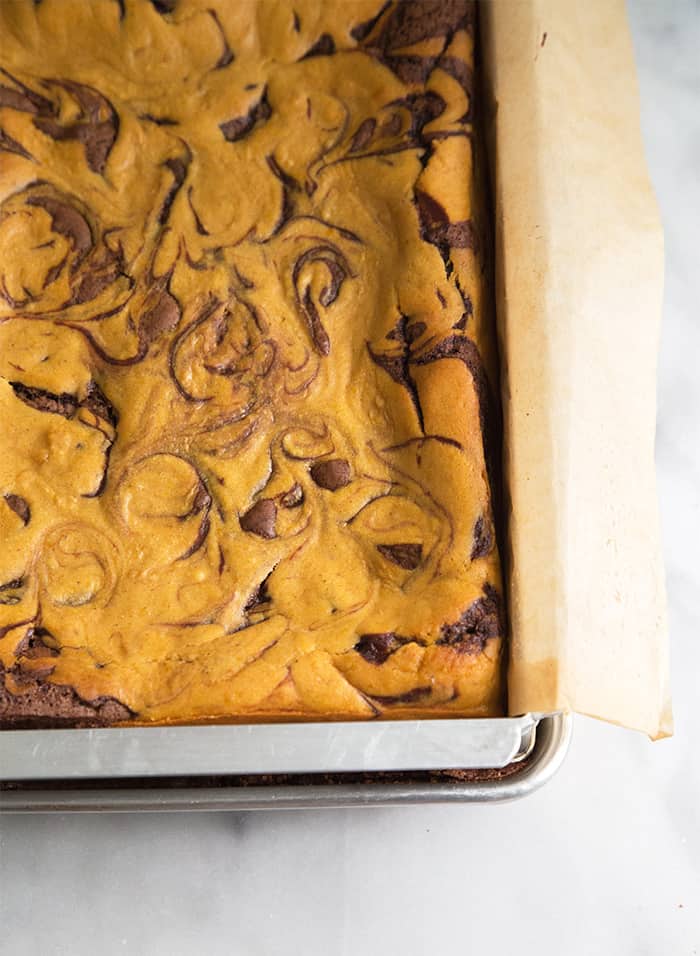 About an hour later, the smell of freshly baked pumpkin cheesecake and the alluring notes of melted chocolate will have you running to the kitchen.
With brownies (as well as cheesecake), you have to learn to be patient. Allow the cheesecake brownie to cool to room temperature before you start slicing yourself a piece. If you want neat, clean slices- allow the brownies to chill in the fridge overnight.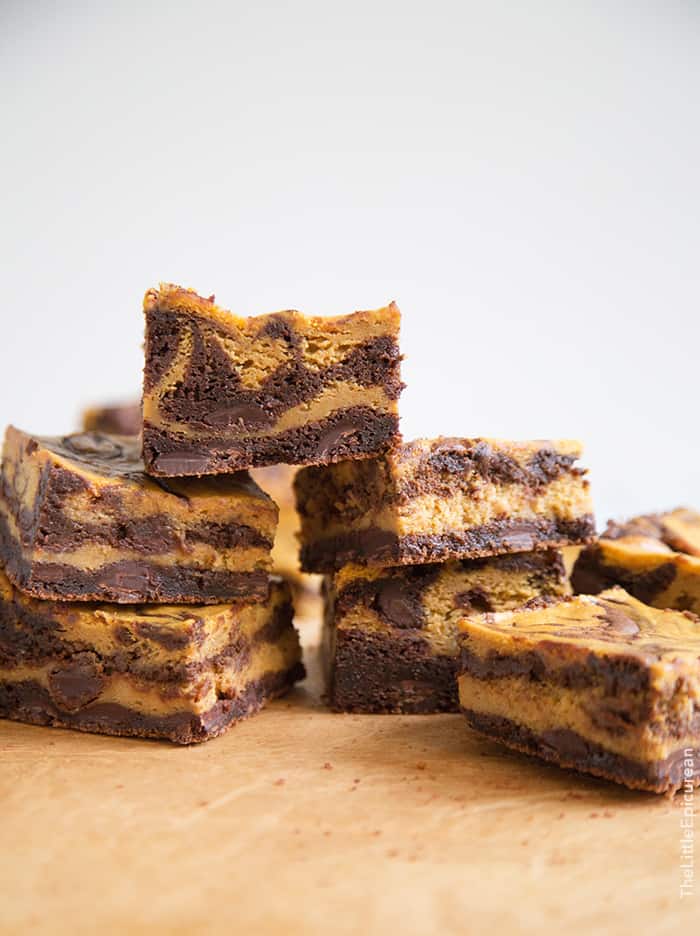 With this recipe, you'll never have to choose between cheesecake or brownies. Have them both!
And if you really, really need more pumpkin. Go ahead and eat this with a giant mug of pumpkin spice latte.
Pumpkin Cheesecake Swirl Brownies
Ingredients
Pumpkin Cheesecake:
12

oz

cream cheese, room temp

1/2

cup

+ 3 Tablespoons pumpkin puree

2/3

cup

granulated sugar

1/2

cup

all-purpose flour

1 1/2

teaspoon

pumpkin spice mix

1

teaspoon

vanilla extract

1/4

cup

heavy cream

2

large eggs
Brownie:
1

cup

unsalted butter

1 3/4

cup

granulated sugar

1

cup

unsweetened cocoa powder

1

teaspoon

fine sea salt

1

teaspoon

baking powder

1

teaspoon

baking soda

4

large eggs

1

cup

all-purpose flour

2

cups

dark chocolate chips, or semi-sweet
Instructions
Preheat oven to 350 degrees F. Line a 9 x 13-inch baking pan with parchment paper, allowing for an overhang on the long sides of the pan. Lightly grease and set aside.

Pumpkin Cheesecake: In the bowl of a stand mixer fitted with paddle attachment, whip cream cream until smooth. Scrape down bowl as needed. Add pumpkin puree and mix until incorporated. Add sugar, flour, and pumpkin spice. Mix together. Then add vanilla and heavy cream. Add eggs and mix until thoroughly combined. Set aside.

Brownies: In a large sauce pot, melt butter over medium heat. Once melted, add sugar. Whisk together and continue to heat until mixture is shiny. Remove from heat and allow to cool slightly.

In a medium bowl, sift together cocoa powder, salt, baking powder, and baking soda. Set aside.

Add dry mixture to pot of melted butter. Stir to combine. Add eggs and whisk to combine. Add flour and fold until incorporated. Fold in chocolate chips until evenly distributed.

Assembly: Take half of chocolate brownie mixture and spread onto prepared baking pan. Spread into an even layer.

Top with half of cheesecake batter. Spread into an even layer over brownie mixture. Spread remaining half of brownie mixture over cheesecake batter.

Dollop remaining cheesecake batter over brownie mixture. Using a mini offset spatula or knife, swirl together the brownie and cheesecake layers.

Bake for 45-50 minutes until the center of the brownie no longer jiggle and the edges of the brownie have slightly pulled away from the pan. Do not overbake, as brownies will dry out.

Let cheesecake swirl brownies cool to room temperature before slicing. For cleaner cuts, allow cheesecake swirl brownies to chill in the fridge before slicing.
P.S. I'm in NYC attending the 2015 Better Homes and Gardens Stylemaker Celebration! Follow me on Snapchat (username: littleepicurean) to see what I'm up to or check out #BHGStyle on Instagram.