Chocolate chunk oatmeal cookies with a crisp exterior and a chewy interior.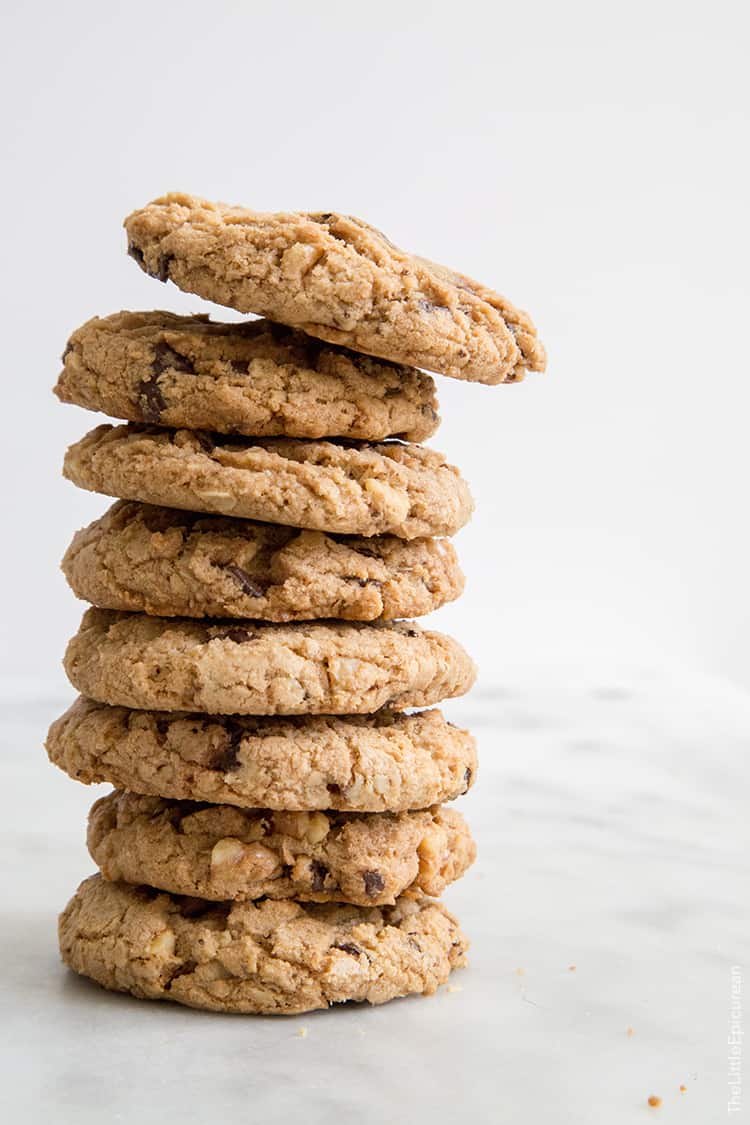 These cookies are loaded with large chunks of toasted walnuts for crunch, plenty of chocolate for sweetness, and oatmeal to make it hearty!
Oatmeal Chocolate Chunk Cookies
These oatmeal cookies are soft and chewy, fresh from the oven. But they don't stay that way.
The cookies will stiffen up a bit as they cool.
Slightly under-bake the cookies to ensure softer results.
Alternatively, pop one or two cookies in the microwave for a book blitz to warm up the cookies and slightly melt the chocolate chunks.
Nothing wrong with a crunchy cookie. Just grab some milk and dunk them in!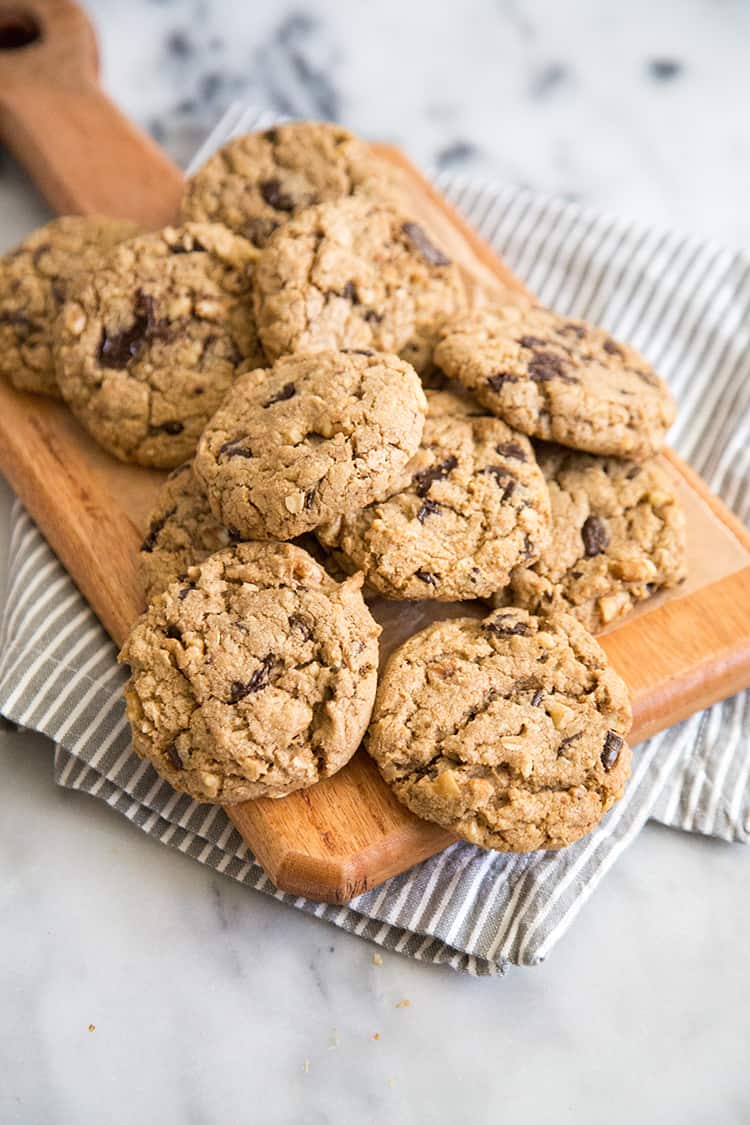 Basic Oatmeal Cookie Base
This is your basic oatmeal cookie dough.
It's mixed with chopped walnuts and dark chocolate chunks. However, you may swap in a variety of different mix-ins.
Delicious options include: raisins, dried cranberries, chopped dried apricots. Choose your choice of chocolate (milk, white, or even peanut butter chips!).
And of course, you may swap in your choice of nut.
Vegan Oatmeal Cookies
When you're ready to try something new and different, have a vegan oatmeal cookie!
This vegan oatmeal raisin cookie is made with oat flour (ground up rolled oats), flaxseed egg, and coconut oil.
For a fruity option, these vegan strawberry oatmeal cookies are the best!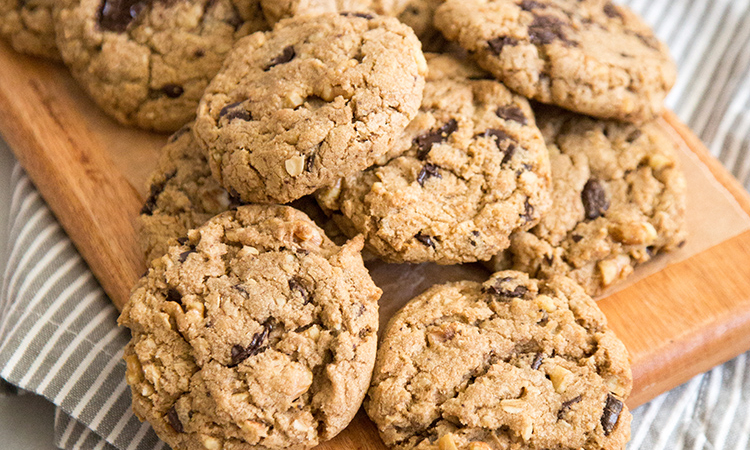 Chocolate Chunk Oatmeal Cookies
These chocolate chunk oatmeal cookies have a crisp exterior and a chewy interior. It's loaded with large chunks of toasted walnuts for crunch, plenty of chocolate for sweetness, and oatmeal to make it hearty!Yield: makes 2 dozen
Ingredients
6

oz

unsalted butter, room temperature

3/4

cup

(6 oz) dark brown sugar, packed

1/2

cup

(4 oz) granulated sugar

1

large egg, room temperature

1

teaspoon

pure vanilla extract

2

cups

(9 oz) all-purpose flour

1/2

teaspoon

fine sea salt

1

teaspoon

baking powder

1

teaspoon

baking soda

1

cup

(3.5 oz) old fashioned rolled oats

1 1/2

cups

(5.6 oz) walnuts, lightly toasted, roughly chopped

1 1/2

cups

(8 oz) dark chocolate chunks
Instructions
In the bowl of a stand mixer fitted with a paddle attachment, cream butter. Add brown sugar and granulated sugar. Mix until smooth. Scrape down bowl as needed. Add egg and vanilla extract. Mix until combined.

In another bowl, whisk together flour, salt, baking powder, and baking soda. With the mixer running on low, slowly add in dry flour mixture.

Before dough is throughly mixed add in rolled oats, walnuts, and dark chocolate. Fold to combine until toppings are evenly distributed.

Chill for dough for 30 minutes. Divide cookie using an ice cream scoop.

Preheat oven to 350 degrees F. Bake for 15-17 minutes, rotating baking sheet midway through baking. Allow to cool in pan for 3 minutes before transferring to wire rack to cool.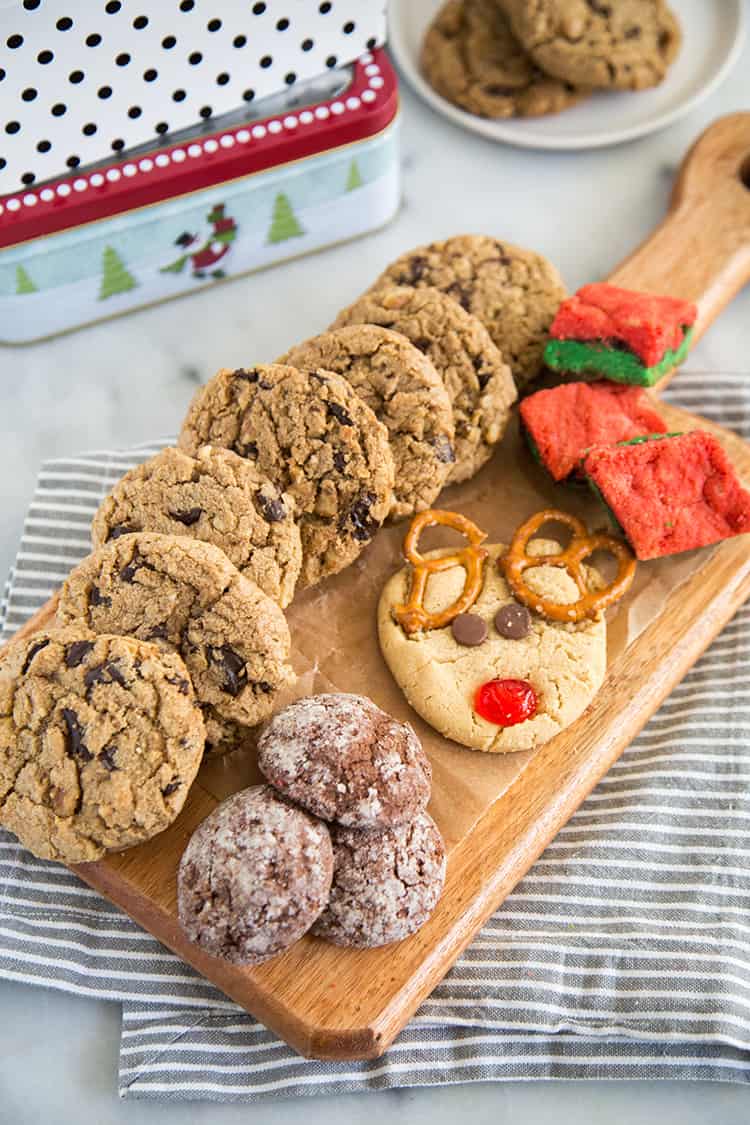 This is my second time participating in The Great Food Blogger Cookie Swap. I love the surprise and anticipation of getting cookies in the mail.
This year, I sent out my chocolate chunk oatmeal cookies to Trang of Wild Wild Whisk, Corinne of Reverberations, and Samantha of Haute Pepper Bites.
In exchange, I received chocolate crinkle cookies from Jennifer of Girl on the Range, peanut butter reindeer cookies from Nina of Crazy For Cookies and More, and jolly jam jams from Matt of Kitchen Man Cooks. Looking forward to next year's swap!