These tropical biscotti feature a combination of banana, coconut, and macadamia nuts. While it's far from traditional, it's a great summer treat!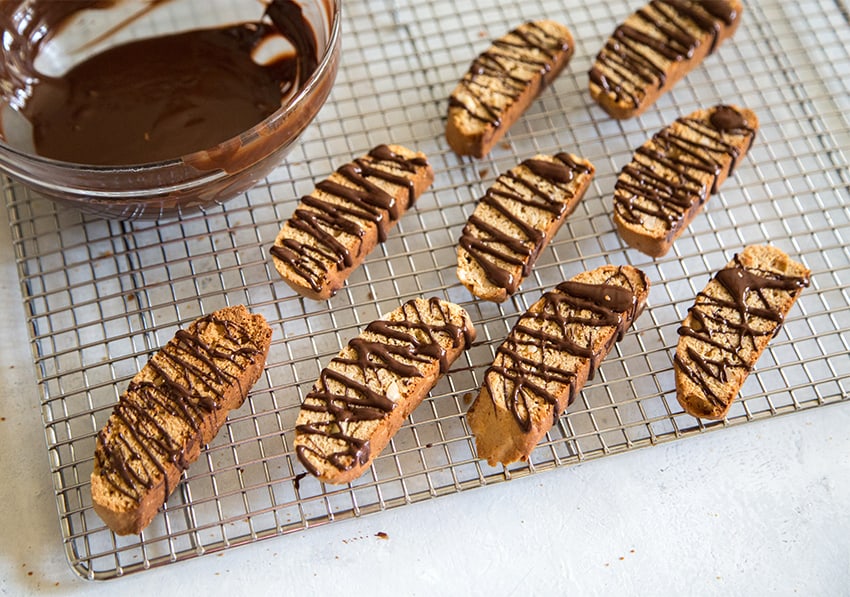 I wasn't much of a biscotti fan growing up. To me, they were these dry dense biscuits that were difficult to chew and lacked in the flavor department.
Those days are long gone. Over the years, I've learned to like the little subtleties of biscotti. I've learned to dunk it into sweet Italian dessert wine or a mug of hot coffee.
When the summer months hit, these tropical biscotti are great with a large glass of ice coffee!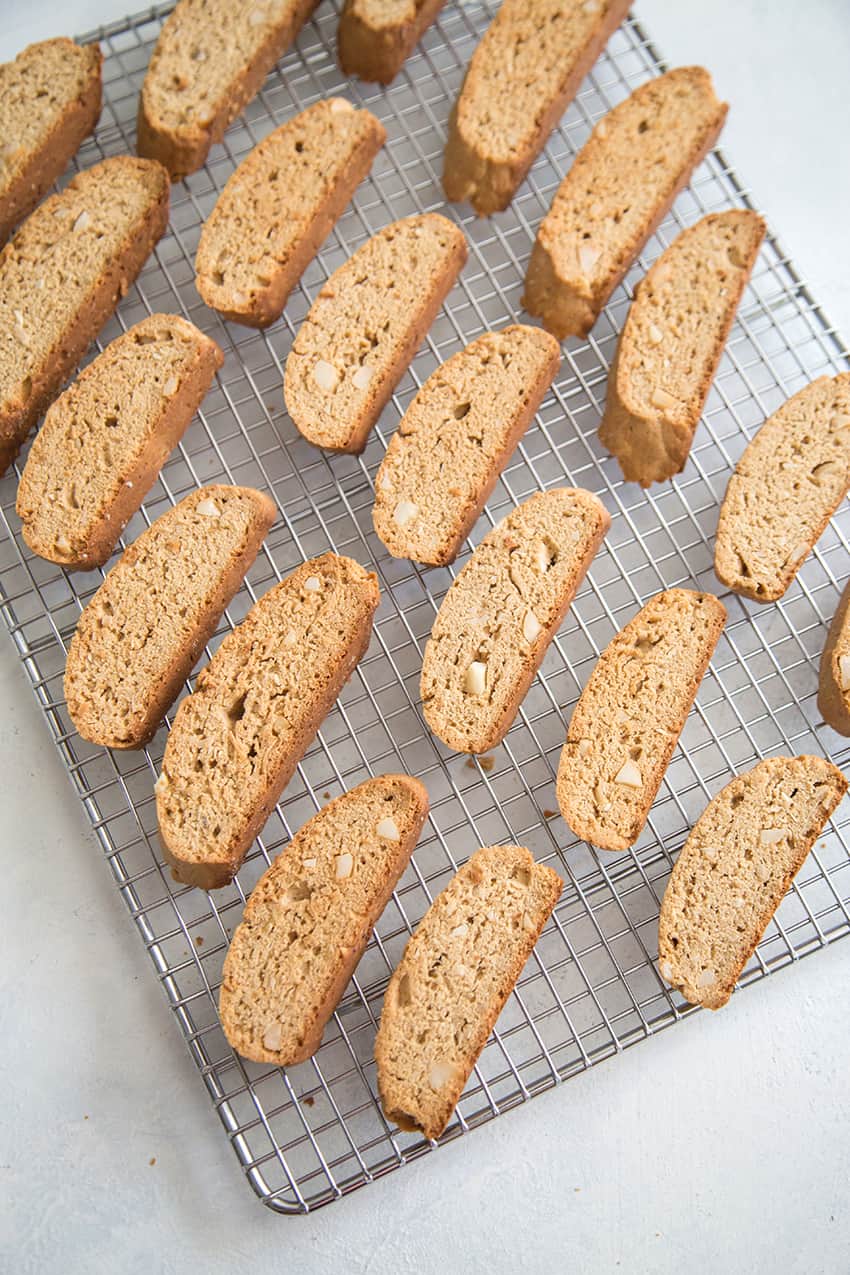 What are biscotti?
Biscotti are twice baked Italian cookies. Traditionally, they are a dry and crunchy cookie.
Tropical Biscotti with Chocolate
These tropical flavored biscotti are far from the traditional Italian biscotti.
While most biscotti recipes are dry, these have a little more moisture due to the addition of mashed banana in the dough. It's also studded with chopped macadamia nuts and a hint of shredded coconut.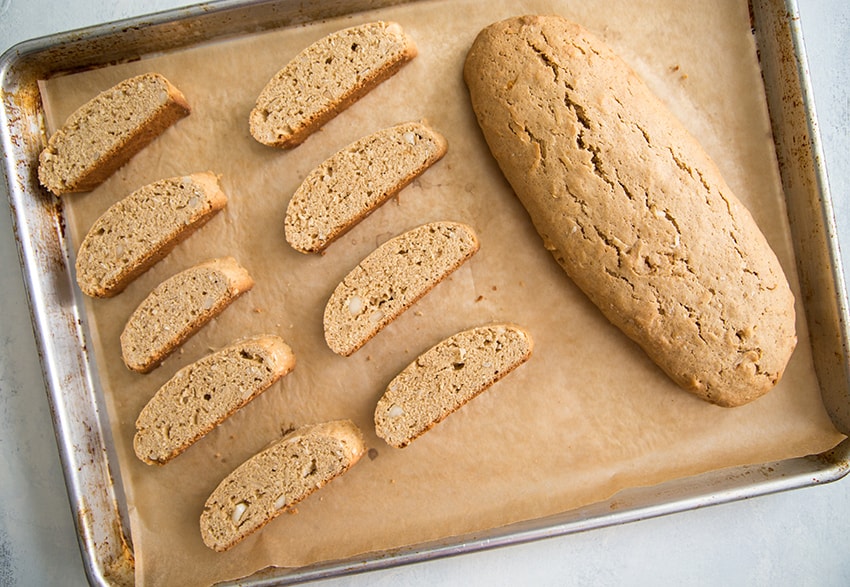 As mentioned previously, biscotti are twice baked.
First, it's shaped into a loaf and baked until firm. Then it's sliced in wedges and bake again until crisp.
It is best to use a serrated knife when slicing biscotti. A serrated knife will lend to cleaner slices.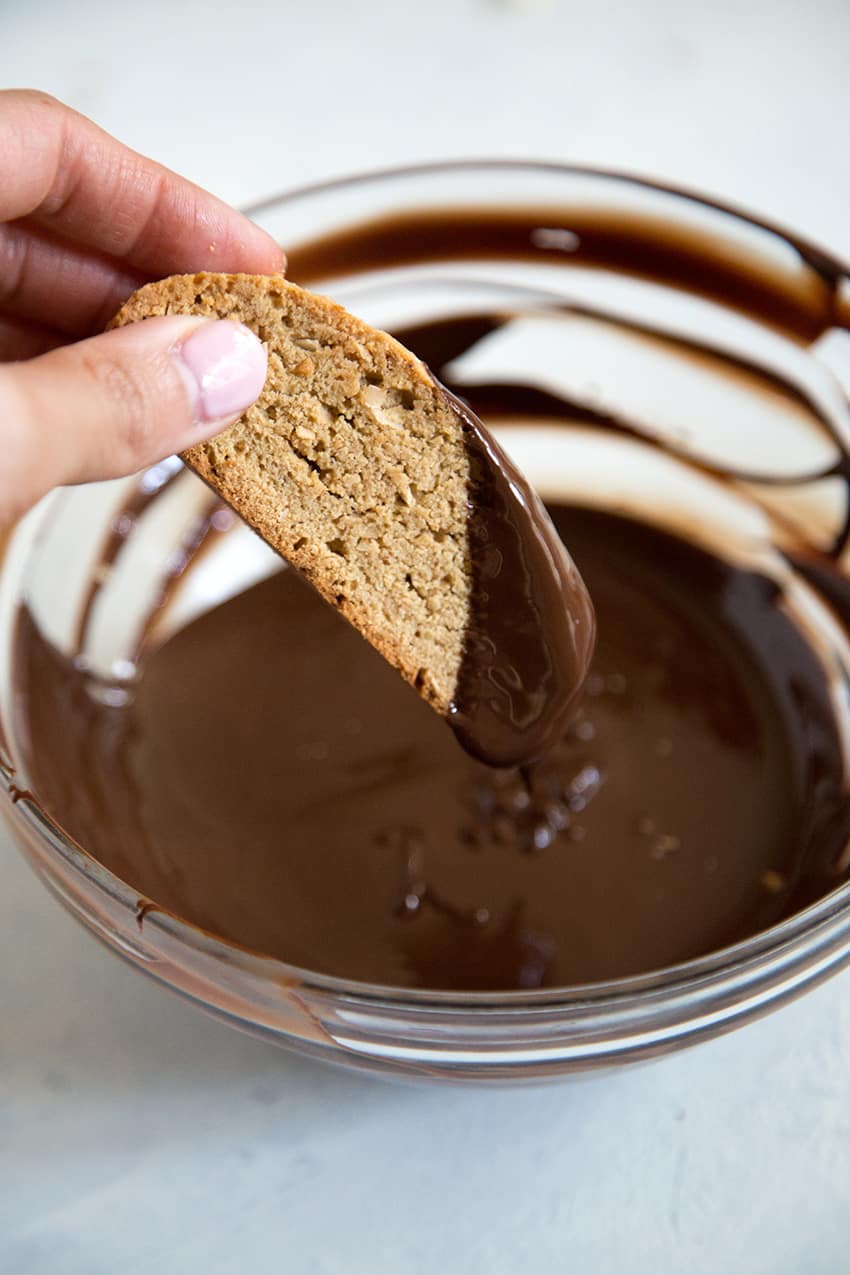 Dipping Chocolate
Finished the cooled biscotti with melted chocolate for extra decadence.
Dip the biscotti in chocolate or drizzle a little melted chocolate on top. Either way, it's a nice touch of sweetness.
The dipped chocolate mixture is made from a combination of semi-sweet chocolate and vegetable shortening. The shortening helps to keep the chocolate shiny.
Alternatively, you may use milk chocolate or white chocolate in place of semi-sweet.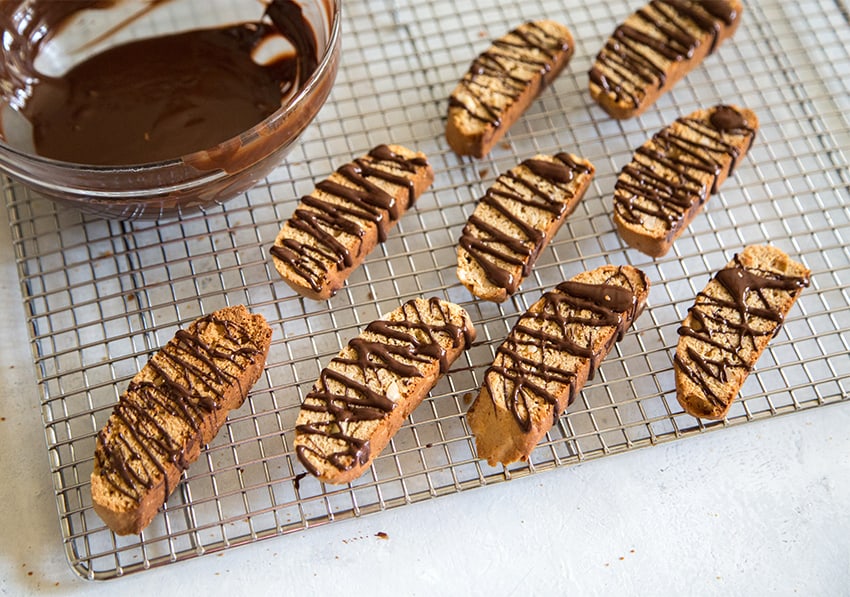 Tropical Biscotti with Banana, Coconut, and Macadamia Nuts
Yield: about 2 dozen
Ingredients
1/2

cup

unsalted butter,

room temp

3/4

cup

light brown sugar,

packed

1

teaspoon

baking powder

1

teaspoon

ground cinnamon

1/4

teaspoon

fine sea salt

2

large eggs, room temperature

1

medium ripe banana,

mashed (about 1/3 cup)

1

teaspoon

vanilla extract

3

cups

all-purpose flour

1/2

cup

roasted macadamia nuts,

roughly chopped

1/2

cup

sweetened shredded coconut
Dipping Chocolate:
6

oz

semisweet chocolate,

chopped

2

teaspoon

vegetable shortening
Instructions
Preheat oven to 350°F. Line baking sheet with parchment paper or reusable silicone baking mat. Set aside.

In the bowl of a stand mixer fitted with a paddle attachment (or using an electric hand mixer), beat butter until smooth. Add brown sugar, baking powder, ground cinnamon, and salt. Mix until combined.

Add in eggs, banana, and vanilla. Mix until well incorporated. Scrape down sides of bowl as needed.

Fold in flour, macadamia nuts, and shredded coconut until there are no longer any dry streaks of flour.

Transfer dough to a lightly floured work surface. Divide dough into two equal portions. Shape each portion into 10-inch long mounds. Place the two logs on prepared baking sheet, spacing them about 2-inches apart.

Bake for 30-35 minutes, until toothpick inserted in center of log comes out clean. Allow to cool in pan for 15 minutes. Reduce oven temperature to 325°F.

Transfer dough to cutting board. Use a serrated knife to slice 1/2-inch thick pieces. Place cut slices bake on baking sheet. Space slices 1-inch apart. Bake for 10-12 minutes. Turn slices over and bake for another 10 minutes until biscotti are crisp. Remove from oven and transfer biscotti to wire rack to cool to room temperature.
Dipping Chocolate:
Combine chocolate and shortening in a large bowl. Place bowl over a pot of simmering water. Make sure bowl does not touch water. Gently melt mixture and stir often to ensure even melting.

*Alternatively, gently melt chocolate and shortening in the microwave at half power for 30 second intervals until mixture is smooth. Stir mixture after every interval to ensure even melting.

Dip room temperature biscotti into melted chocolate. Or, drizzle chocolate over biscotti. Allow chocolate to set, or enjoy immediately.