These mini pistachio tarts are filled with pistachio pastry cream, studded with fresh raspberries, and topped with caramelized pistachios.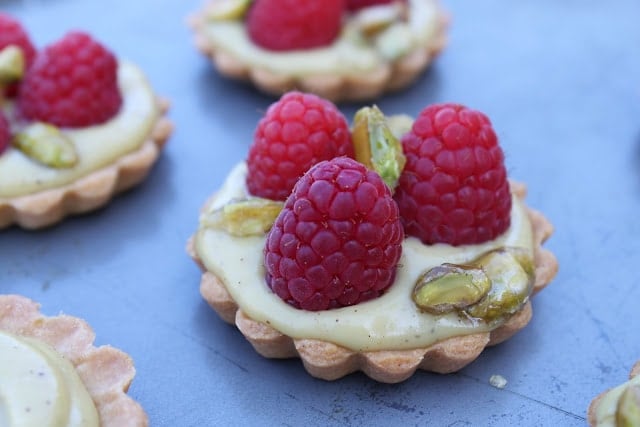 For the longest time, I disliked Costco. While I understand that people can save money buying in bulk, I feel that the massive shopping carts at Costco leads customers to overstock on supplies. In the long run, they end up throwing out unused expired products. And where the heck do you store all the stuff you end up buying? My pantry and freezer can only hold so much food and my bathroom can only store so many rolls of toilet paper.
Plus, living in California, I am deathly afraid of being stuck at Costco while there is an earthquake. (I fear the same thing while shopping at Ikea, Home Depot and Lowe's) All I can think about are the heavy boxes that could fall and crush me.
But most of all, I cannot stand the crowds that flock to Costco to fill up on samples and socialize in the aisles during the weekends. The ridiculous long lines at check out and the hassle to find parking is enough to steer me far away.
Oh but how I've had a change of heart. Yes, I still fear the looming boxes overhead, but I love the flats of fruits, fresh and seasonal fruits they always seem to have in stock. This week, I found gorgeous raspberries. At the supermarket, a 6 oz container can cost up to $4 but at Costco, I was able to buy six- 6 oz containers for under $10!
I will be making plenty of desserts, tarts and cakes to make sure I use up all the raspberries I bought because I don't want to regret buying in bulk.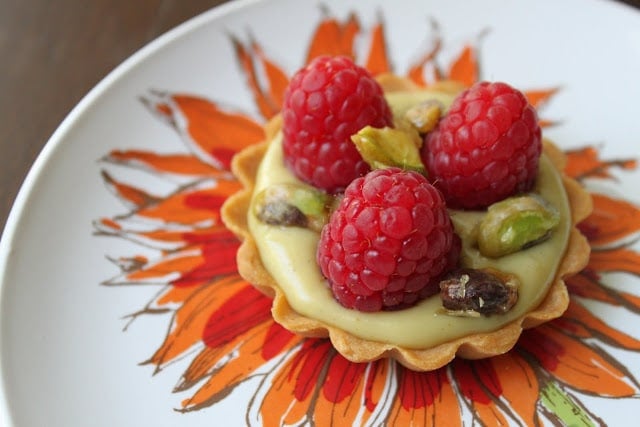 Pistachio Tart with Raspberries and Caramelized Pistachio
Yield: makes eight 4-inch tarts
Ingredients
Sweet Tart Dough:
12

Tablespoons

unsalted butter, cut into tablespoons, room temp

5

Tablespoons

superfine sugar

1

large egg

1

large yolk

1

teaspoon

vanilla paste, or pure vanilla extract

2 1/4

cups

all-purpose flour

1/2

teaspoon

fine sea salt
Pistachio Pastry Cream:
3

cups

whole milk

3/4

cup

granulated sugar

1/4

teaspoon

fine sea salt

2

teaspoons

pure vanilla extract

1/4

cup

cornstarch

1

Tablespoon

all-purpose flour

4

large egg yolks

3/4

cup

pistacho paste*
Caramelized Pistachios:
1/3

cup

pistachios

3

Tablespoons

superfine sugar

2

Tablespoons

water
Instructions
Sweet Tart Dough:

Beat butter with a paddle until smooth. Add sugar and continue to beat until light in color.

Mix together eggs and vanilla paste. Gradually add it to the butter while mixing at medium speed.

Reduce speed to low and add flour and salt. Mix until the dough just begins to clump together

Dump dough onto lightly floured table and knead until dough becomes smooth. Divide dough in half. Form into 2 squares 1 inch thick and wrap in plastic. Chill dough for 30 minutes to 1 hour.

Roll dough out to 1/8'' thick and line tartlet shells. Dock the dough and freeze for 15 minutes.

Remove from freezer and cover shells with parchment paper and fill with weights. Bake in a preheated 350 degrees F oven for 15 minutes. Removes the weights and bake for another 5 minutes until tart shell is golden brown.

Caramelized Pistachios:

Heat sugar and water in a saucepan. Swirl liquid around until sugar is fully dissolved, but do not stir.

Microwave pistachios for 10 seconds.

Once sugar syrup reaches a nice amber color, add the warmed pistachios to the saucepan. Coat the nuts in the syrup and pour onto a parchment lined sheet pan. Spread the nuts, breaking any clumps that have formed. Let the nuts cool.