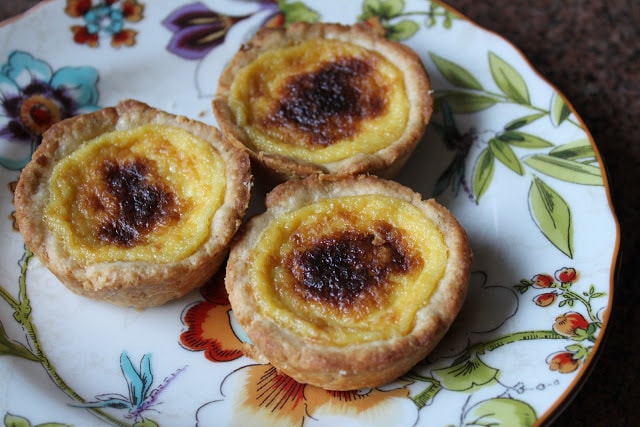 Portuguese Egg Tarts
I've had a long time obsession with Portuguese egg tarts. Don't get them confused with the egg tarts you normally find at dim sum. These are a little bit different and in my opinion, a whole lot better.
Its like a creme brulee but in a flaky tart instead of a boring ramekin. I'm still on the search for bakeries in Southern California that make these delicious tarts. In the meantime, I'll keep experimenting until I make the perfect tarts.
A couple years ago, I visited my friend in Taiwan and ate too many egg tarts for my own good. I probably gained more than a handful of pounds during the short week I was there.
Taiwan has so much good food and my friend made sure to make me try all of it. And the one thing I miss more than anything are the egg tarts from KFC.
Yes, Kentucky Fried Chicken has egg tarts (unbelievable mochi and brown syrup egg tarts- google it for images). Too bad KFC in the United States only serves chocolate cake and apple pie for dessert.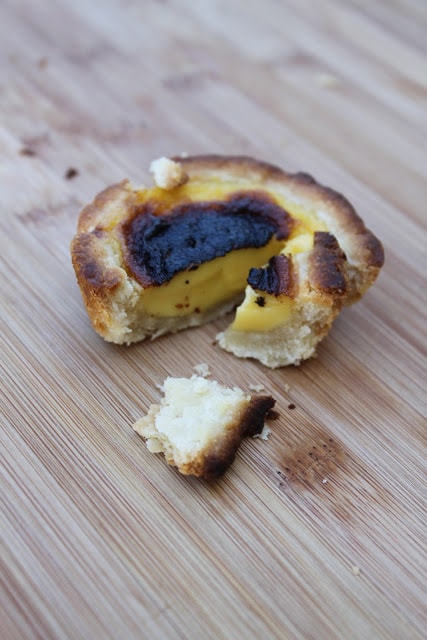 These little tarts are best served warm or fresh out of the oven. You can also sprinkle some cinnamon or powdered sugar on top.
Portuguese Egg Tarts
Ingredients
Quick Puff Pastry Tart Dough:
10

oz

all-purpose flour

1/4

oz

fine sea salt

8

oz

unsalted butter, cut into small cubes, cold

5

oz

ice water
Custard Filling:
100

grams

egg yolks

100

grams

granulated sugar

1/3

cup

heavy cream

1/3

cup

whole milk

1 1/2

teaspoons

vanilla paste, or vanilla extract
Instructions
Quick Puff Pastry Tart Dough:
Combine flour and salt. Cut butter cubes into flour. Add water and mix to form a loose dough.

Dump out onto table and pat dough into a rectangle.

Roll out to 1/2 inch in thickness. Fold dough into thirds and turn it a quarter to the right.

Roll the folded dough into a rectangle 1/2 inch in thickness and fold into thirds again. Wrap the dough in plastic wrap and chill for 15-30 minutes.

Repeat rolling and folding four more times. Its best to chill after every two turns.
Custard Filling:
Beat together yolks, sugar, cream, milk, and vanilla paste with a whisk. Continue to whisk over a bain-marie until sugar has dissolved. Strain mixture.

Roll out puff pastry into a log. Portion out 30 g balls of dough. Use scaled dough to line muffin tin.

Divide custard mixture into prepared tart shells. Bake in a preheated 400 degree F oven for 15-20 minutes. Then 3-5 minutes in the broiler.