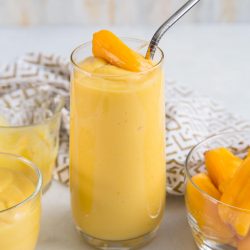 Tropical Jackfruit Smoothie
This tropical jackfruit smoothie blends together jackfruit, mango, banana, coconut, and pineapple for a little taste of paradise. Yield: makes 1 ½ cups
Fresh banana and mango can also be used in place of frozen. However, resulting smoothie will not be as thick.
Coconut milk makes this rich and creamy. You can also substitute in coconut water for a lighter beverage.
Want to make this into a cocktail?
Add 1 1/2 oz of dark or light rum when blending all the ingredients. It turns into a jackfruit pina colada!