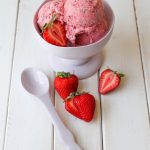 Strawberry Basil Frozen Yogurt
Homemade strawberry basil frozen yogurt. This easy to make treat uses plain Greek yogurt and fresh strawberries. Yield: about 1 quart
1

pint

(2 cups) fresh strawberries, hulled and sliced

3/4

cup

granulated sugar

3

Tablespoon

fresh basil leaves, chopped

1

teaspoon

finely grated lime zest

1

cup

plain Greek yogurt

1

cup

heavy whipped cream
Pulse strawberry-sugar mixture, chopped basil, and lime zest in a food processor or blender until berries are almost pureed.


In another bowl, whisk together Greek yogurt and heavy cream until smooth. Add strawberry mixture and stir to combine.


Pour mixture into bowl of ice cream maker and freeze according to machine manufacturer's instructions, or alternatively, pour into popsicle molds and freeze for 2-3 hours until firm.