A spin of the classic black sesame and matcha pairing. These black sesame cupcakes with matcha cream frosting are a great alternative to the standard birthday treats.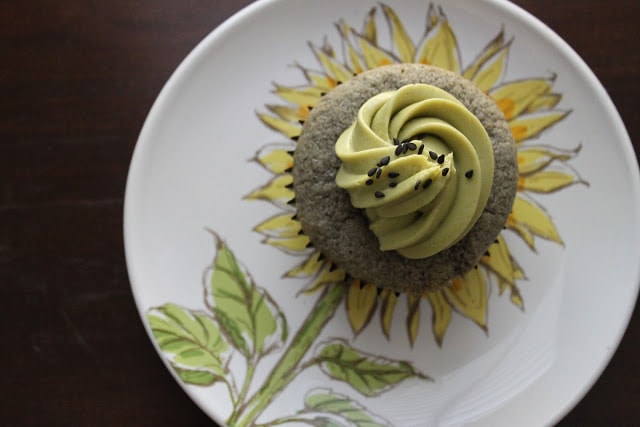 In college, I made a ton of new friends and acquaintances. But after graduation, work, distance and life gets in the way and I lost touch with a lot of them. I may have a whole bunch of facebook friends, but I'm sure you can guess how many of those I consider friends in real life.
I'm very thankful for the friends I see and spend time with on a regular basis, especially the friends that are always willing to try my new recipes. The friends that think all my desserts are amazing and delicious– those friends are the greatest.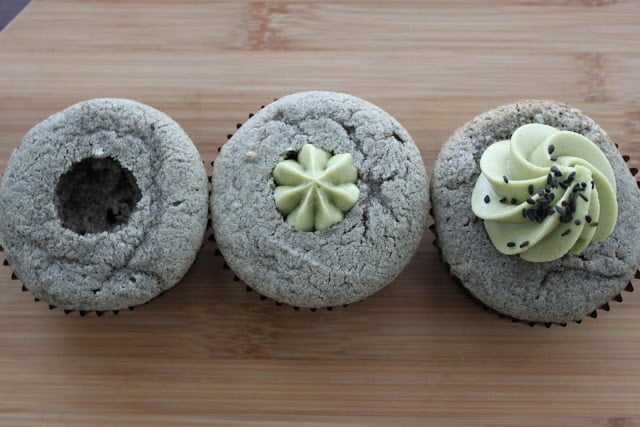 Black Sesame Cupcakes
And a best friend deserves more than the usual cupcake flavors (chocolate, vanilla, yellow cake). I wanted to make something new, something exciting, something that doesn't come in a box mix.
I usually get requests for red velvet cakes with cream cheese frostings for birthdays (so boring to do and it makes my sink red).
Instead, I thought it would be really fun to try out black sesame cupcakes with matcha cream cheese frosting.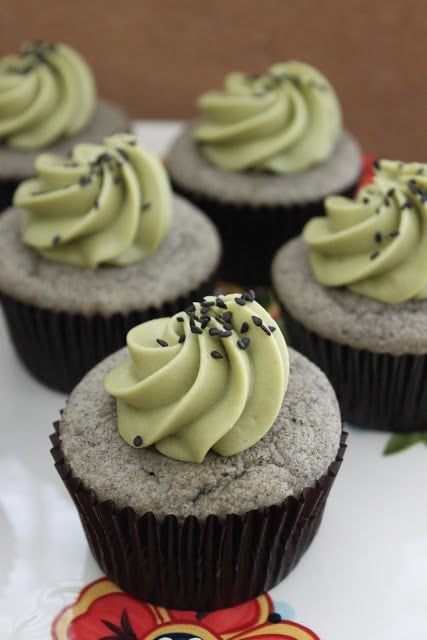 Not only are the cupcakes visually appealing, they are just as delicious. The nutty flavors of black sesame pairs really well with the tart cream cheese and mellow matcha.
Plus, the color palate of these cupcakes are more guy friendly.
Black Sesame Cupcakes with Matcha Cream Frosting
Yield: 12 cupcakes
Ingredients
Black Sesame Cupcakes:
1/2

cup

(4 oz) unsalted butter, room temperature

3/4

cup

(6 oz) granulated sugar

1/4

cup

black sesame seed powder/flour

1

extra large egg, room temp

1

teaspoon

vanilla paste, or pure vanilla extract

1/4

teaspoon

fine sea salt

1 1/4

teaspoon

baking powder

5 1/2

oz

all-purpose flour

2/3

cup

whole milk
Matcha Cream Cheese Frosting:
4

oz

unsalted butter, room temp

6

oz

confectioners' sugar, or more if you want stiffer frosting

8

oz

cream cheese, cut into small pieces

1

Tablespoon

matcha green tea powder, or more to taste
Instructions
Black Sesame Cupcakes:
Preheat oven to 375 degree F.

Cream the butter and sugar. Add the black sesame powder, egg, and vanilla paste. Mix until combined.

In a separate bowl, whisk together the salt, baking powder and all-purpose flour. Alternate adding flour mixture and milk on low-med speed. Repeat. Beat on med-high for 1 minute until fully combined.

Divide batter between 12 prepared muffin tins. Bake for 15-18 minute until skewer comes out clean when inserted in the center. Remove cupcakes from tin and let cool on rack. Begin preparing frosting. Once cupcakes are cool. Use apple corer/melon baller/fat end of piping tip to create a shallow cavity on top of cupcake.
Matcha Cream Cheese Frosting:
Cream butter with paddle. Add confectioner's sugar and beat until combined. Slowly add cream cheese. Mix until combined. Add matcha powder and beat until fully incorporated.

Prepare a piping bag with a medium star tip. Place frosting in prepared bag and fill the cavity until it reaches the top of the cupcake. Pipe a large rosette to cover the hole. Sprinkle the top with black sesame seeds.

Store cupcakes in the refrigerator and bring to room temperature before serving.