Salted Bourbon Caramel Macarons
It has been a while since I've made French macarons. I had a little incident with my oven and we've been on macaron hiatus ever since. I finally gave in today, after learning my oven was being uncooperative because it just needed to be calibrated.
So in continuing my birthday celebration, I made a batch of super pink macarons sprinkled with a little sanding sugar (for some added bling).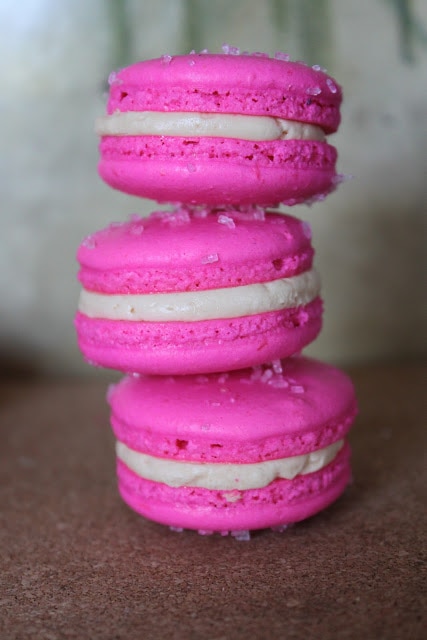 Powdered Coloring:
Instead of using the usual liquid food coloring or gel colors, I opted to try out powdered color.
The results turned out amazing. The pink is so vibrant and pure (maybe a little too pink because I was unsure how powerful powdered color can be).
Using powdered color has more benefits than just adding aesthetic value. Since macarons are sensitive to excess moisture its not a bad idea to use powdered color. It doesn't add additional water until liquid food coloring.
Aging Egg Whites:
There is plenty of debate on the proper method for making macarons–especially on whether or not to age your egg whites.
Aged egg whites are best for meringues because their whip much faster than fresh whites. Also, egg whites are about 90% water and letting them age allows some of the moisture to evaporate, making your whites noticeably stronger.
For this batch, I used 2 day aged whites.
French vs Italian Meringue:
Another argument stems from the use of either a French meringue or Italian meringue.
Most people are familiar with the French meringue method, simply adding sugar to egg whites as it whips. The Italian meringue method requires the sugar to be cooked to a syrup that is turn slowly poured into the whipping egg whites.
I've made meringues using both methods and they both work fine in making macarons.
For this batch, I used the Italian method because I cooked the powdered color with the sugar syrup.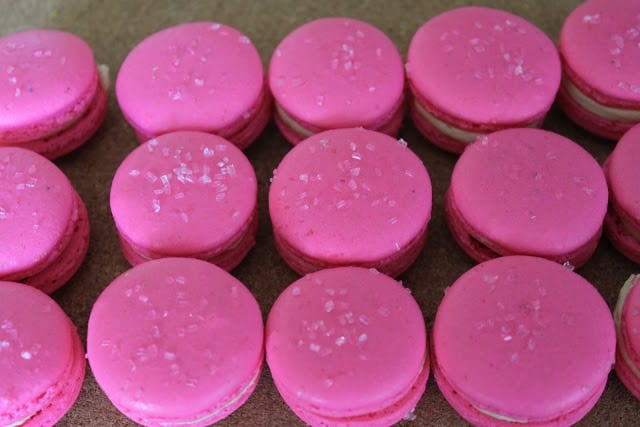 I had some salted bourbon caramel buttercream leftover from my birthday cake and used that to fill the cookies.
Salted Bourbon Caramel Buttercream
Ingredients
1

cup

egg whites

16

oz

granulated sugar

4

oz

water

24

oz

butter, cut into tablespoons, room temp

salted caramel, to taste
Salted Bourbon Caramel:
1/2

cup

granulated sugar

1/4

cup

heavy cream

1

Tablespoon

butter

2

Tablespoons

bourbon whiskey of choice

salt, to taste
Instructions
Begin by preparing the caramel. Using a heavy bottom sauce pan, heat the sugar on high until it melts. Lower the heat and allow the syrup to color. Make sure not to agitate the sugar to prevent crystallization. Remove from heat once syrup is an amber color and aromatic. Add in the heavy cream and whisk. Be careful as the mixture will bubble vigorously. Let cool slightly and add in the butter, bourbon and salt. Continue to whisk until homogenized. Let cool to room temperature.

For the buttercream, cook sugar and water in a pot until it registers 245 degrees F on a thermometer. Do not agitate the sugar as it cooks to prevent unwanted crystallization. You can also brush the sides of the pot with water to prevent crystal growth along the walls.

While the sugar is cooking, begin whipping egg whites on low speed. Whip to soft peaks and add the boiling sugar in a slow steady stream. Once all the sugar is poured, whip on high until the meringue is three times its original volume. Continue whipping on medium until the meringue is at room temperature.

Slowly add the soft butter to the meringue while whipping at low or medium speed. Whip until smooth and emulsified. Add cooled caramel, to taste.