Looking for a gluten-free chocolate dessert? This flourless chocolate and pear cake is a crowd pleaser! Serve with ice cream or a dollop of creme fraiche.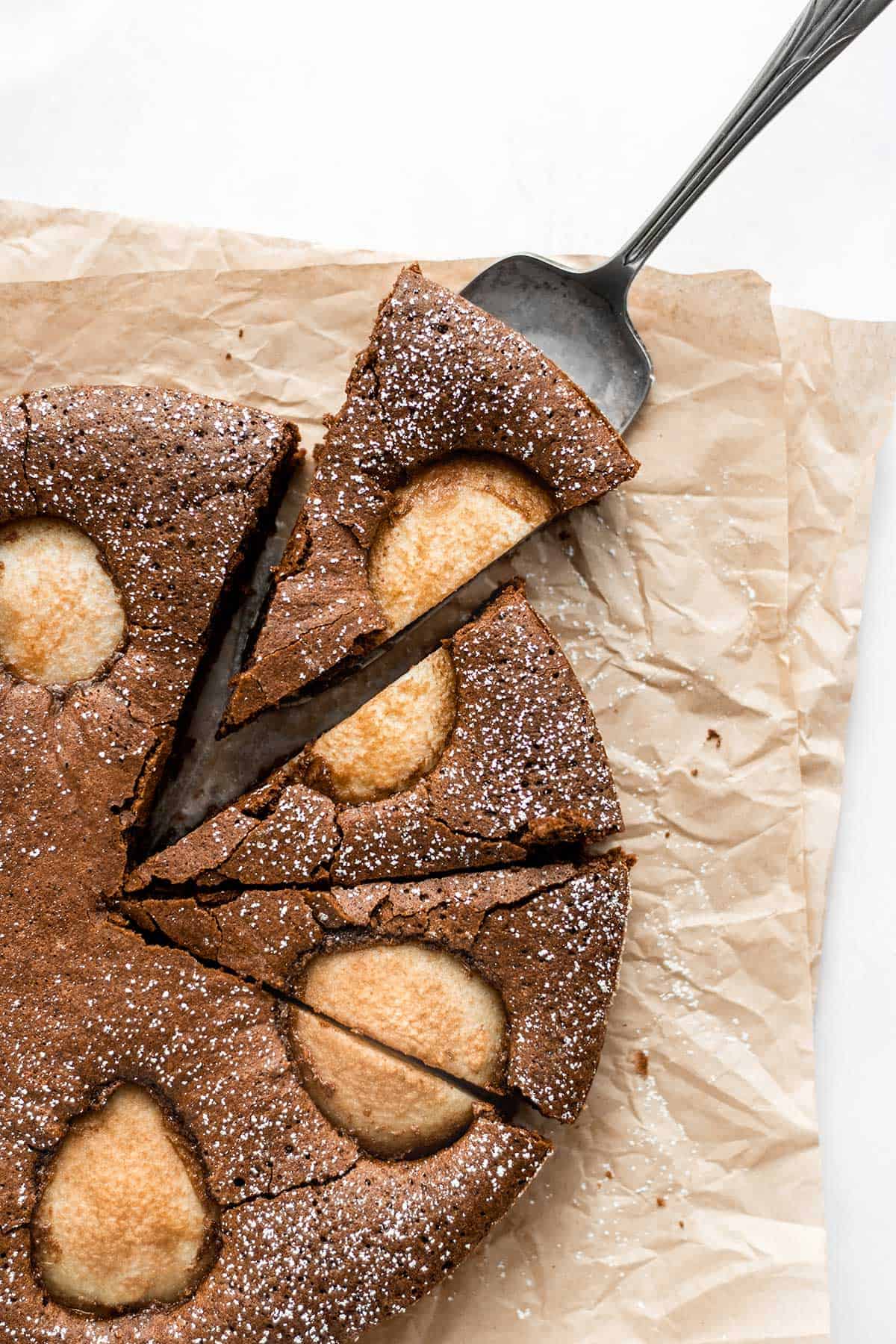 Flourless chocolate cake is always a crowd pleaser. Its simple to make and difficult to mess up.
Its a perfect dessert to make when guests are over because it fills the entire house with an intoxicating and inviting aroma. And seriously, who doesn't love chocolate?
Flourless Chocolate and Pear Cake
With the addition of pears and ground hazelnuts, this cake is my autumn version of the traditional flourless cake.
I left the hazelnuts coarsely ground because I like the little crunch and texture it provides in this cake.
If you're not a fan of pears, I'm sure you can also try using ground almonds with apples or ground pistachios with cranberries.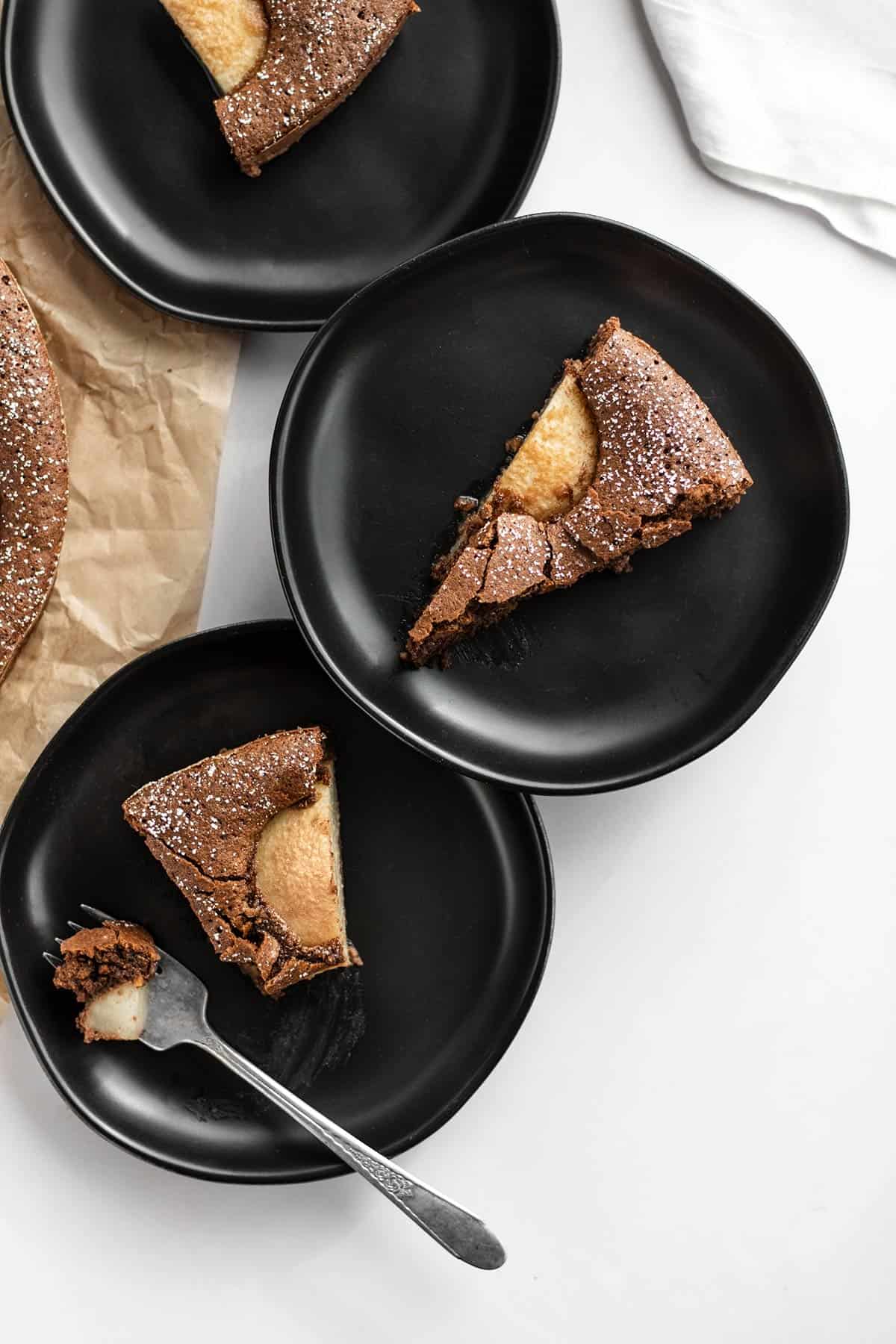 I have this habit of adding a little touch of espresso powder whenever I bake with chocolate. The espresso helps to enhance the dark and rich flavors of the chocolate without overpowering it.
This cake would have looked a whole lot better if I had larger pears. My small pears sunk and disappeared into the cake. Regardless, it tastes great and smells amazing.
I left it out on the counter while I did some shopping and just found crumbs when I returned. I've already received requests to make this for our family Christmas party.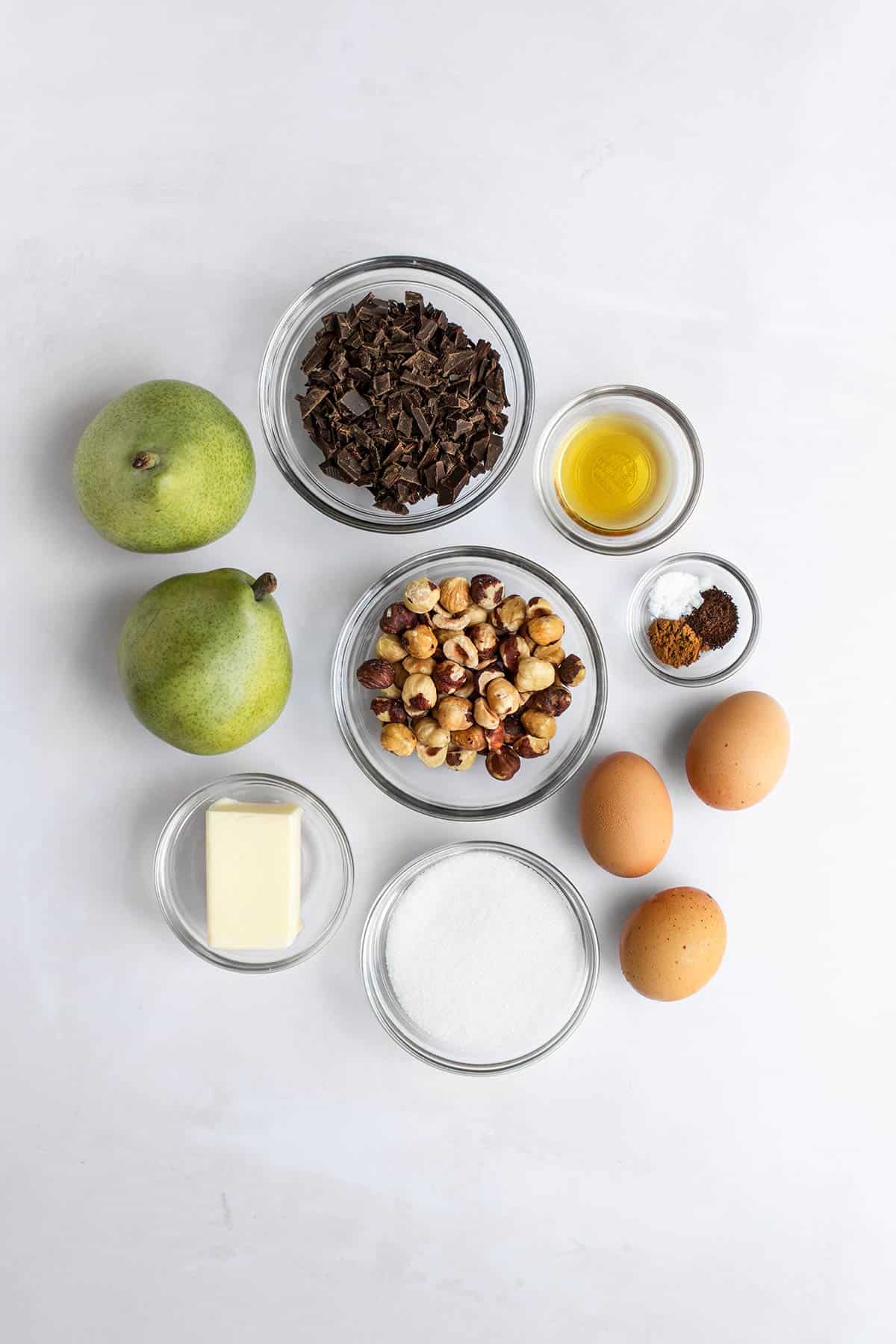 Interested in more pear recipes? Try these favorites:
FLOURLESS CHOCOLATE AND PEAR CAKE
Ingredients
85

grams

unsalted butter

85

grams

dark chocolate, chopped

1

Tablespoon

honey whiskey, or bourbon/whiskey of choice

85

grams

granulated sugar

3

large eggs, separated

85

grams

ground hazelnuts, toasted and blanched

1/4

teaspoon

fine sea salt

1/4

teaspoon

ground cinnamon

1/4

teaspoon

espresso powder

3

pears, peeled, halved, and cored
Instructions
Preheat oven to 350 degrees F. Butter a 9-inch round spring form pan and coat with granulated sugar. Line pan with a parchment round.

Melt butter and chocolate together in a bowl over a bain-marie. Once melted, remove from heat and mix in whiskey. Set aside.

In the bowl of stand mixer with a whisk attachment, whisk egg yolks and granulated sugar until pale and thick.


Whisk together ground hazelnuts, salt, cinnamon, and espresso powder. Mix into melted chocolate mixture. Fold thickened yolks into the chocolate mixture.

In a clean bowl, whisk egg whites to soft peaks. Do not over beat. Add whites to chocolate batter in three additions, folding in whites gently.

Pour chocolate batter into prepared pan. Level with a mini offset spatula. Place pears cut side down onto the batter. Bake for 35-45 minutes until pears are soft and cake is cooked throughout. Let cool in pan for 10-15 minutes before unmolding. Serve warm or at room temperature. Sprinkle with powdered sugar or serve with ice cream or creme fraiche.