A simple and satisfying gluten-free chocolate dessert. Flourless chocolate pear cake is best served with ice cream or a dollop of crème fraîche .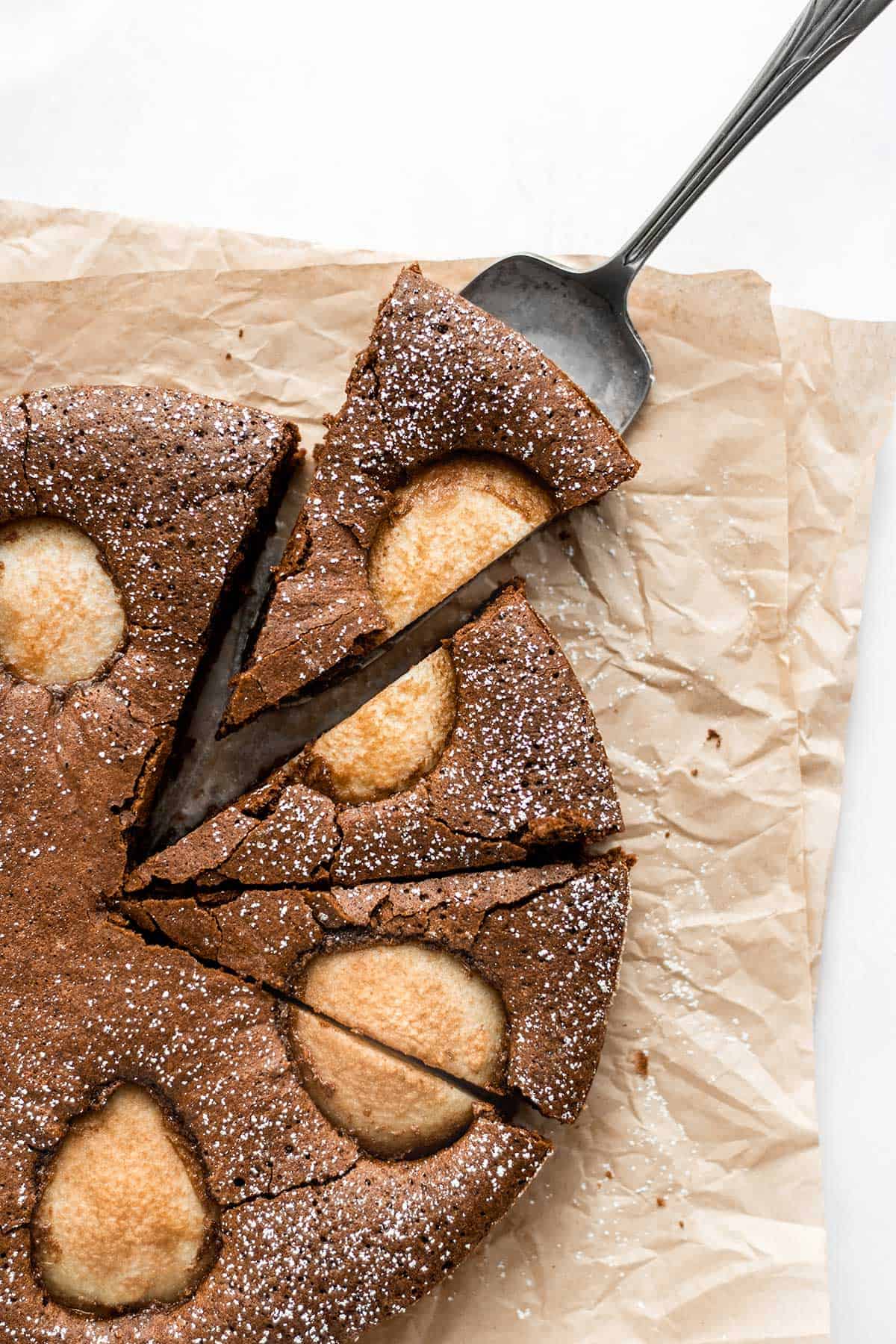 This is the perfect dessert to make when guests are coming over. It fills the entire house with an intoxicating chocolate aroma.
No need for fancy scented candles when you're baking chocolate!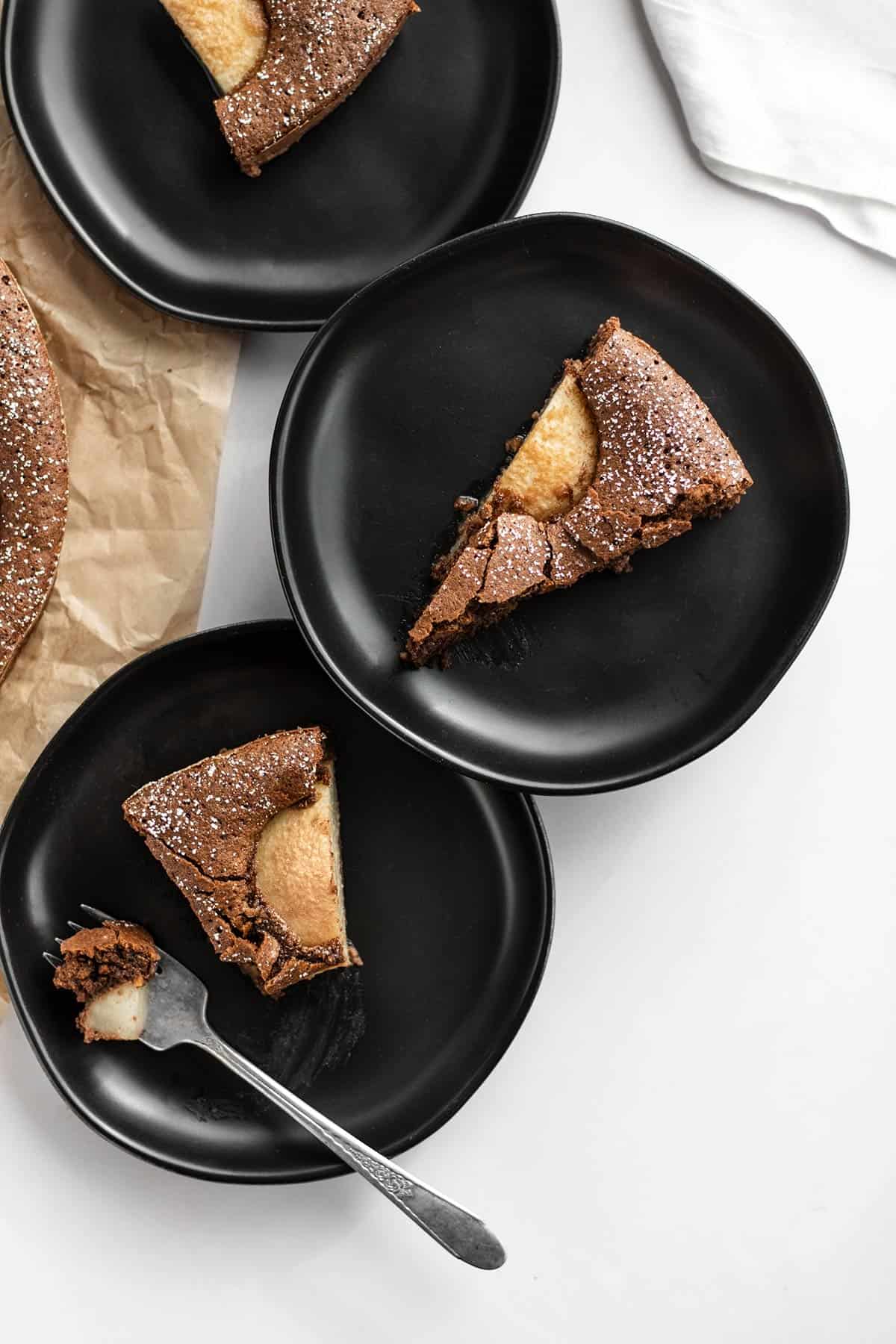 Chocolate Pear Cake
This is the autumn version of the traditional flourless chocolate cake. The addition of pears and ground hazelnuts amplifies the warm flavors of fall.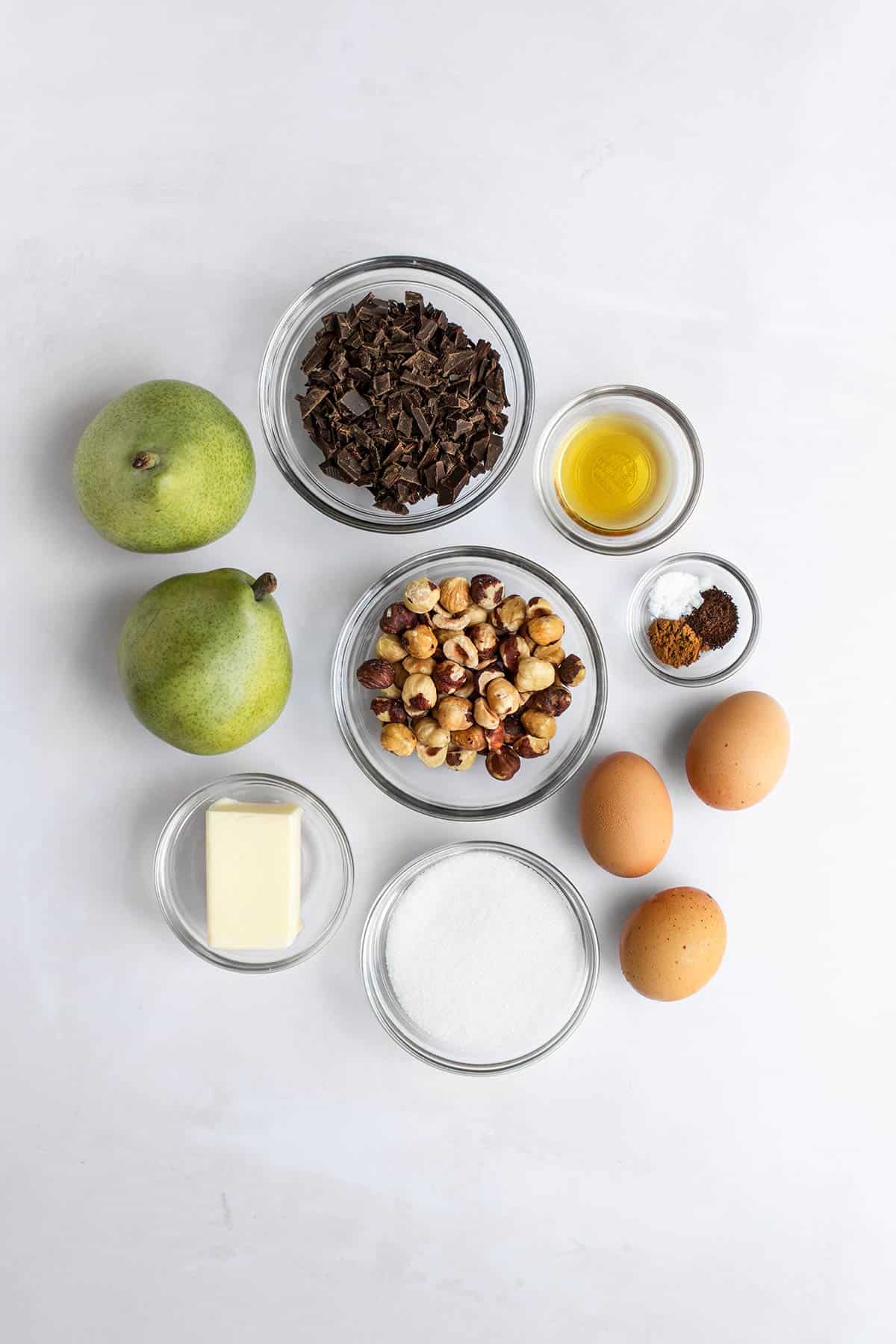 Flourless Cake Ingredients
This flourless cake relies on melted chocolate and whipped eggs for texture and stability. No chemical leavenings agents (such as baking powder or baking soda) are used.
Ground hazelnuts contributes to the cake's texture. You may substitute with equal parts ground almonds (almond flour).
Hazelnut works best for this recipe because of it's flavor. Hazelnut and chocolate pair wonderfully with pears.
Add to a touch of espresso whenever baking with chocolate. The espresso helps to enhance the dark, rich flavors of chocolate.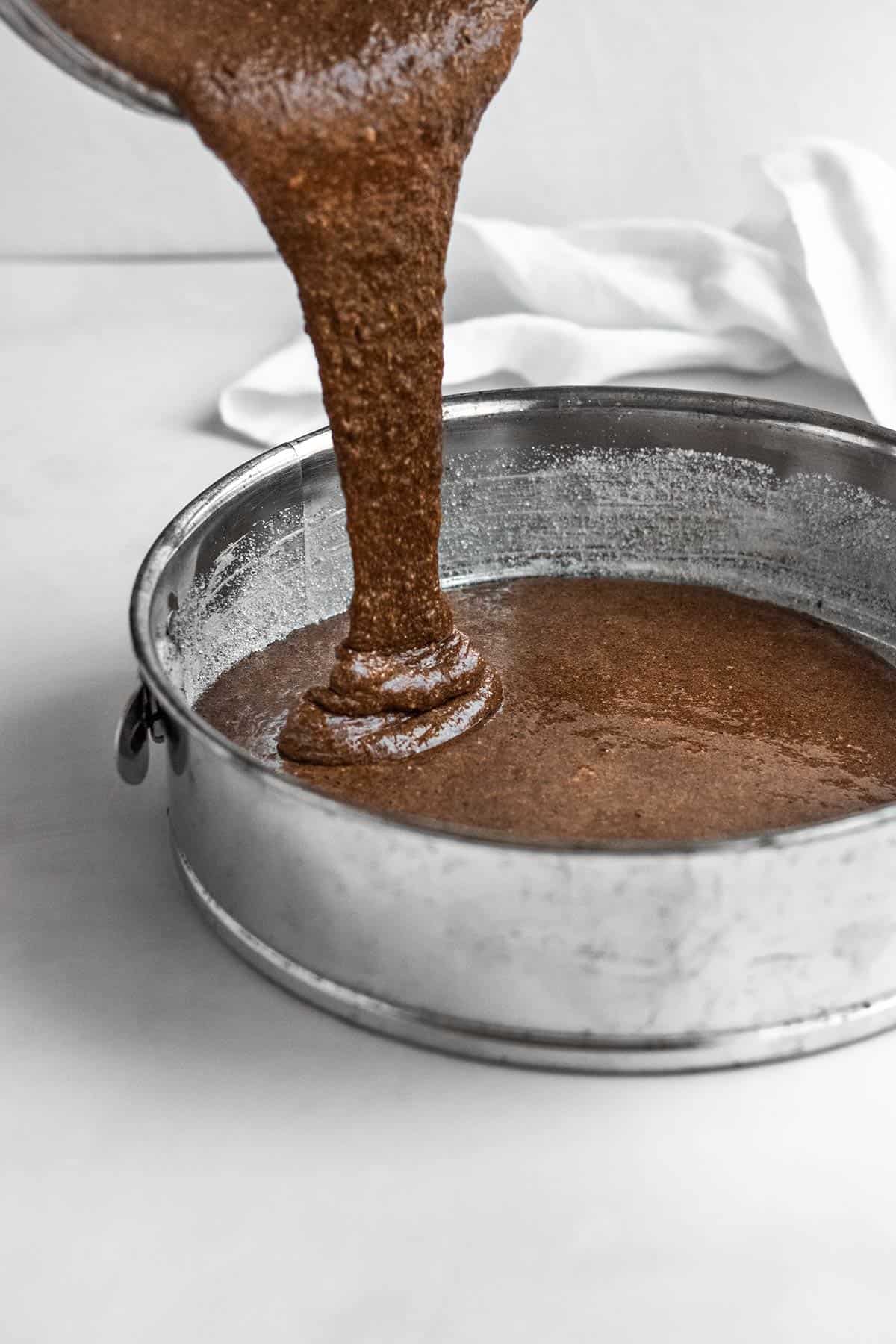 Start with whole toasted hazelnut. Grind the hazelnuts to your liking.
Coarsely ground will provide a little crunch and texture to the cake. Otherwise, finely ground the hazelnuts to a powder.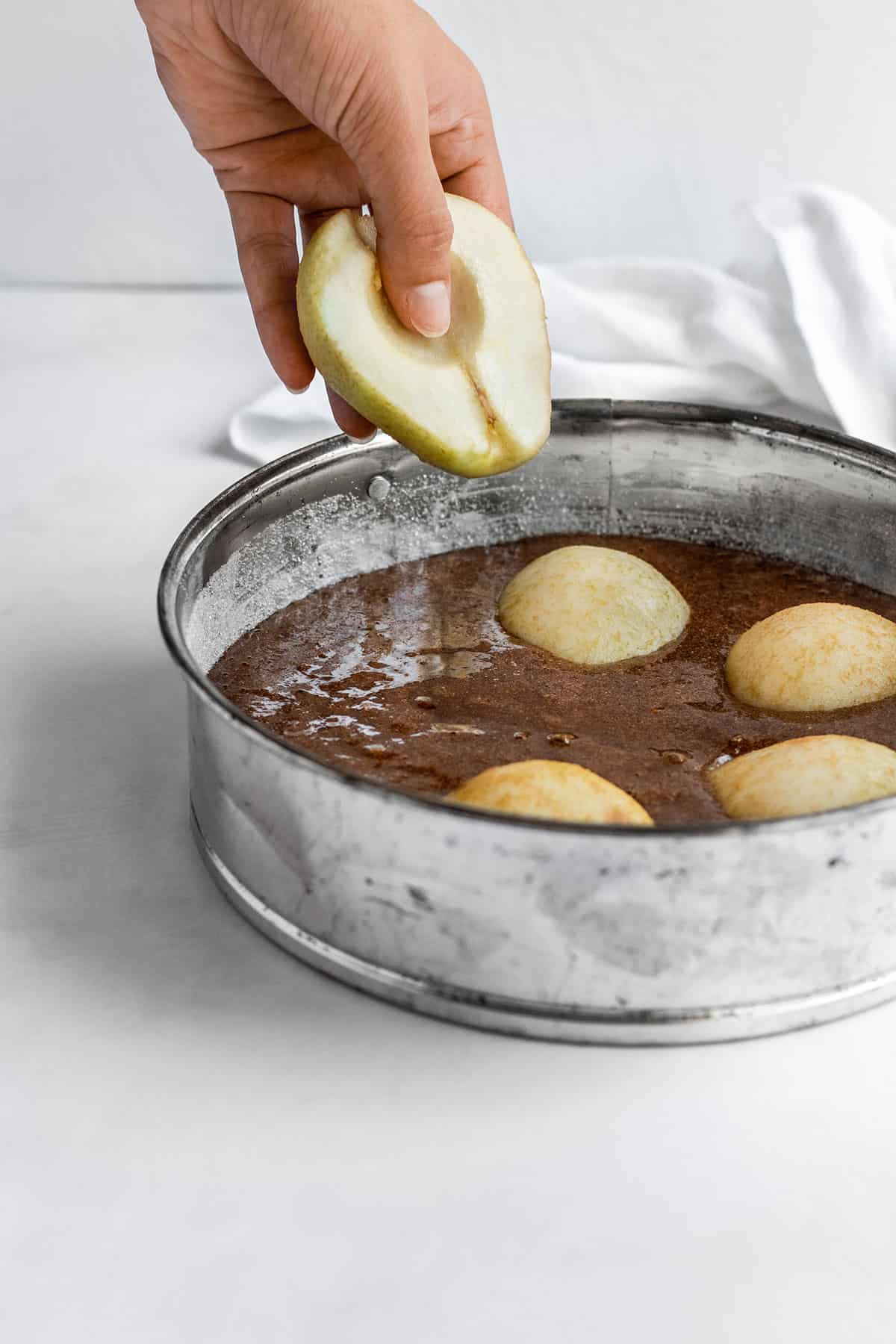 Large pears work best for this recipes. Smaller pears may sink and disappear into the cake.
You may keep the pear skin on or peel the skin off.
Use any variety of pears.
I recommend Bartlett pears. This variety comes in green or red skin. Bartlett pears are known for their iconic "pear shape."
Anjou is another great option. They are a bit more firm in texture, making them very versatile.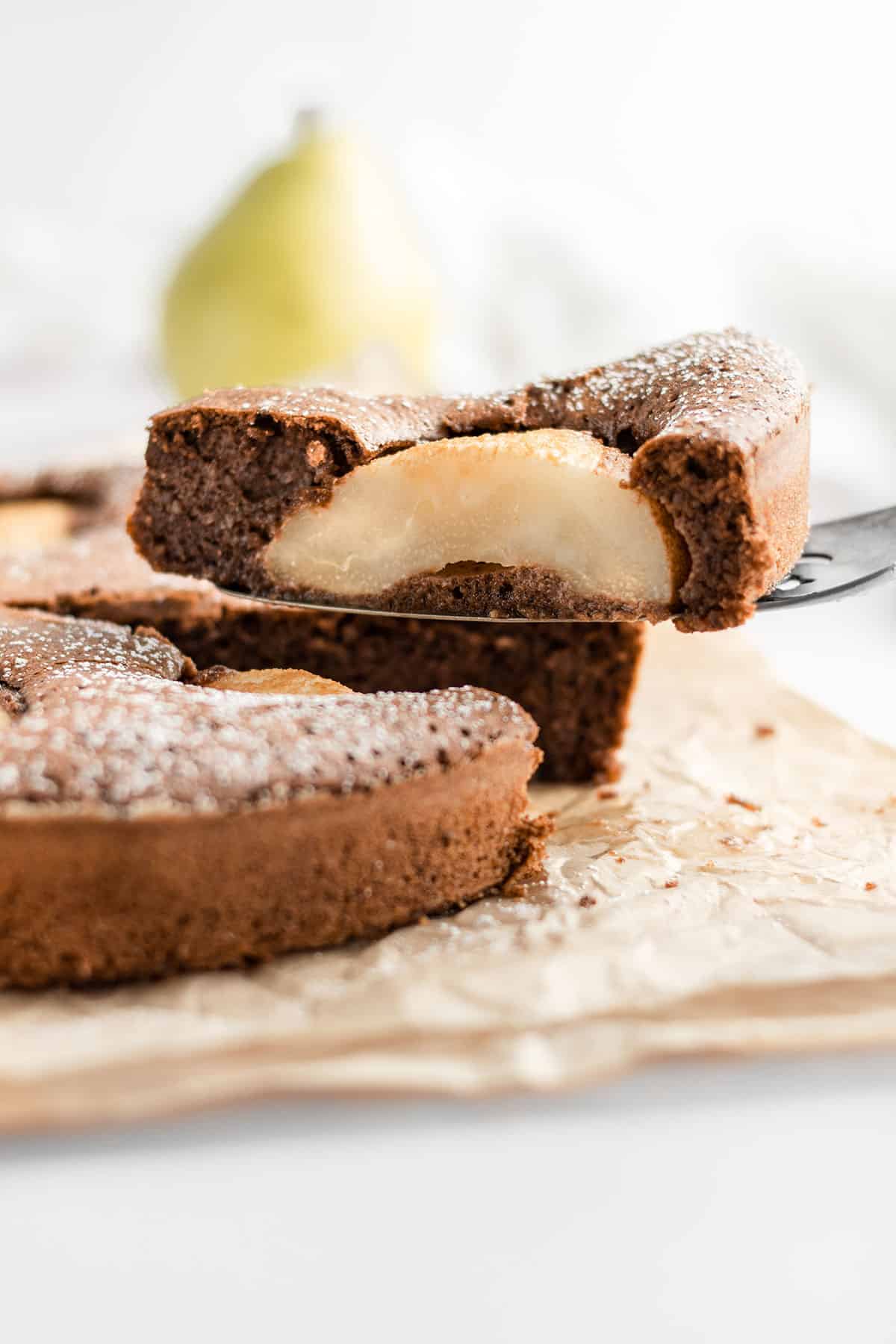 When is a pear ripe?
It is best to ripen pears at room temperature. Check the pear's neck for ripeness.
Gently pinch the pear's neck using your thumb and index finger (pointer finger). If it yields to gentle pressure, the pear is good to go!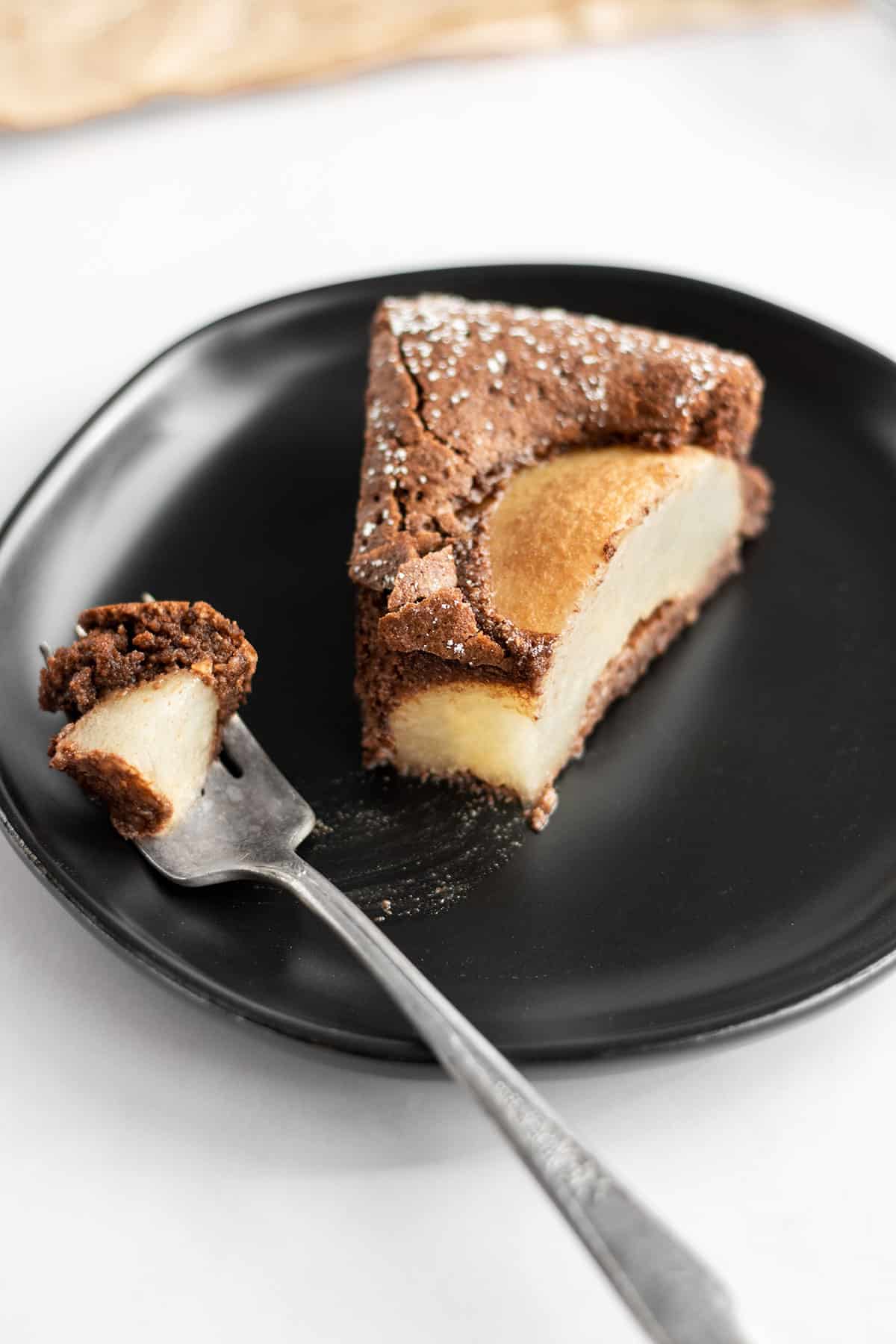 Serving Suggestions & Leftovers
words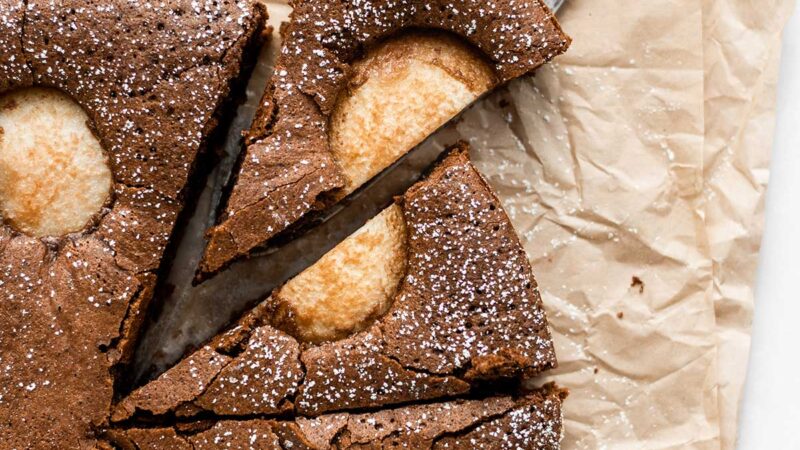 Flourless Chocolate Pear Cake
Gluten-free chocolate pear cake is made with melted chocolate, whipped eggs, and ground hazelnuts. Best enjoyed with vanilla ice cream or a dollop of whipped cream! Yield: 9-inch cake
Ingredients
85

grams

unsalted butter

85

grams

dark chocolate, chopped

1

Tablespoon

bourbon, whiskey, or dark rum of choice

85

grams

granulated sugar

3

large eggs, separated

85

grams

ground hazelnuts, toasted and blanched

¼

teaspoon

fine sea salt

¼

teaspoon

ground cinnamon

¼

teaspoon

instant espresso powder

3

pears, peeled, halved, and cored
Instructions
Preheat oven to 350°F.  Butter a 9-inch round spring form pan and coat with granulated sugar.  Line pan with a parchment round.

Melt butter and chocolate together in a bowl over a bain-marie. Once melted, remove from heat and mix in whiskey. Set aside.

In the bowl of stand mixer with a whisk attachment, whisk egg yolks and granulated sugar until pale and thick.

Whisk together ground hazelnuts, salt, cinnamon, and espresso powder. Mix into melted chocolate mixture. Fold thickened yolks into the chocolate mixture.

In a clean bowl, whisk egg whites to soft peaks. Do not over beat. Add whites to chocolate batter in three additions, folding in whites gently.

Pour chocolate batter into prepared pan. Level with a mini offset spatula. Place pears cut side down onto the batter. Bake for 35-45 minutes until pears are soft and cake is cooked throughout. Let cool in pan for 10-15 minutes before unmolding. Serve warm or at room temperature. Sprinkle with powdered sugar or serve with ice cream or creme fraiche.
Interested in more pear recipes? Try these favorites: