These soft and chewy vanilla rosettes can be enjoyed as it. For more decadence, fill these piped butter cookies with chocolate ganache.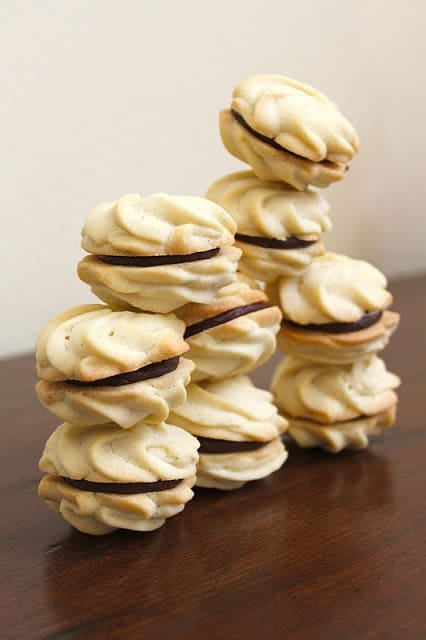 From elementary school until undergrad I had to deal with school supplies made for right handed folks. Recently, I've been seeing a whole bunch of notebooks, pens, and even kitchen tools marketed towards left handers.
Where was all this stuff ten years ago? I hated dealing with the awkward spiral on my notebooks that blocked my left hand from writing properly.
I hate ink pens. My hand always ends up smearing the ink. I also don't like pencils because they smear as well.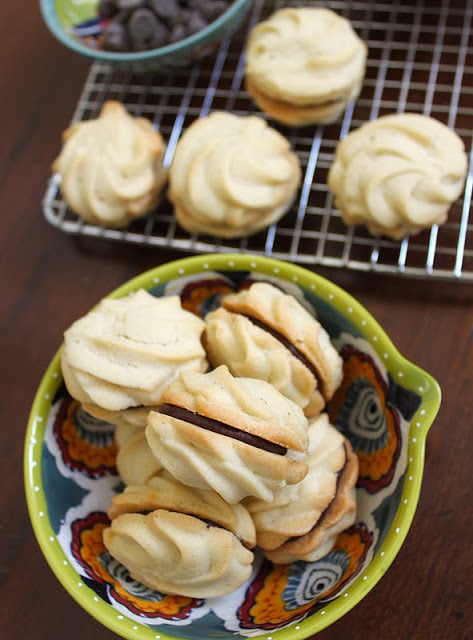 Fortunately, it doesn't matter when making cookies. I love butter cookies. They always seem to hit the spot and satisfying my sweet cravings. They are very easy to make and the ingredients are kitchen staples you're likely to have in your pantry.
These cookies are like a blank canvas to be filled with whatever you desire. Naturally, I filled mine with chocolate ganache. My mother would want some sort of fruit jam. My boyfriend would fill his with Nutella or peanut butter.
Its all up to you. The cookies are also great on their own. They're a subtle butter cookie that remain soft and chewy.
I'm not that bitter anymore. I've learned to deal with being left handed. I can eat cookies with my right hand while writing recipes with my left hand.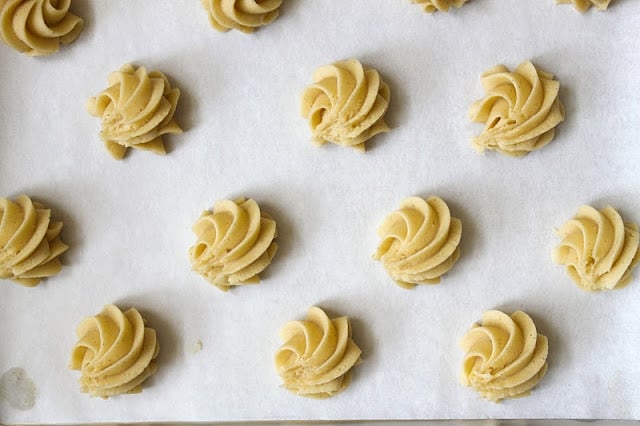 Vanilla Rosette Cookies with Chocolate Ganache Filling
Yield: makes about 40 cookies, or 20 cookie sandwiches
Ingredients
Vanilla Rosettes
2

cups

all-purpose flour

1/2

teaspoon

fine sea salt

7

oz

unsalted butter, room temp

4

oz

confectioners' sugar

1

large egg, room temp

1

teaspoon

vanilla paste
Chocolate Ganache
1/2

cup

heavy cream

2

Tablespoons

unsalted butter

6

oz

dark chocolate, chopped

pinch fine sea salt
Instructions
Vanilla Rosettes
Cream together butter and salt. Add confectioner's sugar. Mix until combined. Add egg and vanilla and mix until soft paste forms. Make sure egg and butter is the same temperature to prevent batter from separating.

Add flour in two additions. Mix until just combined.

Transfer batter to piping bag with star tip. Pipe rosettes onto parchment lined sheet tray.

Freeze piped rosettes for 15 minutes. Preheat oven to 325 degrees F.

Bake for 15-17 minutes until cookies are firm to touch. Let cool on sheet tray slightly before transferring to racks to cool completely.
Chocolate Ganache
Heat heavy cream either in the microwave on for 45-60 seconds or in a small sauce pot over medium heat until cream simmers.

In a microwave safe bowl, place butter, chocolate, and salt together. Heat for 10 seconds, just to warm up the chocolate slightly.

Pour hot cream over chocolate. Let stand for one minute. Then mix until chocolate and cream are homogeneous. Let stand until ganache has thicken and ready for piping.