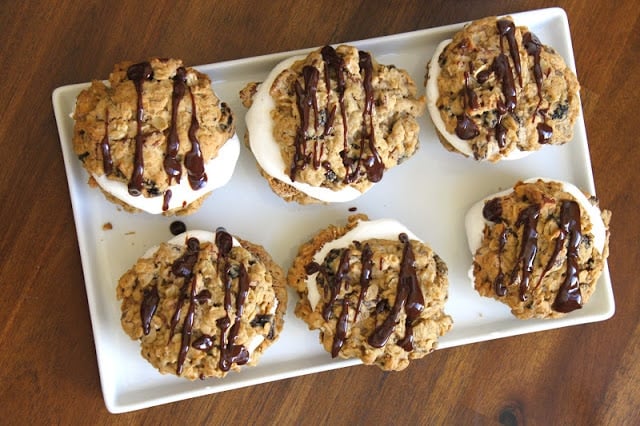 Have you heard the saying, sometimes the whole is greater than the sum of its parts?
It took me a while to figure that out as a child.  Math was always my favorite subject in school.  And in math we are taught that the whole is supposed to be equal to the sum of its parts.  It doesn't make any sense, until you eat these cookie moon pie things and finally understand.
I found these cookies in the February issue of Bon Appetit.  Its two chocolate oatmeal cookies sandwiched together with marshmallow fluff and drizzled with a little melted dark chocolate.  Its heaven and hell all in one bite.  This whole moon pie is definitely greater than the sum of its parts.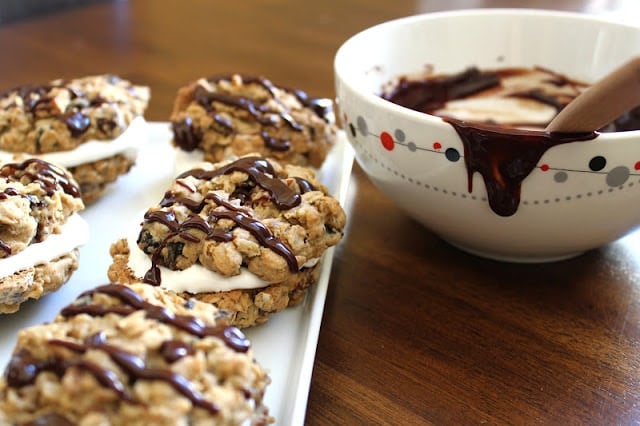 These are definitely not for the faint of heart or the occasional dessert eater.  These moon pies are more for the refined palate of a major sweet tooth.  It has everything I look for in a dessert- crunchy, chewy, sweet, tart, and of course, chocolate.  Its the hidden tart cherries and toasted pecans that make these cookies so addicting.
You can thank Chef Stephen Stryjewski of Cochon in New Orleans for these goodies.  This month's issue of Bon Appetit is all about Southern soulful food.  There are a lot of great savory dishes that I'd love to make.  Better yet,  I'm a bit tempted to visit Georgia or South Carolina for some good comfort food.
Especially with Mardi Gras tomorrow, these are the perfect cookies to indulge in before Lent begins.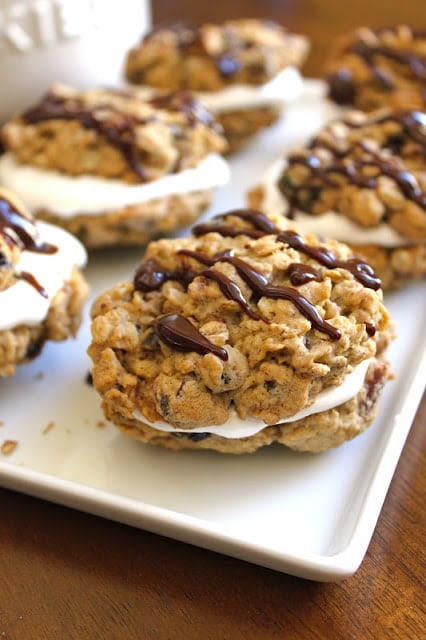 Chocolate-Oatmeal Moon Pies
Ingredients:
1 1/4 cups all-purpose flour
3/4 tsp baking powder
1/2 tsp baking soda
1/2 tsp salt
2 1/4 cups old-fashioned oats
1 cup dried tart cherries, chopped
1 cup pecans, lightly toasted and chopped
3/4 cup semisweet chocolate chips
3/4 cup unsalted butter, room temperature
1 1/2 cup dark brown sugar, packed
1 large egg
1 tsp vanilla paste
14 oz marshmallow cream (fluff)
chocolate dipping sauce
1/2 cup semisweet chocolate, chopped
1 Tbsp honey
1/2 cup heavy cream
Directions:
1. Preheat oven to 350 degrees F.
2.  Whisk together flour, baking powder, baking soda, and salt.  Set aside.  In another bowl, toss together oats, dried cherries, toasted pecans, and chocolate chips.  Set aside.
3.  In the bowl of a stand mixer, cream together butter and sugar until smooth.  Add the egg and vanilla.  Mix until incorporated.  With the mixer on low, slowly add in the dry flour mixture in three additions.  Mix until just blended.  Fold in oat mixture until evenly distributed.
4.  Use a 1 oz ice cream scoop or 2 tablespoons to scoop out balls of dough.  Arrange dough onto a parchment lined sheet tray.  You should end up with 36 pieces.  Gently flatten each ball of dough with the palm of your hand.
5.  Bake cookies for 12 minutes.  Rotate the sheet trays and then back for another 6 minutes until cookies are golden brown and the center is still slightly soft.  Let cookies cool on sheet trays.
6.  Once cookies have cooled, spread 1 tablespoon of marshmallow fluff on the bottom of 18 cookies.  Pair the remaining 18 cookies with similar size/shape bottom cookies.  Sandwich the cookies together.
7. To make the chocolate drizzle sauce, bring the cream to a boil.  Place chopped chocolate and honey in a medium bowl.  Pour hot cream over chocolate.  Let mixture stand for 1-2 minutes.  Cover with plastic wrap to kept warmth inside.  Then stir mixture until chopped chocolate has melted and the mixture is smooth.
8.  Drizzle chocolate over prepared cookie sandwiches and enjoy.