I had a really difficult decision to make this morning. Cookies or brownies? Brownies or cookies? And then it hit me, a cookie brownie! I've seen chocolate chip cookie dough brownies at bakeries before but I've never seen someone use peanut butter cookie dough.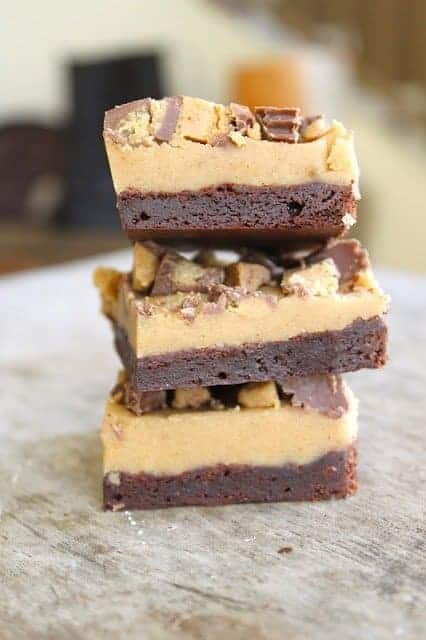 The combination of chocolate and peanut butter has become a timeless pairing thanks to Reese's cups. The sweet and delicate chocolate with the salty and rich peanut butter is just so perfect together. Its a taste I can never get tried of. Let's not talk about what happens when you leave me with a bag of Reese's mini cups or Reese's pieces. That's just dangerous. You're asking for trouble.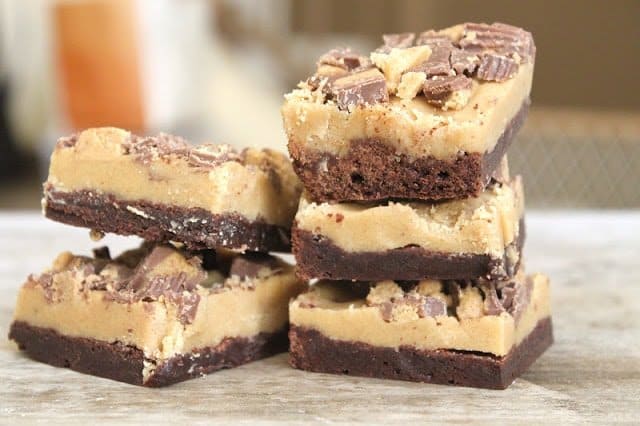 No matter how delicious it looks and how good it smells, I have always been one to shy away from raw cookie dough. The potential scare of Salmonella is enough to keep me from having even the littlest taste. I'll only eat raw dough if I have pasteurized eggs. Too bad, pasteurized eggs are hard to come by and also quite expensive.
Thank goodness for milk. Be it whole milk, almond milk, or soy milk, these all make great substitutes for eggs in raw cookie dough that you don't plan on baking.
I am very happy with the way the cookie dough turned out. Its a cross between the filling of a Reese's cup and a peanut butter fudge. You could also scoop up mini balls of dough, freeze them and dip them in chocolate to make peanut butter cookie dough pops.
These cookie dough brownies were such a success, I just might have to make snickerdoodle dough blondies next weekend.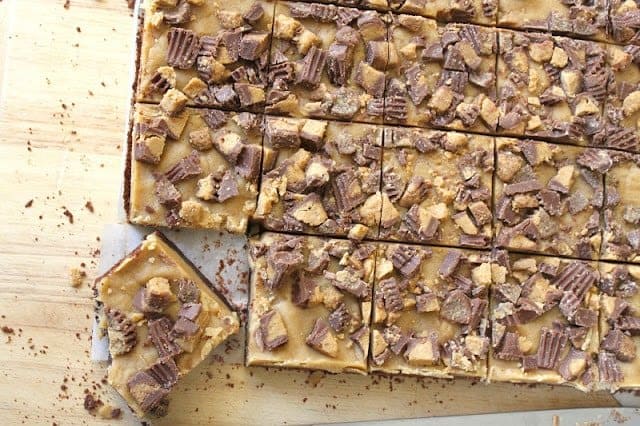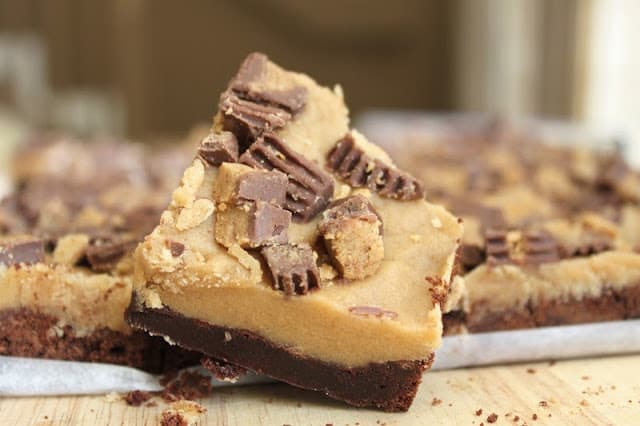 Peanut Butter Cookie Dough Brownies
Yield: 9×13-inch pan
Ingredients
Brownies:
4

oz

unsweetened chocolate, finely chopped

1

cup

unsalted butter, melted

1

cup

dark brown sugar, packed

1

cup

light brown sugar, packed

4

large eggs

1

cup

all-purpose flour
Peanut Butter Cookie Dough:
1/2

cup

unsalted butter, room temp

1/2

cup

smooth peanut butter*

1/2

cup

dark brown sugar, packed

1/2

cup

granulated sugar

1/2

teaspoon

fine sea salt

2

Tablespoon

milk

1

teaspoon

vanilla paste

1 1/2

cup

all-purpose flour

1 2/3

cup

Reese's cups, roughly chopped
Instructions
Preheat oven to 325 degrees F. Grease a 9×13 inch pan. Line pan with parchment paper. Set aside.

In a medium microwaveable bowl, melt chocolate in the microwave at 30 second intervals on half power until chocolate is melted and smooth. Stir after each intervals to ensure even melting. Set aside to slightly cool.


In a large mixing bowl, whisk together melted butter and brown sugars. Add the eggs one at a time and whisk until combined. Add in cooled melted chocolate. Fold in the flour and mix until just incorporated.


Spread batter into prepared pan. Bake for 25-30 minutes until toothpick inserted in the center of brownie comes out clean. Let cool in pan.

Prepare cookie dough while waiting for brownies to cool. In the bowl of a stand mixer, cream together butter, peanut butter, brown sugar, granulated sugar, and salt. Add in milk and vanilla. Stir in flour just until combined.


Spread the cookie dough over the cooled brownies in a nice even layer. Sprinkle chopped peanut butter cups on top. Slightly press toppings into the cookie dough layer. Refrigerate completed cookie dough brownie until firm to the touch. You can also place it in the freezer if you want to speed up the process. The colder and firmer the dough, the easier it will be to cut later.