Here's a cupcake flavor you can enjoy all year long. Vanilla cupcakes with maple frosting topped with homemade candied walnuts.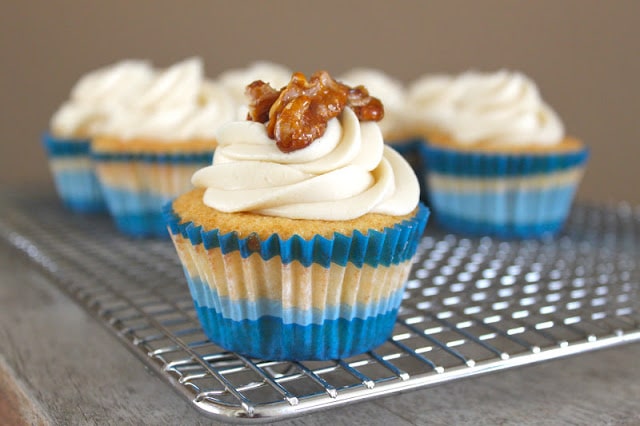 I am very much a traditionalist when it comes to flavors. I like vanilla. Although many people may think vanilla is boring, I think vanilla is under-appreciated.
Forget using imitation vanilla extract, that's all alcohol and artificial flavoring. When you use good vanilla extract or bust out the quality vanilla beans, you get the real flavor that isn't at all boring.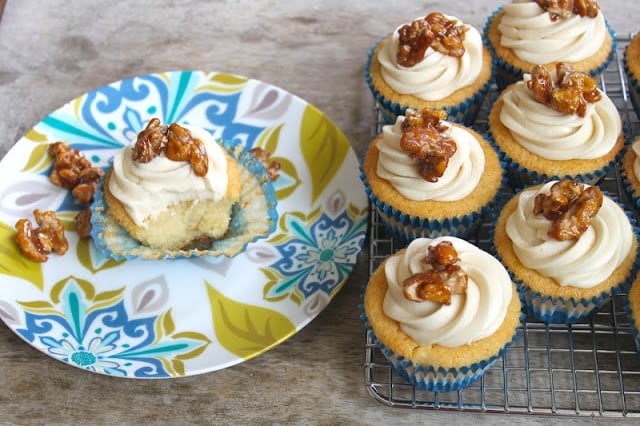 Classic Vanilla Cupcakes
For those that still don't like vanilla, these cupcakes are extremely versatile.
Add some cinnamon to the batter and frosting to make snickerdoodle cupcakes or toss in some mini chocolate chips and a dash of mint to make mint chocolate chip cupcakes.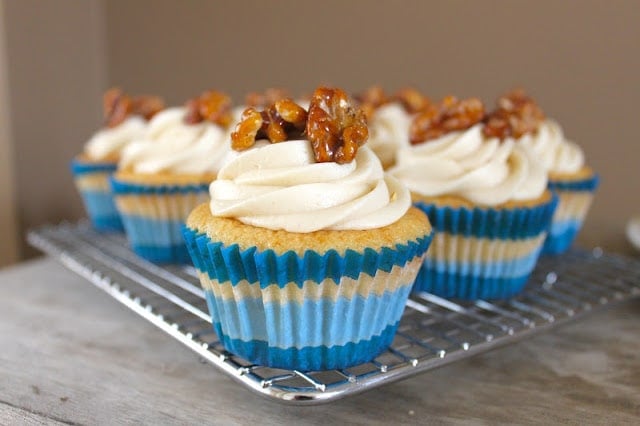 Desserts should have different textures to keep the palate interested and wanting more. However, the dessert doesn't need to be super complex and time consuming to make.
The pound cake like cupcake, the airy and sweet maple frosting and the crunchy and slightly bitter caramel that enrobes the toasted walnut all work together to create an exciting treat.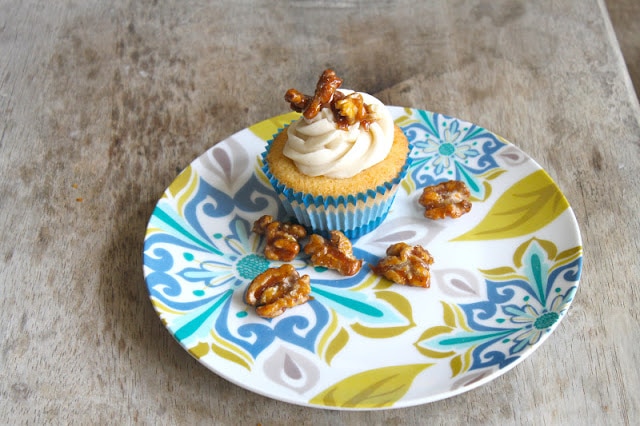 Be sure to use dark maple syrup for the frosting. Light colored maple syrup typically has a milder flavor. Darker syrups tend to have a stronger, more pronounced maple flavor that is better suited for baking and flavoring.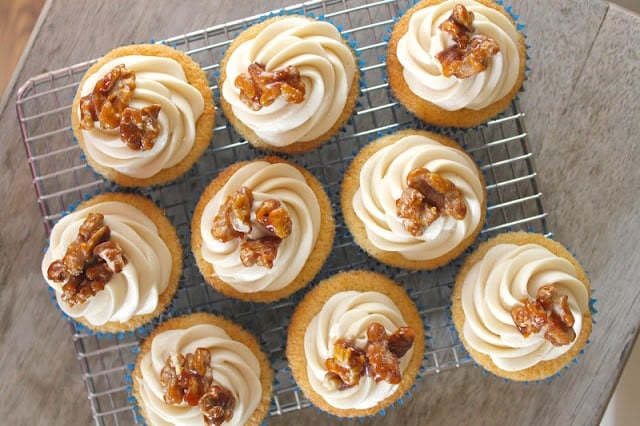 Vanilla Cupcakes with Maple Frosting and Candied Walnuts
Ingredients
Vanilla Cupcakes:
1

cup

all-purpose flour

1

tsp

baking powder

1/2

tsp

kosher salt

1/3

cup

whole milk

, room temp

3

Tbsp

nonfat yogurt

1

tsp

vanilla paste or pure vanilla extract

1/2

cup

unsalted butter

, room temp, softened

2/3

cup

granulated sugar

1/3

cup

light brown sugar

2

large eggs,

room temp
Maple Frosting:
1/2

cup

unsalted butter,

room temp, softened

3

cups

confectioners' sugar

3

Tbsp

dark maple syrup

2

Tbsp

heavy cream

1/4

tsp

maple extract

,optional but highly recommended
Candied Walnuts:
1

cup

walnut halves

1/3

cup

granulated sugar

kosher salt or cinnamon sugar,

for sprinkling
Instructions
Vanilla Cupcakes:
Preheat oven to 350°F. Prepare muffin tin with 12 cupcake liners. Set aside.

In a small bowl, whisk together flour, baking powder, and salt. In another bowl, mix together milk, yogurt, and vanilla. Set aside both bowls.

In the bowl of a stand mixer fitted with a paddle attachment, cream together butter, sugar, and brown sugar. Add eggs one a time, making sure first egg is incorporated before adding second egg.

Scrape down bowl. Add half of dry mixture. Continue to mix and stream in half of wet mixture. Add remaining dry mixture, followed by remaining wet mixture.  Mix until there are no more streaks of dry mixture.

Divide batter evenly between prepared muffin tin (about 1/4-1/3 cup of batter per muffin).  Bake for 18-20 minutes until toothpick inserted in center of cake comes out clean, or until cake lightly springs back when touched.  Be sure to rotate pan halfway through baking.  Let cupcakes cool in tin for 5 minutes before transferring to cooling racks.
Maple Frosting:
In the bowl of a stand mixer fitted with a paddle attachment, cream butter and 1 cup of confectioners' sugar until smooth.  Add maple syrup and heavy cream and continue to mix.  Add remaining confectioners' sugar one cup at a time.  Add maple extract.   Beat until smooth and thick.
Candied Walnuts:
Lightly toast walnuts in preheated 350° F oven for 5-8 minutes.

In a sauce pot, heat sugar oven medium heat until sugar dissolves.  Stir with wooden spoon to ensure sugar cooks evenly.  Once sugar has dissolved, continue to heat until amber in color.  Remove from heat and stir in toasted walnuts.  Make sure walnuts are evenly coated with sugar syrup.

Pour out walnuts onto a silicon mat or greased parchment paper.  Spread out nuts and separate from each other with wooden spoon or fork.  Sprinkle nuts with salt or cinnamon sugar.  Let cool.