April was one very hectic and busy month.  May brings an even longer list of things to do, places to be, and people to see.  There has been so much scheduling, planning, and organizing for great things to come, that I have neglected my blog this month.
That stops now.  I'm back and full of new ideas and recipes.  I'm also trying something different.  I'm venturing into the world of savory foods.  Although I am no stranger to consuming meat, I have a difficult time touching raw meat and cooking it.  I have my boyfriend chef to do that for me.
But I am also the independent type and I hate having to relying on others (unless I'm feeling lazy, then that is a completely different story).  Be it reaching for something that is too high for me to grab, or carrying a box that is too heavy for my weak biceps, or cooking lasagna– I like being able to fend for myself and do it on my own.
Its a meatless lasagna, it can't be that hard to make, right?
Correct!
I'm starting small and creating meatless dishes.  While I am still learning, I don't want to worry about undercooking chicken and getting myself sick with salmonella.
Ingredients for this lasagna are easy peasy.  If you are pressed for time, you can even buy pre-washed and pre-sliced mushrooms as well as bagged pre-washed spinach.  I've recently been introduced to no-boil pasta sheets.  They are amazing and a great time saver.
I've recently been introduced to no-boil pasta sheets (sometimes called oven-ready pasta).  They are amazing and a great time saver.  No-boil pasta sheets come in two textures rippled and smooth.  I bought mine at Trader Joe's but they are widely available at big chain supermarkets and on Amazon.com.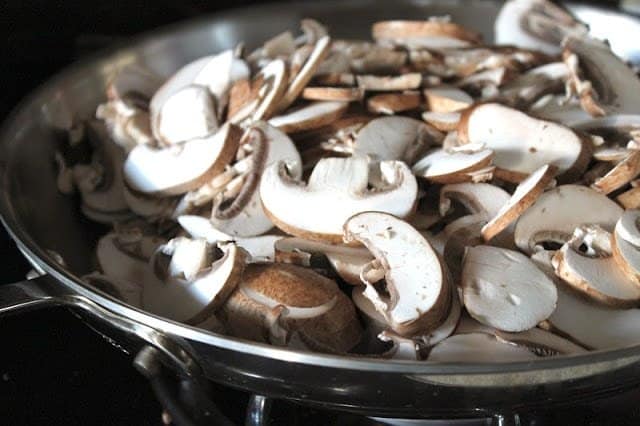 Mushrooms are a wonderful alternative to meat.  When cooked, mushrooms impart a nice meaty texture.  Try to cook and brown the mushrooms as much as you can.  Color on the mushrooms means more flavor.  Its also a good idea to get as much moisture out of the mushrooms to prevent making a soggy sloppy lasagna.   Any mushrooms work for this recipe.  I used cremini mushrooms simply because they are cheap, flavorful, and come in large qualities at Costco.
When assembling the lasagna, if you find that your pasta sheets are too large for your baking dish, soak the noodles in hot water until tender.  Then cut them to the proper size with scissors.  Don't try cutting the noodles fresh from the box.  They will shatter and break.
This dish can be made ahead of time.  It can chill in the fridge overnight or keep in the freezer for up to a month.  Save it for a rainy day, a busy a weekend or take it to your next potluck.   I love the way this lasagna turned out and I hope you'll enjoy it as well.
I'm quite proud of myself.  I think this is the first recipe on my blog that doesn't include sugar!