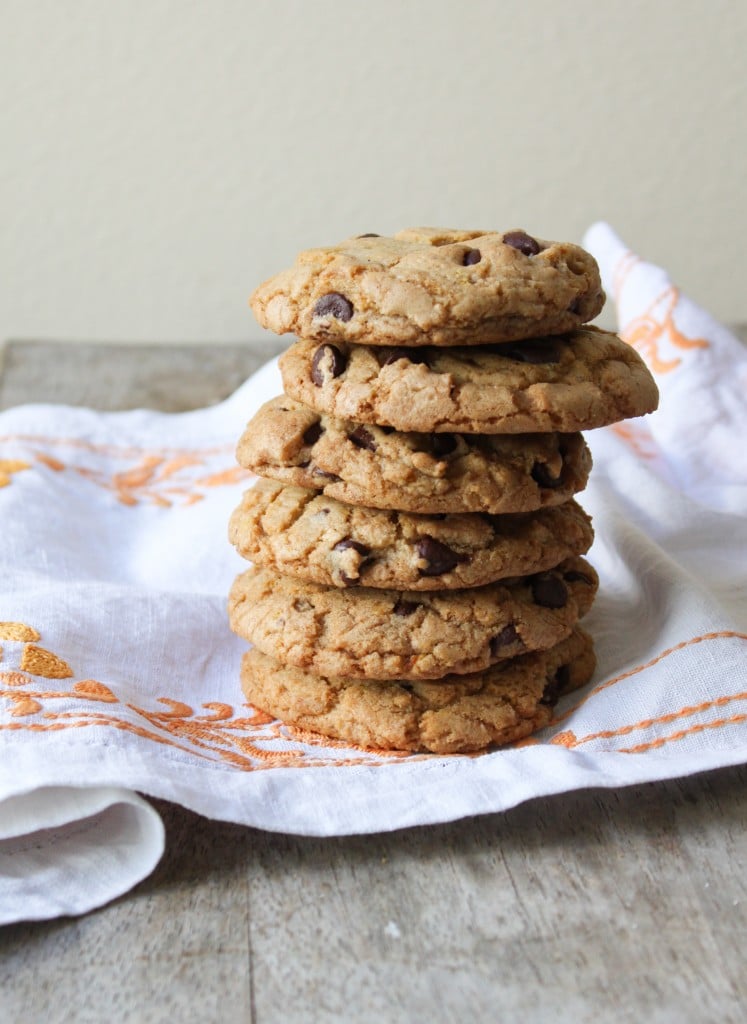 May 15th was National Chocolate Chip Cookie Day!  Who comes up with these fun ideas?  I have no clue, but it doesn't matter.  I enjoy partaking in such festivities and the activities that go along with it.  I made these cookies on Wednesday afternoon to celebrate.
Everyone has their go-to chocolate chip cookie recipe.  Be it a family recipe that has been passed down generations or the recipe from the back of a chocolate chip package, everyone has a favorite chocolate chip cookie.  It has a predictable taste and a comforting aroma that sends endorphins to your brain taking you to your happy place.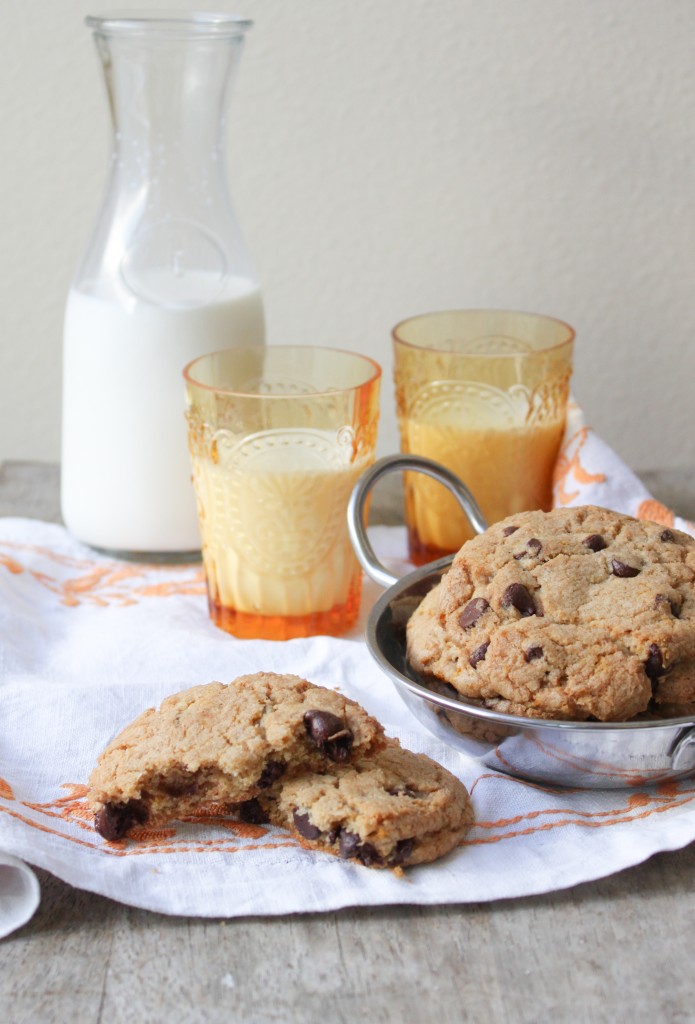 For me, the aroma of baking cookies transports me to my childhood.  I am reminded of sitting in my favorite yellow stool as I watch my mom effortlessly whip up her delicious version of Mrs. Fields cookies.
Similar to photographs or songs, food has the power to evoke emotions, memories, and feelings.  Food also has the amazing power of bringing people together.  To this day, whenever someone cooks popcorn at my parents' house, we will all be downstairs in the kitchen before the last kernel pops.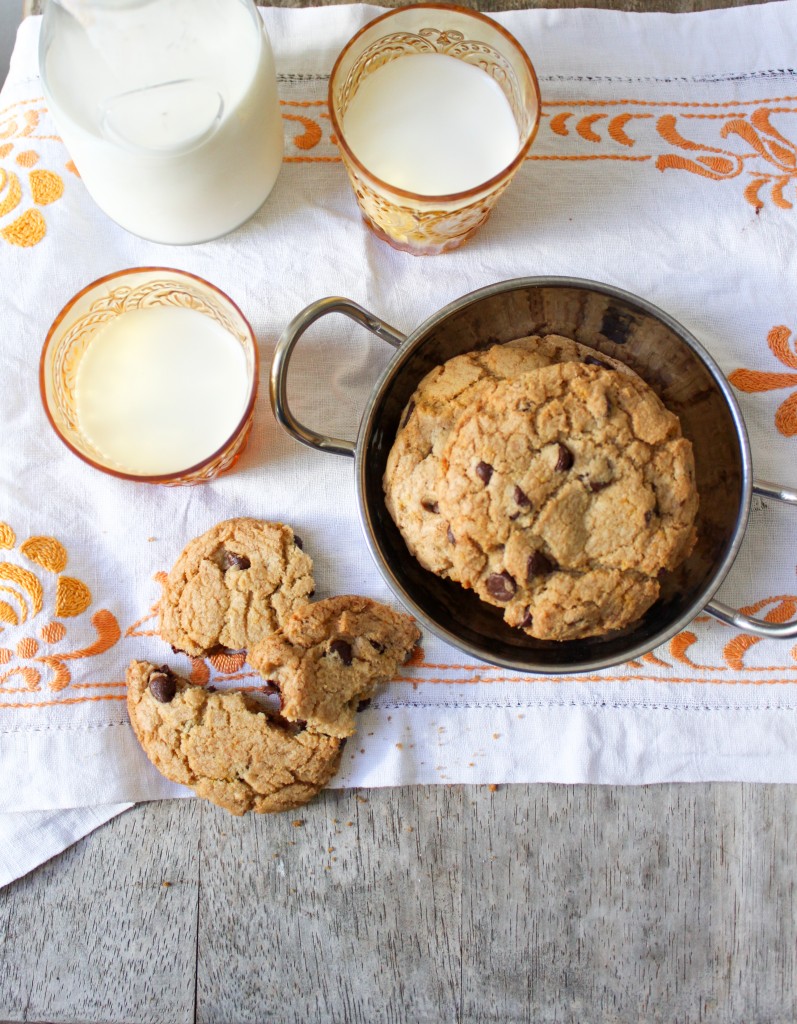 Of course I LOVE the usual chocolate chip cookie, but I also love trying new things.  I am all about being adventurous and taking risks.  I don't have much experience using spices besides cinnamon in baking.  I've always been intrigued by cardamom so I decided to give it a try.  I'm sure glad I did.
While these cookies look ordinary, they are quite far from it.  Upon closer inspection you will notice the freckles of orange zest that peek through the batter.  The fresh and exotic taste is alluring and different.  Although chocolate and orange is a familiar pairing, when you add cardamom into the mix, the combination is exciting and a definite winner.  And more importantly, this soft and chewy cookie, is perfect for dunking into milk.
If you missed out on Wednesday's festivities, have no fear.  In my calendar, everyday is cookie day.  You can whip up the beloved chocolate chip cookies any day of the year.  However, according to the National Confectioners Association, you have another chance as August 4th is also National Chocolate Chip Day!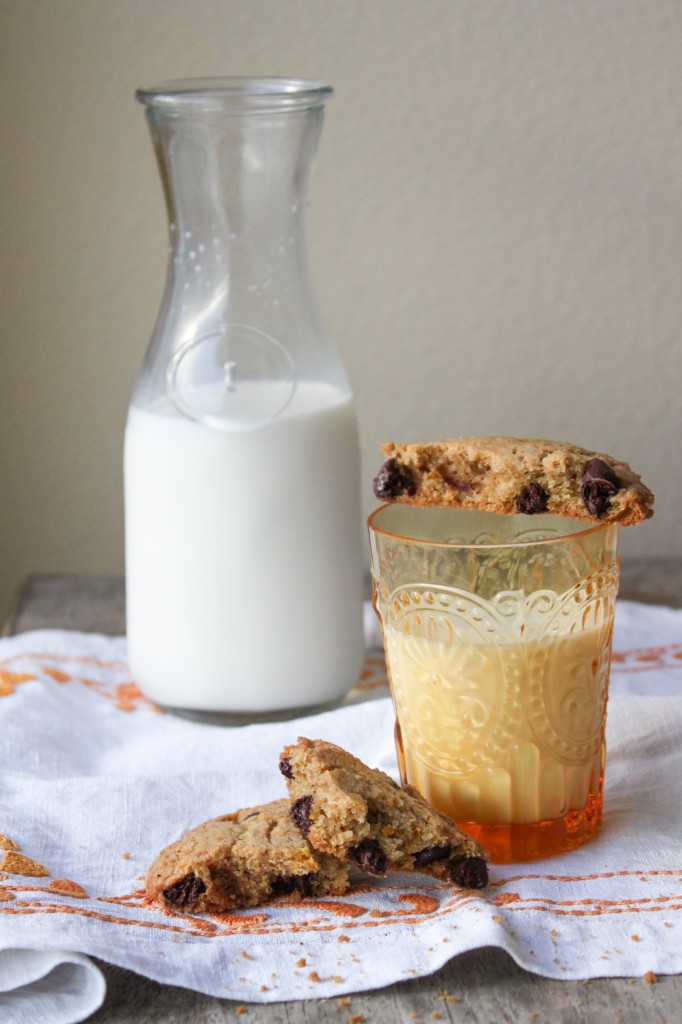 Orange Cardamon Chocolate Chip Cookies
Ingredients:
1 cup unsalted butter, sliced into tablespoons
3/4 cup light brown sugar, packed
3/4 cup granulated sugar
2 large eggs
2 1/2 cups all-purpose flour
1/2 tsp baking soda
1 tsp baking power
1 1/2 tsp ground cardamon
2 tsp orange zest
1 tsp fine sea salt
1 1/2 cup dark chocolate chips
Directions:
Preheat oven to 350 degrees F. Line baking sheet with parchment paper.
In a sauce pot, melt butter over medium heat. It is best to have butter cut into similar sizes/shapes so they melt evenly. Once butter has melted, continue to heat until butter, swirl pan occasionally to equally distribute heat. Butter will eventually bubble and foam up. Continue to swirl pan as needed. At this point, the bottom of the pan should have brown bits. Be careful not to burn the butter. Remove butter from heat once the butter smells nutty and has a nice fragrant aroma. Let brown butter cool for 5-10 minutes, until warm to the touch (not burning hot).
In a large bowl, whisk together flour, baking soda, baking powder, ground cardamon, orange zest, and salt. Set aside.
Once butter has slightly cooled, add brown sugar and granulated sugar. Whisk to combine. The sugars should melt into the butter creating a thick and creamy paste. Add eggs one at a time. Whisk until combined.
Add flour mixture to butter all at once. Fold with a spatula to incorporate dry ingredients. When dry is almost combined, add the chocolate chips and mix in.
Using a cookie scoop or two spoons, scoop out mounds of cookie dough. If the dough is too soft/too warm and spreading too much, chill cookie dough in the fridge for 5-10 minutes. Place cookie mounds on prepared baking sheet, giving mounds enough room to bake and slightly spread. Bake for 12-15 minutes until cookies have spread out and are a nice golden brown. Let cool in pan for a couple seconds before transferring to a wire rack to cool completely.