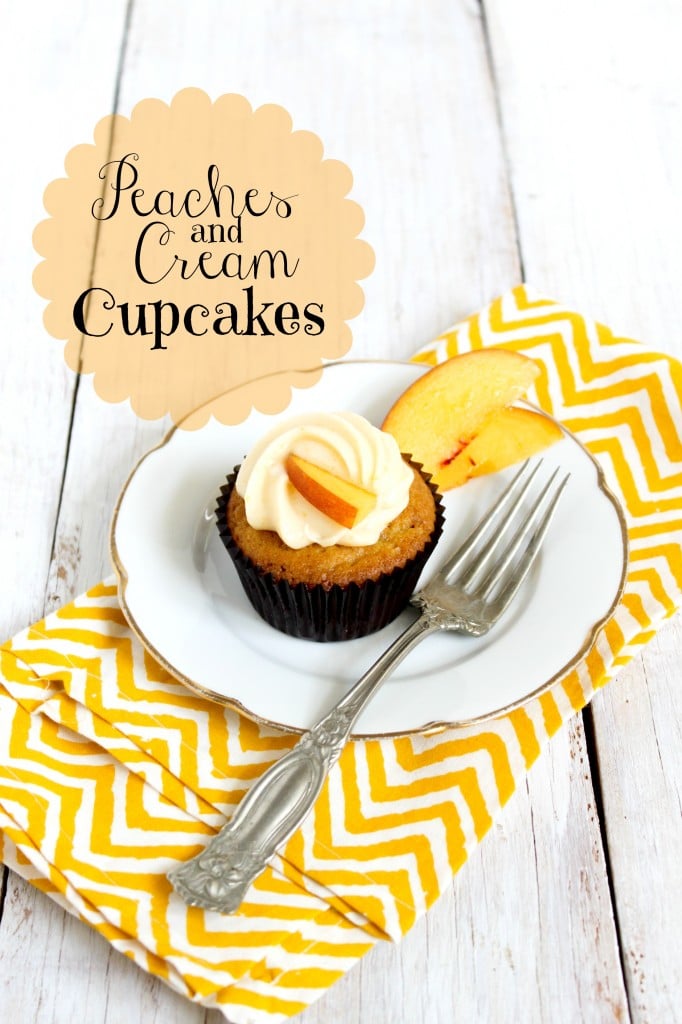 Is there anything more summer-y than biting into a juicy,sweet peach?  With stone fruits in season, peaches are on sale.  I'm a sucker for sales at the market, so naturally I bought lots and lots of peaches.  I bought more than I could possibly eat this week.  I would totally love to puree the fruit and make myself delicious peach bellinis.  Too bad, I'm out of sparkling wine.  Next best option, peaches and cream cupcakes!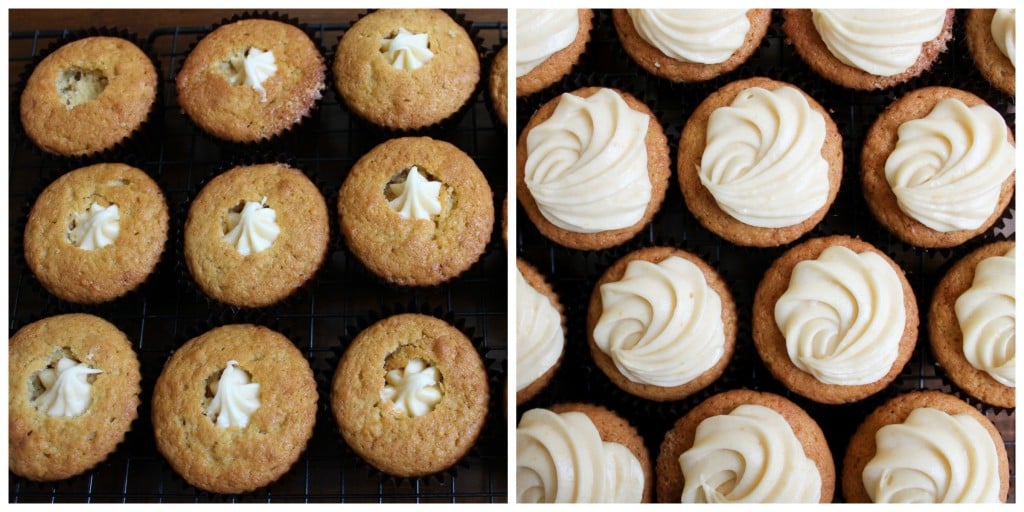 These pretty little things are similar to my blueberry-blackberry cupcakes and strawberry cupcakes.  I used freeze-dried peaches to help enhance the peach flavor while naturally giving the cupcakes and frosting a little peachy tint in color.
Unlike the two mentioned cupcakes, these cupcakes have a little something extra inside.  I have grown into the habit of digging a little hole in the middle of the cupcake and filling it with frosting.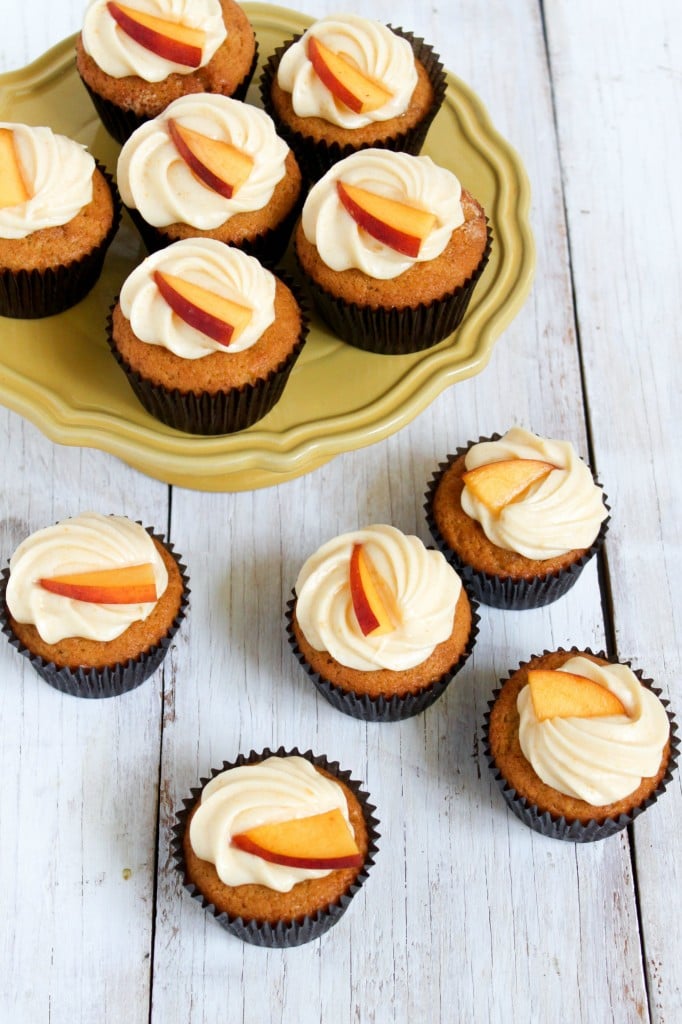 Peaches with fresh whipped cream is such a simple and satisfying dessert.  There are so many variations on this combination: grilled peaches with vanilla ice cream, peach pie with whipped cream, peach milk shake.  So why not make it into a cupcake?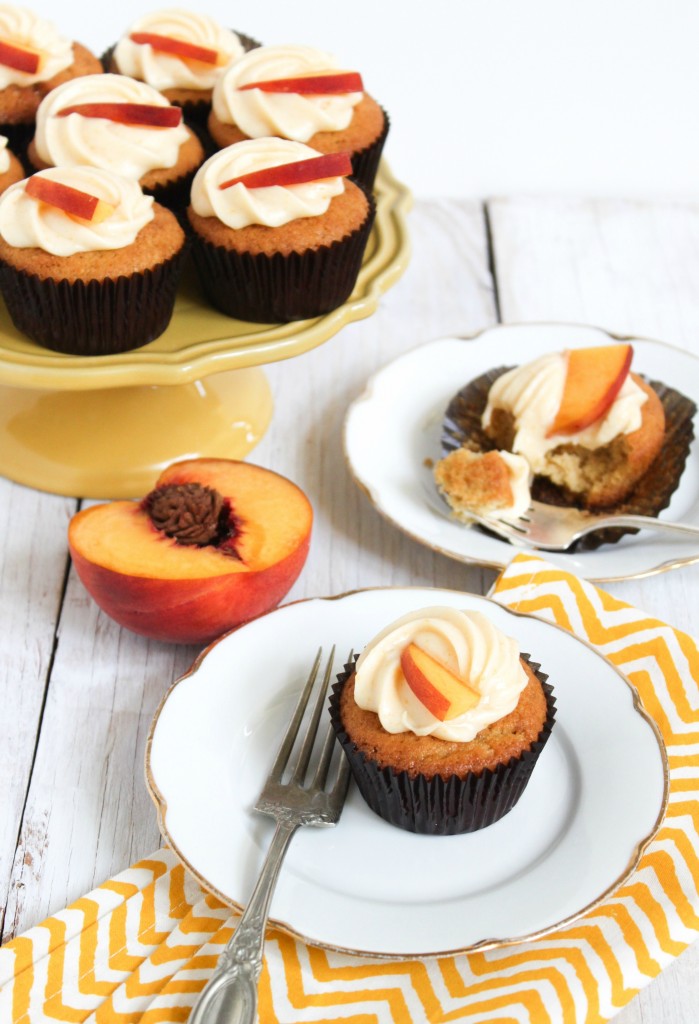 Peaches and Cream Cupcakes
Ingredients:
Cupcakes:
1 2/3 cups all-purpose flour
1/2 Tbsp baking powder
1 tsp baking soda
1/2 tsp fine sea salt
4 Tbsp ground freeze-dried peaches
1/2 cup unsalted butter, softened, room temperature
3/4 cup granulated sugar
2 large eggs, room temperature
1/2 cup heavy cream, room temperature
5 oz peach puree
Peach Cream Cheese Frosting:
1/2 cup unsalted butter, room temperature
4 oz cream cheese, room temperature
4 Tbsp ground freeze-dried peaches
3 Tbsp peach puree
2 1/2 cups confectioners' sugar, sifted
pinch of fine sea salt
Directions:
Cupcakes:
Preheat oven to 350 degrees F. Line muffin tin with paper liners. Set aside.
In a medium bowl, whisk together flour, baking powder, baking soda, salt, and ground freeze-dried peaches.* Set aside.
In the bowl of a stand mixer fitted with a paddle attachment, beat together butter and granulated sugar until smooth. Add eggs one at a time and mix until combined. In a small bowl, mix together cream and peach puree.
Add about 1/3 of flour mixture into the creamed butter. Mix at low-medium speed. Add 1/2 of cream mixture. Continue to mix until almost combined. Add another 1/3 of flour mixture followed by the rest of the cream puree mixture. End with the last 1/3 of flour mixture. Continue to mix until batter is smooth and there are no longer any dry streaks of flour left.
Divide between prepared muffin tins. Bake for 20-22 minutes until cake is done and a toothpick inserted in center of cake comes out clean. Let cool in tin for a couple of minutes before unmolding. Let cool to room temperature on wire rack before frosting.
Peach Cream Cheese Frosting:
In the bowl of a stand mixer fitted with a paddle attachment, cream together butter and cream cheese until smooth. Sift together ground freeze dried peaches and confectioners' sugar. With the mixer on low speed, add sifted ingredients. Once all in, beat at medium speed until frosting is smooth. Transfer frosting to a piping bag fitted with a large star tip. Make little holes in center of cupcakes, if desired, and fill with frosting. Pipe over hole. Decorate with a peach slice.
*Note: Use a spice grinder or food processor to grind freeze-dried peaches into a powder