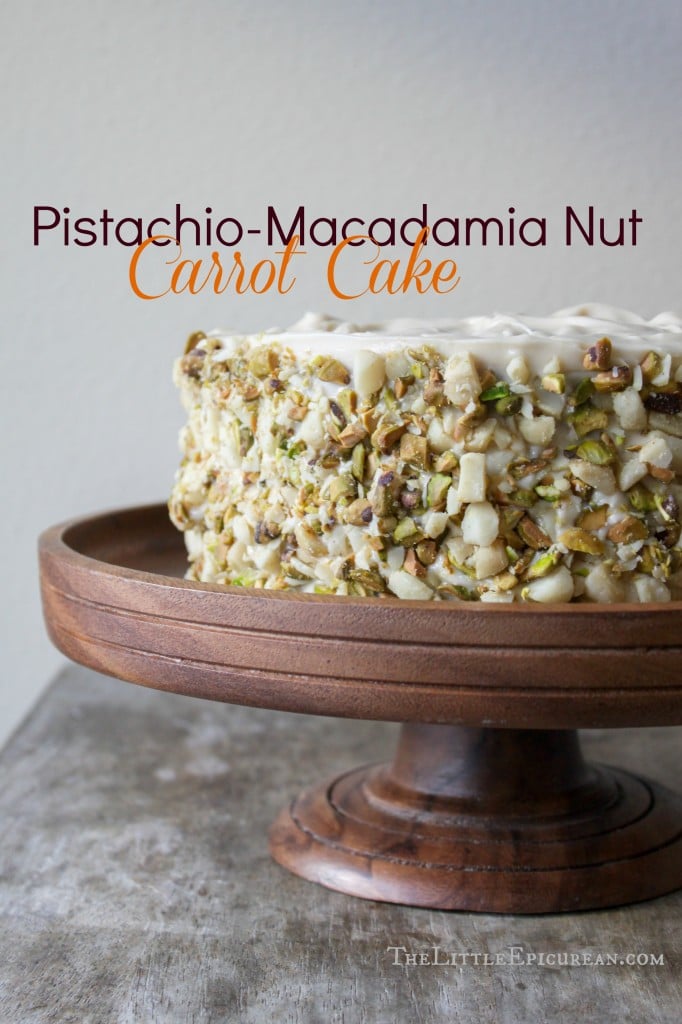 I learned something new this week.  Here's the conversation my boyfriend and I had the other day.
(I was sitting on couch with a bowl of carrots, munching away.)
Alex: "You eat carrots like horse."
(Naturally, I was deeply offended but remained calm and composed.)
Me: "You mean, rabbit."
Alex: "I don't think rabbits actually eat carrots."
Me: "Are you sure?"
To prevent this discussion from escalating into something further, we looked it up together online.  Low and behold, Alex was right.  Of course he glowed with the biggest grin on his face, but kept quiet about his victory.
I never had a pet rabbit.  Most of my rabbit knowledge came from Bugs Bunny and Thumper (from the movie Bambi).  After researching online for a good 30 minutes, we eventually concluded that non-cartoon, real-life rabbits naturally do not eat root vegetables.  However, owners of pet rabbits can occasionally reward their rabbits with small chunks of carrots.  Who knew?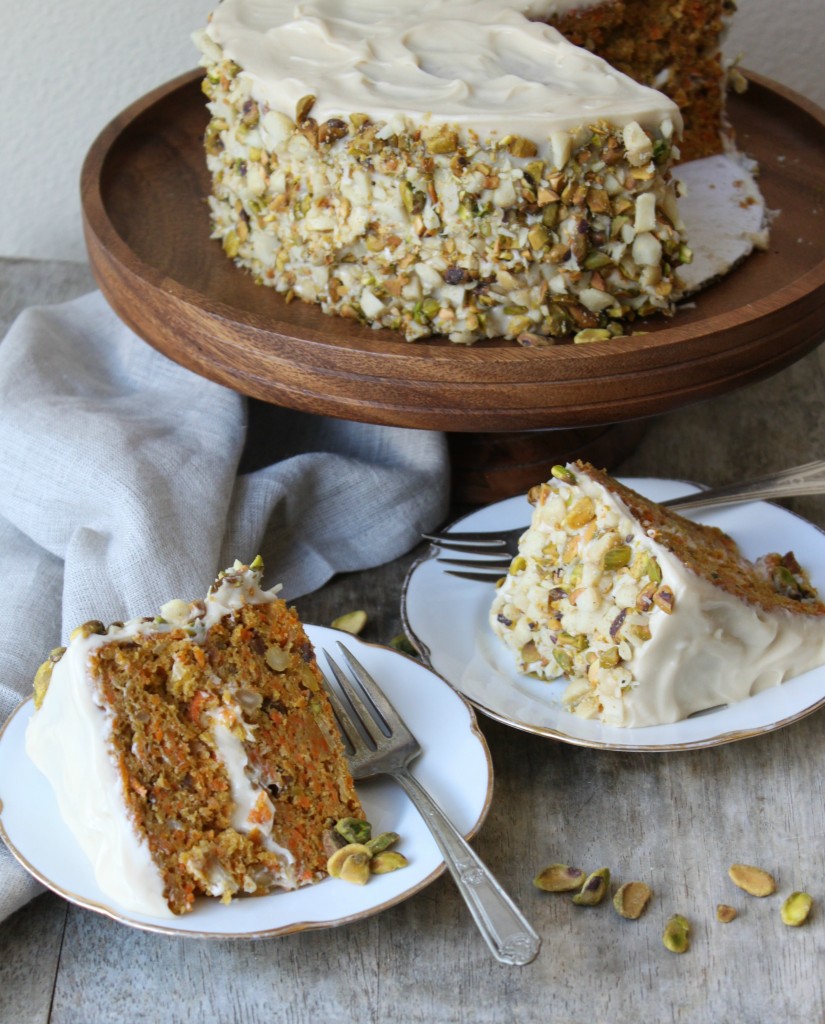 I love carrots, especially with ranch dip or hummus.  I like carrots raw, steamed, roasted, or grilled.  Any which way you serve them, I'll be eating it.  Perhaps my affinity towards carrots stems from its sweetness, and I have the world's biggest sweet tooth.
This is my third carrot cake on my blog! (see: Carrot Nut Cake and Tropical Carrot Cake)  Sure, you can easily take the healthy route and just toss carrots into your salad or enjoy them steamed with other vegetables for dinner, but I'm bad.  I like carrots in my cake.  Carrots in a moist cake smothered with brown sugar cream cheese frosting.  The original recipe calls for pistachios, but I didn't have enough.  I did a mixture of pistachios and macadamia nuts.  The resulting cake is rich, hearty, and wholesome.  The cake has plenty of contrasting textures from the shredded carrots, the crunch from the multitude of nuts, and the creaminess from the smooth frosting.   The best thing about this recipe– you can easily scoop the batter into a loaf pan for a delectable breakfast carrot bread!
Now, my question is: are carrots good for your eyes or vision?  (Or this another myth I grew up believing?)
Pistachio-Macadamia Nut Carrot Cake
Ingredients:
Carrot Cake:
3/4 cup granulated sugar
3/4 cup light brown sugar, packed
2/3 cup vegetable oil
3 large eggs, room temperature
2 tsp vanilla bean paste, or vanilla extract
2 1/4 cup all-purpose flour
2 tsp baking powder
1 tsp baking soda
2 tsp kosher salt
1 tsp ground cinnamon
1/4 tsp ground allspice
1/4 tsp ground nutmeg
1 1/2 pounds carrots, peeled and shredded (or grated)
1 1/2 cup roughly chopped pistachios, roasted, unsalted
1 1/2 cup roughly chopped macadamia nuts, roasted, unsalted
Brown Sugar Cream Cheese Frosting:
16 oz cream cheese, room temperature
1/2 cup (1 stick) unsalted butter, softened, room temperature
3/4 cup light brown sugar, packed
1 1/4 cup confectioners' sugar (powdered sugar), sifted
1/2 tsp kosher salt
Directions:
Carrot Cake:
Preheat oven to 350 degrees F. Butter and lightly flour two 8-inch round cake pans. Line with parchment paper and set aside.
In the bowl of a stand mixer fitted with a paddle attachment, combine sugar, brown sugar, and vegetable oil. Add eggs one at a time, followed by vanilla. Mix until combined.
In a large bowl, whisk together flour, baking powder, baking soda, salt, cinnamon, allspice, and nutmeg.
Add flour mixture in three additions, mixing on low speed until just combined. Next, add all the shredded carrots, 1 cup of pistachios and 1 cup of macadamia nuts. Fold until evenly distributed.
Divide cake batter evenly between two prepared cake pans. Bake for 40-45 minutes until toothpick inserted in center of cake comes out clean. Rotate pans midway thru baking. Let cakes cool in pan for 5 minutes before unmolding. Turn cakes out on a wire rack and let cool to room temperature.
Cream Cheese Frosting:
In the bowl of a stand mixer fitted with a paddle attachment cream together cream cheese and butter until smooth. Add brown sugar and powdered sugar and beat until combined. Scrape down bowl as needed to ensure even and thorough mixing. Add salt and mix until combined. Chill in fridge until ready to frost cake.
Assembly:
If the cake tops are not level, use a serrated knife to trim. Place one cake layer on cake turn table. Add about 1/3 of frosting on top and smooth into even layer Place other cake layer on top. Repeat with about 1/3 of frosting.
Use remaining frosting to coat the sides of the cake. No need to try to keep it smooth, you will be covering it with chopped nuts. Just make sure that the frosting is even on the sides.
Take remaining 1/2 cup pistachios and 1/2 cup macadamia nuts and mix together. Press nut mixture into the sides of the cake until covered. Once finished, let cake chill in fridge until ready to serve. Let cake sit at room temperature for 10-15 minutes before slicing.