Purple cauliflower:  it's intriguing, alluring, and powerful.  Not to mention, it is jam packed with all sorts of nutrients.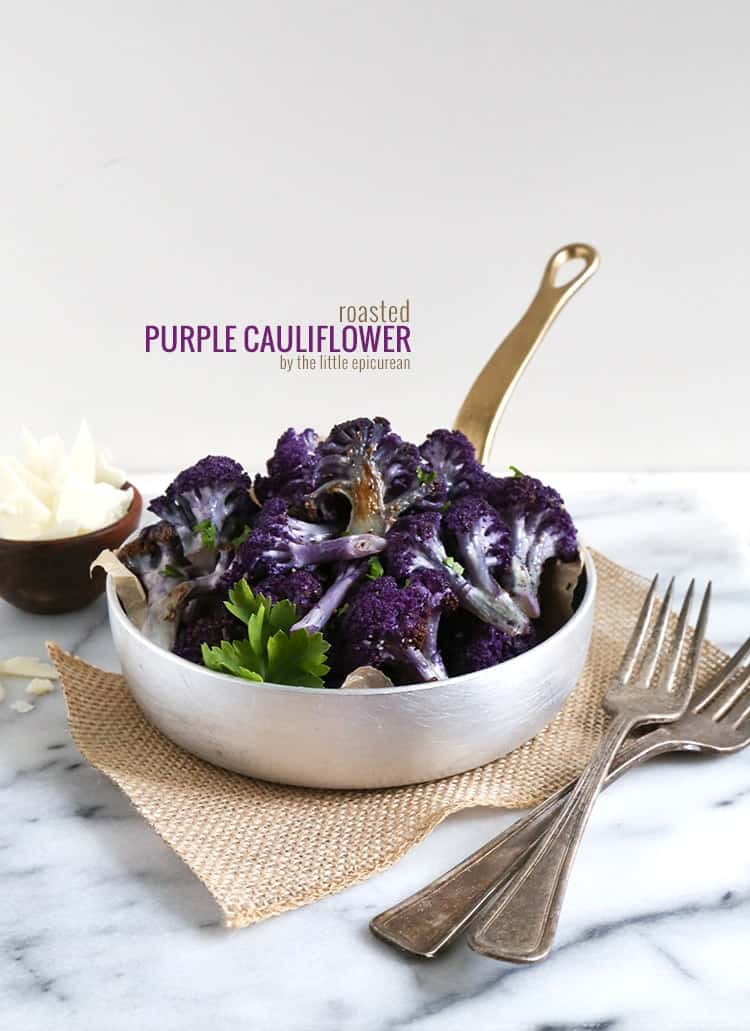 Cauliflower.  Why does it have such a bad rep?  For the most part, people think it smells like fart, tastes sulfurous, and looks like "white broccoli."
Well, I'm not one of those people.  I happen to like cauliflower and I think it's beautiful.
Just take a look at this purple cauliflower.  I think it's intriguing, alluring, and powerful.  Not to mention, it's jam packed with all sorts of nutrients, antioxidants, and healthy stuff.
The notion of "healthy" food is hardly positive.  Healthy has often been associated with foods that don't taste good.
March is National Nutrition Month, as designated by the Academy of Nutrition and Dietetics.  This campaign focuses on educating the public about making smart and informed decisions regarding food and exercise.
While The Little Epicurean is primarily a baking and dessert blog, I believe in healthy eating and an active lifestyle.
My parents have always taught me that everything in life should be taken in moderation.  Life needs balance. You can't survive on desserts.
You need fruits and vegetables in between.  Sure I make cakes on the regular, but I don't eat it all by myself.
While I'll of course sample a slice or two, I share the rest of the cake.
And what I don't mention enough is what I do when I'm not baking or eating.  It's no secret that I love sweets, but I'm also big on physical activity.
I regularly partake in half-marathons, I spin/cycle weekly, and I love yoga and pilates.  If I was tall enough for basketball or coordinated enough for tennis, I'd probably do those, too.
Healthy doesn't have to be bland and boring.
As a child, I didn't enjoy eating vegetables mainly because I didn't like the way they were prepared.  I only liked carrots because I could dip them in ranch, and potatoes because they were fried.
I hated steamed vegetables- they were mushy and flavorless.  Steaming, boiling and poaching are usually at the top of people's list when it comes to healthy food preparation.
Roasted vegetables are the best
But my favorite way to cook vegetables is roasting.  Naturally as a baker, the oven is my best friend.
The lovely folks at Frieda's sent me this beautiful purple cauliflower.  I wanted to prepare the cauliflower as simply as possible to make the vegetable shine.
Less is definitely more.  When you have something this fresh, no need to drench it in butter or cover it up with sauce.
I simply tossed the cauliflower in some olive oil, seasoned it with salt and pepper and roasted it in the oven.  Its a super easy side dish that brightens any dinner table and is sure to bring excitement and lively dinner conversation.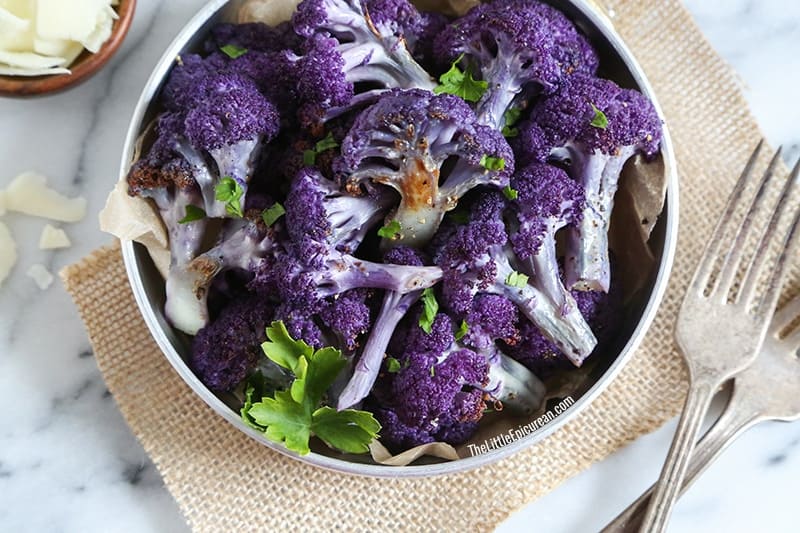 Roasting cauliflower lightly caramelizes the sugars in the vegetable.  It brings the sweetness, savoriness, and nuttiness out of the cauliflower.  It's so easy to incorporate roasted vegetables into your weekly diet; it hardly a challenge.
As I've gotten older, my palate has changed and I have learned to love more vegetables.  5 years ago I wouldn't dare touch Brussels sprouts, and now I'll eat them raw in a salad (see: shaved Brussels sprouts salad).
Before you decide to hate a certain vegetable, make sure you've tried every which way to cook and season it. You might be surprised with the outcome.
To learn more about National Nutrition Month or the #PowerOfPurple, check out Eat Right.  Want to find out what fruits and veggies are in season?  Or better yet, where to find speciality produce?  Go to Frieda's Inc.
Roasted Purple Cauliflower
Ingredients
1

head

purple cauliflower, cut into florets

1-2

Tablespoons

olive oil

kosher salt

coarse black pepper

Italian parsley, to garnish

shredded parmesan cheese, for serving
Instructions
Preheat oven to 450 degrees F. Line baking sheet with parchment paper.

Toss cut cauliflower in olive oil. Make sure to coat entire surface of vegetable. Spread cauliflower into a single layer on prepared baking sheet. Do not over crowd pan, allow ample space.

Generously season with salt and pepper.

Bake for 15-20 minutes until edges and flat areas of cauliflower have browned. Cook time may vary depending on size of your florets. Serve warm and garnish with chopped Italian parsley and shredded parmesan cheese.