Vegan and gluten-free quinoa tabbouleh is a picnic salad everyone can enjoy!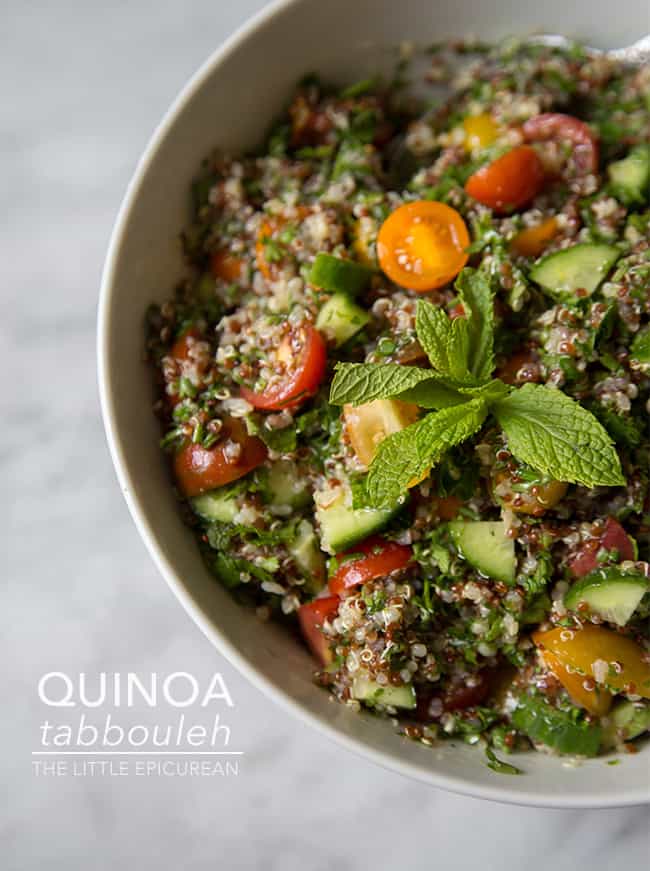 Tabbouleh traditionally is a parsley salad with fresh mint, onion, tomato, cucumber and a little bulgur.
Since I had recently bought a giant bag of quinoa from Costco, I figured I might as well find new uses for it (besides my only rotating quinoa dishes: yogurt quinoa parfait, strawberries and cream breakfast quinoa, and my favorite red quinoa lunch bowl need a break).
This recipe is vegan and  gluten-free!  
Perfect for when you have guests with dietary restrictions. It's definitely a salad everyone can enjoy. Take this quinoa tabbouleh to a pot luck, pack it for a light salad lunch, or bring it on a picnic.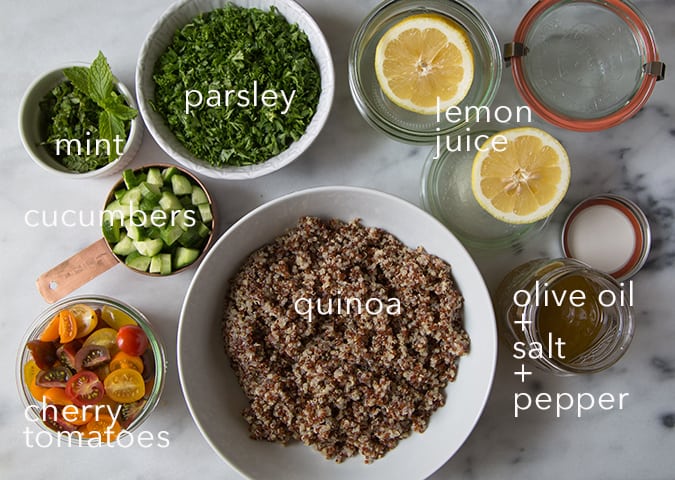 I used cherry tomatoes instead of the more common chopped tomatoes.  The onset of summer brings the start of tomato season. I wanted this salad to have a more pronounced tomato profile so I added a lot more tomatoes than the average person would add.
That's the thing I love about this quinoa tabbouleh; since I am not trying to replicate the original Lebanese tabbouleh, I am free to add and subtract to my taste buds.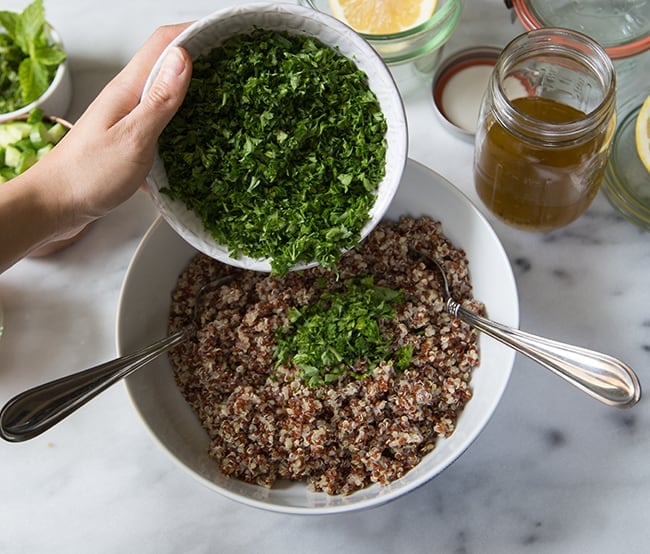 The most time consuming part of this recipe was washing, drying, and then chopping all the parsley. Besides that, this quinoa tabbouleh is a breeze to make!
After cooking the quinoa, let it cool to room temperature. To speed up the process, spread warm quinoa on a baking sheet and place in the fridge for 10 minutes or so until cool. Place cooled quinoa in a large bowl and add in chopped parsley and mint.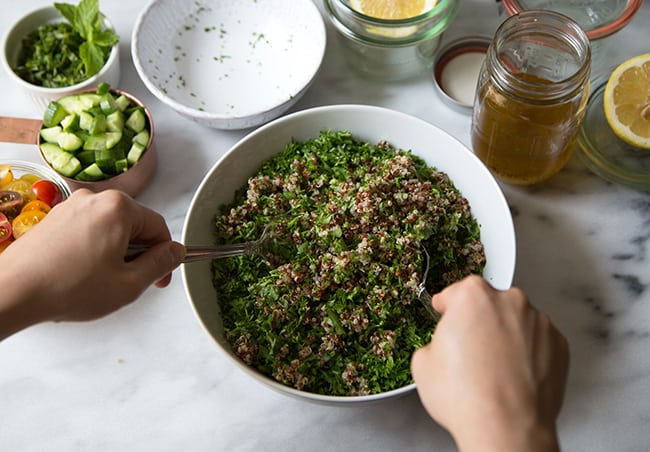 Toss to combine to fully distribute the parsley.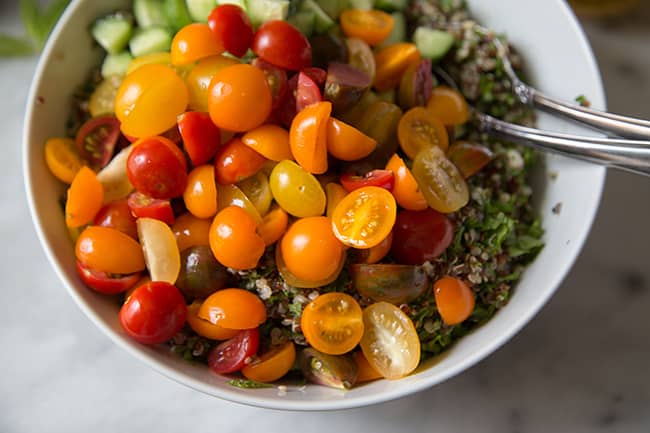 Add sliced tomatoes and quartered cucumbers. Toss to distribute.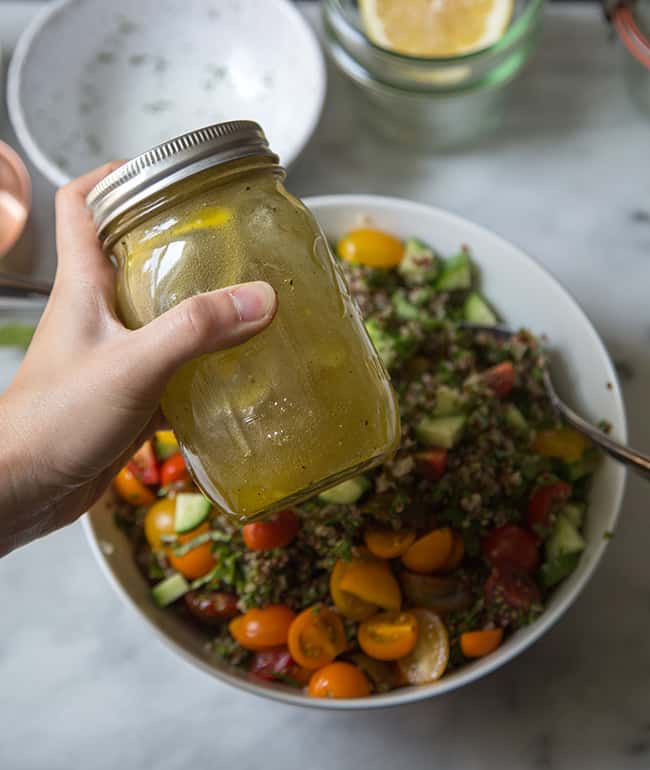 Mason jars are my favorite salad dressing mixers. Place olive oil, salt, pepper, and lemon juice in a mason jar. Cover with lid and shake until dressing is creamy.
Be sure to use good quality (fresh tasting) olive oil since it makes up most of the dressing.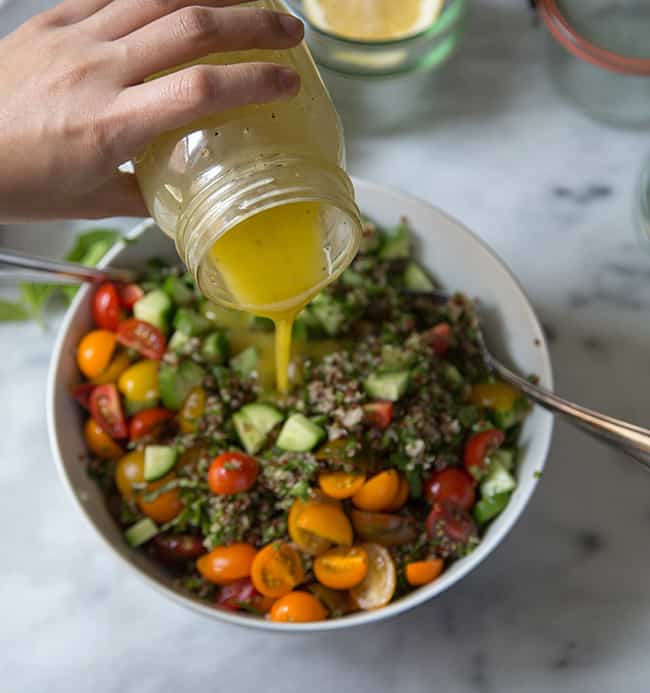 Pour dressing over quinoa. I suggest starting with half of the dressing. Toss and taste. You can always add more dressing, but you can't take away dressing.
Serve immediately, or let chill in the fridge until ready to eat. My favorite way to store this salad: individually portioned in cute little jars.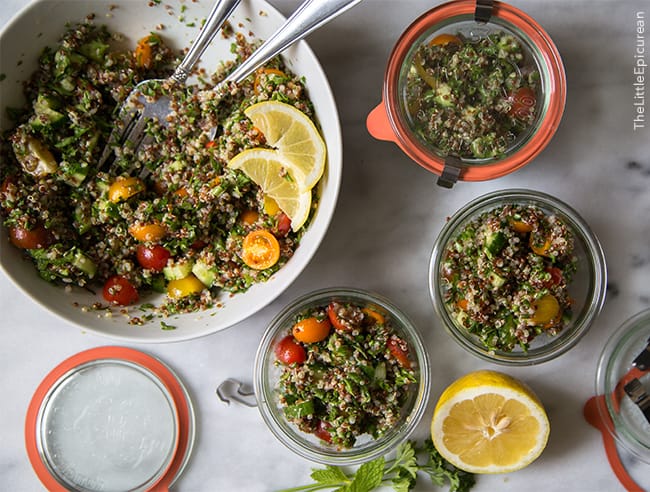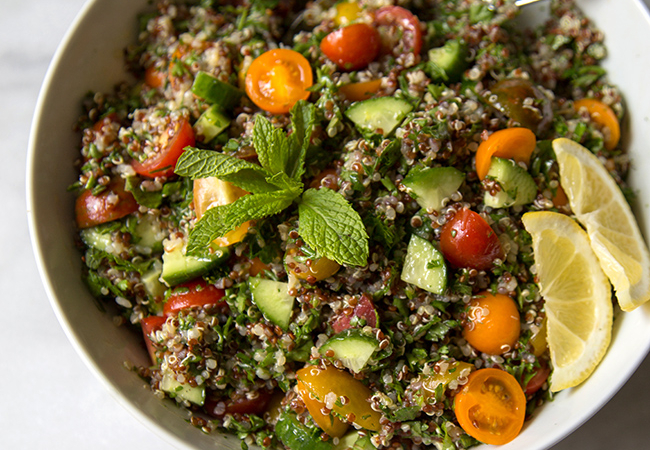 Quinoa Tabbouleh
Ingredients
1

cup

quinoa

2

cup

water

¼

teaspoon

kosher salt

2

cup

chopped parsley

¼

cup

chopped mint leaves

2

cup

cherry tomatoes

halved or quartered

1

cup

English cucumbers

quartered

¼

cup

fresh squeezed lemon juice

½

cup

olive oil

½

teaspoon

kosher salt

½

teaspoon

freshly ground black pepper
Instructions
In a medium sauce pot, combine quinoa, water, and salt.  Bring to a boil over medium heat.  Reduce heat, cover pot, and let simmer for 15 minutes until quinoa has absorbed all the moisture and is cooked.  Let sit for 3 minutes.  Remove cover and fluff with a fork.  Alternatively, follow quinoa's box instructions for 1 cup quinoa.

Let quinoa cool to room temperature.  To speed up the process, spread warm quinoa over a sheet tray.  Let chill in the fridge for 10 minutes until cool.  Place cooled quinoa in a large bowl.

Add chopped parsley and chopped mint to quinoa.  Toss to combine.

Add tomatoes and cucumbers.  Toss to combine.In a mason jar or mixing bowl, mix lemon juice, olive oil, salt and pepper.  Pour about half of dressing over quinoa bowl.  Toss to distribute dressing.  Taste quinoa and add more dressing according to preferences.