Combine the best of creme brûlée, cheesecake, and brownies into one amazing gluten-free dessert. These brûlée cheesecake brownies are sure to be family favorite!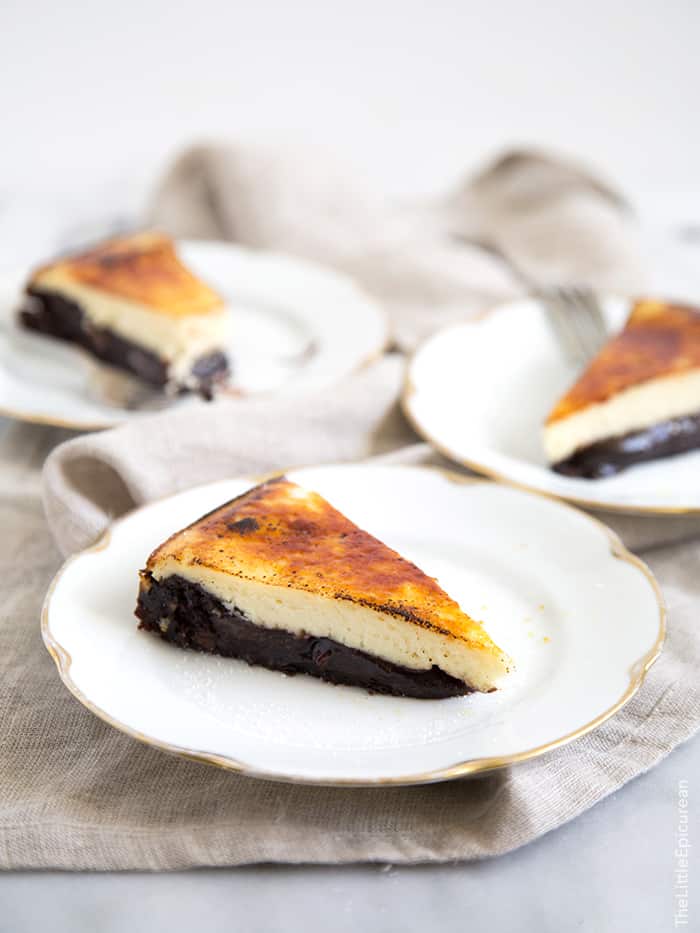 Food allergies and food sensitivities are real. I'm lactose-intolerant, my stomach can't digest certain shellfish, and raw celery makes me itchy.
Luckily, I am able to enjoy my favorite dairy desserts thanks to lactase pills. A world without ice cream? No cheese pizza? No cappuccino or latte? I don't want to even imagine such things.
Unfortunately, those with wheat sensitivities, or more extreme cases like celiac disease, cannot take a magical pill to eat cookies, cakes, and brownies.
Especially during the holiday season, I think everyone should be able to enjoy a little something sweet.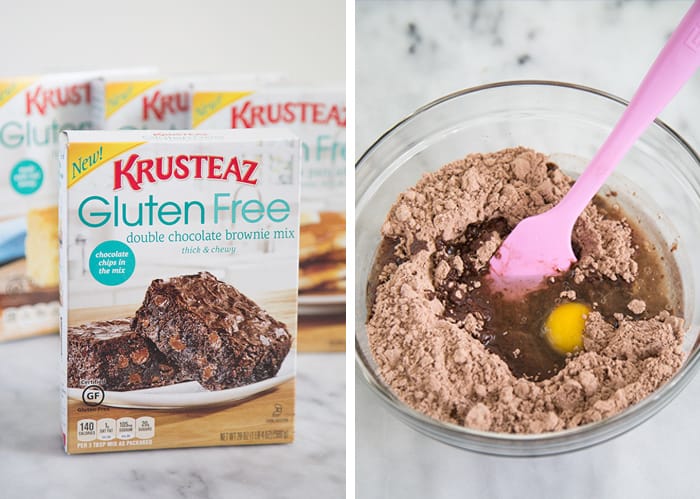 Gluten-Free Brûlée Cheesecake Brownies
Two party staples that I always serve are cheesecake and brownies. But you guessed it, the buttery graham cheesecake crust and my fudge brownies both have wheat. Luckily, there is a solution!
I've partnered up with Krusteaz to participate in their Gluten Free Bake-Off! I have been challenged to create a unique holiday recipe using one of their new gluten-free mixes.
I had to choose among Buttermilk Pancake, Honey Cornbread, Blueberry Muffin, and Double Chocolate Brownie. Picking was a no-brainer.
Of course, I had to go with the Double Chocolate Brownie. It was the chocolate chips included in the mix that won me over. Plus, those who say no to chocolate are crazy.
How do you make brownies better?
Brownies are great, but cheesecake brownies are better! Instead of traditional cheesecake with a graham cracker crust, I've made a cheesecake with a brownie crust.
And to further up the ante, the cheesecake has a caramelized brunt sugar topping- just like my mini cheesecake brûlée! YES. I combined creme brûlée, cheesecake, and brownie into one dessert. (I bet you wish we were neighbors.)
Like any other box mix, the brownies were easy peasy to whip together. In a large bowl, you combine the brownie mix with water, oil, and one egg. That's it!
To put my own spin on the brownies, I added a teaspoon of instant espresso powder to heighten the rich chocolate flavors.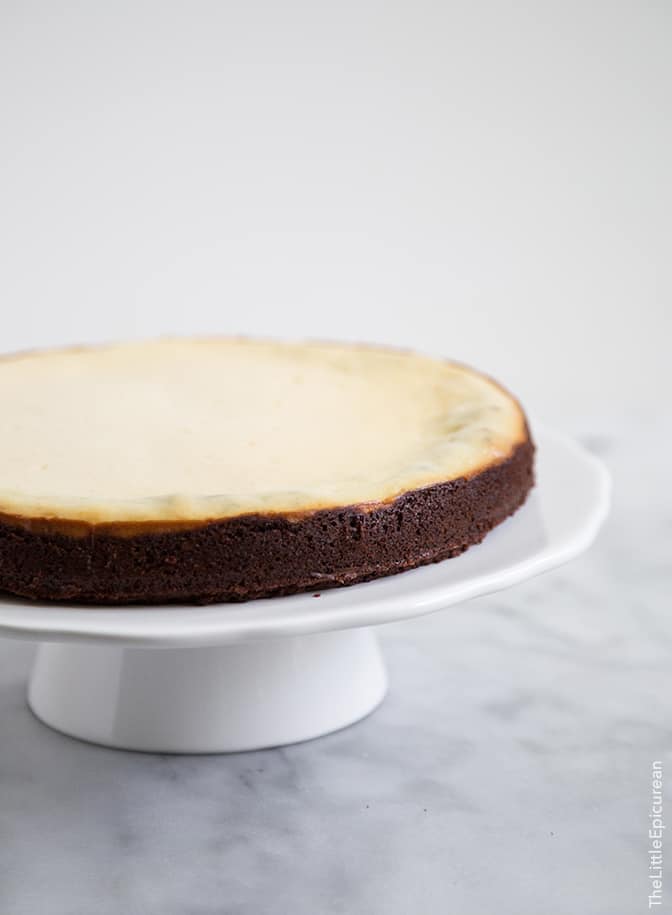 Like traditional cheesecake, I baked this cheesecake brownie a springform pan. I used just a thin layer of cheesecake so it wouldn't overpower the brownies.
Plus, I think it's pretty cool the way the cheesecake is slightly hidden in the brownie bottom.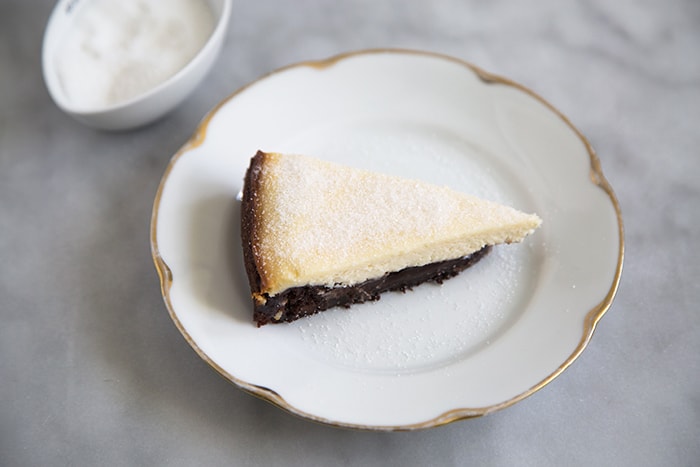 Once the cheesecake brownies are cooled and chilled, use a sharp knife to slice servings. I suggest 12 slices.
This stuff is potent and full of sugar (just like any cheesecake/brownie), so you could slice even smaller wedges if you'd like.
Quick tip: warm the knife in hot water for cleaner cuts. Be sure to wipe the blade clean each time you slice.
I separated one slice to show you how much sugar I sprinkle on top of the cheesecake. Depending on how much you are planning to serve, you can brûlée the cheesecake brownies slice by slice, or all at once like the photo below.
Just be sure to slice the cheesecake brownies BEFORE you brûlée. Otherwise, the sugar crust will crack into a bunch of pieces.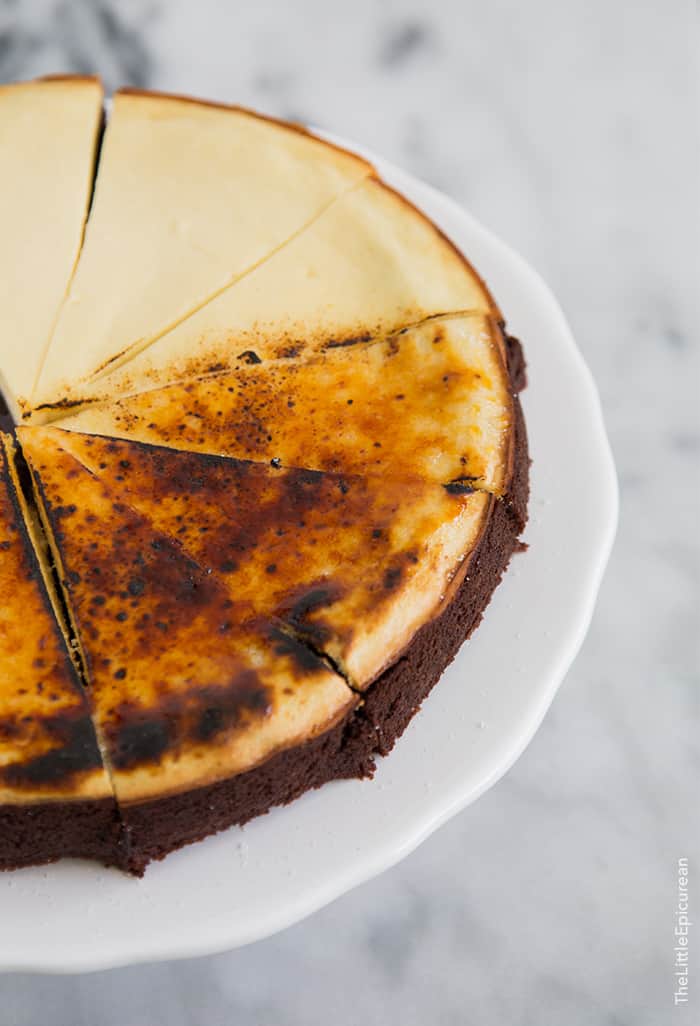 The brownies are super chocolatey and fudge-like. The inclusion of chocolate chips in the brownie mix leaves little pockets of melted chocolate throughout the dessert.
The smooth and slightly tart cheesecake layer plays well with the sweet brownies. And my favorite part, the brûlée sugar crust adds bitterness and much needed crunch!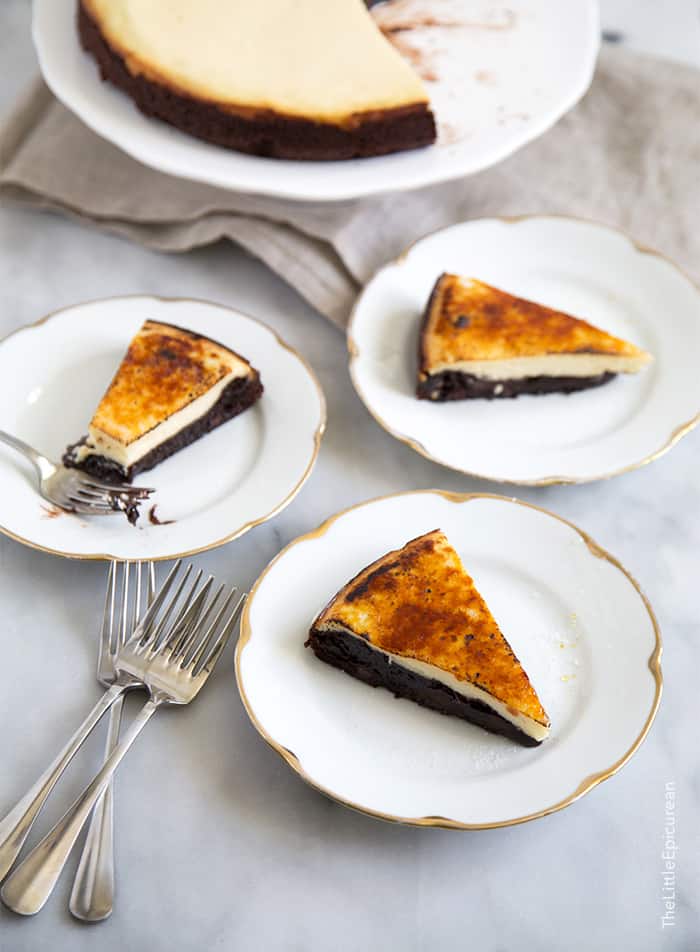 Mind you, gluten-free does not mean fat-free! These brûlée cheesecake brownies are rich, decadent, and sinful- only the best kind of dessert!
Gluten-free desserts don't have to be intimidating or tasteless. These box mixes make it really easy.
So far I've only tried the double chocolate brownie mix and honey cornbread mix. Both exceeded my expectations. (I'm used to making everything from scratch. The last time I used a brownie mix was in college!) I can't wait to use the buttermilk pancake mix this weekend…I'm thinking cinnamon apple pancakes with brown butter. YUM.
With the baking season in full swing, Krusteaz is giving one lucky reader a set of gluten-free mixes.  The winner will receive a Krusteaz tote filled with two packages of each Krusteaz Gluten Free Double Chocolate Brownie, Buttermilk Pancake, Honey Cornbread, and Blueberry Muffin mixes and a Krusteaz spatula.
Get inspired and use these mixes to create new treats for your friends and family!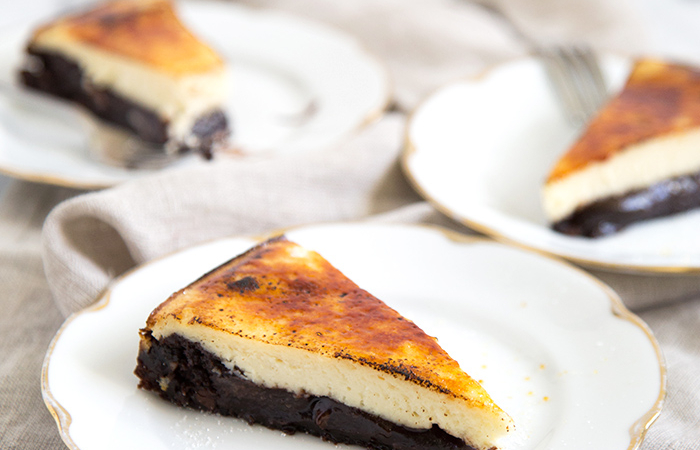 Gluten-Free Brûlée Cheesecake Brownies
Combine the best of creme brûlée, cheesecake, and brownies into one amazing gluten-free dessert. These brûlée cheesecake brownies are sure to be family favorite! Yield: one 9-inch cake
Ingredients
1

box

Krusteaz Gluten Free Double Chocolate Brownie Mix

1

teaspoon

instant espresso powder

1/3

cup

water

1/3

cup

vegetable oil

1

large egg
Cheesecake Layer:
16

oz

cream cheese, room temp

1/3

cup

sour cream

1/2

cup

granulated sugar

1

large egg

1

large egg yolk

1

teaspoon

vanilla extract

1/2

teaspoon

fine sea salt

granulated sugar, as needed for topping
Instructions
Preheat oven to 325°F.  Lightly grease the sides of 9-inch springform pan.  Set aside.

In a large bowl, combine brownie mix, espresso powder, water, oil and egg using a sturdy spatula. Mix until there are no longer any dry streaks of brownie mix. Transfer to prepared springform pan. Spread into an even layer


Cheesecake Layer: In another large bowl (or stand mixer), beat cream cheese until smooth. Add sour cream, sugar, egg, egg yolk, vanilla, and salt. Scrape down bowl as needed to ensure thorough mixing. Continue to mix on low speed until smooth. Pour cheesecake batter into springform pan on top of brownie batter. Spread into an even layer.


Bake for 55-60 minutes until cheesecake layer is set and cake begins to pull away from the sides of the pan. Cheesecake may puff slightly but it will flatten once cooled. Let cool to room temperature, then transfer to the fridge. Let chill for at least 1 hour. Gently unmold cheesecake brownie. Slice into 12 servings using a sharp knife. Sprinkle the cheesecake generously with granulated sugar. Using a kitchen torch, burn the sugar. Let sugar cool for 3 minutes before serving.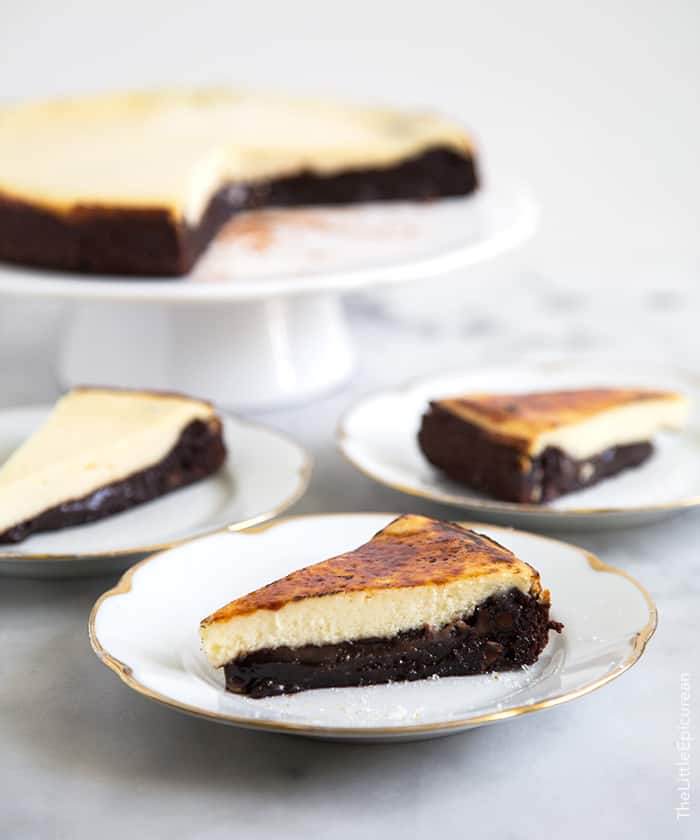 To enter giveaway, leave a comment below. Tell me which mix you are most interested in trying!
You can be nice and like my page on Facebook and follow me on Instagram // Twitter // Pinterest // BlogLovin'. Although you won't get additional entries, you will make me quite happy :)
Terms & Conditions: Comments are moderated and may not show up right away. One comment per person, please. Giveaway is only open to U.S. residents, 18 years or older at time of entry. Winner must be willing to provide a valid shipping address (sorry, no P.O. Box) in order to receive prize.
Comments close at 11:59 PM (PST) on Monday, December 1. The winner will be chosen at random and notified by email Tuesday morning (Dec. 2). If the winner does not respond within 48 hours, winner forfeits prize and another winner will be chosen at random.
Be sure to use a valid email address, or I will not be able to contact you if you win. Prize pack will be shipped by product representative.
Disclosure: Prize pack is provided by Krusteaz. I received the same products to sample. All opinions are my own.