Delicious Asian sliders seasoned with a sweet soy glaze, topped with gochujang mayo and garnished with crunchy quick pickles. Serve on mini brioche buns for the best experience!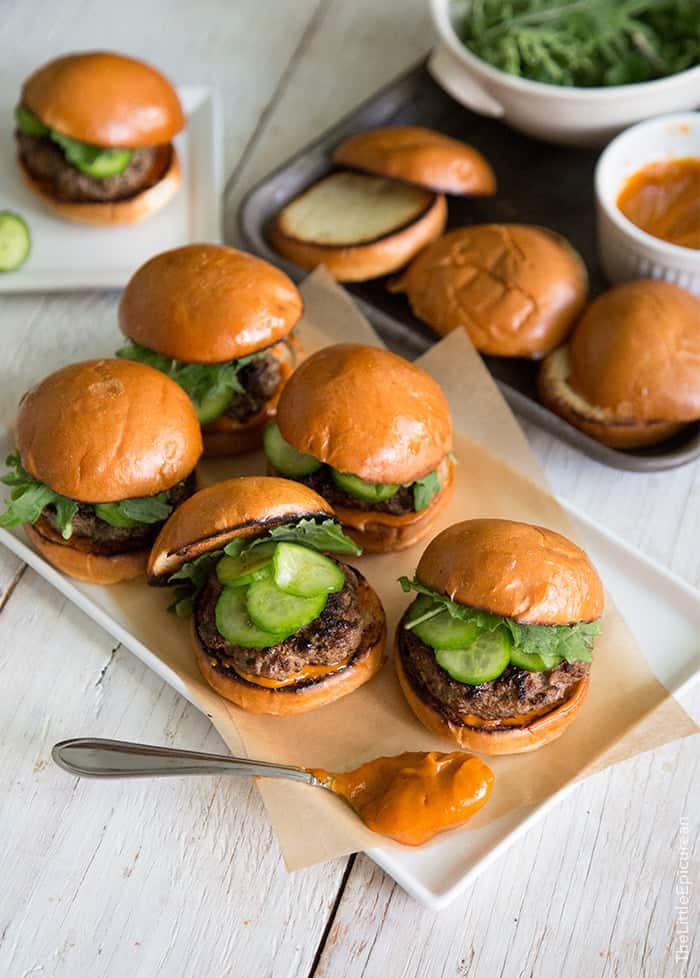 Move over hamburgers! It's all about sliders this summer!
The mini versions are always cuter. These mini burgers are great for summer gatherings, picnics, and potlucks.
Its small size makes it perfect for kids and adults.
Best of all, it's ideal for potlucks when you want to try a little bit of everything.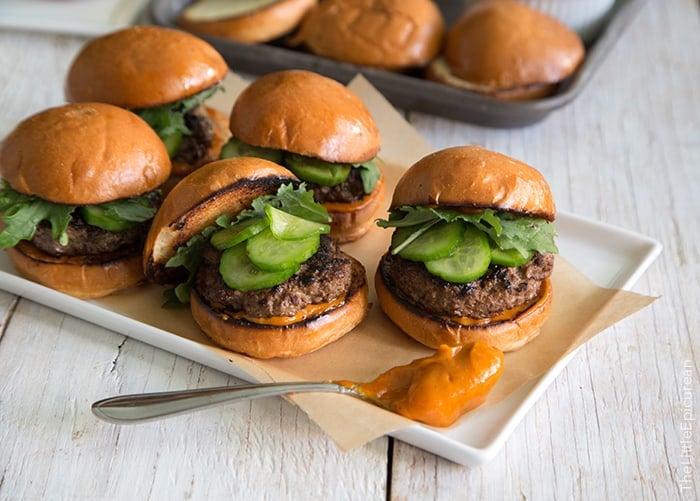 Mini Burgers with Spicy Mayo and Quick Pickles
These Asian sliders were inspired by Bachi Burger in Las Vegas. Unfortunately, that restaurant has since closed in 2020.
Bachi Burger was a family favorite of ours. Their burgers were unique and tasty because of they way their cook the meat patties.
The bugger patties are baste with a sweet glaze as it cooks. That glaze gives the patty a distinct crust. It flavors the meat similarly to Asian barbecue like Filipino bbq skewers and Korean bulgogi.
That same basting technique is used to flavor these mini Asian sliders.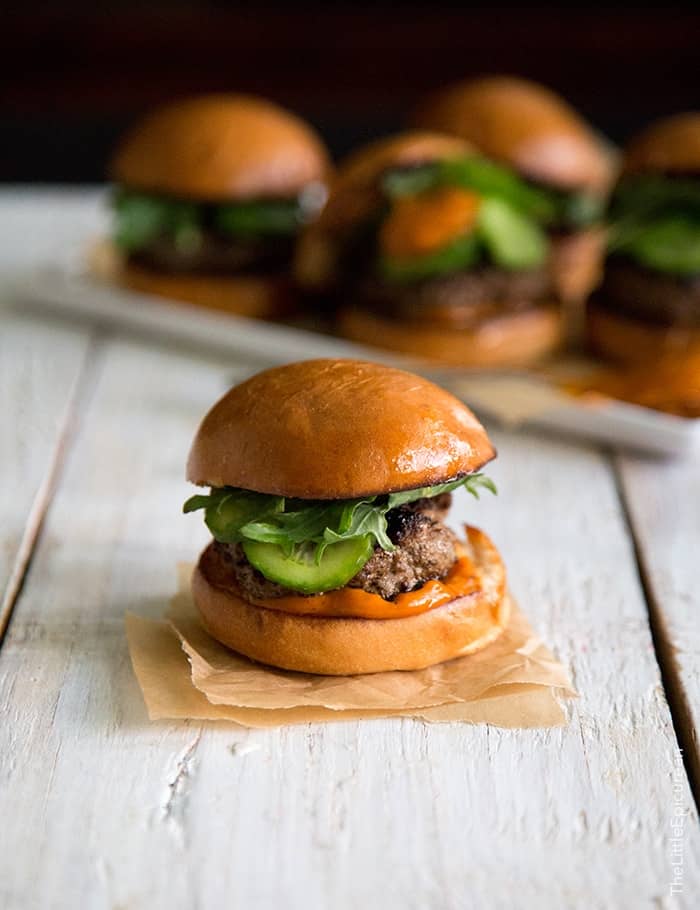 Asian Burger Components:
Mini Brioche Buns
Asian flavored beef patties
Baby kale, or other leafy greens
Gochujang mayo
Quick pickles
Where to get mini brioche buns?
Brioche slider buns are more readily these days. Visit major supermarket chains (Krogers and Vons) to find St. Pierre Brioche Slider Rolls. King's Hawaiian also makes slider buns (available at supermarkets, Target, and Walmart).
Trader Joe's and Costco have mini slider buns options during the summer months.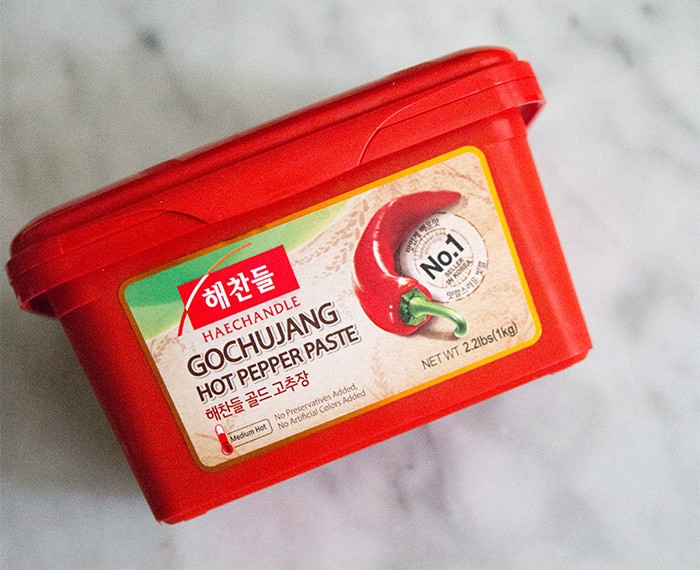 What is gochujang?
Gochujang is Korean hot pepper paste. It has been touted as the new sriracha.
Gochujang comes in a range of spice levels from mild to extremely hot. It a fermented paste made from chili powder, soy beans, and glutinous rice powder.
It has a distinct flavor that is all at once sweet, savory, and spicy.
Use it like miso paste. It can be mixed in soups, marinades, salad dressings, or dipping sauces.
For the best selection, purchase gochujang at a well stocked Asian market, like 99 Ranch. Better yet, visit a specialized Korean market like HMart.
Spicy Gochujang Mayo
Amp up plain old mayonnaise with gochujang! Simply mix the red pepper paste into your favorite brand of store-bought mayo.
Super easy and simple. One taste and you'll want to spread this on everything.
Its' great on burgers, sandwiches, and wraps. Or, use it as a dipping sauce for fries!
Quick Pickles
Every burger requires a pickle.  These crunchy quick pickles only take 10 minutes to make!
They're not sour like traditional pickles.  These quick pickles are bright and fresh tasting.  
All you need is sugar and salt. Toss sliced cucumbers (preferably Persian cucumbers) in sugar and salt. Let sit for 5 minutes.
Then, rinse the cucumbers under cool water. Season with additional salt to taste. Keep them in the fridge while you cook the burgers.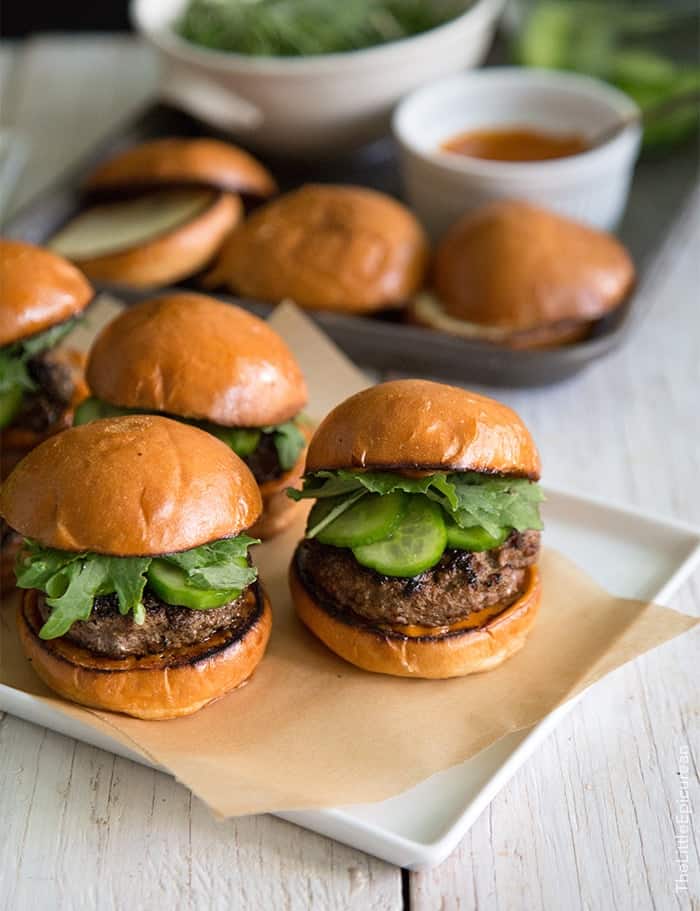 My family and friends can't get enough of these Asian sliders. They taste so much fresher and vibrant than the usual backyard hamburgers!
My love for burgers knows no end.  If you check out my travels section, it's pretty obvious I can't visit a city without trying a burgers.  See my eats in Kauai, Las Vegas, Austin, and Portland.
Asian Sliders with Gochujang Mayo and Quick Pickles
These mini burgers are seasoned with a sweet glaze reminiscent of Asian barbecues. It's topped with crunchy quick pickles and spicy gochujang mayo and served on mini brioche buns. It's the perfect game day snack!
Ingredients
Mini Burgers:
1

pound

ground beef

¾

teaspoon

kosher salt

½

teaspoon

ground black pepper

2

Tablespoon

hoisin sauce

2

Tablespoon

reduced sodium soy sauce

2

Tablespoon

granulated sugar

½

Tablespoon

rice vinegar

1

garlic clove,

minced

½

teaspoon

minced ginger

8

mini brioche buns

baby kale or desired greens,

as needed

rice bran oil or vegetable oil,

as needed
Gochujang Mayo:
⅓

cup

mayonnaise

1

Tabelspoon

gochujang paste
Quick Pickles:
1

cup

sliced Persian cucumbers,

about 1/4-inch thick

½

Tablespoon

granulated sugar

½

teaspoon

kosher salt
Instructions
Mix together ground beef, salt and pepper. Set aside.

To make burger glaze: combine hoisin sauce, soy sauce, sugar, rice vinegar, garlic and ginger. Stir together and let sit for 10-15 minutes.

Meanwhile, divide seasoned ground beef into 8 equal patties. Heat up a heavy cast iron skillet over medium high heat. Brush with oil. (I prefer to use rice brain oil because it has a high smoke temperature.)


Add patties to hot pan and press down with a flat spatula. Let cook for about 1 minute until crust has formed. Brush top with glaze. Flip patty and brush other side with glaze. Cook for another minute, flip, and brush again. Do not overcrowd the burgers. Work in batches, if necessary.


Once burger is cooked, remove from skillet and transfer to plate and allow to cool slightly. Heat a clean skillet over medium heat. Brush buns with oil. Lightly toast buns on hot pan.


Spread gochujang mayo on buns, top with burger patty, quick pickles and greens of choice. Serve and enjoy immediately.

Gochujang Mayo:
In a small bowl, mix together mayo and red pepper paste until smooth.
Quick Pickles:
Toss sliced cucumbers in sugar and salt. Let sit for 5 minutes. Rinse pickles under cool water. Drain. Taste and season with salt as needed. (I added a rounded 1/4 tsp of kosher salt.) Chill in the fridge for 5-10 minutes, while you cook the burgers. Then use immediately.

Notes
Gochujang is available at Asian markets, Whole Foods, and Amazon.com.  I found this brand at my local Ralphs.