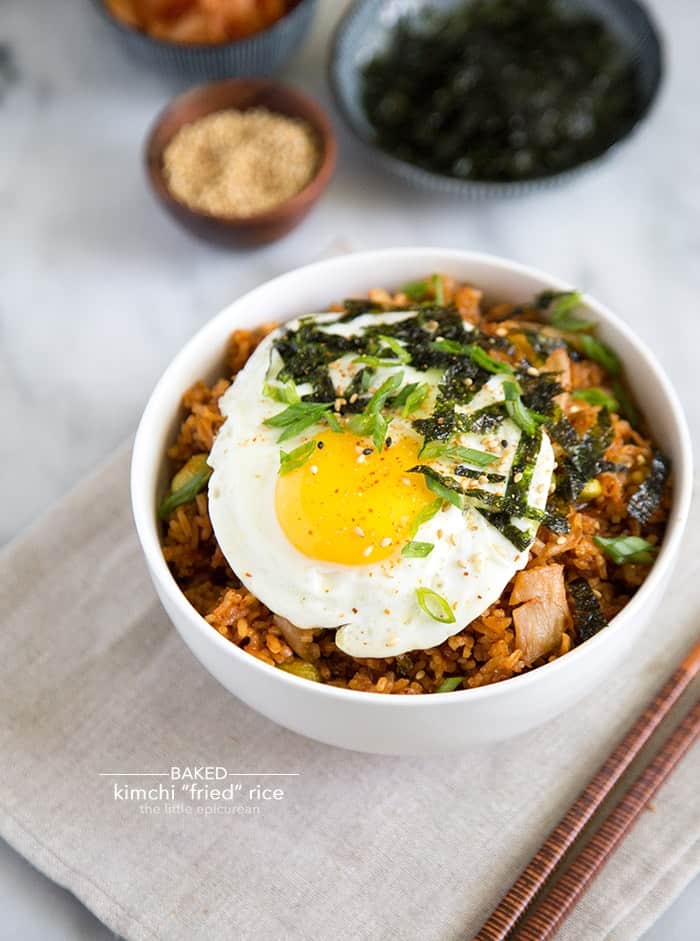 Every once in a while, my dad will announce a new change in his diet.  This is usually brought on by a recent check up from his doctor.  If his doctor makes any note about his weight, cholesterol, or blood sugar- you betcha there's going to be some changes.  You see, my dad is a problem solver.  Whether the matter is big or small, he must find a solution.  Cardio vascular activities and exercise is a given.  Ever since he retired, he spends all his time gardening, climbing trees, and hiking around.  But food… that's a tough one in our family.
One month he won't eat any chocolate or sweets. (Which is probably super difficult with a daughter who comes to visit with a box of baked goodies.)  Another month, he'll give up eating red meat.  But one constant he always tries to refrain from- fried foods.   This is insane for a fried food loving family.  Tempura, tonkatsu, fried chicken, doughnuts!, eggrolls, French fries…
On a recent family dinner, my dad ordered fried rice.  My brother and I quickly intervened and ordered plain steamed rice instead.  We had to explain, "DAD, fried rice is… fried!"  Technically, it's stir-fried, but it's fried nonetheless and it's oily.
Thinking about my dad and his love for fried rice, I began searching for alternatives.  BINGO! I found the oven-baked pineapple fried rice from my friend Sarah (Snixy Kitchen) and the baked fried brown rice from Oh My Veggies.  I looked in my fridge and baked kimchi fried rice was born.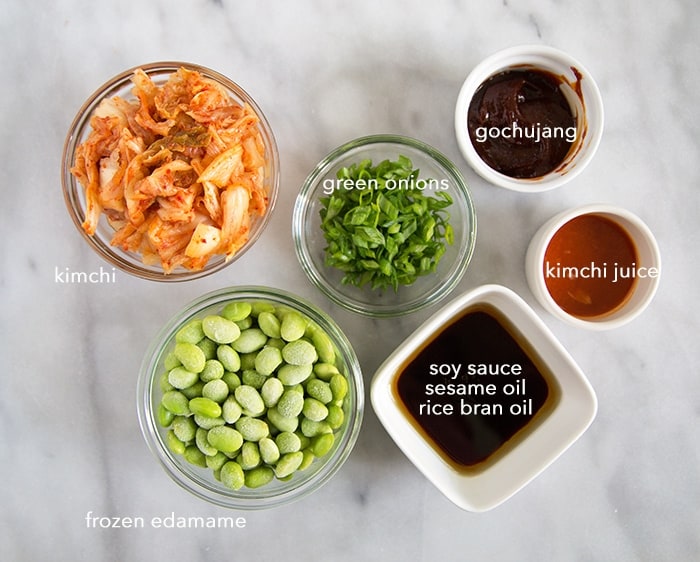 My mom has taught me to always used day old, cold rice when making fried rice.  I figured I should do the same for this baked "fried" rice.  While my two inspirations used brown rice, I just can't make the switch.  I love white rice way too much.
Store bought kimchi works perfectly well, but if you are one of those all from scratch types, I suggest trying this homemade kimchi by my friend Ellen (In My Red Kitchen).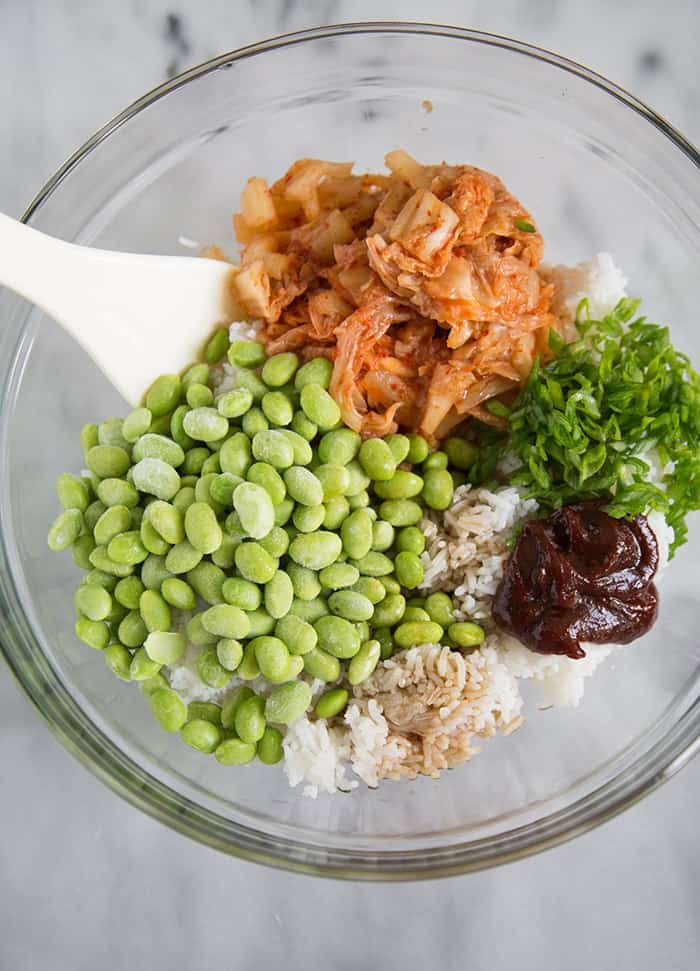 This "fried" rice couldn't be an easier.  Once you've gathered all your ingredients, simply toss it all together in a large bowl.  Yes, even the frozen edamame.  It'll cook in the oven.  No need to cook it ahead of time.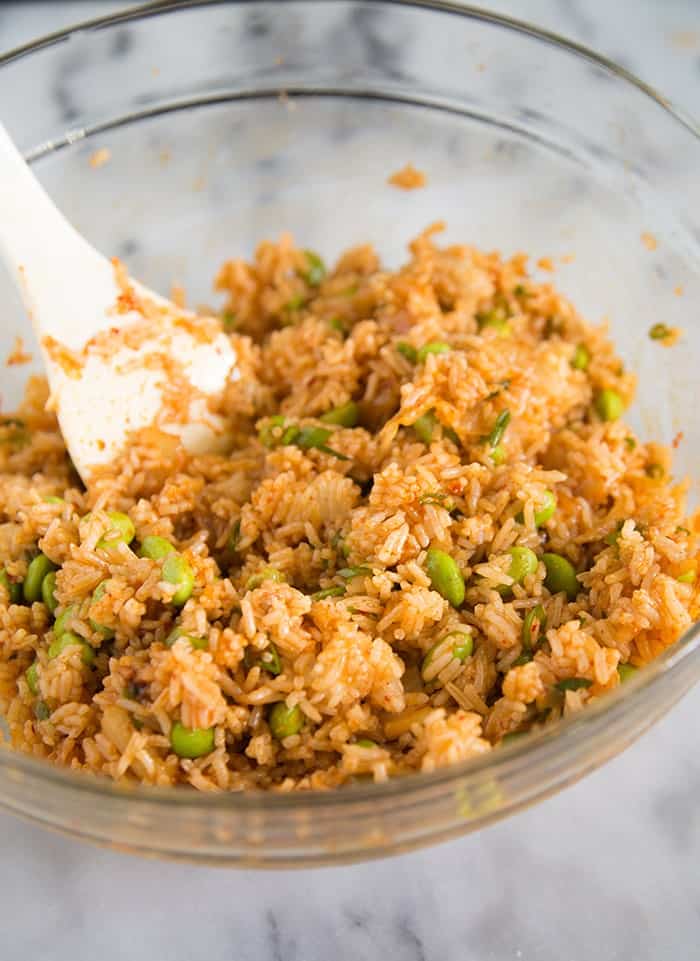 Mix it all together until the rice is fully coated in sauce.  Taste it.  If you want it spicier, add more gochujang.  If you want a little more punch, add kimchi juice.  (Kimchi juice is basically the liquid the cabbage expels as it's fermenting/pickling.)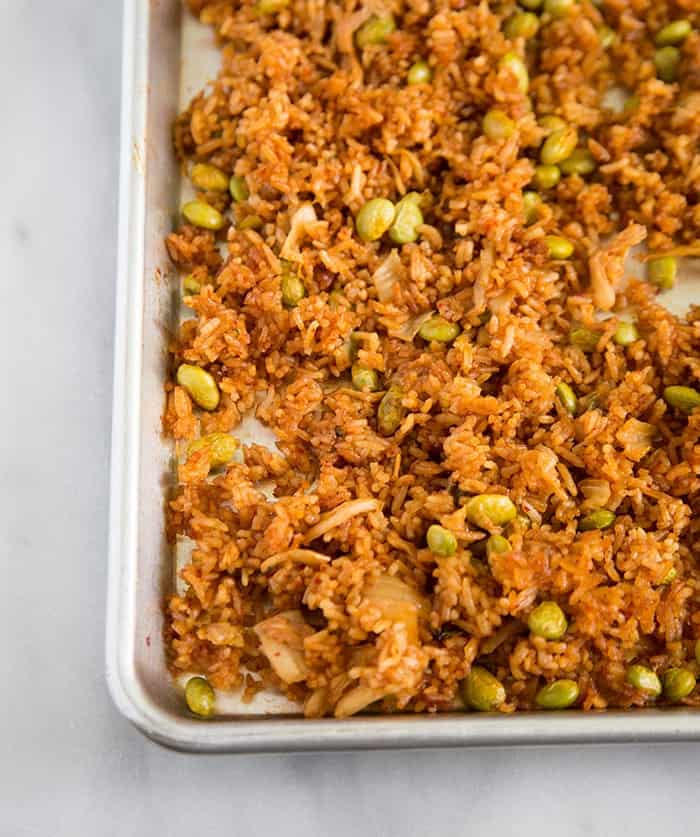 Then spread the rice into a thin even layer on a baking sheet.  Put it in the oven and wait for a delicious bowl of kimchi fried rice!
I like to serve this with a sunny side up egg and a sprinkling of toasted white sesame seeds, shredded seaweed, and green onions.  I can't wait to share this recipe with my dad… although, I'll probably have to omit the fried egg.
Baked Kimchi Fried Rice
Ingredients:
4 cups day-old cooked rice, cold
1 1/2 cups kimchi, chopped into bite size pieces
2 Tbsp kimchi juice
1 1/2 Tbsp gochujang (Korean chili pepper paste)
2 Tbsp reduced sodium soy sauce
1/2 Tbsp sesame oil
1 1/2 Tbsp rice bran oil
1 cup shelled edamame, frozen
3 stalks green onions, sliced, only green parts
Garnishes:
additional sliced green onions
toasted white sesame seeds
shredded seaweed
fried egg
Directions:
Preheat oven to 350 degrees F.
In a large bowl, combine rice, kimchi, kimchi juice, gochujang, soy sauce, sesame oil, rice bran oil, edamame, and green onions.  Fold to combine until ingredients are thoroughly mixed.
Spread mixture on a large baking sheet.  Bake for 45-60 minutes, stirring rice about every 15-20 minutes.  Cook until rice is hot and the rice on the edges of baking sheet start to crisp up.  Serve warm and garnish with green onions, sesame seeds, shredded seaweed, and fried egg.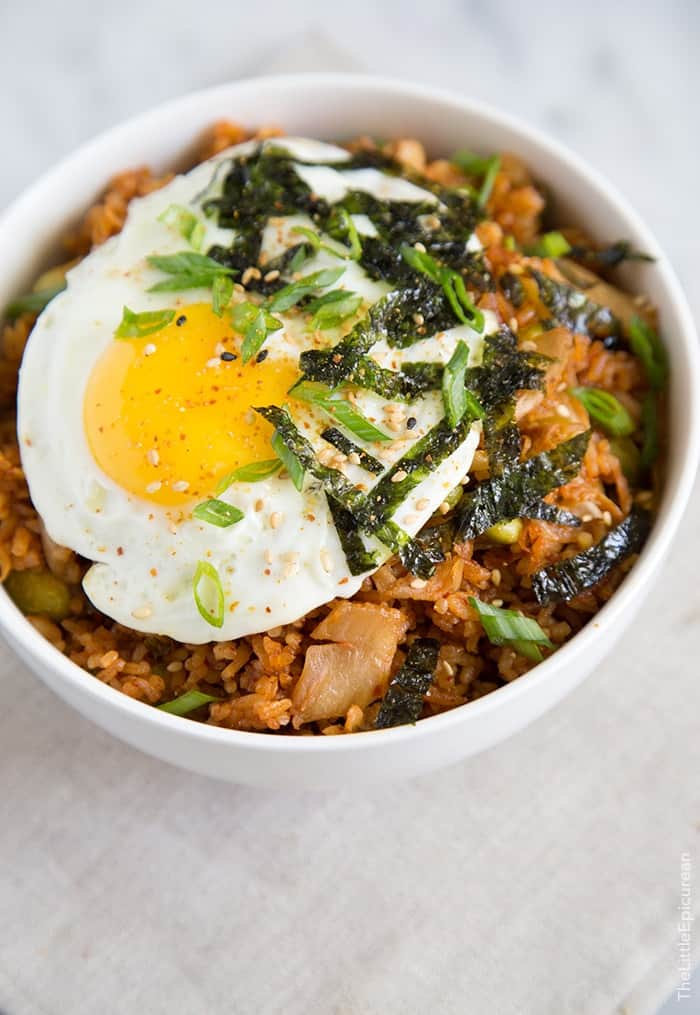 P.S. This cooking method is great if you need to serve a large crowd.  Instead of multiple large skillets/woks, you can fill the oven with baked fried rice.