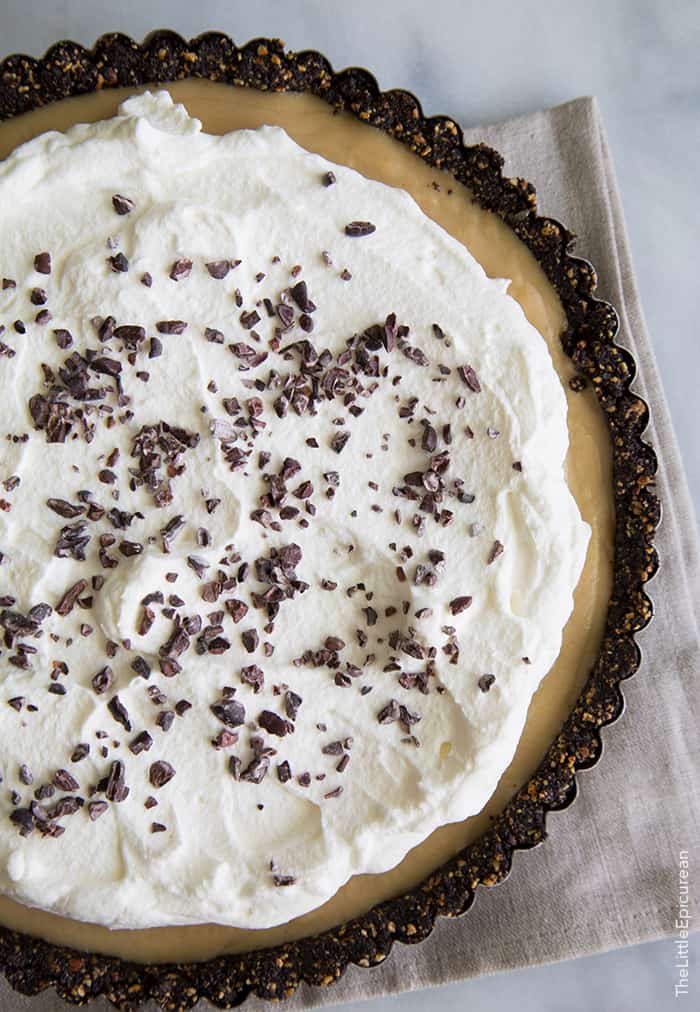 Confession: I've never read the Harry Potter series.
I KNOW.  I, too, am wondering what took me so long.  I've seen some of the movies.  And thanks to my best friend, I've even been to a number of book release parties back in the day.  But for some reason, I just never got around to reading the books.  I finally started Harry Potter and the Sorcerer's Stone last week.  I'm now on the third book (Prisoner of Azkaban) and I'm hooked and I can't stop.
Once I finish the series, I'm going to plop myself on the couch and watch all the movies in order. According to wikipedia that's 1,179 minutes…a whopping 19 hours and 39 minutes.  I'm going to need plenty of snacks to finish that marathon.  That's where this banana butterscotch almond tart comes into play.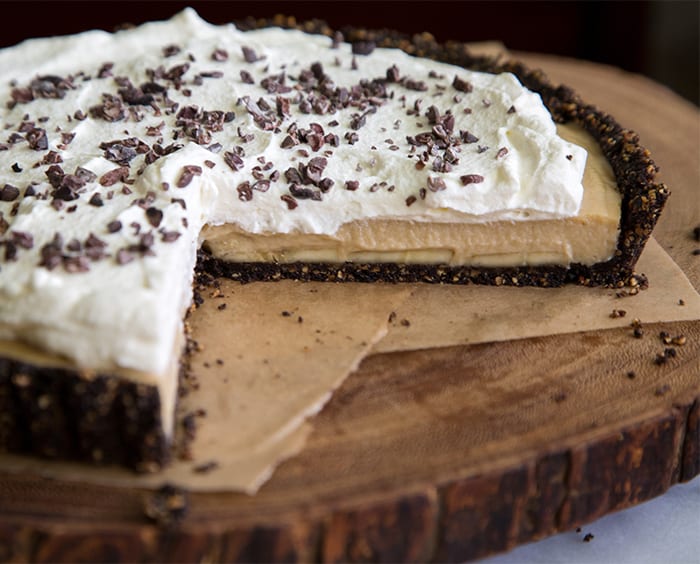 Don't settle for regular old banana cream pie (unless it's my banana cream tart with caramel and shaved chocolate).  This banana butterscotch almond tart is better.  Sure, it's a mouthful of a name, but it's one heck of a dessert.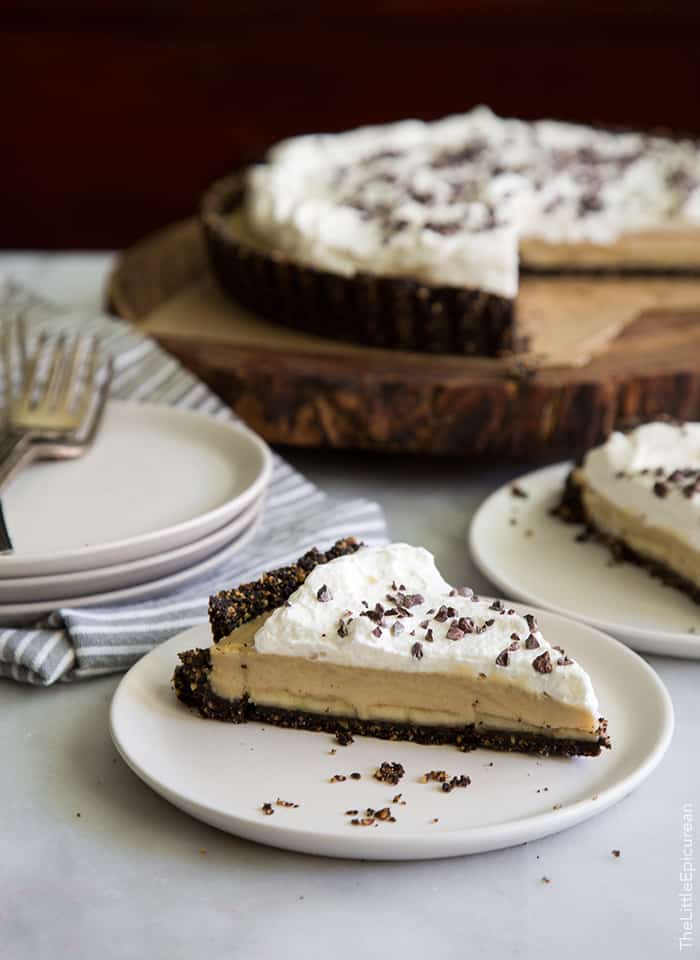 The crust is simply a mixture of chocolate wafers, toasted almonds and butter.  There's a layer of sliced bananas underneath the butterscotch pastry cream (that's slightly spiked with a little whiskey).  And on top of all of that is a sweetened whipped cream with lots of crunchy little cacao nibs.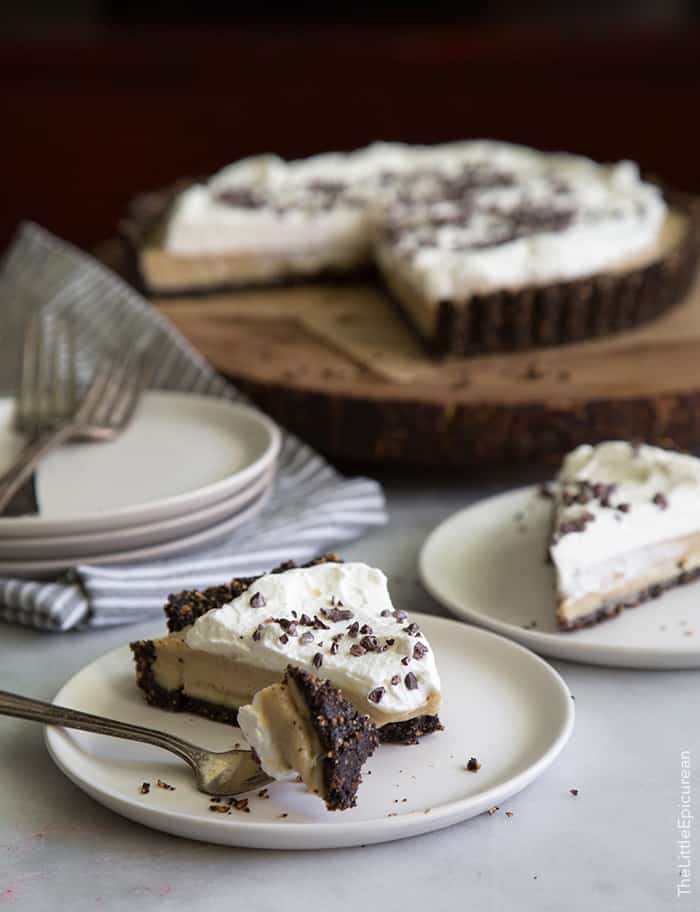 It's a sweet, satisfying and magical dessert.  It would be a fantastic flavor for Bertie Bott's Every Flavour Beans.  Speaking of magical foods, I may have to pour myself a mug of butterbeer very soon.
Banana Butterscotch Almond Tart
Don't settle for banana cream pie. Go the distance with banana butterscotch almond tart. The crust is made with chocolate wafers and toasted almonds. Underneath the whiskey spiked butterscotch pastry cream is a layer of sliced bananas. And on top of it all is a sweetened whipped cream with lots of crunchy little cacao nibs.
Ingredients:
Chocolate Crust:
20 chocolate wafers
1/2 cup toasted almonds
1/4 cup butter, melted, slightly cooled
Butterscotch Pastry Cream:
1 1/4 cup whole milk
3/4 cup heavy cream
2 large egg yolks
3/4 cup brown sugar
3 Tbsp corn starch
1 Tbsp whiskey
1 1/2 tsp vanilla
1/4 tsp fine sea salt
2 Tbsp butter
2-3 ripe bananas, sliced
Topping:
3/4 cup heavy cream, chilled
2 Tbsp confectioners' sugar, sifted
cacao nibs, as needed
Directions:
Preheat oven to 350 degrees F. In a food processor, pulse together chocolate wafers and toasted almonds until mixture resembles coarse sand. Add melted butter and continue to pulse until mixture is moist. Transfer mixture to a 9-inch fluted tart pan with a removable bottom.
Press mixture into the bottom and up the sides of the tart pan. Bake for 12-15 minutes. Midway through baking, if you notice that the crust is puffing up, remove from oven and gently press crust back down using the flat bottom of a drinking glass. Continue to bake until crust is set. Let cool while you prepare pastry filling.
In a medium pot, bring milk and cream to a boil. Meanwhile, in a medium bowl, whisk together egg yolks, brown sugar, and corn starch. Once the milk has boiled, reduce heat. Slowly temper hot milk into egg-sugar mixture. Slow add about 1/4 cup of hot milk into the egg mixture at a time. Whisk constantly to distribute heat. Pour all the egg-milk mixture back into the sauce pot.
Over medium heat, continually stir mixture until custard has thickened. Bring mixture to a boil to cook out cornstarch flavor. Remove from heat. Whisk in butter. Add whiskey, vanilla, and salt. Stir until combined.
Arrange sliced bananas on cooled chocolate almond tart. Pour butterscotch pastry cream over bananas. Smooth top. Store in the fridge uncovered until pastry cream is set and cold.
Whip chilled heavy cream and sifted confectioners' sugar to medium peaks. Spread over chilled tart. Top with cacao nibs. Keep chilled until ready to serve.
*Enjoy tart within 3 days. Overtime the pastry cream will start to separate and expel moisture.