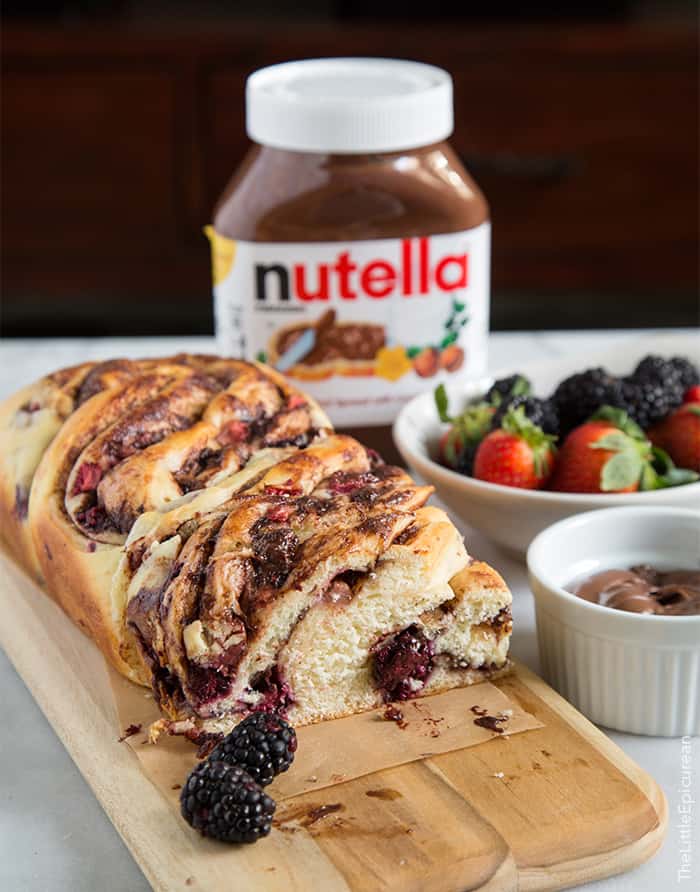 Happy World Nutella Day!  (Yes, it's a real thing.)
Alex and I may have a slight Nutella addiction.  Or perhaps it's because we love shopping at Costco where they sell giant tubs of the chocolate hazelnut spread.  Regardless, at all times, we have four very large containers of Nutella in the pantry.  A little excessive?  I don't think so.  Are you aware of all the bazillion ways you can incorporate Nutella into your food?  I'm not talking about spreading it on toast. From 34 delicious way to make Nutella your Valentine to 33 super-fancy ways to eat more Nutella, it's clear that Nutella knows no bounds in the food world. (Yes, I dedicate a portion of my afternoon looking at BuzzFeed's lists.  Don't judge.)
I have another way to incorporate Nutella into your diet.  Berry Nutella swirl bread!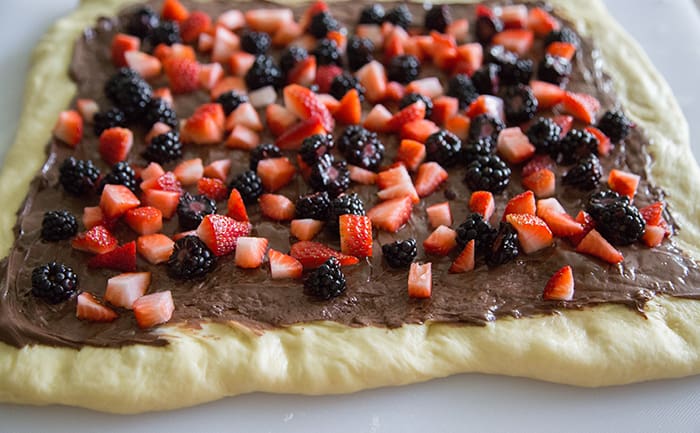 I simply took my favorite cinnamon roll dough and substituted fresh berries and Nutella in place of the cinnamon-sugar filling.  Roll it up into a log and divide it into two equal parts.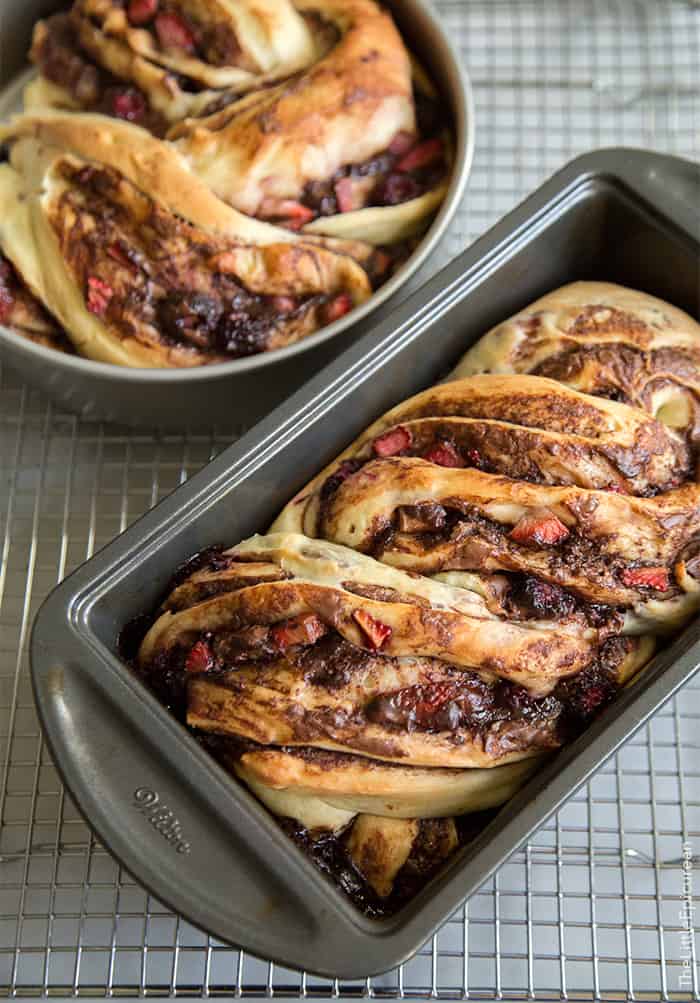 Then you have the choice of baking it into a rectangle bread loaf (in a traditional 9″x5″ bread pan) or a round bread (in a 8″ cake pan).  You can also slice the log into 12 parts and create berry Nutella swirl rolls.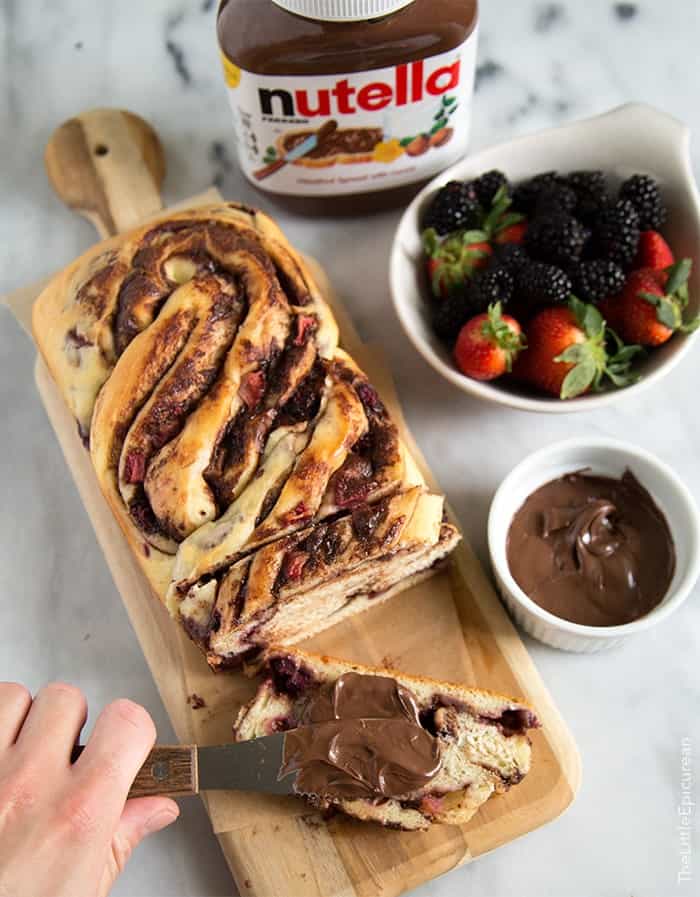 Once the bread has cooled, it's time to slice!  Because one can never have too much Nutella, go ahead and spread some on the sliced bread and eat enjoy!
Berry Nutella Swirl Bread
This Berry Nutella Swirl Bread is sure to please Nutella fans. The chocolate hazelnut spread works wonderfully with fresh berries to create a beautiful and tasty bread loaf! You can also use this recipe to create berry Nutella swirl rolls (like cinnamon rolls).
Ingredients:
1/2 cup warm water, about 110 degrees F
2 1/4 tsp active dry yeast
1/4 tsp granulated sugar
1/3 cup buttermilk
2 large eggs
2 tsp fine sea salt
1/4 cup granulated sugar
4 cups all-purpose flour
8 Tbsp unsalted butter, room temperature, cut into tablespoons
2/3 cup Nutella
2 cups mixed Driscoll's berries
Directions:
Sprinkle yeast over warm water.  Add 1/4 tsp sugar and stir to combine.  Let sit for 5 minutes to allow mixture to bubble and activate.
In the bowl of stand mixer fitted with a hook attachment, combine dissolve yeast mixture, buttermilk ,eggs, salt and remaining 1/4 cup sugar.  Once combined, add 3 cups of flour, 1 cup at at time.  Combine to mix and knead until combined.  Add butter in three additions.  Add remaining 1 cup of flour.  Knead until dough is smooth and cleans the sides of the bowl.  If dough is too sticky, add flour one tablespoon at a time.  (I added 3 Tbsp)
Transfer dough to a lightly greased bowl.  Cover bowl with plastic wrap and let sit at room temperature for 60-90 minutes until dough has doubled.
Punch down dough. Divide dough into two equal portions. Transfer to a lightly floured work surface.  Roll dough into a 16x12 inch rectangle.
Spread Nutella evenly over the dough, leaving a 1/4-inch border around all the sides.  Spread berries over Nutella.  Gently press berries into dough.  Roll dough into a tight log, starting with the long side.  Slice the log into two equal parts.  Stretch each log to a length of about 8-inches.  Cut one log lengthwise down the middle.  Twist the two halves of the dough over each other, making sure the cut side is facing up.  Tuck the ends of the dough into itself.  Repeat it remaining log.
Place twisted dough into a greased 9"x5" loaf pan.  Alternatively, you can also use a 8 or 9-inch cake pan.  Simply connect the ends of the twisted dough to create a round shape.  Cover with plastic wrap and let bread rise for 45 minutes to 1 hour until the bread has reached the top of the pan.
Meanwhile preheat oven to 350 degrees F.  Remove plastic wrap and bake for 35-40 minutes until the internal temperature of the bread hit 185 degrees F.
Let bread sit in pan for 5 minutes before running a knife or offset spatula around the edges to loosen from pan.  Let cool for 20-30 minutes before slicing.  Serve with additional Nutella and fresh berries.