These chocolate walnut cinnamon rolls are baked in a muffin tin for easy portioning. Since these rolls are packed with so much flavor from the chocolate walnut filling, any additional icing or glaze is unnecessary.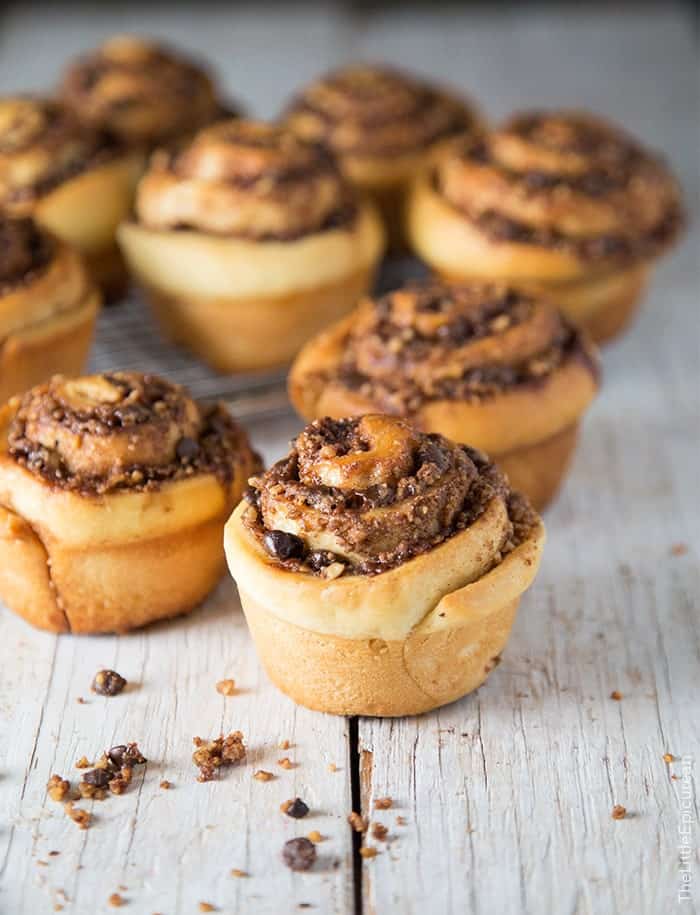 I add a dash of ground cinnamon to my morning coffee.  I like to steep cinnamon in my almond milk.  A pinch of cinnamon is required in all my oatmeals.  And obviously my favorite sugary cereal as a child was Cinnamon Toast Crunch.  So… I find it confusing that a cinnamon lover like me has a mom that HATES cinnamon.  She may have hated it yesterday, but I'm working on winning her over.
Rather than flat out make cinnamon rolls (that only my dad, Alex, and I will eat), I incorporated other flavors like chocolate and walnut to slowly ease my mom into cinnamon.  Once she eats it, BAM! Then I will proceed to inform her of the secret ingredient.
Trickery?  I don't think so.  I do it all the time to my picky eater brother who claims to dislike cream cheese, egg, and butter.  Is that cream cheese frosting? Nope, brother.  That's sugar frosting.  Is that buttercream?  Oh no, that's just icing.  He's 27 and he still hasn't figured out that everything I make has butter.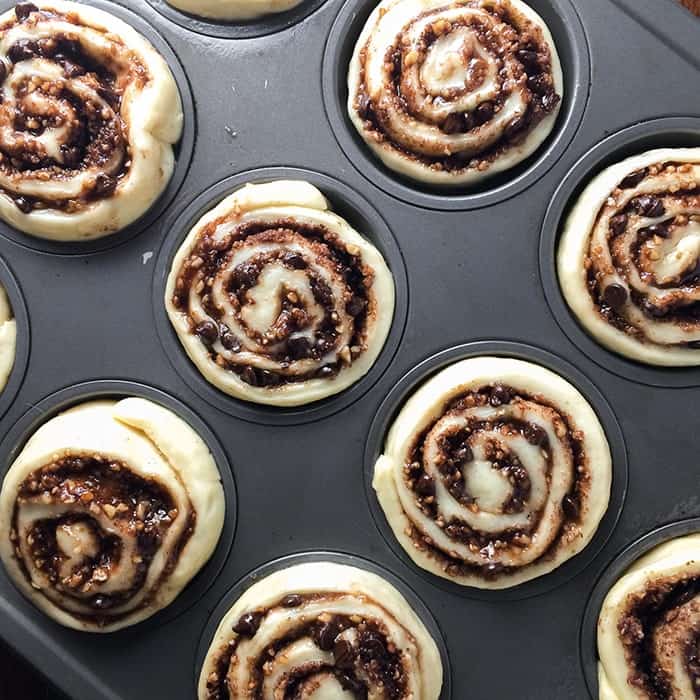 You know what IS deceptive?  Muffin tins.  They're not just for muffins.  You can use it to bake brownies, cheesecakes, cookies, even baked eggs.  And my new favorite thing to make in muffin tins- these chocolate walnut cinnamon rolls.  The tin portions everything equally.  The cinnamon rolls don't go spreading all over the place.  And there's absolutely no mess when trying to divide and serve the baked cinnamon rolls.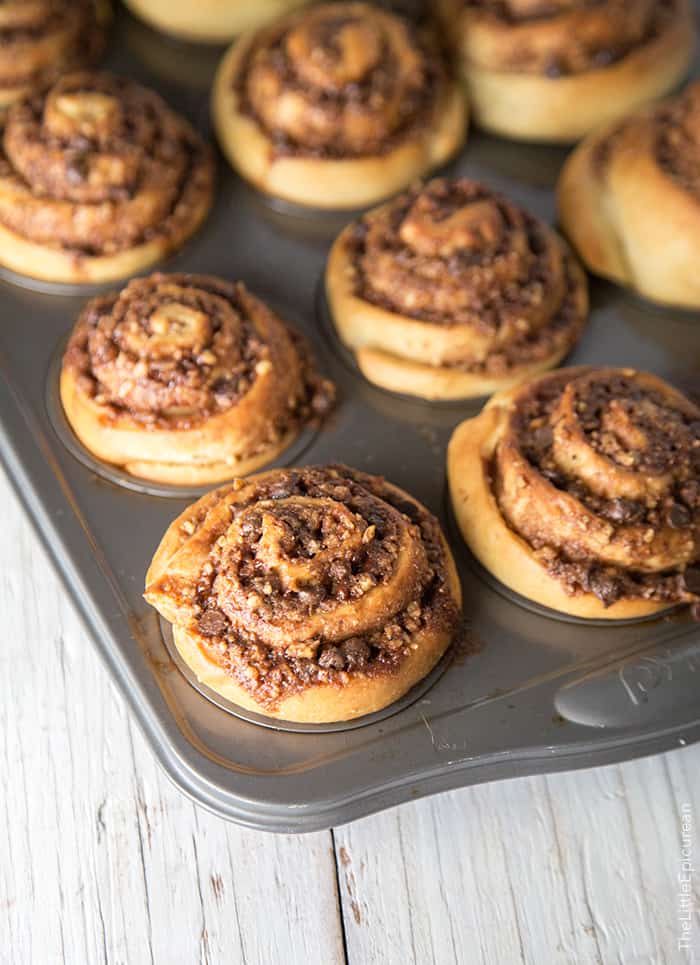 Once baked, the chocolate walnut cinnamon rolls end up looking like muffins/popovers/snail brioche rolls.  The best part of these cinnamon rolls are the little pockets of melted chocolate throughout the dough.  The filling provides enough sweetness and flavor, making any icing or glaze unnecessary.  Although, an iced latte, cup of coffee, or glass of milk would be very much welcome.
I'm slowly trying to venture out of my comfort zone when it comes to baking.  I love experimenting.  I love the anticipation of whether the product will turn out or not.  Instead of using the usual butter to make the dough, I swapped in coconut oil.  The coconut oil does not impart any flavor to the dough.  It does, however, create a bread that's fluffy on the inside and golden brown on the outside without the use of an egg wash.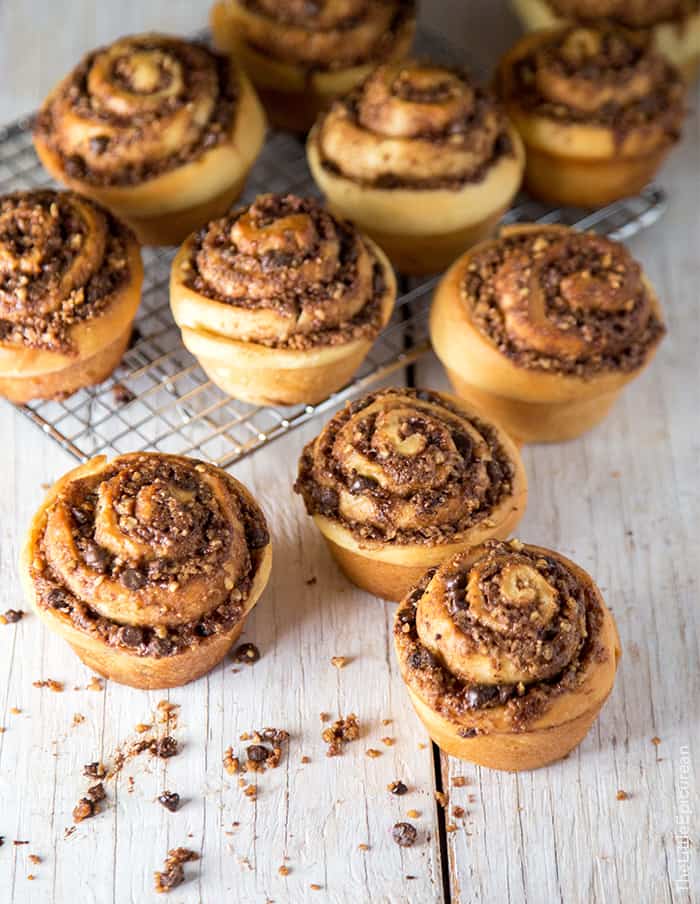 Needless to say, my mom absolutely loved these rolls.  The cinnamon flavor is subtle, but you can definitely smell it when it's baking.  I brought her half a dozen, expecting to take home whatever she didn't want.  I returned home empty-handed.  Alex was disappointed when he found out they were all gone.
These rolls are best served warm.  If you happen to have leftovers, just pop them in the microwave with a cup of water for about 45 seconds.  The will help to ensure that the bread doesn't get all chewy and rubbery.  This trick also works for reheating any breads in the microwave.
Chocolate Walnut Cinnamon Rolls
Ingredients
1/4

cup

warm water, about 110 degrees F

2

teaspoons

active dry yeast

1

teaspoon

granulated sugar

1/2

cup

whole milk, room temperature

1/4

cup

granulated sugar

1

teaspoon

fine sea salt

1

large egg, whisked

2

Tablespoons

coconut oil

3

cups

all-purpose flour
Chocolate Walnut Filling:
1/2

cup

unsalted butter, softened

1

teaspoon

vanilla paste, or pure vanilla extract

1 1/2

cup

toasted walnuts, roughly ground

6

Tablespoons

granulated sugar

2

Tablespoons

unsweetened cocoa powder

1

teaspoon

ground cinnamon

1/2

teaspoon

fine sea salt

1/2

cup

mini chocolate chips
Instructions
Sprinkle yeast over warm water. Add 1 tsp sugar and stir to combine. Let sit for 5-7 minutes to allow mixture to bubble and activate.

In the bowl of a stand mixer, add dissolved yeast mixture, milk, remaining sugar, salt and egg. Once combined, add 1 cup of flour. Use the hook attachment to mix together. Add another cup of flour, follow with coconut oil. Add last cup of flour. Knead until dough is smooth and cleans the sides of the bowl. If dough is too sticky, add flour 1 Tbsp at a time until desired consistency is achieved.

Transfer dough to a lightly greased bowl. Cover bowl with plastic wrap and let dough rest at room temperature for 60 minutes.

Chocolate Walnut Filling: Meanwhile, combine softened butter and vanilla paste. Stir together. It should resemble the consistency of mayonnaise. Set aside. In a small bowl, mix together ground walnuts, sugar, cocoa powder, cinnamon and salt. Set aside.

Transfer dough to a lightly floured working surface. Roll dough into a 18 x 12-inch rectangle. Spread softened vanilla butter over dough, leaving a 1/4-inch border around all sides. Sprinkle ground walnut mixture over butter. Top with mini chocolate chips. Gently press filling into dough.

Roll dough into a tight log, starting with the long side. Slice log into 12 equal slices. Place cut slices into a lightly greased muffin tin. Cover with plastic wrap and let roll rest for 30-45 minutes at room temperature.

Preheat oven to 350 degrees F. Remove plastic wrap and bake rolls for 28-30 minutes until golden brown and internal temperature of rolls hit 185 degrees F. Let rolls sit in pan for 5 minutes before unmolding. Serve warm.
Recipe Notes
These rolls are best served warm.  If you happen to have leftovers, just pop them in the microwave with a cup of water for about 45 seconds.  The will help to ensure that the bread doesn't get all chewy and rubbery.