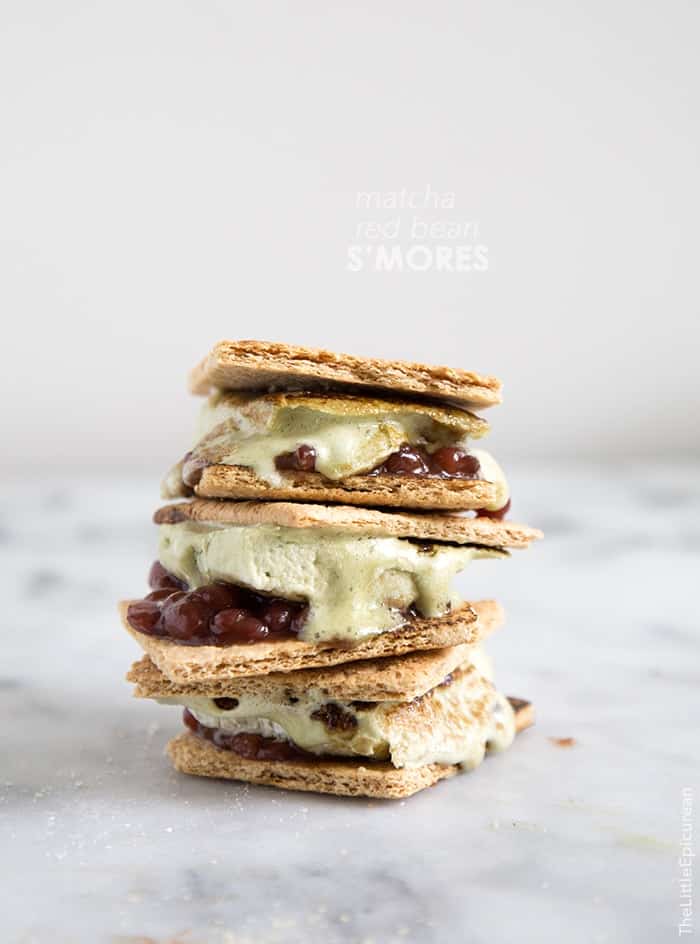 Once you've made matcha marshmallows, the next logical step is make to make as many matcha red bean s'mores as possible.
Matcha and red bean (azuki) is a classic pairing in Asian desserts.  It's one of my personal favorite pairings; see: matcha azuki cupcakes and matcha red bean mousse cake.  And another all time fav dessert- s'mores.  Put them together and what do you get?  These messy, delicious, irresistible, can't-just-eat-one matcha red bean s'mores.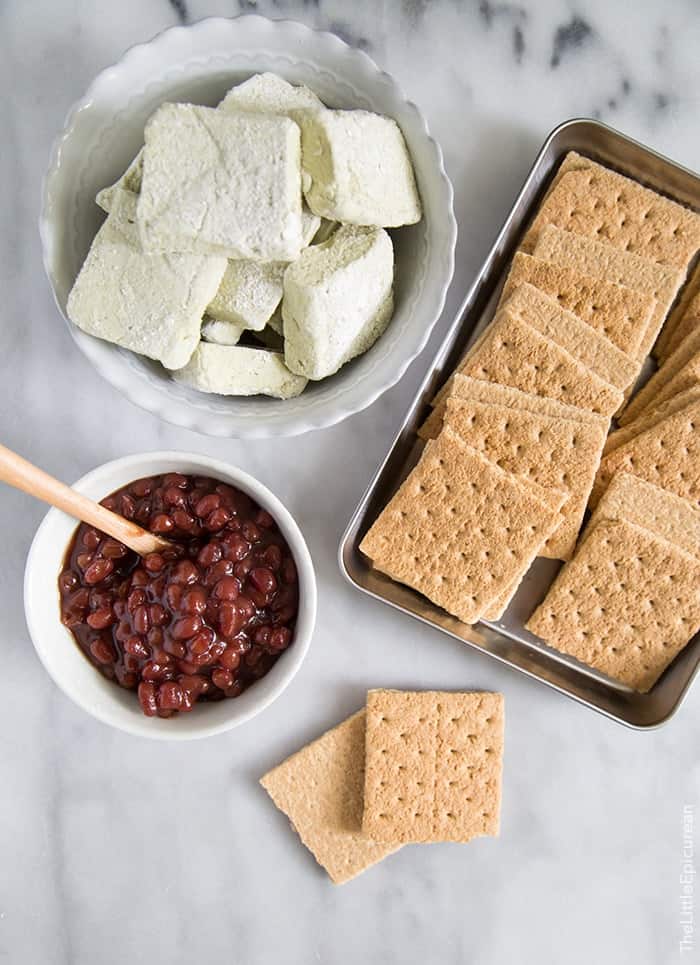 It's my Asian twist on s'mores.  Now that I think of it, I should have gone the extra mile and made black sesame crackers.  That would have made these Asian s'mores super special and unique.  Oh well, something to look forward to next time.
Can you believe Alex isn't a big fan of matcha? He claims it tastes like seaweed, while I believe it tastes like heaven.  In order to get him to like what I like (because that's how our relationship works), I have to find different ways to prepare matcha for him.  These matcha red bean s'mores did the trick.  He ate ONE (while I ate the rest).  One is a start.
Matcha and red bean is a great way to introduce matcha to noobz. For some people, matcha can be a bit overpowering, but when combined with sweet red bean, it's harmonious and lovely.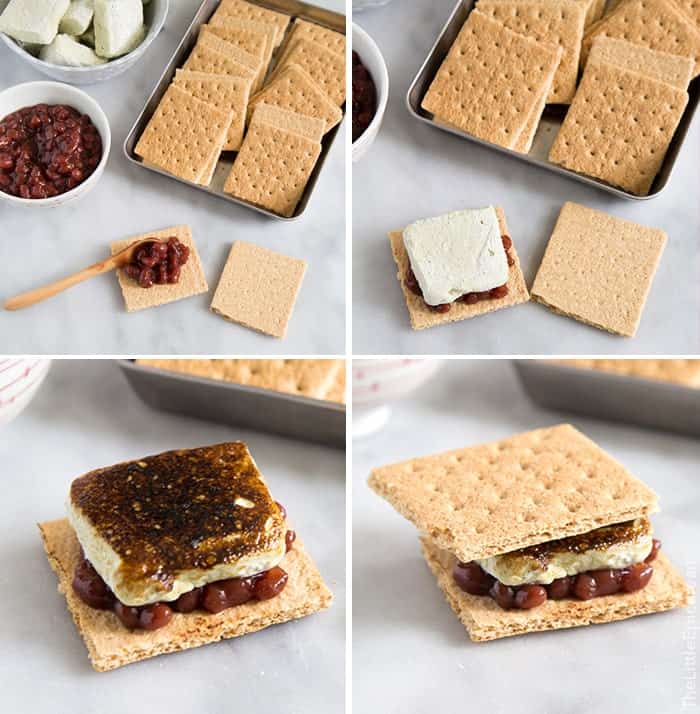 Put a spoonful of red bean onto a graham cracker.  Top it with a matcha marshmallow.  Get your kitchen torch and brûlée that marshmallow until it's ooey-gooey melty.  Plate the other graham cracker on top and eat, eat, EAT!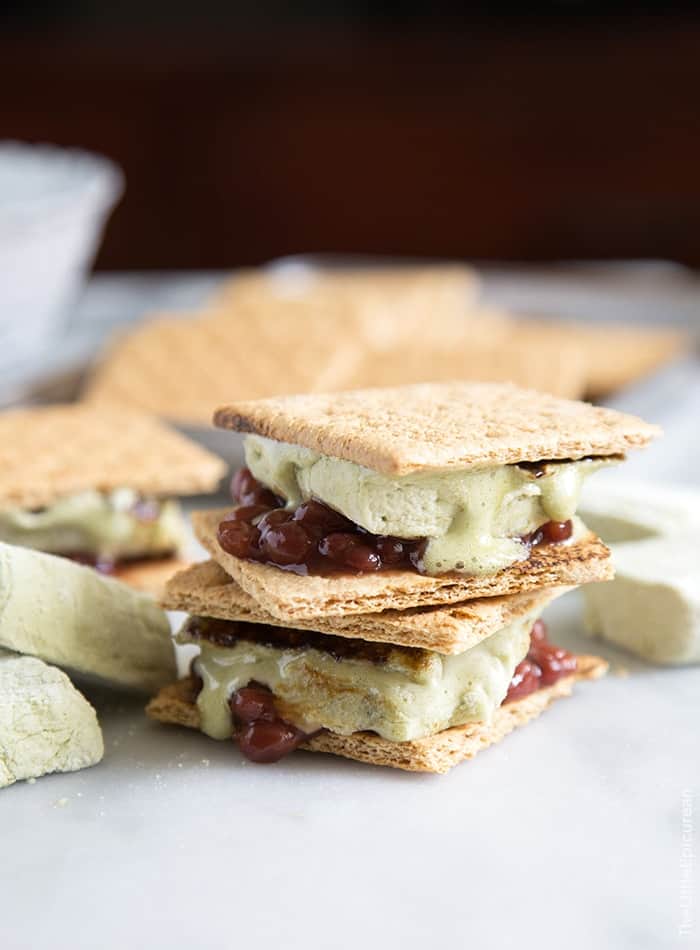 Before I head on over to NYC next week, I'll be making a quick stop in New Orleans! AHH! I'm super excited.  It's my first time going to NOLA.  I'll be stuffing my face with beignets, gumbo, and whiskey.  Follow my eats on Instagram :)
Happy weekend, friends!
Matcha Red Bean S'mores
Matcha red bean s'mores: an Asian twist on a classic American dessert. Made with homemade matcha marshmallows, this is the perfect introductory dessert to Asian flavors.

Ingredients
matcha marshmallows, see notes

canned prepared sweet red bean, see notes

graham crackers
Instructions
To assemble: spread a spoonful of red bean onto one graham cracker. Top with matcha marshmallow and toast using a kitchen torch. Alternatively, you can roast the marshmallow over the stove. Top toasted marshmallow with second graham cracker. Enjoy immediately!
Recipe Notes
Recipe for Matcha Marshmallows can be found here. 
I prefer the Shirakiku Brand red bean. It is labeled "Yude Azuki" or prepared red bean.  These canned sweet red beans can be found at Asian markets, big market chains, and I've even found them at Target.  There are many brands available, just be sure to get one that is sweetened.  Look for one made without artificial color and preservatives.  It can also be labeled as "prepared sweet azuki" or "azuki red beans."
All images and text ©The Little Epicurean