Coconut jam cinnamon rolls adds delicious tropical flavor to the classic cinnamon rolls.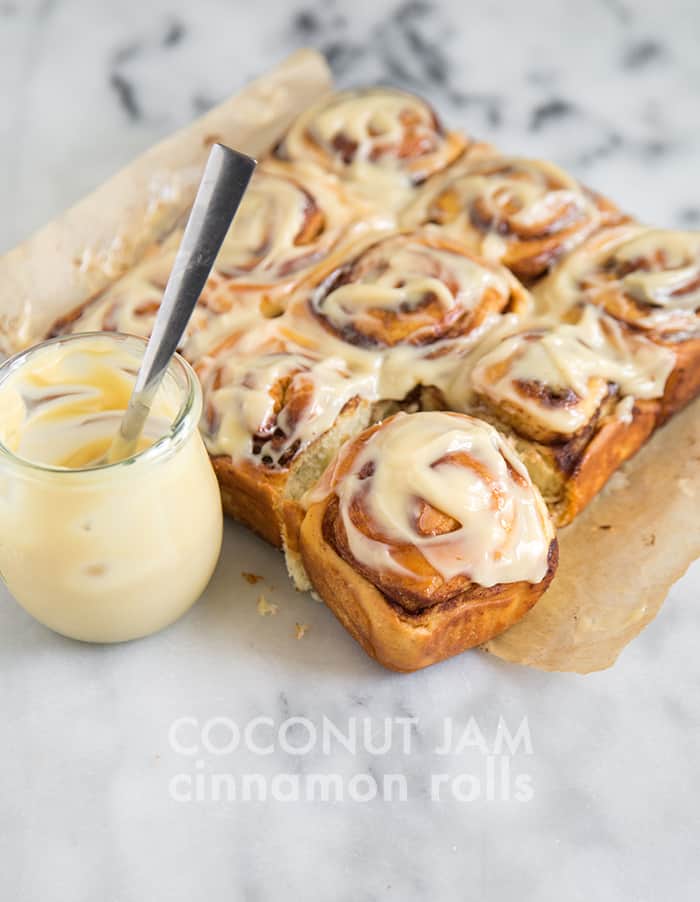 It has become tradition that I make my dad cinnamon rolls for his birthday. I'm not one for monotony, so every year I try to find a way to one up the previous year's batch.
This year I thought to combine my dad's two favorite flavors: coconut and cinnamon. I hit the jackpot with these coconut jam cinnamon rolls.
You must be wondering…
what is coconut jam?
Coconut jam is this amazing, delicious, heavenly sweet spread that will have you running to the store to stock up on coconut milk.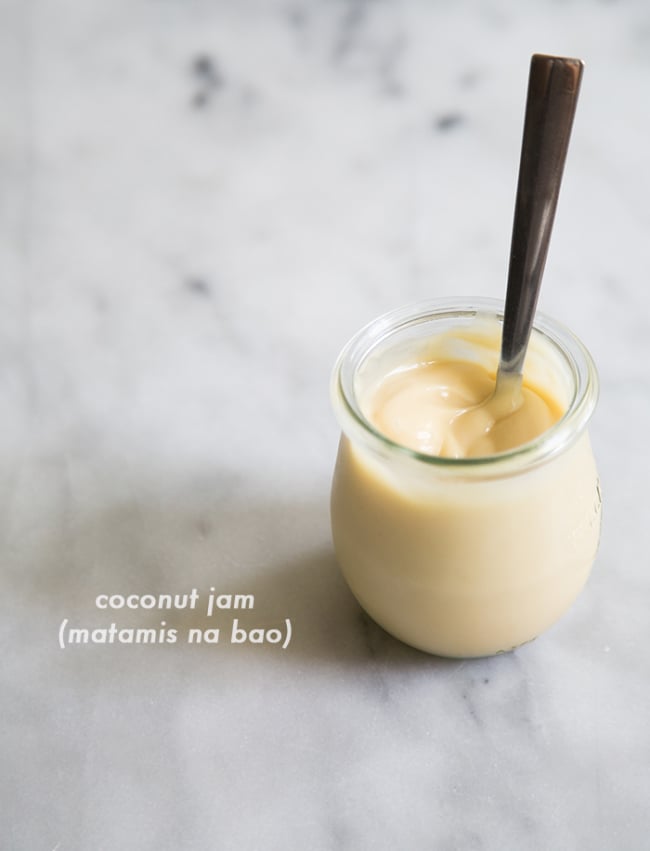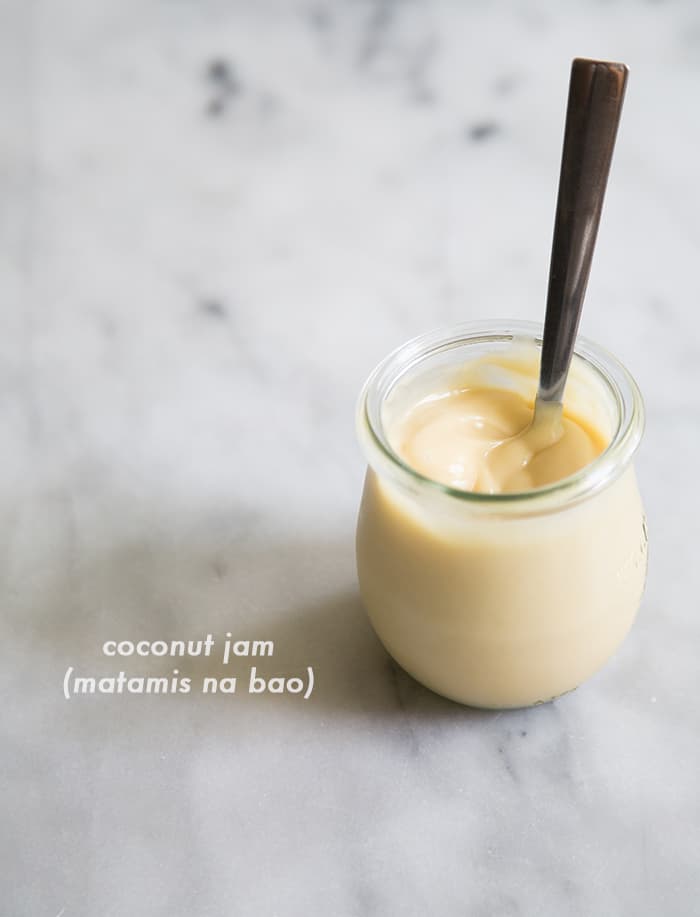 Go to any Asian market and you'll find lots and lots of different jars of coconut jam. It can be a bit overwhelming.
Before committing to making my own from scratch, I spent a good amount of time confused by all the different coconut jams before us at the market. Some are watery, some are super thick. There are creamy egg shell colored ones as well as burnt, dark caramel ones.
I couldn't decide so I bought a bunch of coconut milk, instead.
Filipino style coconut jam
These cinnamon rolls are topped with Filipino style coconut jam called matamis na bao. Not to be confused with kaya, coconut jam popular in Malaysia and Singapore. The main difference between matamis na bao and kaya: kaya includes eggs.
However, similar to kaya, Filipino coconut jam is spread on toast (pan de sal).
In addition to bread, coconut jam is used extensively in all sorts of sweet glutinous rice desserts, rice puddings, and cassava cakes. Everything you spread coconut jam on becomes instantaneously delicious.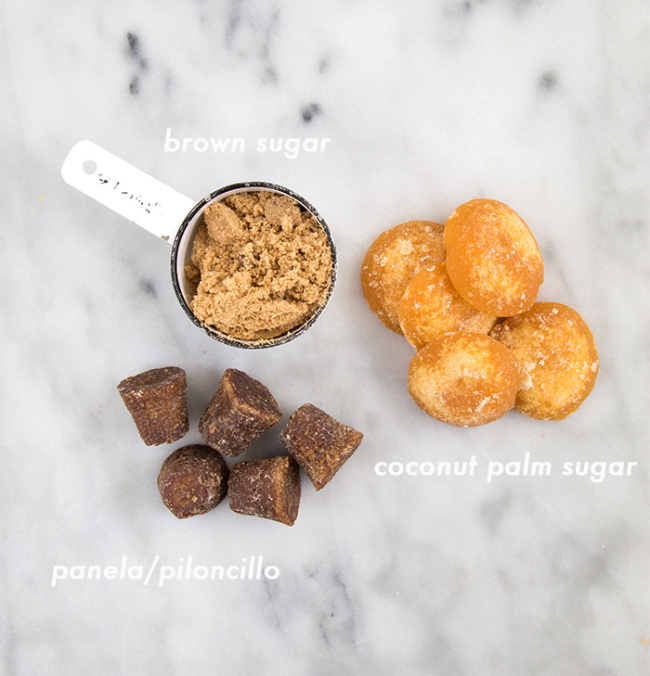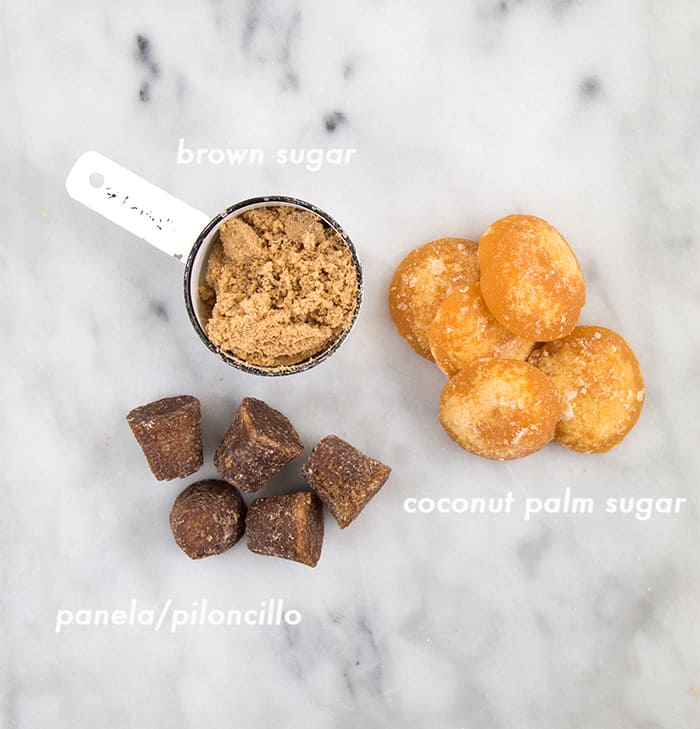 Types of sugar
The varying colors of coconut jam is dependent on the type of brown sugar used. Obviously, the darker the sugar (the more molasses), the darker the jam. You can use regular light/dark brown sugar for this recipe. Or try something new by using coconut palm sugar or panocha/panela/piloncillo.
I prefer to use coconut palm sugar. Coconut sugar is widely used in the Philippines…simply because the islands are full of coconut trees. They come from the sap of coconut trees.
Coconut sugar is available in disks like the ones photographed above, but many stores (like Trader Joe's and Whole Foods) now sell granulated versions. Coconut sugar has a mild, subtle sweet taste. Don't be fooled- it doesn't taste anything like coconut. For a stronger, fuller sweet flavor, you can use panela. These are blocks of unrefined cane sugar.
To use coconut sugar or panela, place the chunks on a microwave safe plate. Microwave the sugar at intervals of 10 seconds until the sugar has warmed up and softened. Once the sugar is pliable, chop them up into small pieces or pulse them in a food processor. Easy peasy.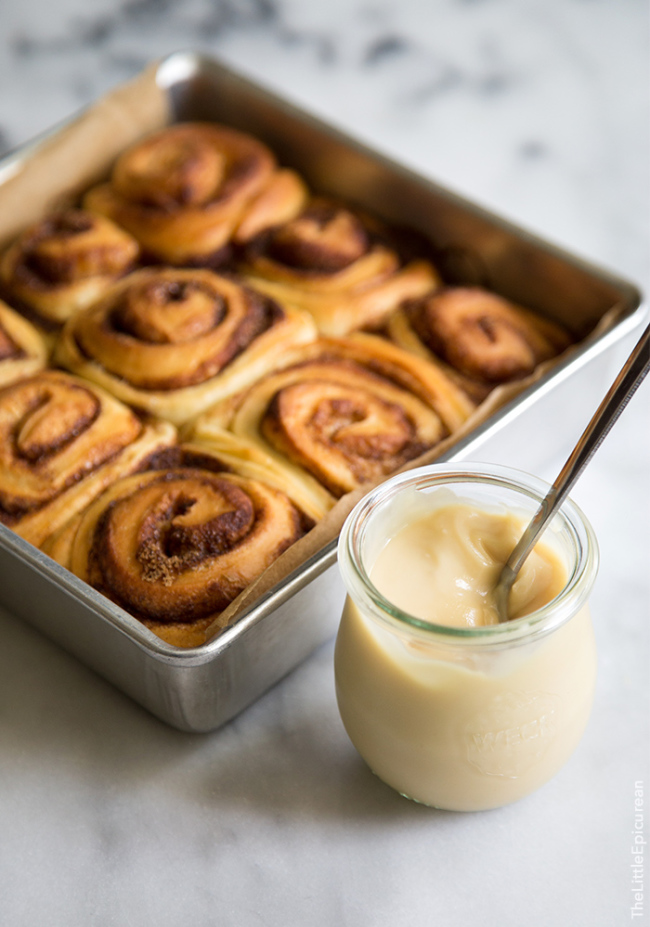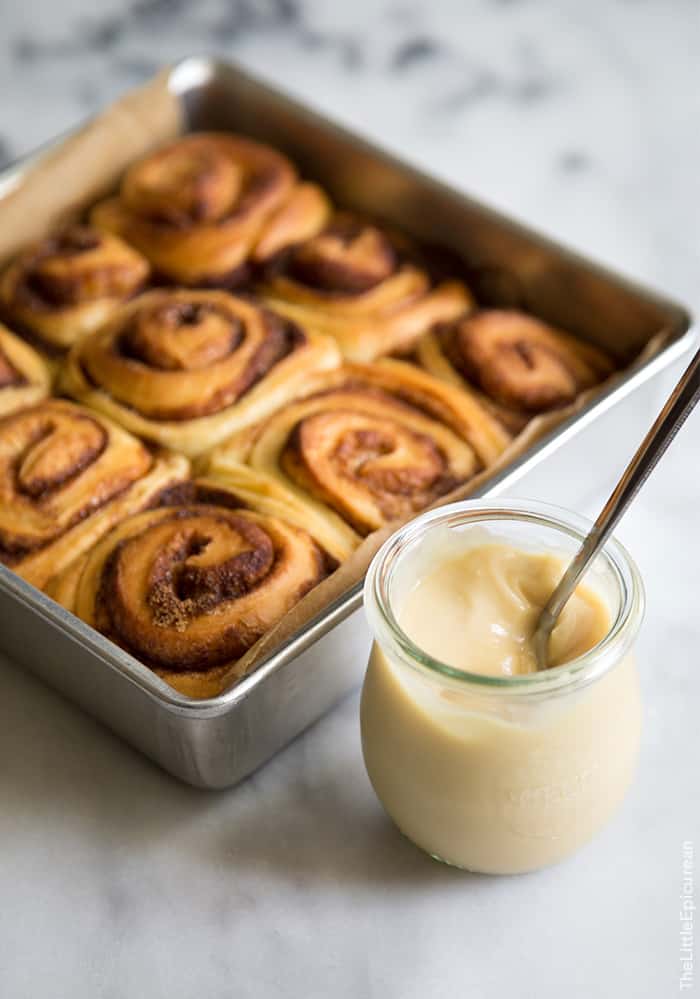 How to make coconut jam:
Coconut jam is made by cooking together coconut milk and brown sugar. Typically, pandan leaves are steeped in the coconut milk. Pandan imparts a sweet, almost vanilla-like flavor. It's a popular flavor in Southeast Asian desserts.
I used pandan extract, which I found at a local Asian market. It comes in a bottle similar to vanilla extract and the version I found is made by McCormick. If you can't find it, feel free to omit it.
I like to make coconut jam in small batches because having too much of this stuff around the house is dangerous. I keep finding all sorts of new ways to incorporate coconut jam into my diet: mixed into my coffee (in place of sweetened condensed milk in Vietnamese iced coffee), stirred into oatmeal, used a dipping sauce, etc.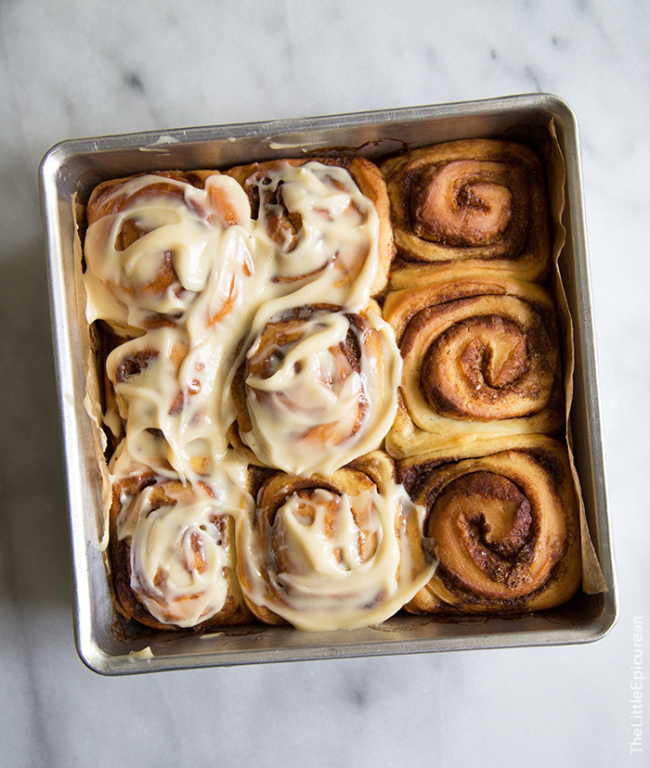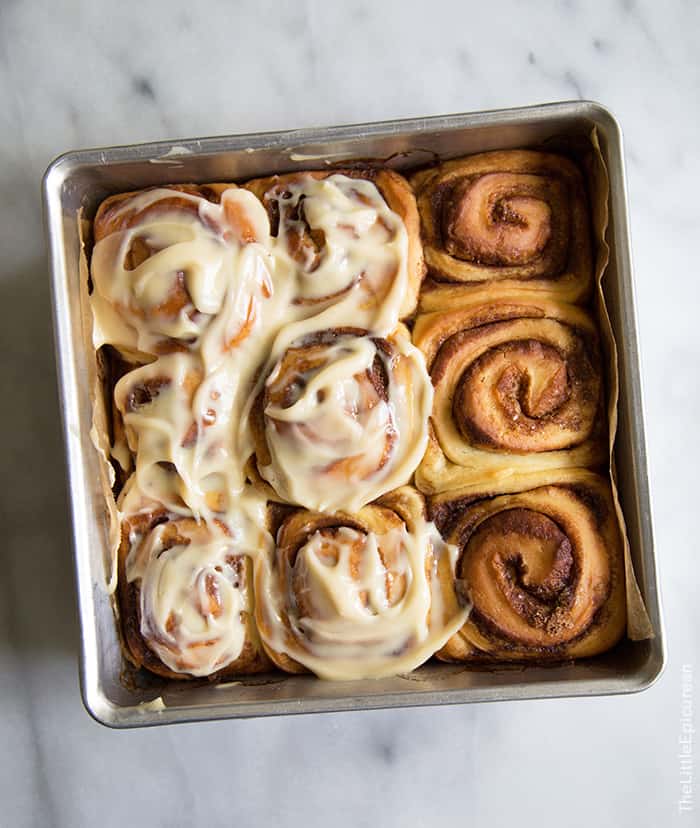 I'm really happy with the way these coconut jam cinnamon rolls turned out. It's one dessert that I can share with my parents that combines our two cultures.
For a good chunk of my childhood, I shied away from Asian foods in favor of more popular American foods. I wanted to fit in and eat chocolate cake, apple pie, and hamburgers. Now that I'm older, I appreciate the two cultures and love finding ways to incorporate them together.
Take your basic cinnamon rolls and pump them with exotic, sweet coconut jam. Best of all, this recipe makes two pans of cinnamon rolls- one to keep and one to share.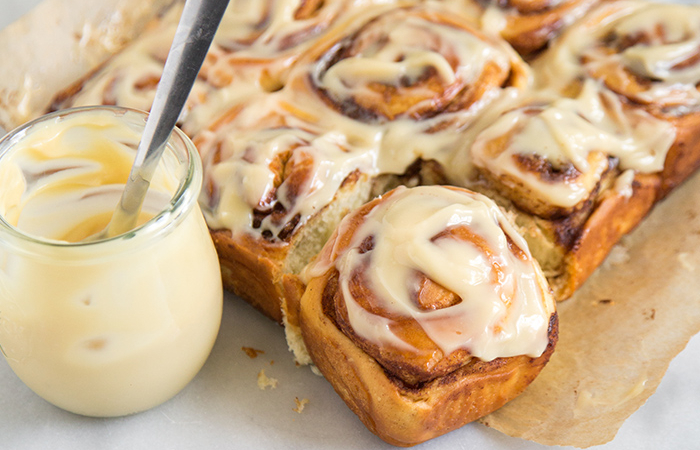 Coconut Jam Cinnamon Rolls
Take your basic cinnamon rolls and pump them with exotic, sweet coconut jam. Yield: 18 rolls
Ingredients
Dough:
1/2

cup

warm water, 110 degrees F

2 1/4

teaspoon

active dry yeast

1/4

cup

+ 1 teaspoon granulated sugar

1/2

cup

whole milk, room temp

1

large egg

1

large yolk

1

teaspoon

fine sea salt

4

cups

all-purpose flour

6

Tablespoons

unsalted butter, softened
Cinnamon Filling:
1/3

cup

unsalted butter, softened

1/3

cup

granulated sugar

1/3

cup

coconut sugar, palm sugar, or light/dark brown sugar

1

Tablespoon

ground cinnamon
Coconut Jam:
15

oz

canned coconut milk, full-fat, unsweetened

4

oz

coconut sugar, palm sugar, or light/dark brown sugar

1/4

teaspoon

fine sea salt

2

teaspoon

pandan extract, optional
Instructions
Dough: Sprinkle yeast over warm water. Add 1 tsp sugar and stir to combine. Let sit for 5-7 minutes to allow mixture to bubble and activate.

In the bowl of a stand mixer, whisk together yeast mixture, remaining 1/4 cup sugar, milk, egg and yolk. Whisk salt into flour. Add 2 cups of flour to mixing bowl. Use the hook attachment to mix dough together. Mix on low speed until flour is incorporated. Add another 1 cup of flour. Continue to knead on low speed, adding softened butter 1 Tbsp at a time. Add remaining cup of flour and knead until the dough is smooth and cleans the sides of the bowl. If dough is too sticky, add additional flour 1 Tbsp at a time until desired consistency is achieved.

Transfer dough to a lightly greased bowl. Cover with plastic wrap and let dough rest at room temperature for about an hour until dough has doubled in volume.


Cinnamon Filling: Stir softened butter in a small bowl. It should resemble the consistency of mayonnaise. Set aside. In a small bowl, mix together sugar, coconut sugar, and cinnamon. Set aside


Coconut Jam: In a small sauce pot, combine coconut milk and coconut sugar. Set over medium heat and bring mixture to a boil. Once mixture has boiled, reduce heat and let simmer until thickened, about 8-12 minutes. Stir often to ensure mixture does not burn along the sides of the pot. Remove from heat. Add salt and pandan extract. Stir to combine. Pour jam into heat proof containers. Allow to cool to room temperature and then store in the fridge until ready to use. Jam will continue to thicken in the fridge.


Punch down risen dough. Transfer to a lightly floured working surface. Roll dough into a 20 x 14 inch rectangle. Spread softened butter over dough. Sprinkle cinnamon filling and gently press into dough.

Roll dough into a tight log, starting at the longest side. Slice the log into 18 equal parts. Lightly grease two 8x8-inch baking pans. Divide rolls between the two pans, 9 in each pan. Cover pans with plastic wrap and let rolls rest for 30-45 minutes at room temperature to allow rolls to rise.

Preheat oven to 350 degrees F. Remove plastic wrap and bake rolls for 30-35 minutes until golden brown on top and the internal temperature of the rolls hit 185 degrees F. Allow rolls to rest for 5 minutes to slightly cool. Spread coconut jam all over warm rolls and serve immediately.

Notes
 Color of coconut jam depends on the type of sugar used.  Coconut jam can be kept in the fridge for 2 weeks.  Asides from these rolls, spread coconut jam on toast or stir it in warm coffee.
If using chunks of coconut sugar or panela, place on a microwave safe plate. Microwave at 10 second intervals until sugar has warmed up and softened.  Once sugar is pliable, chop into smaller pieces or pulse in a food processor.
All images and text © The Little Epicurean