Miso butter corn with Japanese toppings. This corn is strangely familiar yet completely different. It's a delicious hybrid of Mexican and Japanese flavors perfect for summer!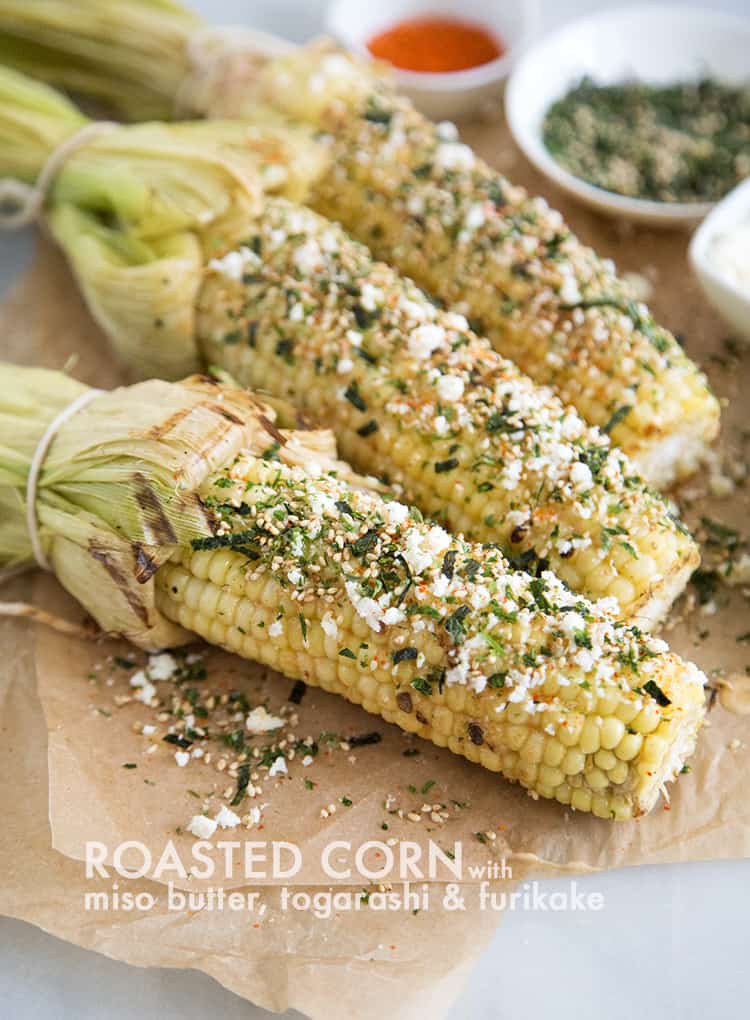 Summer isn't summer until I've had my fair share of corn. If I smell corn grilling somewhere, you bet I'm following my nose to get myself a cob.
Two years ago, I shared with you my love of street corn (more familiarly called elote in LA). It's a delicious Mexican snack that you can readily find in the streets of Los Angeles. Corn with mayo, cotija cheese, spices and a hint of lime juice- it's a winner.
Southern California is a melting pot of cuisines. You can get everything and anything you could possibly to want to eat here. And then if that's not enough, there is also a plethora of well done fusion foods.
One of my favorite places, Chego, combines Korean and Mexican flavors together. It's a pairing I can't get enough of. It just works and it's insanely delicious.
With the popularity of hybrid foods, I did a little experimenting of my own. How about a Japanese twist on my beloved street corn? SCORE!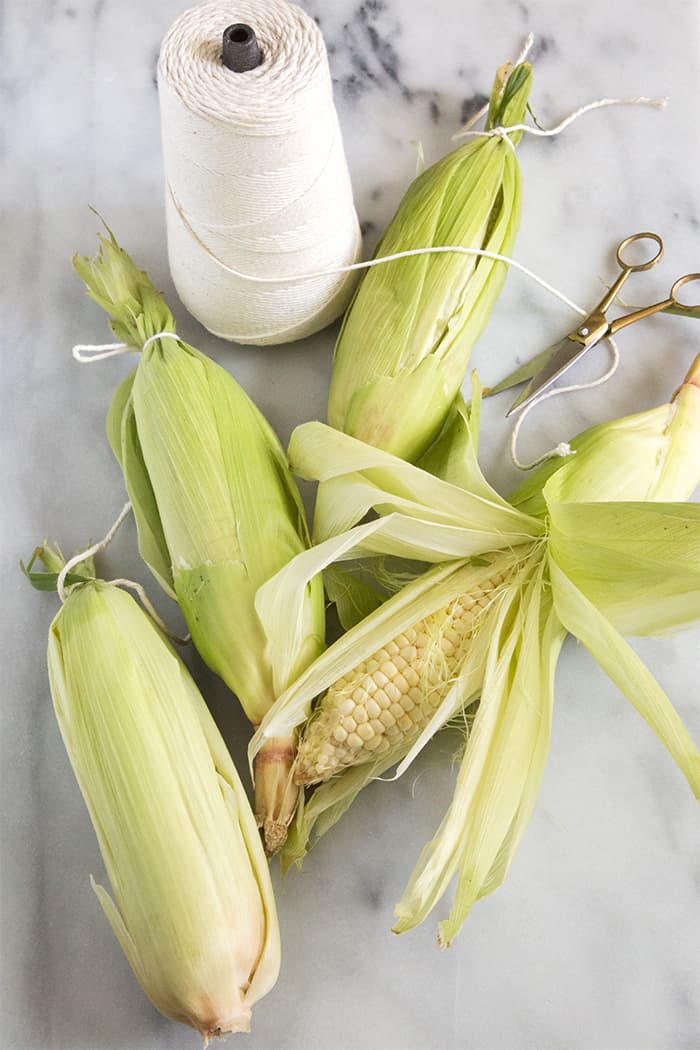 Cook corn in salt water!
While I love grilled corn, I like to pre-cook mine in salted water first. The salted water greatly helps to season the corn.
This is perfect for outdoor bbq and picnics. You can precook the corn at home and reheat them on the grill when you're ready to eat.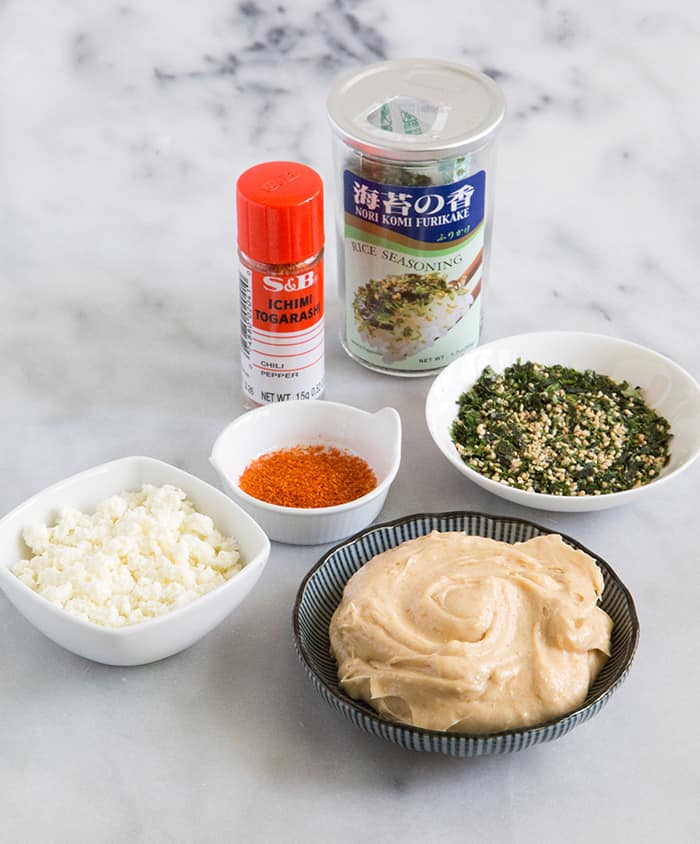 Corn Toppings:
To amp up the flavors, the cooked corn is coated with miso butter. This miso butter is a mixture of red miso (you can also use yellow or white miso), butter and salt.
It's a sweet and savory spread that you'll want to put on everything. The miso butter acts like glue to help bind all the toppings to the corn.
In keeping with elote, I used Mexican cotija cheese. It adds the perfect amount of saltiness and it's own kind of rich yet dry texture.
For spice, I used ichimi togarashi which is simply ground red chili pepper. This is different from "shichimi togarashi" which is a combination of ground red chili pepper with other spices like orange peel, sesame seeds, and ground ginger.
And the final topping is my favorite part- furikake! Furikake is a dry Japanese seasoning that is typically served on top of rice.
There are numerous variation of furikake available. The nori komi furikake used in this recipe is a mixture of sesame seeds, seaweed flakes, salt and sugar. Other variations include bonito flakes, powdered miso, or shiso.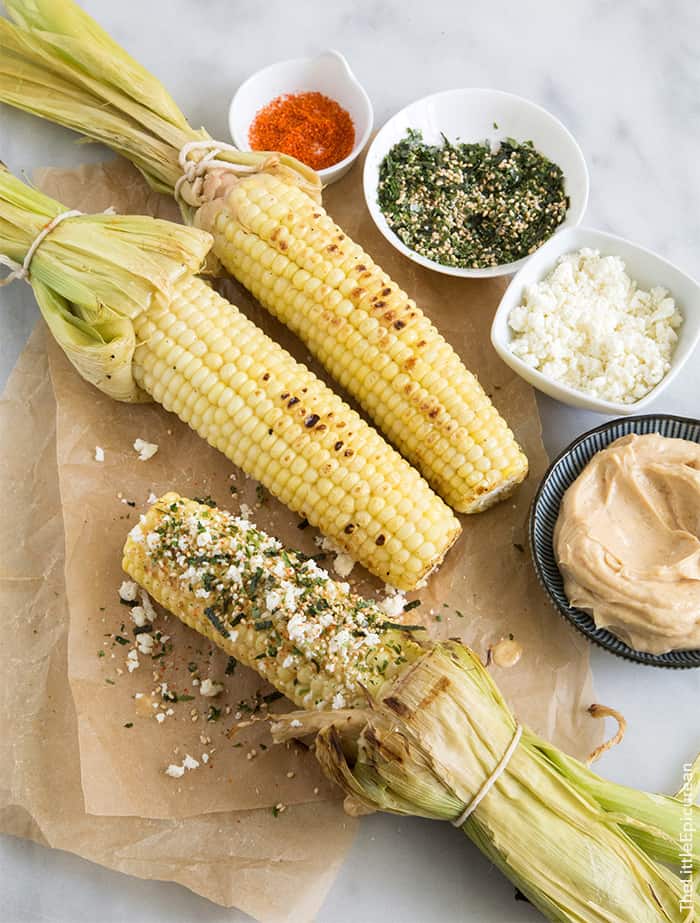 Miso Butter Corn with Togarashi and Furikake
The resulting corn is strangely familiar yet completely different. The sweet corn mixed with funky cojita, salted miso, seaweed and spicy red chili pepper hits every taste bud on your tongue. I LOVE IT.
As a kid, I was known for spreading melted chocolate all over my grilled corn. It was a super sweet messy snack that I loved. (Somewhere tucked in the old photo albums at my parents' house, there are many pictures of me eating this corn. I'll have to find it and share one day.)
Thank goodness, my tastes have refined over the years. I still like to put chocolate on everything, but at least I've limited it to desserts.
While you can find corn year round, nothing beats fresh summer corn. It's juicier, sweeter, and so much more flavorful.
There are no limitations to what you can top corn with. This Japanese miso butter corn has got me thinking of all sorts of combinations…pho corn, gochujang butter corn, corn parmigiana, Greek corn, curry corn…
What's you favorite way to eat corn?!
Miso Butter Corn with Togarashi and Furikake
Yield: 5 cobs of corn
Ingredients
5

ears fresh corn in the husk

6

quarts

water

3

Tablespoon

kosher salt
Miso Butter:
1/4

cup

unsalted butter, softened, room temp

1

Tablespoon

red miso paste

1/2

teaspoon

kosher salt
Toppings (as needed):
cotija cheese

ichimi togarashi

nori kome furikake
Instructions
In a large stock pot, bring 6 quarts of water and 3 Tbsp of kosher salt to a boil.

Remove any damaged or discolored outer husks of corn. Peel the husks down to the base of the corn, but do not detach from the cob. Remove the silk around the corn.

Pull the husks back up over the corn and tie the ends together using kitchen string.

Gently place corn in the boiling salted water. Cook for 8-10 minutes. Remove corn from water, drain, and let sit for a couple minutes before opening (corn will be very hot).

Peel back the husks and use it as a handle. At this point you can season the corn with toppings or place on a grill to mark. Spread miso butter all over corn. Sprinkle cotija cheese, togarashi, and furikake all over corn. Enjoy immediately!

Miso Butter:
In a small bowl, cream softened butter. Add miso and salt. Stir together. Let sit for at least 10 minutes to allow flavors to meld together. Add additional salt depending on saltiness of miso used. Spread over cooked corn.

Notes
All images and text © The Little Epicurean