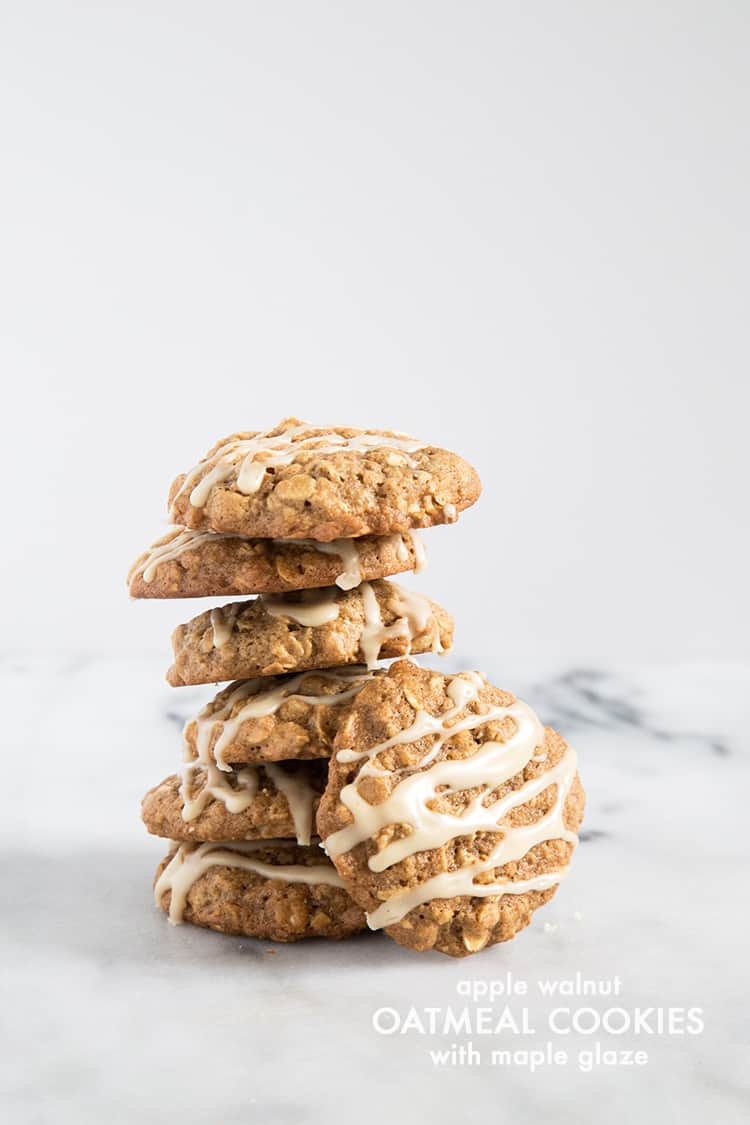 Five year old Maryanne only liked three cookies: Mrs. Field's chocolate chip cookies, Famous Amos chocolate chip cookies, and my mom's homemade cookies (aka Nestle Tollhouse chocolate chip cookies). Basically, if it didn't have chocolate chips, it obviously wasn't a proper cookie.
And then somehow I got my hands on an oatmeal cookie and my eyes were opened to the world beyond chocolate chips. It hasn't been the same ever since.
The holidays are upon us. With two weeks until Thanksgiving, it's only a matter of time until KOST begins playing nonstop holiday songs. But more importantly, November means the start of cookie season! It's the most sweet and delicious time of the year for my cookie monster of a stomach.
Rather than start with the most decadent of the cookies (chocolate, chocolate, chocolate!), I'm sharing a lighter (slightly healthier) cookie- apple walnut oatmeal cookies with maple glaze!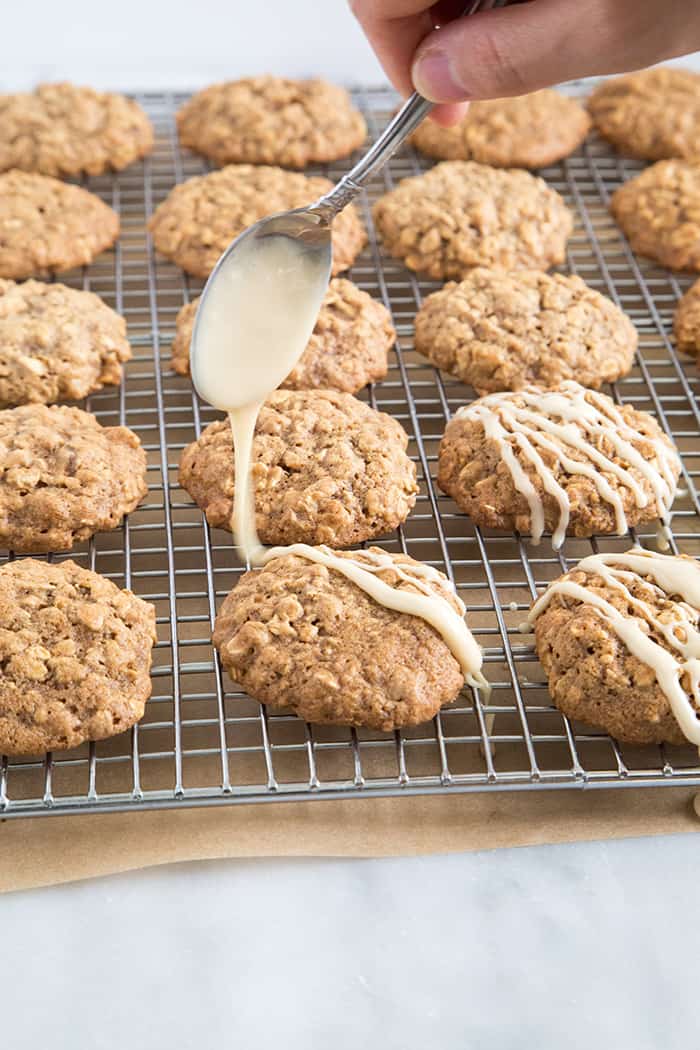 Obviously these are the kind of cookies that are totally appropriate for breakfast. In my opinion, anything with oatmeal is a designated breakfast item. These cookies are not very sweet and they're easy on the butter. The addition of apple sauce helps to bind the ingredients and also keeps the cookies soft and moist. And if it makes you feel any better, there are equal parts flour and oatmeal.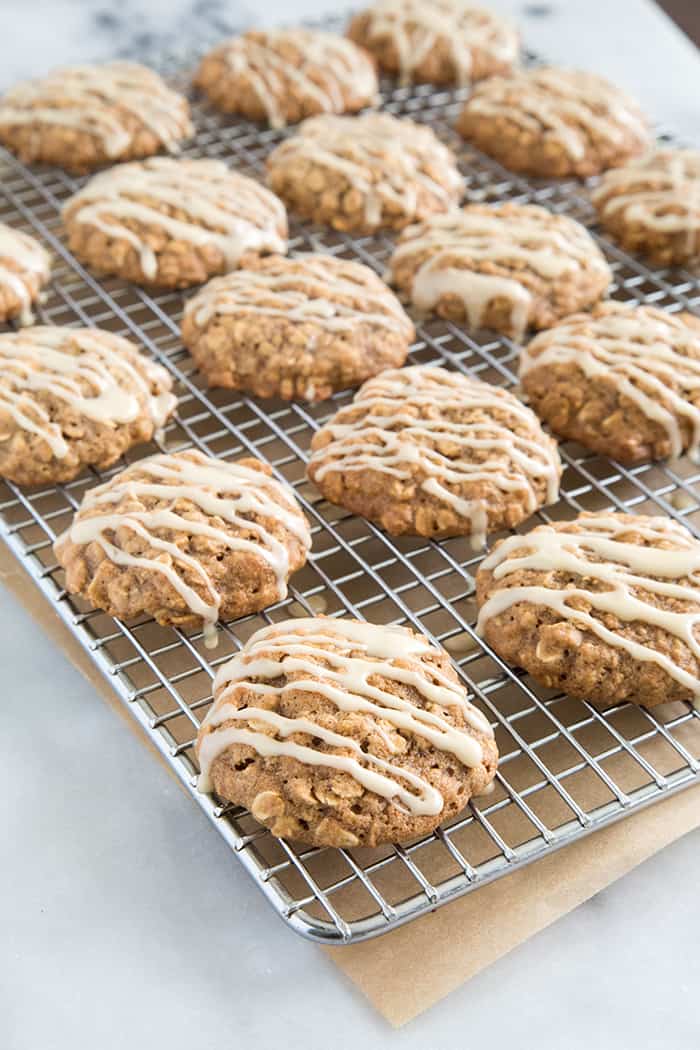 The maple glaze is the finishing touch to these perfect little holiday treats. Even my brother, who has only really liked one cookie I've ever made (these brown butter chocolate chunk cookies), said these apple walnut oatmeal cookies were "pretty good." Coming from him, "pretty good" means I've hit the mark. It means these cookies are blue ribbon status.
I think my five year old self would devour these cookies in a heartbeat (or at least hide them from the rest of family).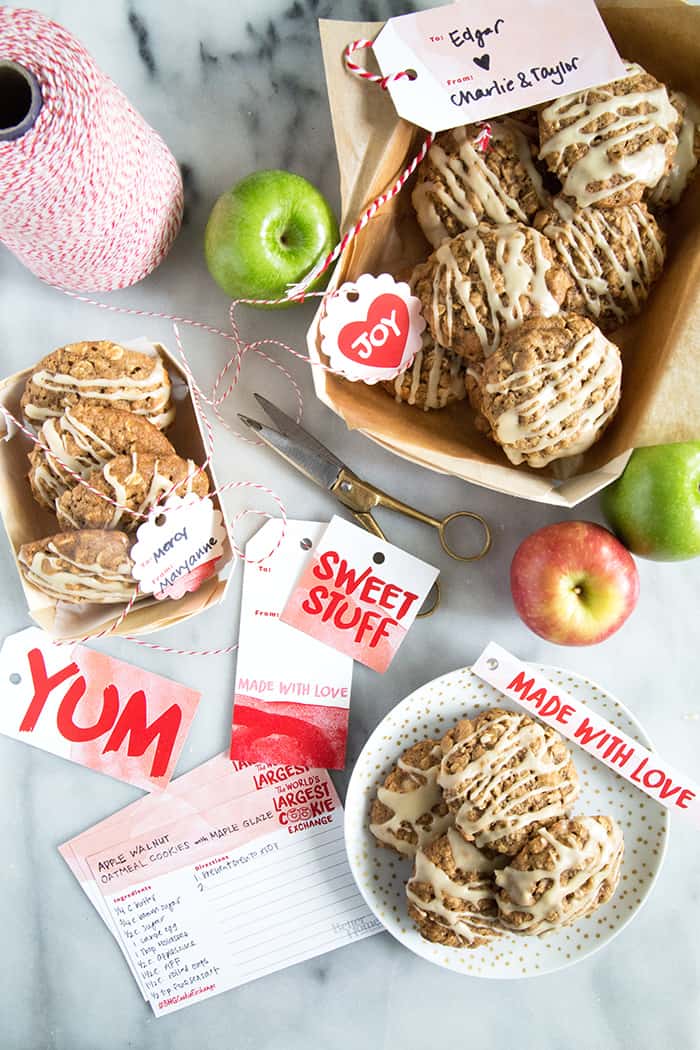 Once you've made batches and batches of cookies, it's time to send them off to friends and family. Aren't these holiday gift tags and recipe cards the cutest? You can download and print them here at the Better Homes and Gardens website. Can't figure out what cookie to make? Check out The World's Largest Cookie Exchange Pinterest board for all sorts of tasty inspiration!
Apple Walnut Oatmeal Cookies with maple glaze
Ingredients:
1/4 cup unsalted butter, room temperature
3/4 cup dark brown sugar, packed
1/2 cup granulated sugar
1 large egg, room temperature
1 Tbsp molasses
1/2 cup applesauce
1 1/2 cups all-purpose flour
1 tsp ground cinnamon
1/2 tsp baking soda
1/2 tsp baking powder
1/2 tsp fine sea salt
1 1/2 cups rolled oats
1 cup walnuts, lightly toasted, roughly chopped
Maple Glaze:
1 1/2 cups powdered sugar
4 Tbsp maple syrup, grade B
pinch fine sea salt
1 Tbsp milk
Directions:
Preheat oven to 350 degrees F.
In the bowl of a stand mixer fitted with a paddle attachment (or using a hand mixer), cream butter. Add brown sugar and granulated sugar. Mix until smooth. Add egg, molasses, and apple sauce.
In a bowl, whisk together flour, cinnamon, baking soda, baking powder and sea salt. Add to mixing bowl. Fold in rolled oats and walnuts.
Use a 1 1/2 inch scoop to portion out cookies. Arrange on parchment lined baking sheet at least 2 inches apart. Bake for 13-15 minutes, rotating pans midway through baking. Allow to cool in pan for 3 minutes before transferring to wire rack to cool to room temperature.

Maple Glaze:

Whisk together powdered sugar, maple syrup, salt and milk until smooth. If glaze is too thick, add additional milk 1 tsp at a time until desired consistency is achieved. Drizzle glaze over cooled cookies. Enjoy immediately, or allow glaze to harden and set.