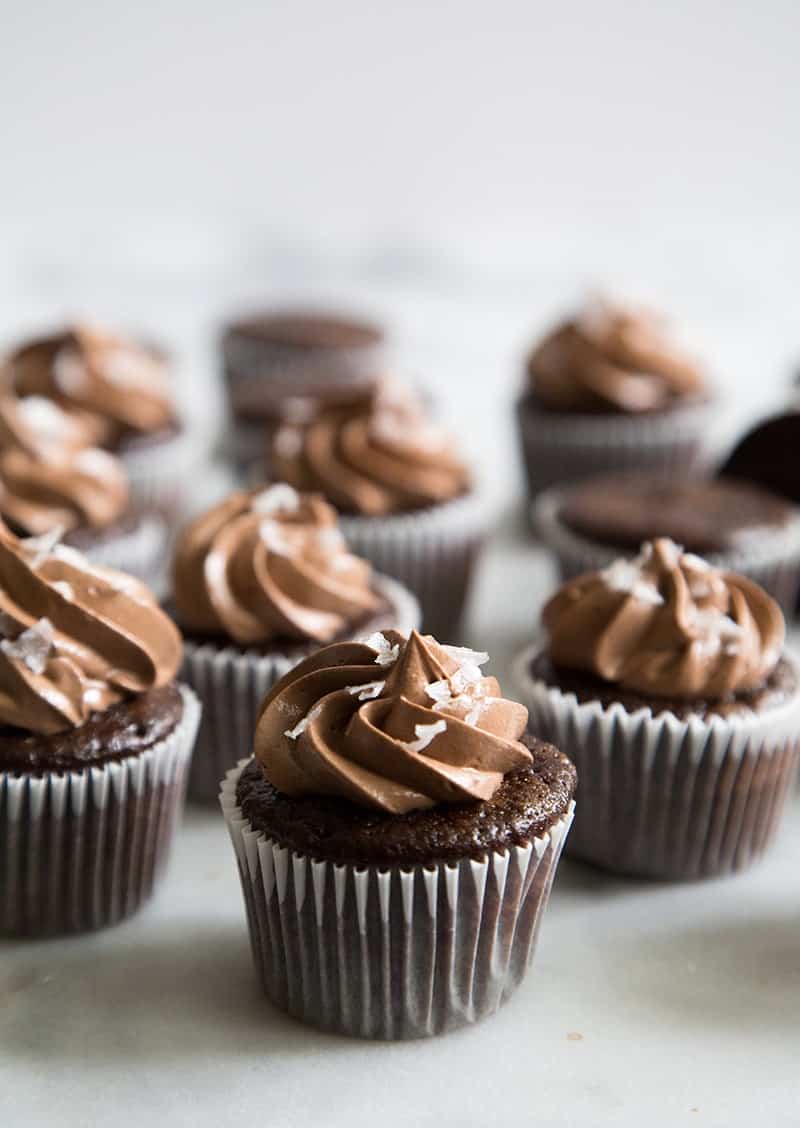 December is an endless buffet of glazed ham, prime rib, mashed potatoes, cheese platters, biscuits, and dinner rolls. Let's not even get started on all the cookies, brownies, cheesecakes, and other sweet treats the holidays brings.
I've never been one to shy away from the dessert table. That's usually my first stop at any holiday party. To prevent my sweet tooth from going overboard, portion control has become my best friend.
I believe that just a taste should do the trick. Mini desserts the cutest and best way to successfully achieve portion control. How could you refuse a mini cupcake? It's like not smiling after seeing a puppy.
Could you really say no to these mini chocolate cupcakes with sea salt flake topped chocolate buttercream? I thought so.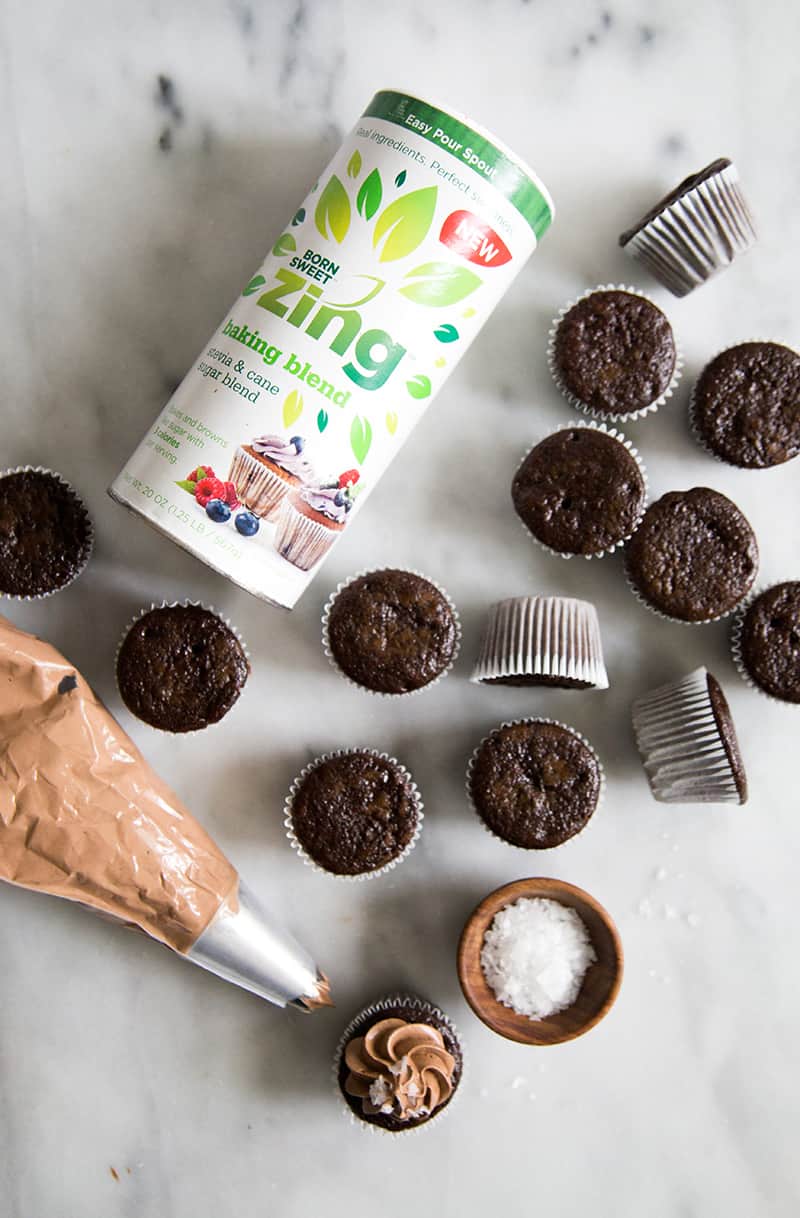 Mini Chocolate Cupcakes
I've teamed up with Born Sweet® Zing™ Baking Blend to create a dessert that is not only cute and mini, but has fewer calories than its traditional counterpart. It's that whole notion of having your cake and eating it, too, but on another level.
Zing™ Baking Blend is a combination of Stevia leaf extract and pure cane sugar. It bakes and browns just like granulated sugar. It's easy to swap Zing™ Baking Blend into your favorite recipes.
You'll just need to slightly adjust the amount of sweetener the recipe calls for. For every one cup of granulated sugar, you'll only need 1/2 cup of Zing™.
I used Zing™ in two applications for this dessert to test it's versatility. I used it to lightly sweeten the chocolate cupcake batter, and also to create the meringue base for this Swiss style buttercream. It worked like a charm in both recipes.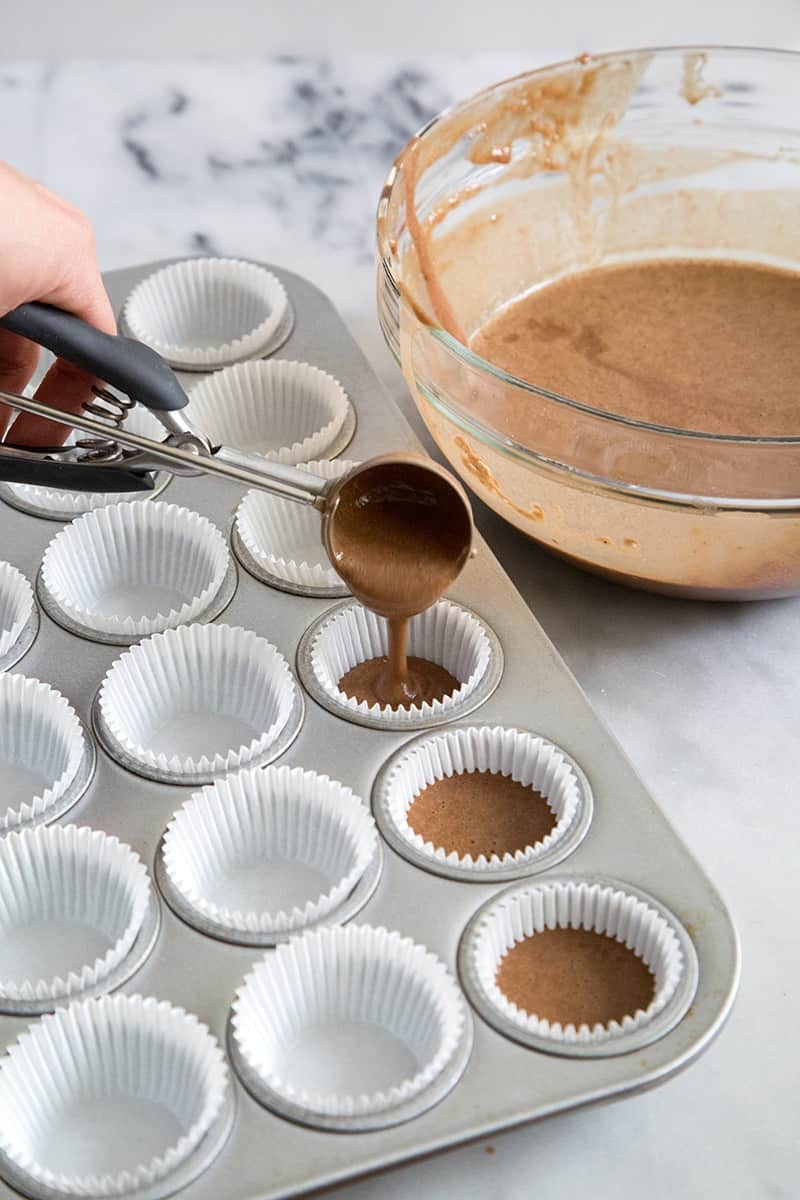 Cake Batter Consistency:
Side note: Don't worry. This cupcake batter is a little runny. It will bake up moist and flavorful in the oven. Use a mini cookie scoop or ladle to help portion out the batter.
During the holidays, my mini cupcake tin gets worked overtime. You can use this mini cupcake tin for other recipes like these milk chocolate pecan cups.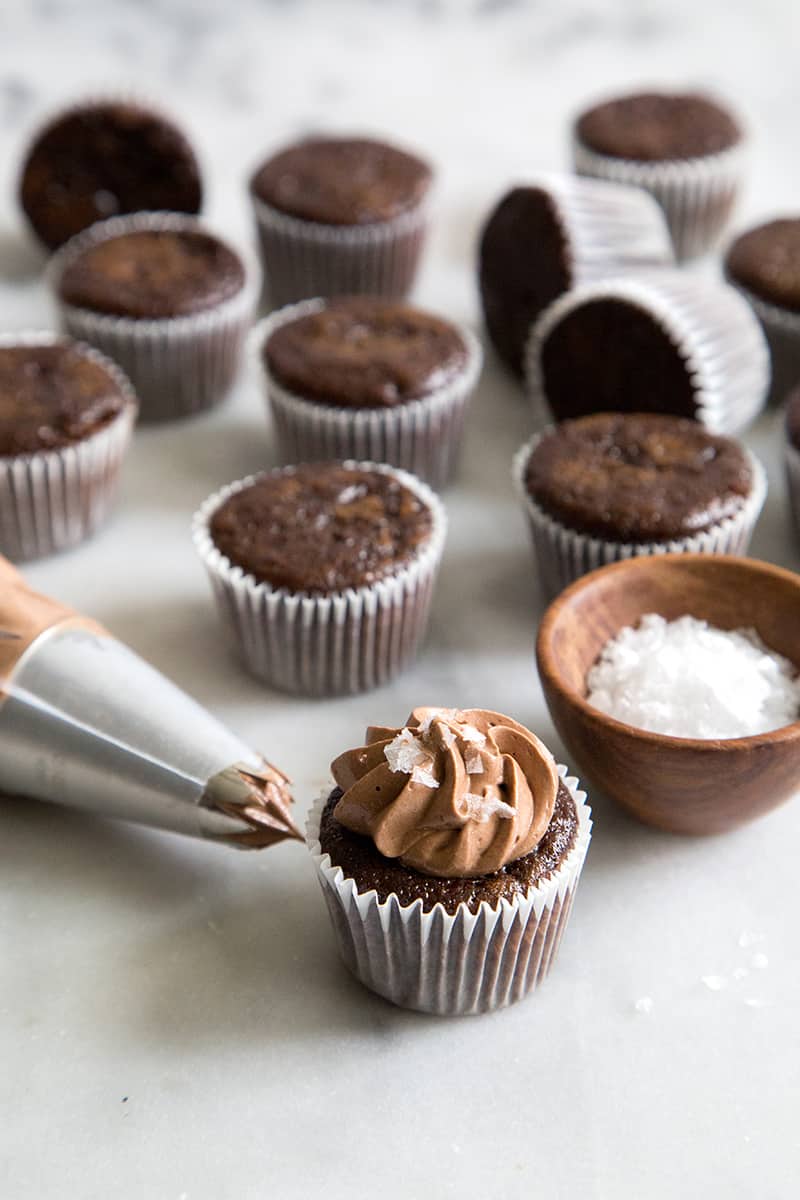 Only takes 15 minutes to bake:
As my family's resident dessert maker, I'm always on the search for new baking products, techniques, and recipes to share with loved one during the holidays. These mini chocolate cupcakes are a quick dessert to make in a hurry.
You don't need a mixer to make the batter and it only takes 15 mintes to bake. The Swiss buttercream may take a little effort, but it's well worth it. Instead of the traditional dense and heavy buttercream made with powdered sugar and butter, Swiss style buttercream is light, smooth, and airy thanks to the meringue base (made with egg whites and sugar).
This holiday season, instead of worrying so much about the calories, focus on spending time with family and friends. It's really easy to go overboard when there is so much food available.
Cut out the worry and guilt of eating too much sugar by making healthy choices and surrounding yourself with manageable sized servings.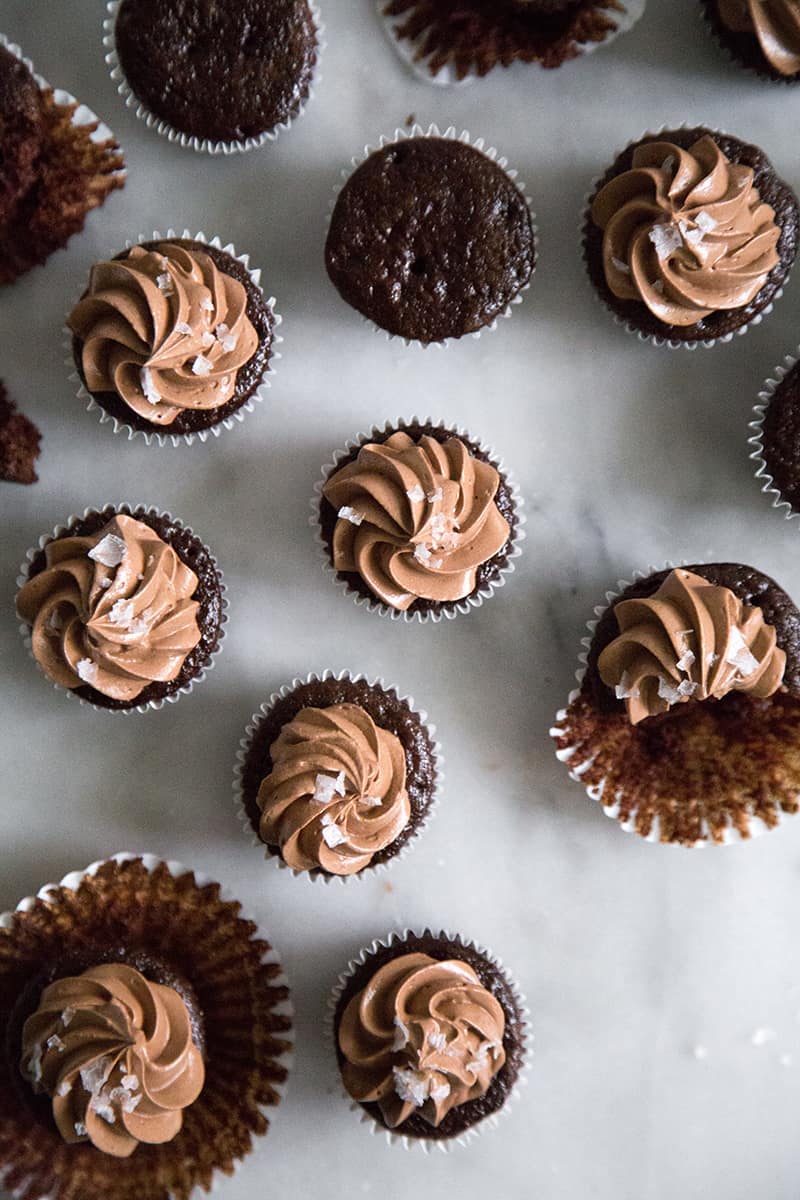 Be sure to visit the Zing™ Baking Blend website to find your local retailer, as well as more holiday inspired desserts!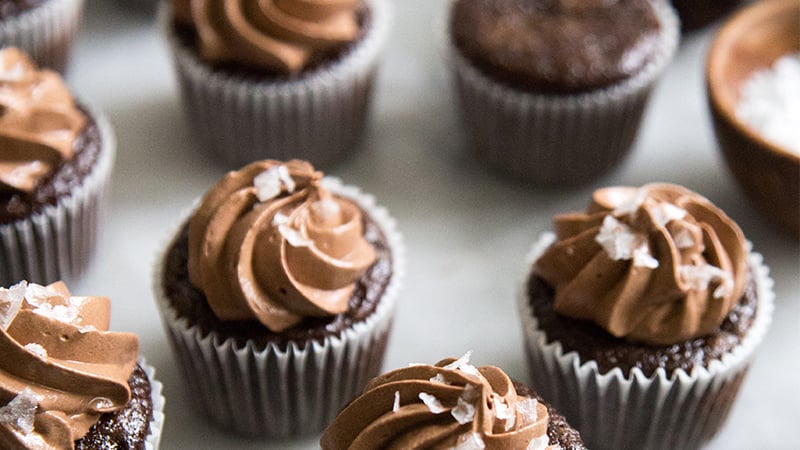 Mini Chocolate Cupcakes with Chocolate Buttercream
These mini chocolate cupcakes with chocolate buttercream are topped with a light sprinkle of sea salt flakes to balance out the flavors. It's a cute little addition to any dessert table.Yield: about 36 mini cupcake
Ingredients
Mini Chocolate Cupcakes:
3/4

cup

all-purpose flour

1/2

teaspoon

baking powder

1

teaspoon

baking soda

1/4

teaspoon

fine sea salt

1

large egg, room temp

1/4

cup

+ 2 Tablespoon Zing Baking Blend*

2

Tablespoon

olive oil

1

teaspoon

vanilla extract

1/3

cup

hot water

1/3

cup

unsweetened cocoa powder

1

teaspoon

instant espresso powder

3/4

cup

whole milk, room temp
Sea Salt Chocolate Buttercream:
3

large egg whites, room temp

1/4

cup

+ 2 Tablespoon Zing Baking Blend

1

cup

unsalted butter, cut into tablespoons, softened

1/2

teaspoon

vanilla extract

2

Tablespoon

unsweetened cocoa powder, sifted

3/4

cup

dark chocolate, melted and slightly cooled

sea salt flakes, as needed to garnish
Instructions
Mini Chocolate Cupcakes:
Preheat oven to 325 degrees F. Line mini cupcake tin with paper liners. Set aside.

In a medium bowl, whisk together flour, baking powder, baking soda, and salt. Set aside.


In a large bowl, whisk together egg, Zing™ Baking Blend, olive oil, and vanilla. Whisk until smooth.


In another bowl, combine hot water, cocoa powder, and espresso powder. Mix until smooth. Add milk and mix until incorporated. Add to egg mixture and whisk to combine.


Add dry flour mixture and whisk until batter is smooth. Batter will bubble slightly due to the baking soda. Let batter sit for 5 minutes to slightly thicken.


Divide batter among prepared cupcake liners. Bake for 15 minutes until cupcake tops spring back to touch. Allow to cool in tin for 3 minutes before transferring to wire rack to cool to room temperature.

Sea Salt Chocolate Buttercream:
In the bowl of a stand mixer, whisk together egg whites and Zing™ Baking Blend. Place over a double boiler and continue to whisk until mixture is smooth and all the Zing is dissolved. You can test this by dipped your finger into the warm mixture and rubbing it together with your thumb. You should not be able to feel the granules of Zing.

Return bowl to stand mixer. Using a whisk or paddle attachment, beat mixture at low speed until mixture is foamy. Increase to medium speed and continue to beat to stiff peaks until mixture is smooth and glossy. By this time, the mixture should have cooled down.


With the mixer running on low speed, add butter one tablespoon at a time. Once all the butter has been added, add vanilla and cocoa powder. Continue to mix until frosting is smooth. Lastly, fold in cooled melted chocolate and mix until thoroughly combined.


Transfer buttercream to a piping bag fitted with a large star tip. Frost cooled cupcakes and top with sea salt flakes.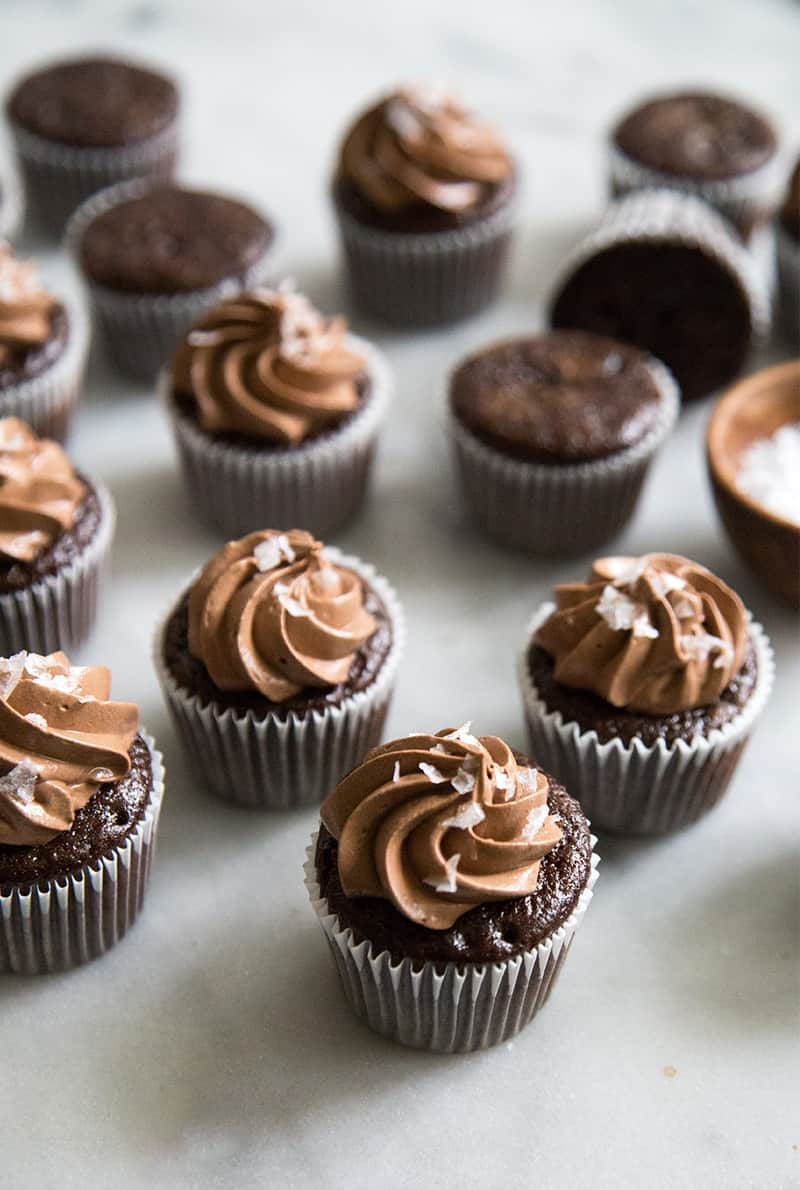 I was selected for this opportunity as a member of Clever Girls and the content and opinions expressed here are all my own.