Almond Honey Cake topped with honey sweetened mascarpone and an assortment of fresh citrus segments.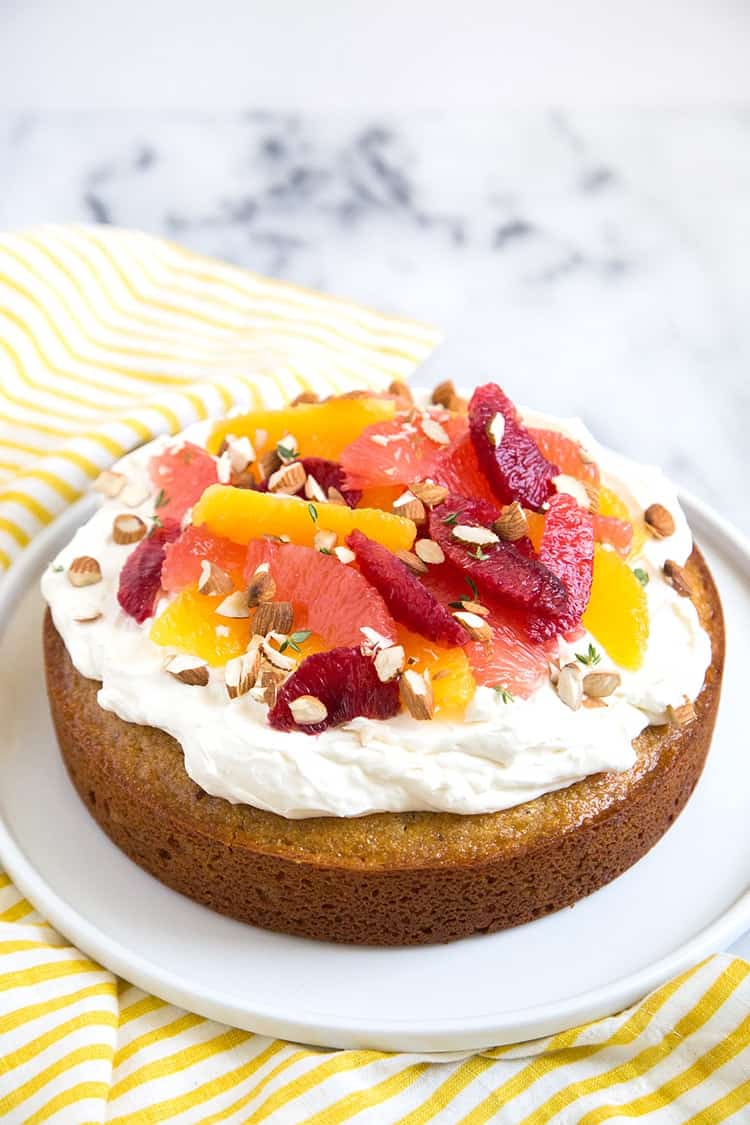 What ever happened to spring? Los Angeles is getting a taste of summer this week.
This is why I love Southern California. While I have been enjoying the sweater weather of January, I definitely cannot complain about all the sunshine. It puts me in such high spirits.
It makes me just as cheerful as a slice of this almond honey cake with citrus and cream.
Just like my previous coconut confetti cake, this cake also screams happy! Maybe it's that yellow striped dish towel? Perhaps it's all the colorful citrus on top?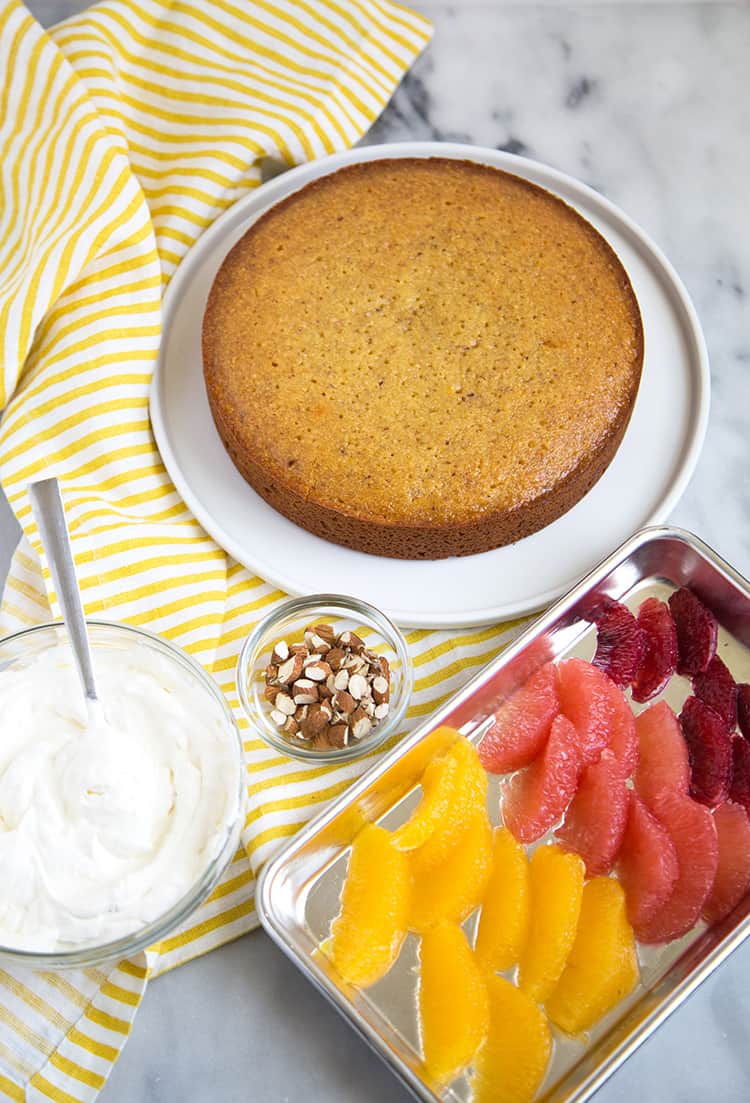 Honey Almond Cake
While February is unofficially the month of chocolate (thank you, Valentine's Day), it's my favorite time of year to bake with citrus.
The abundance of grapefruit and blood oranges makes me giddy. I love the bright colors and the even brighter flavors they bring.
This cake is very simple to put together. It's a standard one layer cake topped with a luscious cream and adorned with a variety of citrus segments.
This cake has no sugar. All of it's sweetness comes from honey. The cake itself is pretty dense due to the mixture of cornmeal and almond flour.
To bring moisture to the cake, after baking it is soaked with an orange juice-honey syrup. This syrup also imparts an amazing floral scent and flavor.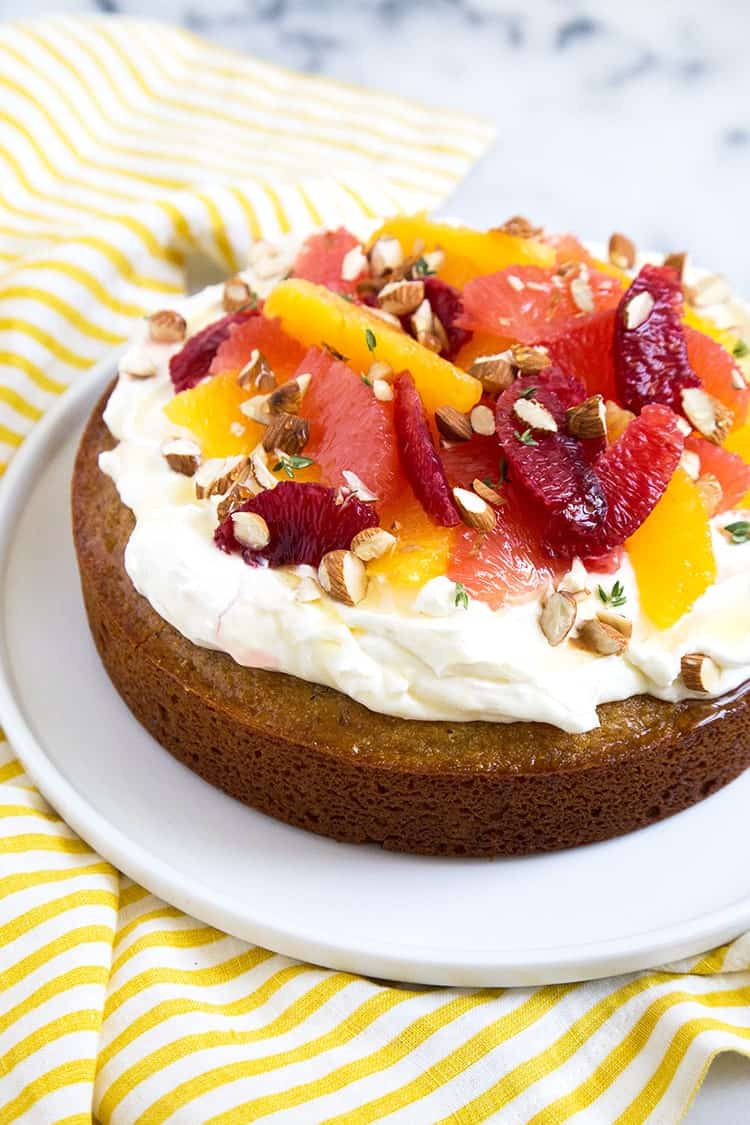 It you need a break from the chocolate madness of February, give this citrus almond honey cake a try. It's a definite departure from the rich, decadent, and sinful desserts out there right now. Plus, this is the kind of cake that is totally suitable for breakfast!
For the full recipe, visit BHG's Delish Dish blog.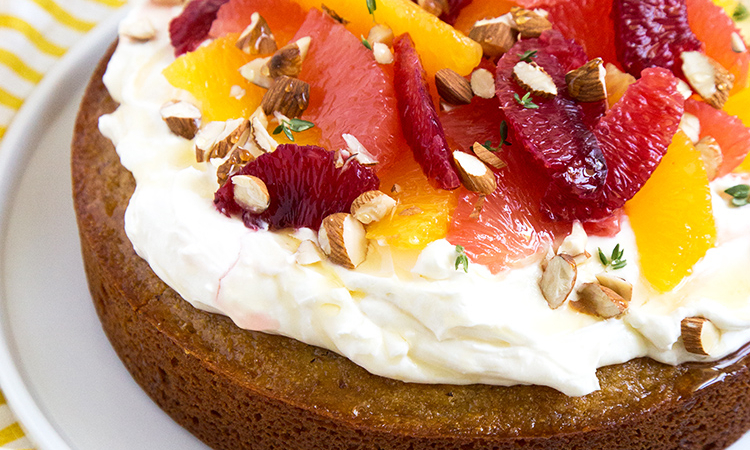 Almond Honey Cake with Citrus and Cream
Ingredients
Almond Honey Cake:
1

cup

all-purpose flour

1/2

cup

cornmeal

1/4

cup

ground almonds (almond flour)

2

teaspoons

baking powder

1/2

teaspoon

fine sea salt

1/2

cup

unsalted butter, softened

1/2

cup

honey

2

large eggs, room temperature

1/2

cup

milk, room temperature
Soaking Syrup:
1/4

cup

honey

2

Tablespoons

orange juice
Toppings:
1/2

cup

mascarpone, or cream cheese

1

cup

heavy cream

2

Tablespoons

honey

segments of 1 grapefruit, 1 orange, and 1 blood orange
Instructions
Preheat oven to 325 degrees F. Grease 9-inch round cake pan and line bottom with parchment paper.

In a large bowl, whisk together flour, cornmeal, ground almonds, baking powder, and salt.

In the bowl of a stand mixer fitted with paddle attachment (or using an hand mixer), cream butter until smooth. Add honey and continue to beat until fluffy. Add eggs one at a time until thoroughly combined.

Add half of the flour mixture and mix on low speed. Mix in milk followed by the remaining half of flour mixture. Mix until there are no longer any dry streaks of flour. Transfer batter to prepared cake pan.

Bake for 30-35 minutes until a toothpick inserted in center of cake comes out clean. Allow to cool in pan for 5 minutes before unmolding.

To make SOAKING SYRUP: Heat honey and orange juice over the stove until honey has dissolved.

Poke warm cake all over using a toothpick or the tines of a fork. Brush soaking syrup all over warm cake until absorbed. Allow cake to cool to room temperature on a wire rack.

TOPPING: Before serving, whisk mascarpone until smooth. Add heavy cream and honey. Beat to soft peaks. Spoon over cooled cake. Top with citrus segments. Enjoy immediately.