There are so many things to celebrate this month. From birthdays and job promotions to engagements and baby showers, all these happy occasions definitely require cake. (I'm sure tonight's Super Bowl victors will also be partaking in cake at some point.)
Have you noticed the influx of cakes on the blog recently? In previous years, I would average one cake a month. It's only the first week of February and I'm already on my third cake! (I'm on a roll! There is another cake debuting this Wednesday.) This coconut confetti cake is by far the happiest cake I've ever made. I think it even rivals my rainbow cake.
If a coconut cake filled with rainbow confetti topped with coconut buttercream doesn't convey happiness to you, I advise you to stop reading now.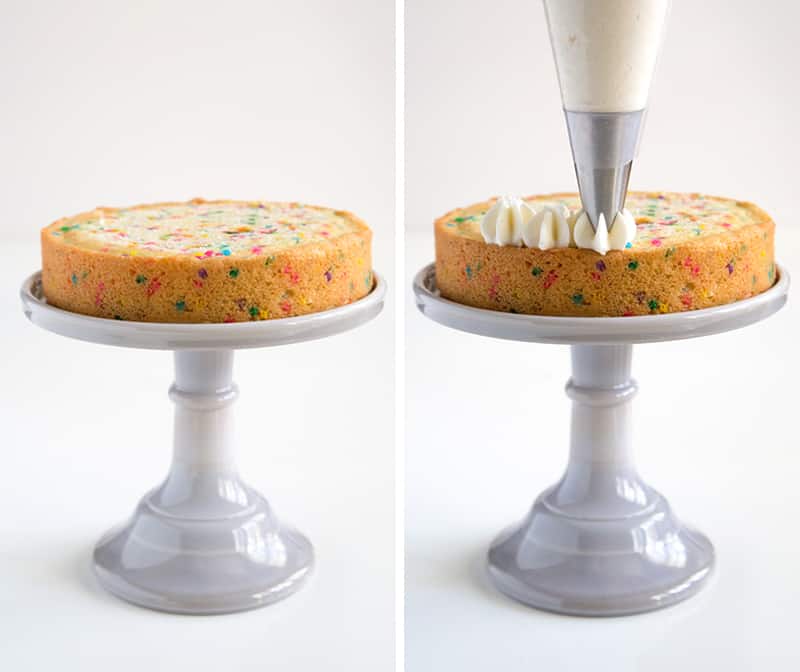 This recipe makes three 6-inch cake layers. This produces fairly thick cake layers. I like them this way with just a touch of frosting for a kick of sweetness. If you prefer thinner layers, feel free to use 8 or 9-inch cake pans.
This coconut confetti cake would be ideal for cake newbies, or anyone that has a difficult time filling cakes. When I first started building cakes, they were wonky and lopsided. Some layers would have more frosting than others. Often, the cake layers were not of equal thickness because I would haphazardly and unevenly divide the cake batter. That's hardly the case nowadays. I try to be precise as possible when baking to ensure consistent results.
I used a medium star tip to pipe little spikes all over the surface of the cake layers. It's an excellent way to practice your piping skills. More importantly, it a mess-free way to build and frost cakes. Plus, doesn't it look cool?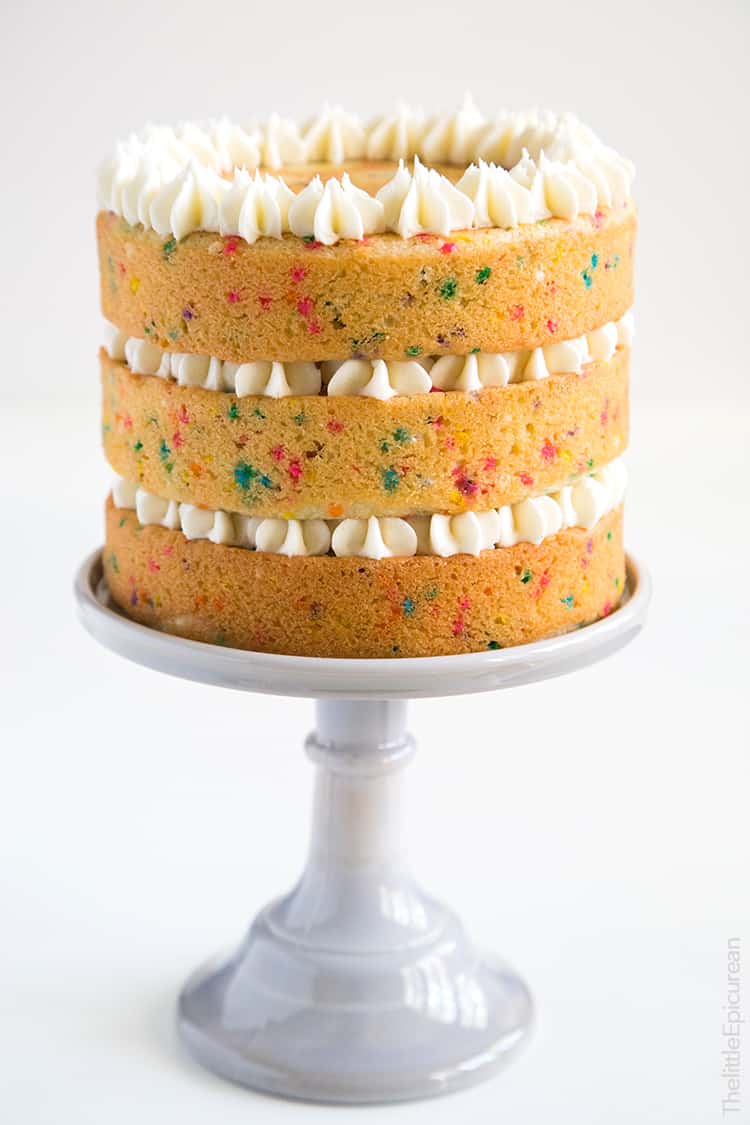 I am so in love with this super cute cake stand. I'm a big fan of making smaller 6-inch cakes and this is the cutest stand to show them off in.
After piping on the top layer of buttercream, I showered the cake with a handful of confetti (because there is no such thing as too much confetti).
The great thing about this cake- it transports really well. It's a very sturdy cake that can stay out at room temperature for a few hours. Over time, the piped buttercream will stiffen and form a sugary crust on the surface.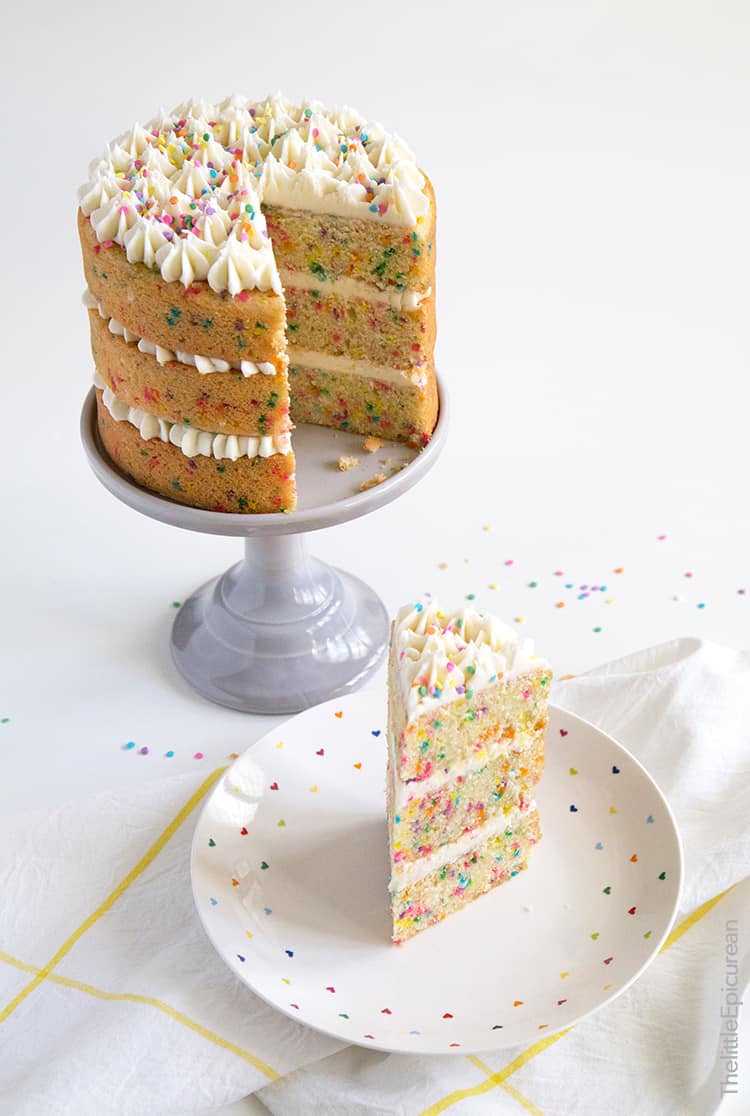 In all seriousness, this cake tastes like a vacation. Coconut has that effect on me. It makes me believe I'm on a tropical beach with my toes in the warm sand about to spend a lovely afternoon reading an exciting summer book. When I made this cake last Monday, I was in such bliss after tasting a slice that I totally forgot I hated Mondays.
Whether you're celebrating a child's 6th birthday or a bigger kid's 60th birthday, this coconut confetti cake is the fun way to spread happiness.
Coconut Confetti Cake
Thick coconut cake layers filled with rainbow confetti and topped with a coconut infused buttercream. This coconut confetti cake is the perfect choice for any happy occasion!
Ingredients:
Coconut Confetti Cake:
Coconut Buttercream:
1 cup unsalted butter, room temperature
3 1/2 cups confectioners' sugar*
1/4 tsp fine sea salt
2 Tbsp full-fat coconut milk, canned
Directions:
Coconut Confetti Cake:
Preheat oven to 350 degrees F. Line three 6-inch round cake pans with parchment paper. Grease lightly and set aside.
Whisk together flour, baking powder, and salt. Set aside. In the bowl of a stand mixer fitted with a paddle attachment, combined cooled melted butter, coconut oil, and sugar. Add eggs and beat until mixture is pale in color. Scape down bowl as needed to ensure thorough mixing.
Alternate adding flour mixture and coconut milk, beginning and ending with the flour. Mix on low speed until combined. Fold in rainbow confetti.
Divide batter among the three prepared cake pans. Level batter and bake for 35-40 minutes until the cakes are golden brown and a toothpick inserted in center of cake comes out clean. Let cool in pan for 5 minutes before unmolding. Allow to cool to room temperature on wire rack.
Coconut Buttercream:
In the bowl of a stand mixer fitted with a paddle attachment, beat butter until smooth. Add powdered sugar, salt, and coconut milk. Mix on low speed until buttercream is smooth. Scrape down bowl as needed to ensure thorough mixing. Increase speed to medium and beat until buttercream is airy, smooth, and creamy.
Transfer buttercream to a piping bag fitted with a medium star tip.
Assembly:
If necessary, level cake layers. Place one cake round on cake stand, or serving dish of choice. Pipe little star spikes all over the surface of the cake layer. Top with a second cake round. Repeat filling cake surface with buttercream. Place final third layer on top and pipe buttercream on top. Sprinkle a handful of confetti over the top of the cake.
If serving immediately, let cake stand out at room temperature until ready to serve. Otherwise, keep stored in the fridge in an airtight container. Allow to come to room temperature before serving.
*Notes: Be sure to use canned full-fat coconut milk. Other coconut milks (low-fat and those found in the refrigerated dairy section) will not produce the same full coconut flavor.
Add another 1/4- 1/2 cup confectioners' sugar if buttercream is too thin.
The coconut cake is based off this coconut raspberry cake from last year.