Fluffy milk bread rolls topped with melted butter and a sprinkling of sea salt flakes. It's dinner's perfect accompaniment!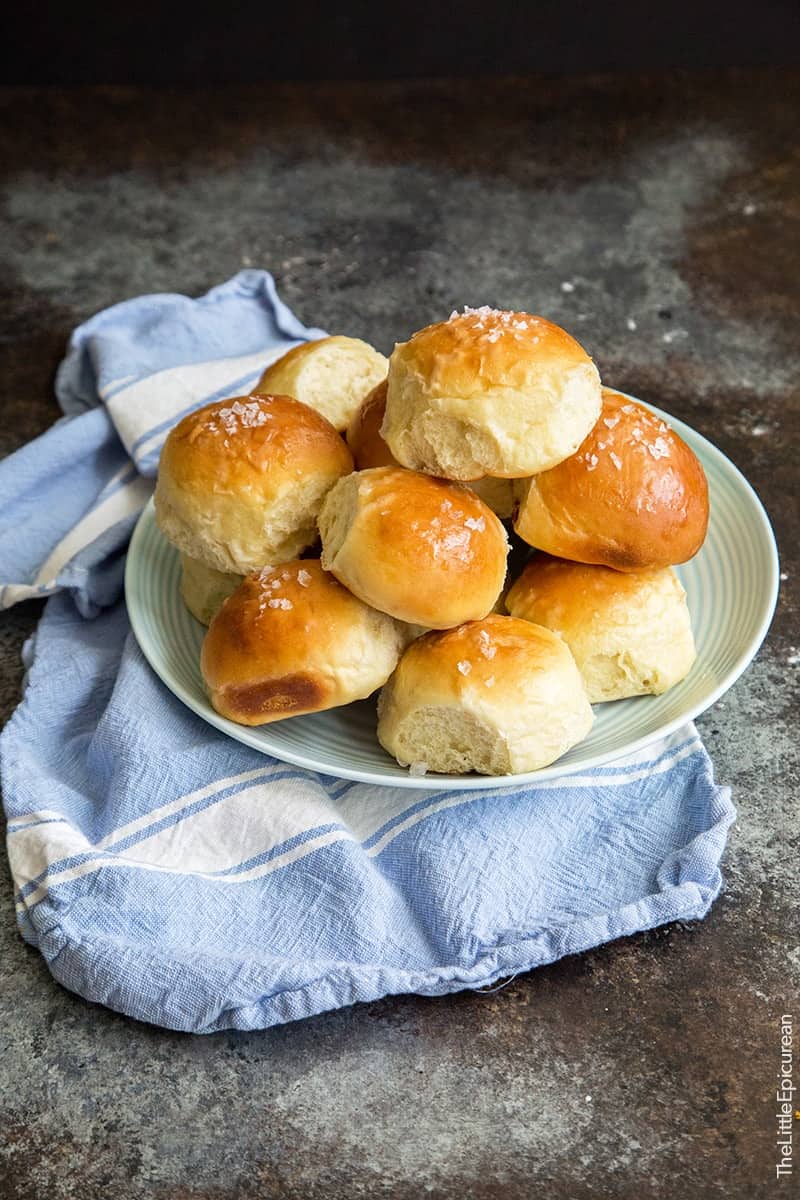 I just finished watching Cooked on Netflix. I'm a big fan of Michael Pollan's books and documentaries. He brings to light so many important topics and discussions that often get overlooked in the world of food.
It's not just what to cook or how to cook it, but the ramifications of how we eat and what we eat. Being slightly obsessed with food history, I devour all that stuff up.
(Side note: I'm still very upset that UCLA started offering science and food lectures years AFTER I graduated.)
One of my favorite episodes from the Cooked series is the one titled Air. It's all about bread.
Gluten and Bread
The episode talks about gluten and all the misconceptions associated with the word. They discuss the history of bread production as well bread's cultural significances.
Did you know cutting bread with a knife is illegal in Morocco? Bread is sacred and the use of a knife is considered too violent. That's why their breads are meant to be torn by hand. Crazy, right?!
Bread is my life source. I could go months without eating cake and I'd be perfectly fine. Go a week without bread? You've got to be kidding me.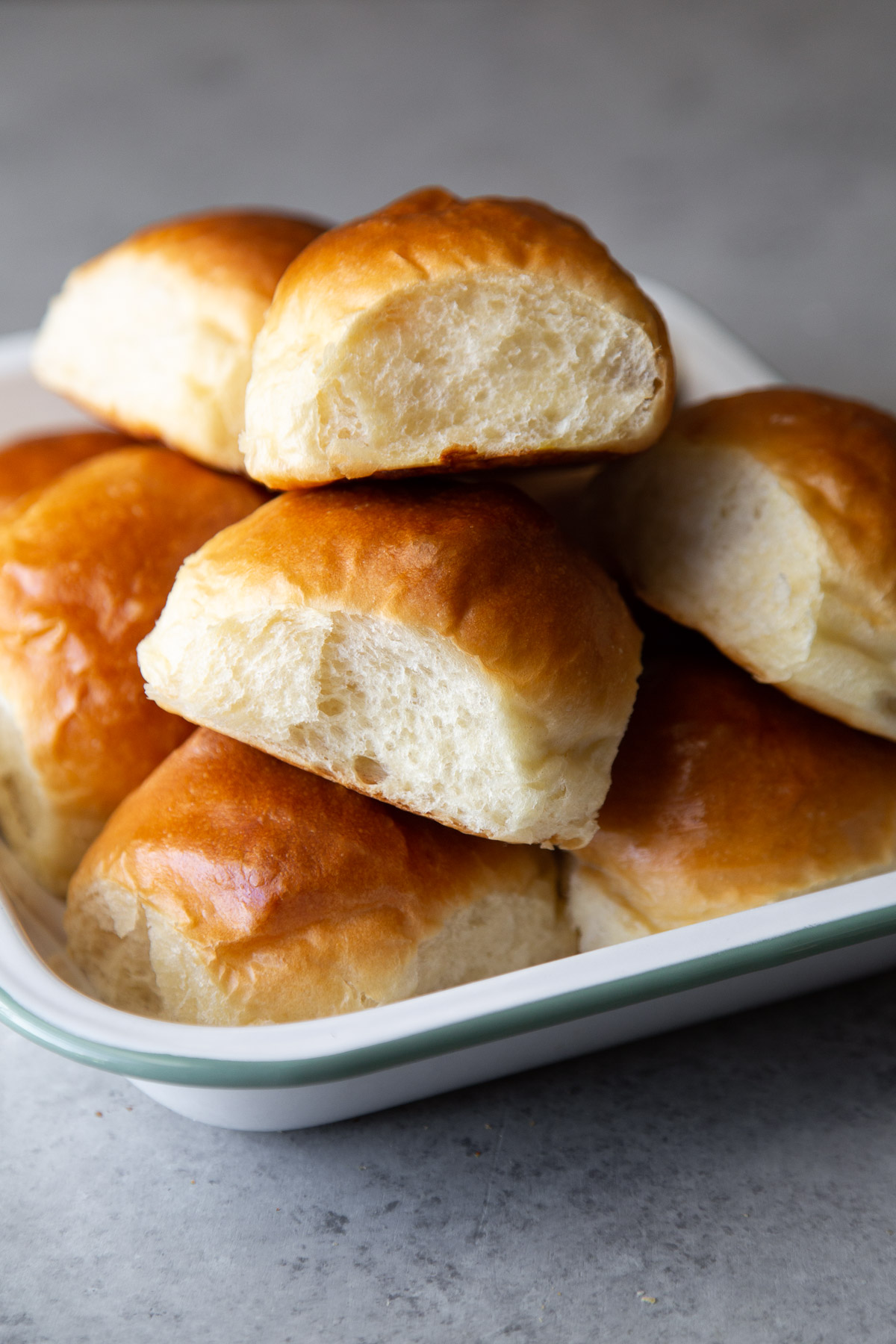 Milk Bread Rolls
I used to fear bread making. I was afraid I'd kill the yeast. How would I know when to stop kneading? How can I tell when the bread is done?
It's too much work. Maybe I should just buy a loaf at the market.
Erase that mentality. With two tools, you can easily make fool-proof bread at home.
Important tools for bread making
When it comes to bread making, all you really REALLY need is a kitchen scale and a kitchen thermometer.
Bread making is a science, a predicable science when measured correctly.
Working with Yeast
One of the biggest reasons breads fail is due to problems with the yeast.
Most of the time, the liquids aren't warm enough to activate the yeast, or the liquids are so hot that it kills the yeast. A kitchen thermometer saves you from guessing.
When working with active dry yeast, it's best to work with liquids between 95- 130 degrees F. Anything over 140 degrees F is too hot.
This milk bread rolls recipe is an adaptation from the June/July 2015 issue of Donna Hay magazine. The photos are also an ode to her.
Instead of my plain white (or light marble) background, I opted to go for the moody, slightly blue hint that Donna Hay is best known for.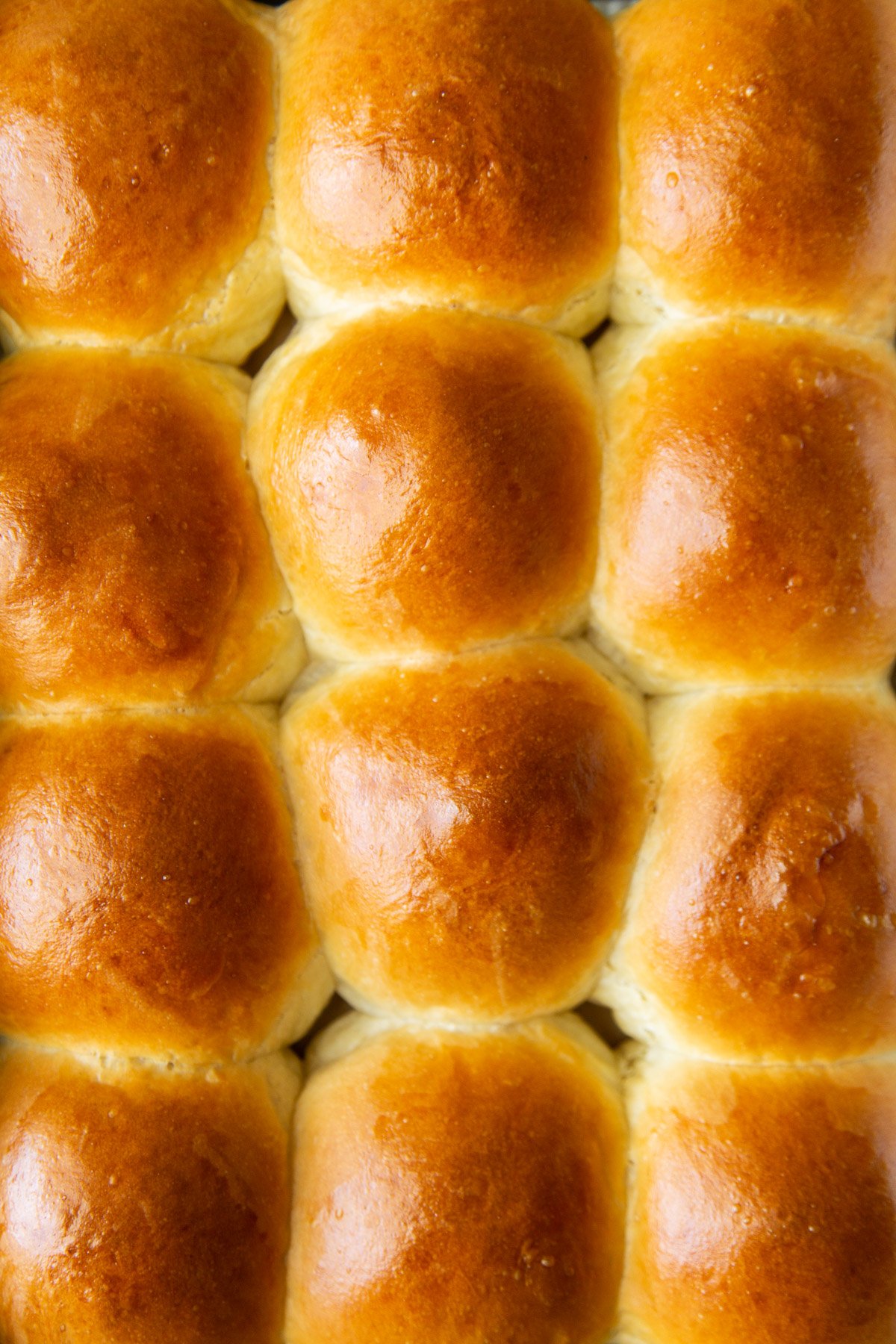 What to do with milk bread rolls?
These rolls are soft and fluffy fresh from the oven. The sprinkling of salt makes them very tasty and addicting. They're excellent for soaking up any sauces from your meal, think spaghetti, stew, or soup.
Best of all, nothing beats the rewards of making your own bread. No preservations, no chemicals, no ingredients you can't pronounce.
Once you've fall in love with milk bread, it's time to try this popular Japanese Milk Bread.
Milk Bread Rolls
Fluffy milk bread rolls topped with melted butter and a sprinkling of sea salt flakes. It's dinner's perfect accompaniment!
Ingredients
2

cups

(500 ml) whole milk

1/2

cup

(4 oz) unsalted butter, cut into tablespoons

1/4

cup

(55 g) granulated sugar

1

Tablespoon

active dry yeast

3

large eggs, room temp, lightly whisked

6 1/2

cups

(975 g) all-purpose flour

1 1/2

teaspoons

fine sea salt
Egg Wash:
1

large egg

1

Tablespoon

water
Topping:
2

Tablespoons

unsalted butter, melted

sea salt flakes, as needed to top
Instructions
In a small sauce pot, combine milk, butter, and sugar. Set over medium heat. Cook until butter has melted. Stir often to ensure milk does not burn on the bottom or sides of pan. Remove from heat and pour into the bowl of a stand mixer. Let sit until liquid has cooled to a temperature of 120 degrees F.

Once liquid has cooled, whisk in yeast. Let stand for 5-7 minutes until mixture is fragrant. Attach paddle to mixer. Add eggs. Mix on low speed until combined.

Add 2 cups of flour. Continue mixing on low speed. Add another 2 cups flour, along with sea salt. Continue mixing on low speed. Scrape down bowl as needed to ensure thorough mixing.

Remove paddle attachment and switch to dough hook attachment. Add remaining 2 1/2 cups of flour. Knead on low speed until flour has been incorporated. Increase speed to medium and knead dough for 3-5 minutes until smooth. Dough will be a bit tacky. Do not be tempted to add additional flour. Continue to knead until dough can easily be scraped off the sides of the bowl.

Place dough inside a greased bowl. Cover with plastic wrap. Cover with dish towel and allow to rest at room temperature for 30 minutes.

Remove cover. Transfer dough to a lightly floured work surface. Divide dough into 24 equal parts. Roll into 24 balls and place on a parchment lined baking sheet* (18x13-inch).

Cover with plastic wrap and allow to rest for another 30 minutes.

Preheat oven to 350 degrees F. Uncover dough, it should have slightly risen during this time. Make egg wash by whisking together egg and water. Brush egg wash over bread rolls. Bake for 20-25 minutes until bread is golden brown on top and has an internal temperature of at least 190 degrees F. Allow to slightly cool in pan.

Right before serving, brush bread rolls with melted butter and sprinkle sea flakes on top. Serve bread warm.