Vegan chocolate cupcakes topped with whipped coconut cream. They're soft, fluffy, and packed with flavor. They're unlike any vegan cupcakes I've ever tried!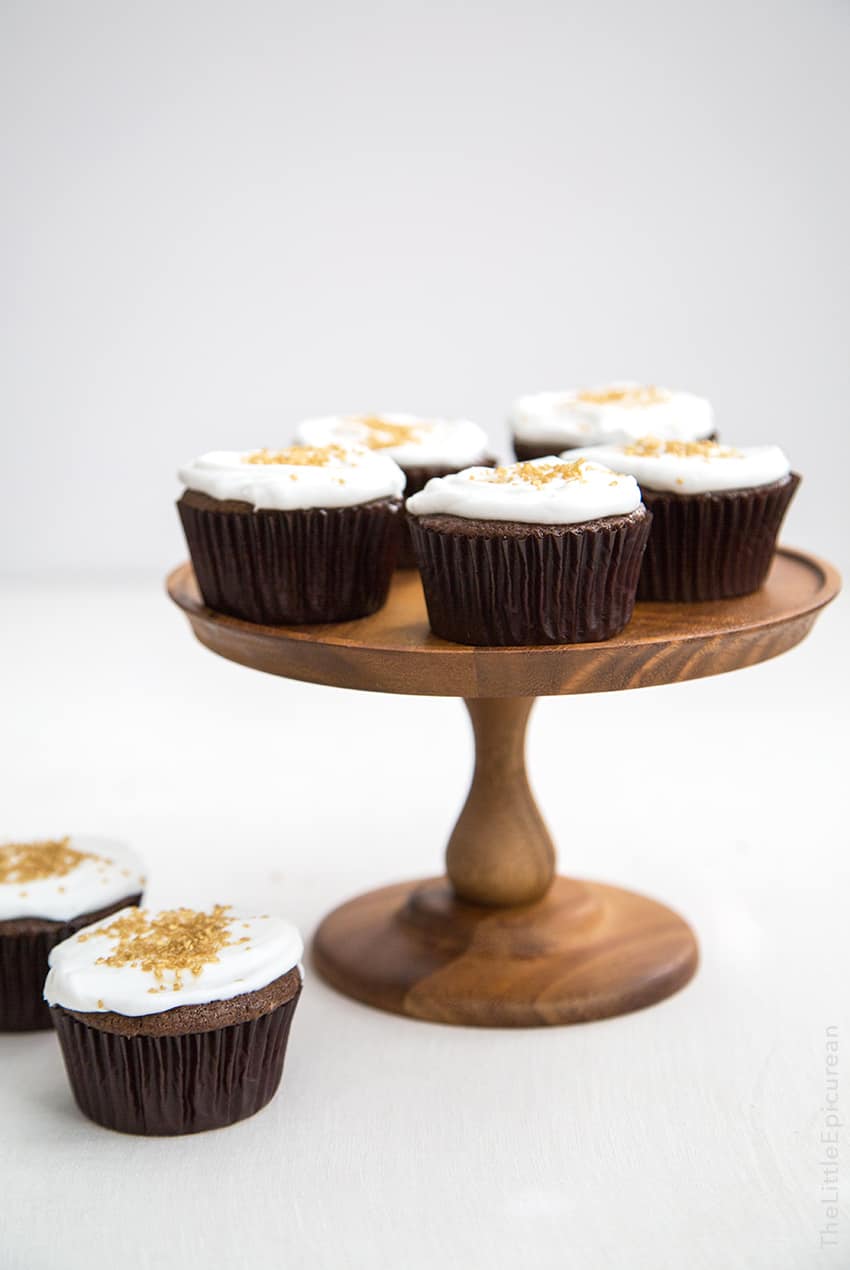 You guys. This is new for me. It's like visiting a new place and not knowing where the heck you are. It's exciting. It's full of possibilities. And I think I'm addicted.
I've never made vegan cupcakes. Vegan anything, asides from salads, kind of scare me.
I'm a regular ol' baker. I like to use real butter, cow's milk, and plain flour. I don't follow any special diets.
I love bread (and the gluten that makes it). I love dairy even though I'm lactose-intolerant. I think a little sugar here and there never hurt anyone.
These cupcakes are different. No eggs, no milk, no butter.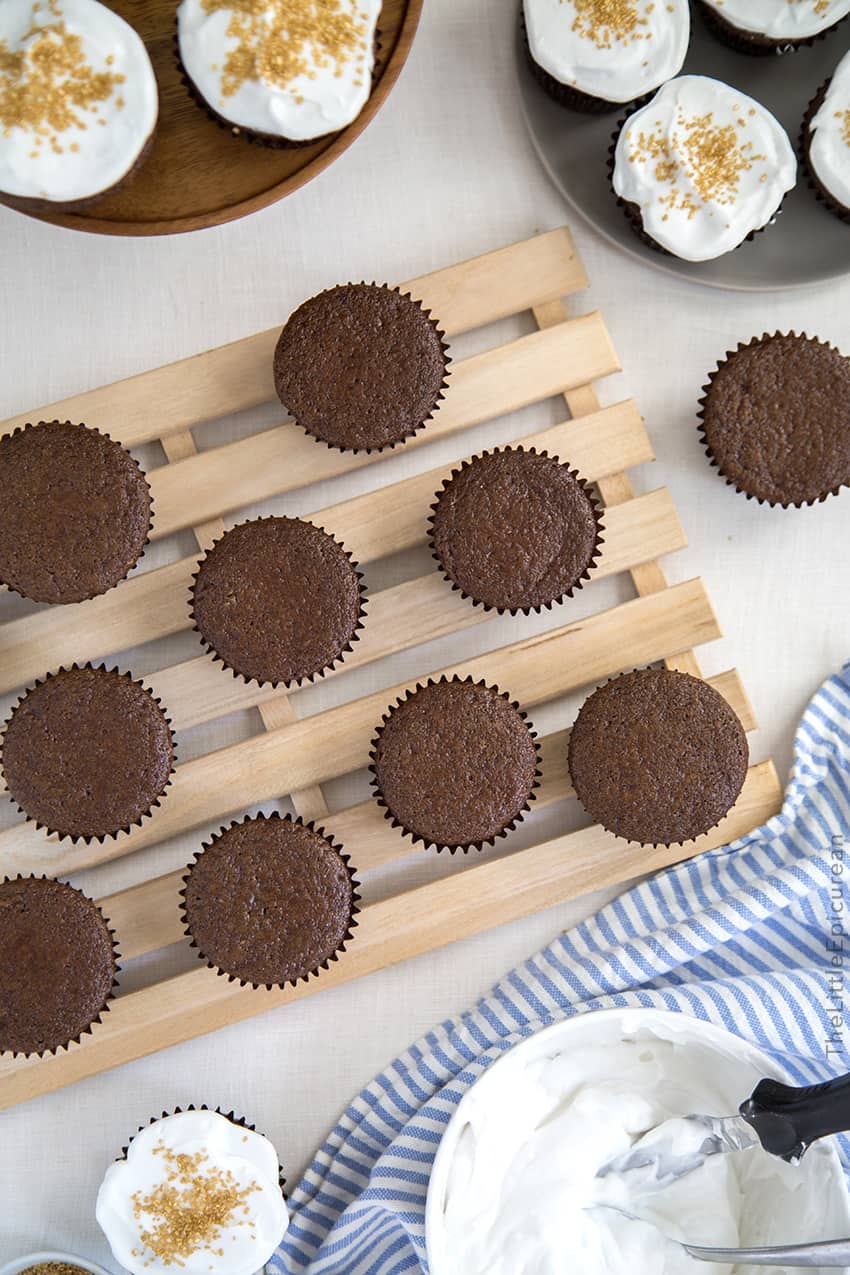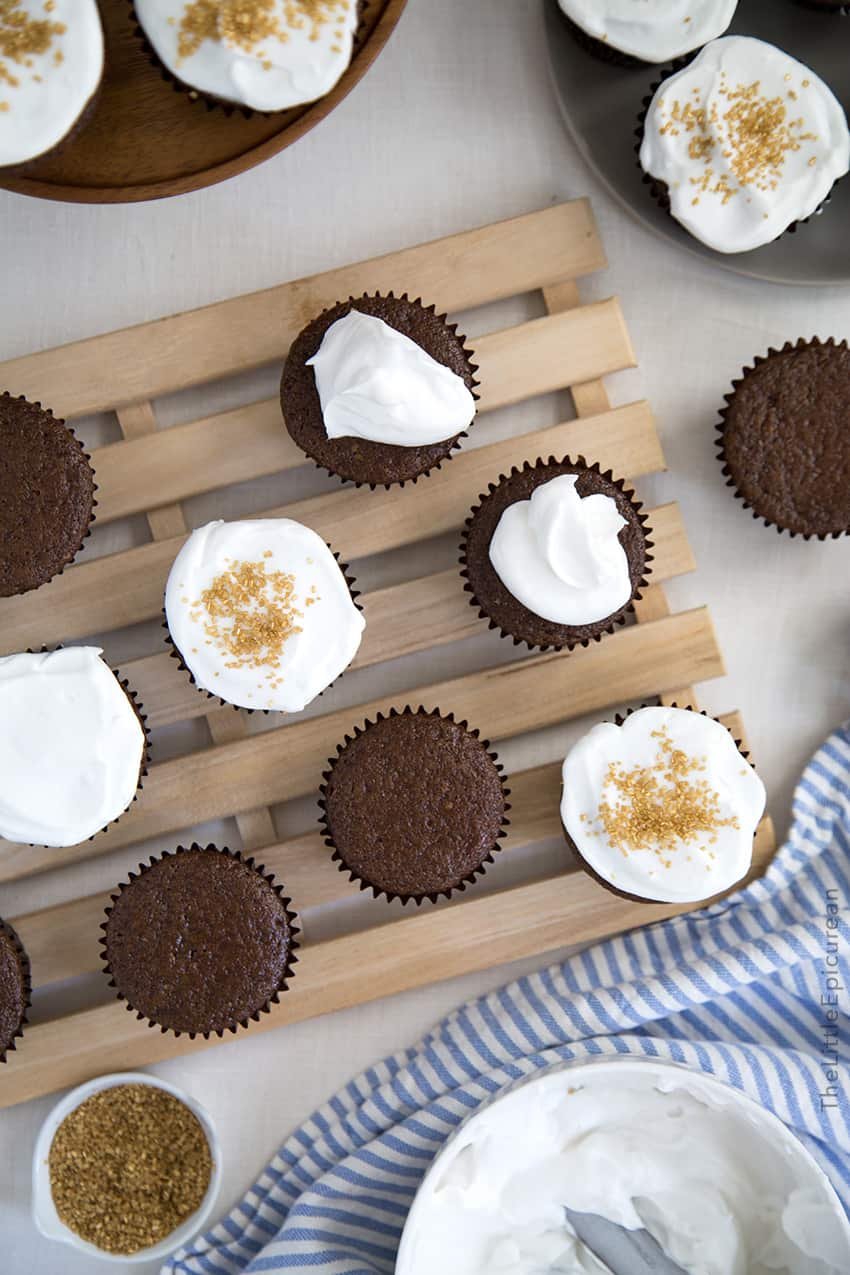 And you know what? THEY'RE ABSOLUTELY PERFECT.
The secret to these vegan chocolate cupcakes are coconut oil, mashed avocado, and the magic created when vinegar and baking soda meet. I'm a big fan of coconut oil in baking. It can easily be substituted for recipes that don't require the creaming of butter.
The mashed avocado lends a rich creaminess to the cupcakes without altering the chocolate flavor. When vinegar and baking soda are mixed together it produces carbon dioxide bubbles. This creates the light, fluffy texture of the cupcakes.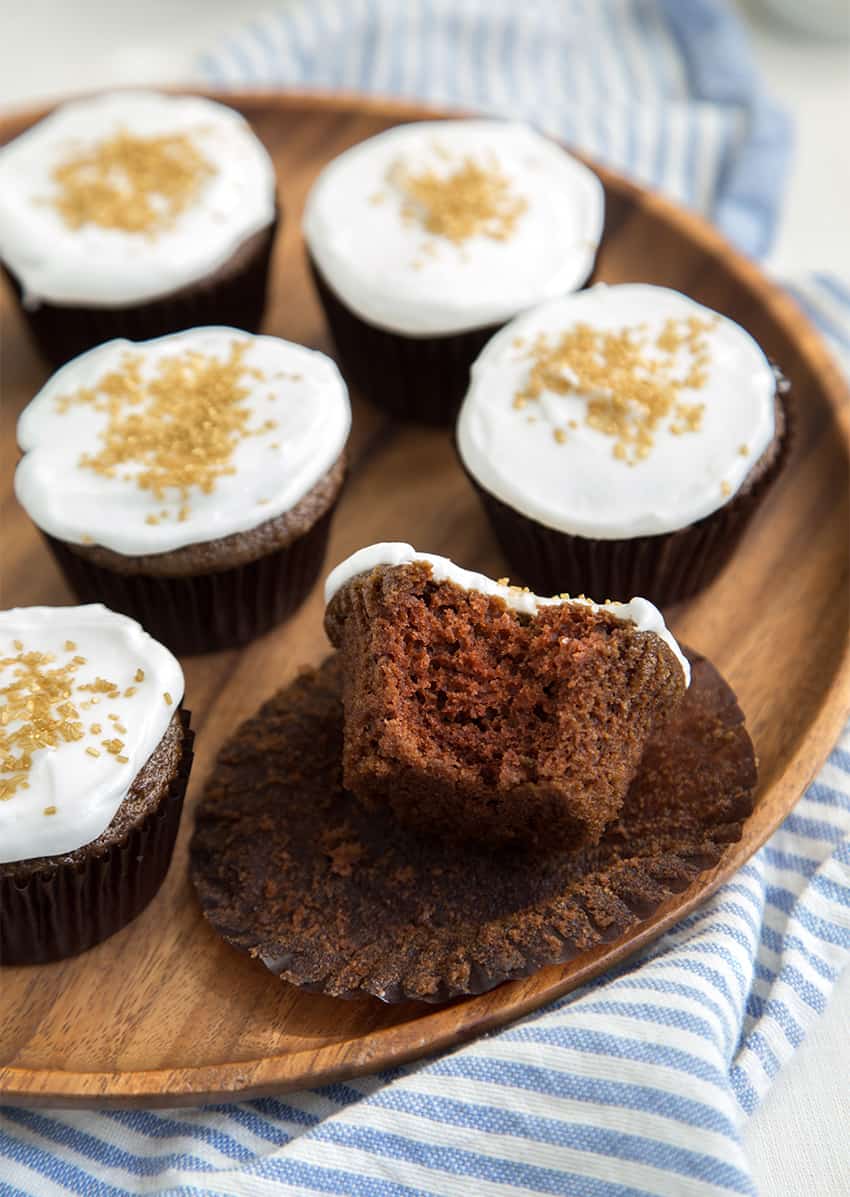 The chocolate cupcakes are topped with whipped coconut cream. Coconut cream is a delicious and wonderful dairy-free whipped cream alternative. There hundreds of recipes and variations in the interwebs. Everyone has their favorite brand of coconut cream. I prefer the one from Trader Joe's. In my experience, it yields the most consistent results.
A little preparation is required when making whipped coconut cream. The night before you need the cupcakes, you'll need to chill the canned coconut cream in the fridge. I usually have a couple cans in the fridge at all times, just in case.
As the canned coconut cream chills, the heavier cream will rise and harden. The following day, scoop out the hardened cream and whip it like regular whipped cream.
At the bottom of the can, there will be some lighter cream that has remained liquid. You can either save it for smoothies and such, or simply discard it.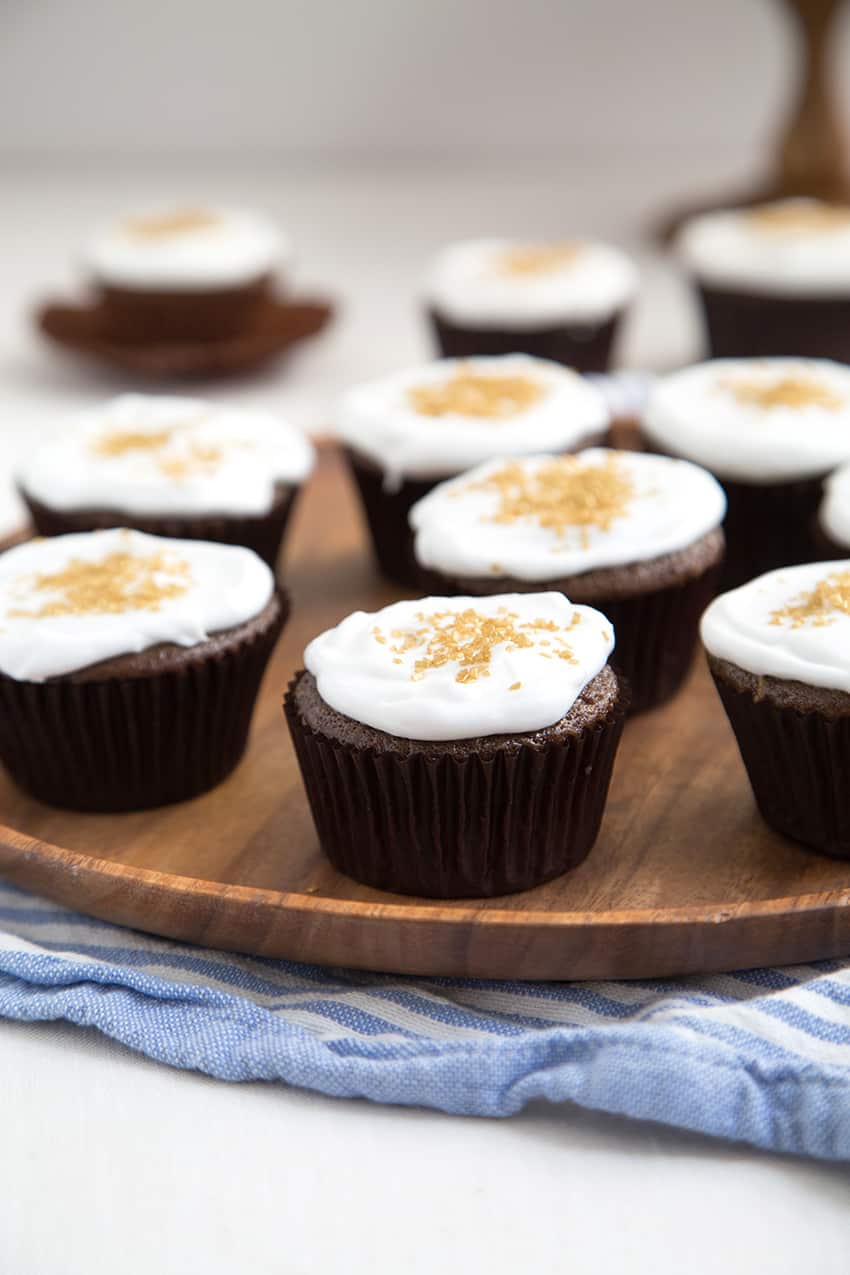 This little vegan experiment totally opened my eyes to the possibilities in the baking. These chocolate cupcakes knocked down all my preconceived notions regarding vegan desserts. These were so tasty. I didn't miss the butter or eggs at all. I'm eager to explore and experiment with more!
Vegan Chocolate Cupcakes with Whipped Coconut Cream
Yield: makes 2 dozen
Ingredients
Avocado Chocolate Cupcakes:
3

cups

all-purpose flour

1/3

cup

unsweetened cocoa powder, sifted

2

teaspoon

instant espresso powder

1/2

teaspoon

fine sea salt

2

teaspoon

baking powder

2

teaspoon

baking soda

2

cups

granulated sugar

1/4

cup

coconut oil

1/2

cup

mashed avocado

2

cups

water

2

Tablespoons

distilled white vinegar

1

teaspoon

pure vanilla extract
Whipped Coconut Cream:
2

-14 oz cans coconut cream

1 1/2

cup

powdered sugar, sifted
Instructions
Avocado Chocolate Cupcakes:
Preheat oven to 350 degrees F. Prepare cupcake tin with paper liners. Set aside.

In another large bowl, stir together coconut oil, mashed avocado, water, vinegar, and vanilla. Add all of dry mixture to wet ingredients. Stir to combine until there are no longer any dry streaks of flour.

Divide batter evenly among cupcake tin, filling liners about 3/4 full. Bake for 20-22 minutes until toothpick inserted in center of cupcake comes out clean. Allow cupcakes to cool in tin for about 5 minutes before unmolding. Allow cupcakes to cool to room temperature on wire rack. *

In a large bowl, whisk together flour, cocoa, espresso powder, salt, baking powder, baking soda, and sugar. Set aside.
Whipped Coconut Cream:
Chill canned coconut cream in the fridge for at least 6 hours, overnight or longer is best. When removing canned coconut cream from fridge, do not shake or agitate.

Before whipping coconut cream, place a large mixing bowl in the fridge or freezer until chilled.

Open canned coconut cream and scoop out hardened coconut cream, leaving any liquid at the bottom of the can. Discard liquid, or chill and use later for smoothies, coffee, etc. Place coconut cream in chilled bowl.

Using a handheld mixer, whip coconut cream until smooth. Add sifted powdered sugar and continue to mix until incorporated. Cover with plastic wrap and allow whipped coconut cream to chill for at least 15 minutes before frosting. The whipped coconut cream will not stiffen like regular whipped cream. It will be a lot looser. Chilling will help strengthen the coconut cream.
Assembly:
Spoon a dollop of whipped coconut cream over cooled chocolate cupcakes. Use the back of a spoon or a mini offset spatula to spread the cream. If desired, decorate cupcakes with sanding sugar or sprinkles. Enjoy immediately.*

Notes
If making cupcakes ahead of time, store cooled cupcakes in the fridge well wrapped. Cupcakes can be made up to two days in advance.
If you decorate cupcakes with sanding sugar or sprinkles, cupcakes should be eaten immediately. Over time the sprinkles will bleed onto the whipped coconut cream.
Avocado Chocolate Cake recipe adapted from Joy the Baker