Bloody Red Velvet Cupcakes: traditional red velvet cupcakes with cream cheese frosting and a shocking addition of raspberry coulis. It's my new favorite Halloween treat!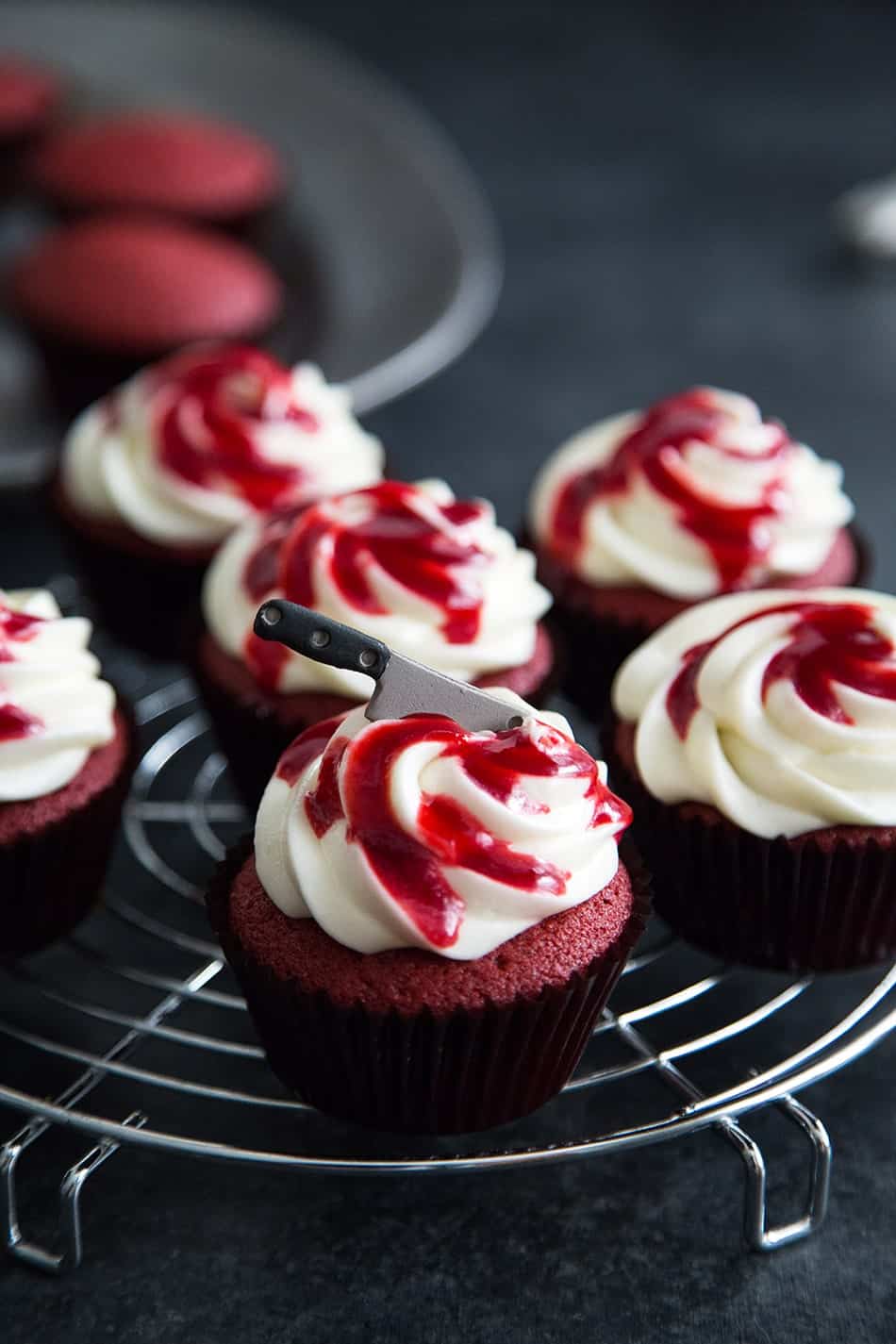 Remember when red velvet was super popular? Red velvet was the cool kid before cronuts, cuffins, rainbow bagels, and those giant over the top milkshakes ever existed.
It's not quite chocolate. It isn't really vanilla. It's something in between and it's a flavor I'll always love (when done right). It's a tad sweet, a little tangy, as immature as it sounds- I like how the artifical coloring makes my lips and tongue red. Red velvet cake reminds me of childhood birthdays, holiday parties, and every other happy occassion celebrated with cake.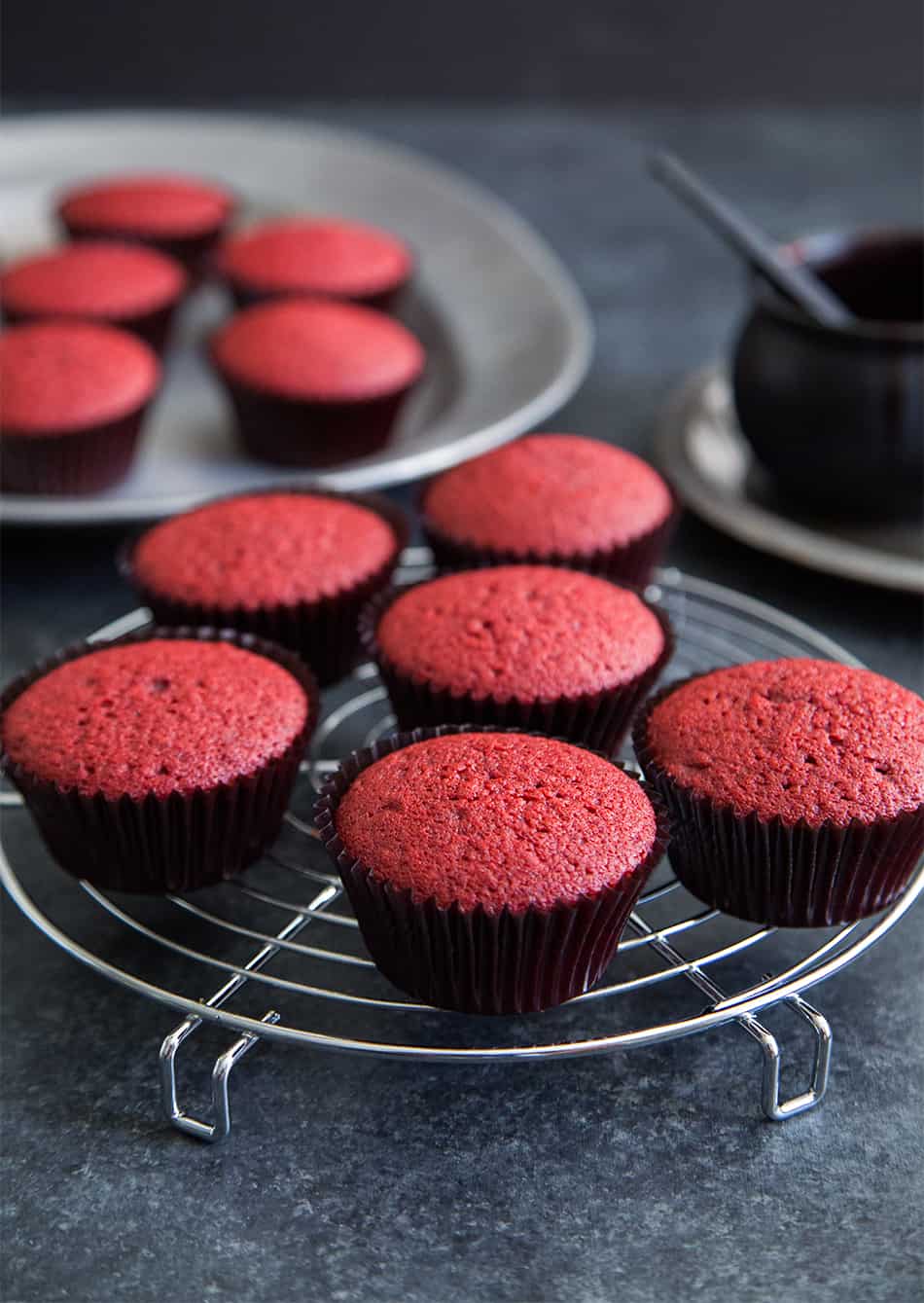 Sadly I no longer dress up in Halloween costumes. Nowadays, I prefer to participate in this fun holiday by making Halloween themed desserts and cocktails. Since I had so much fun with my surprise bloody cake, I'm using the same raspberry coulis (blood) for another treat. These bloody red velvet cupcakes are my new favorite! I lost interest red velvet some time ago, but this revived my love for this classic cupcake.
Cream cheese frosting and red velvet cake are an undeniably delicious pairing. While making these bloody cupcakes, I learned that when you add raspberry coulis to the mix, it turns this traditional pairing into a surprisingly fantastic trio. The bright notes of the raspberry coulis really brings the red velvet cake to life… perfect for Halloween!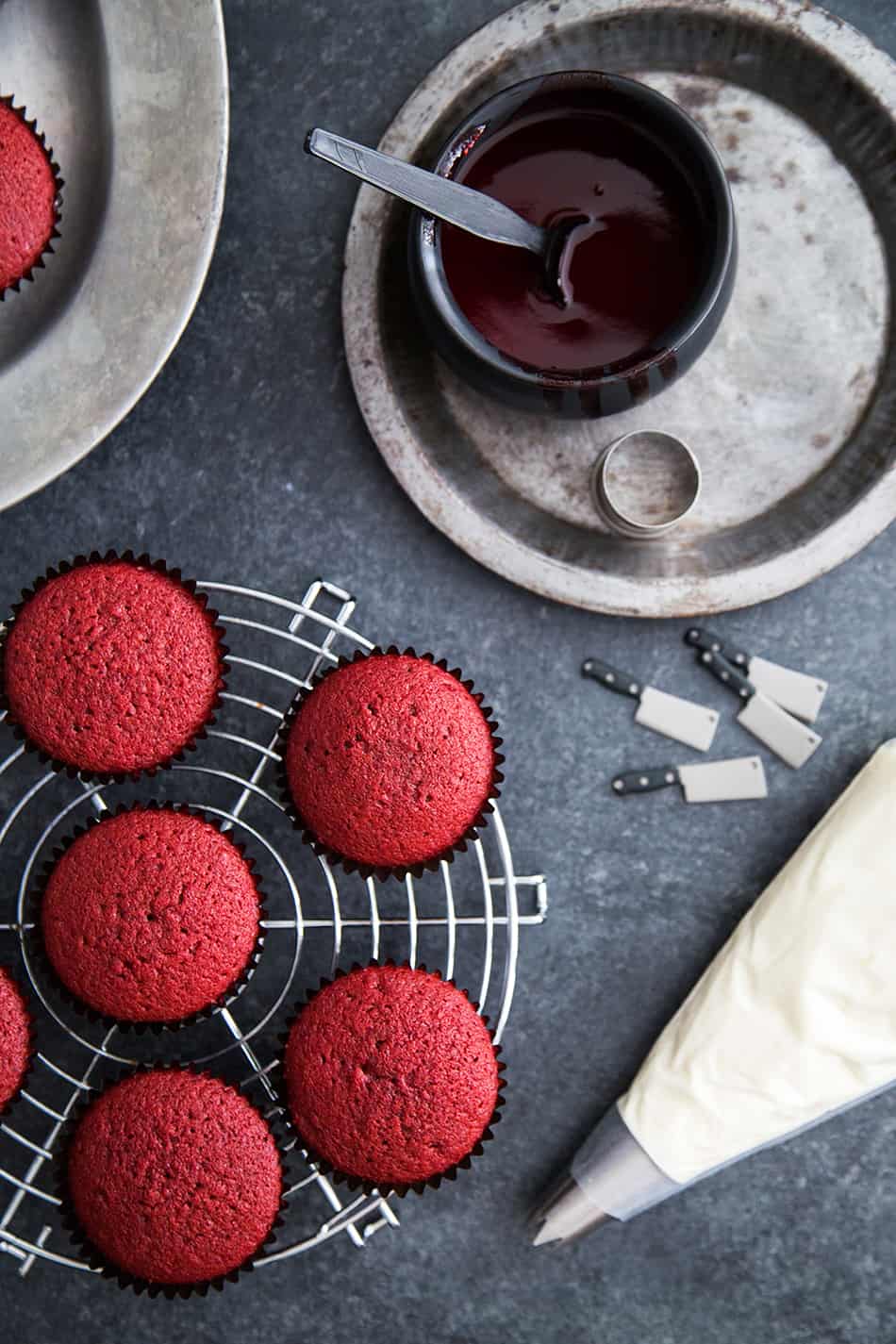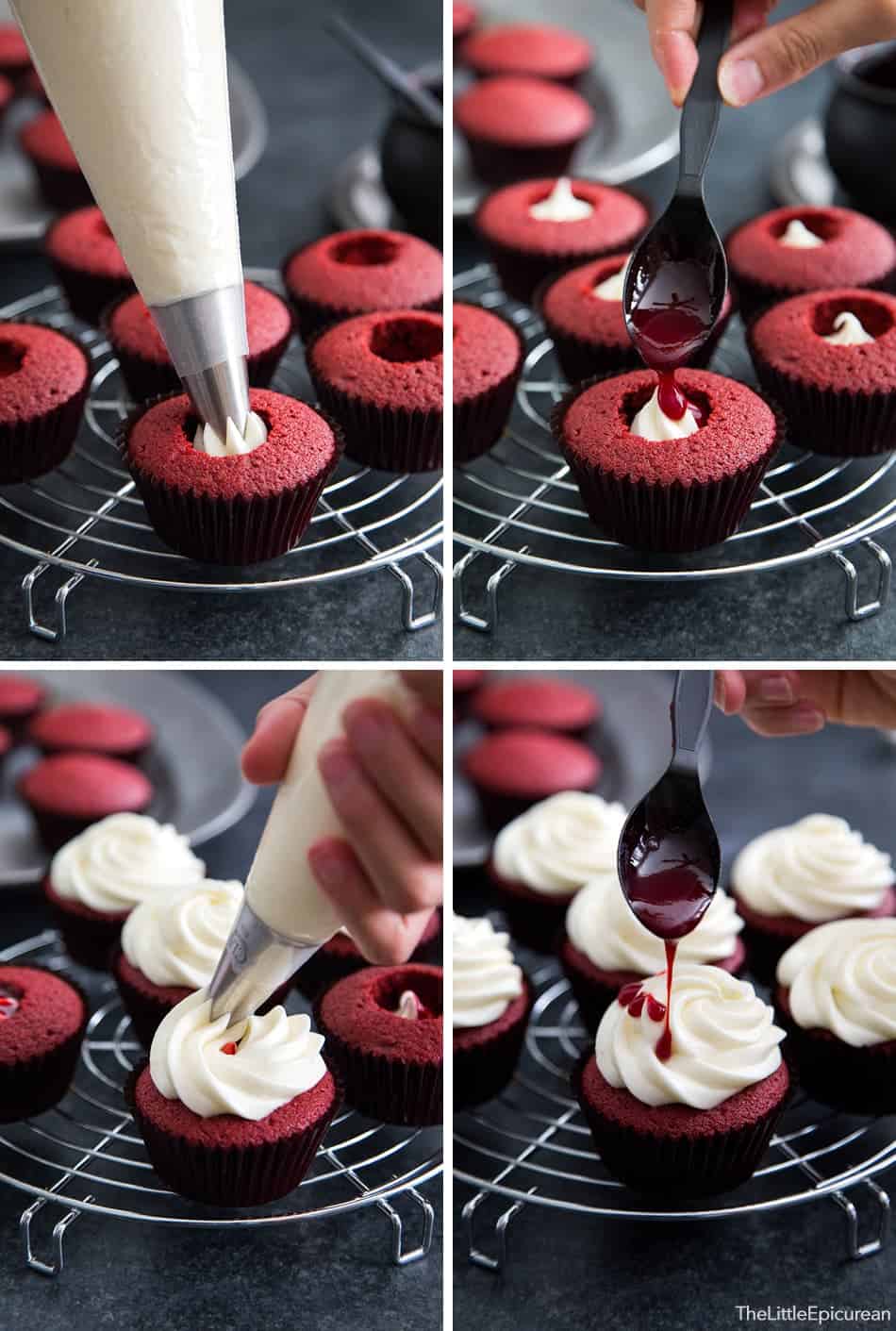 Use a small round cookie cutter (or apple corer, melon baller, or the fat end of a piping tip) to punch of a shallow cavity on the top of each cupcake. Fill the cavity with cream cheese frosting and then drizzle raspberry coulis on top. Cover up the cavity by piping a large rosette on top of the cupcake. For the final bloody touch, drizzle a little raspberry coulis over the frosted cupcakes. And if you're in the festival Halloween spirit, decorate the cupcakes with these royal icing meat cleavers.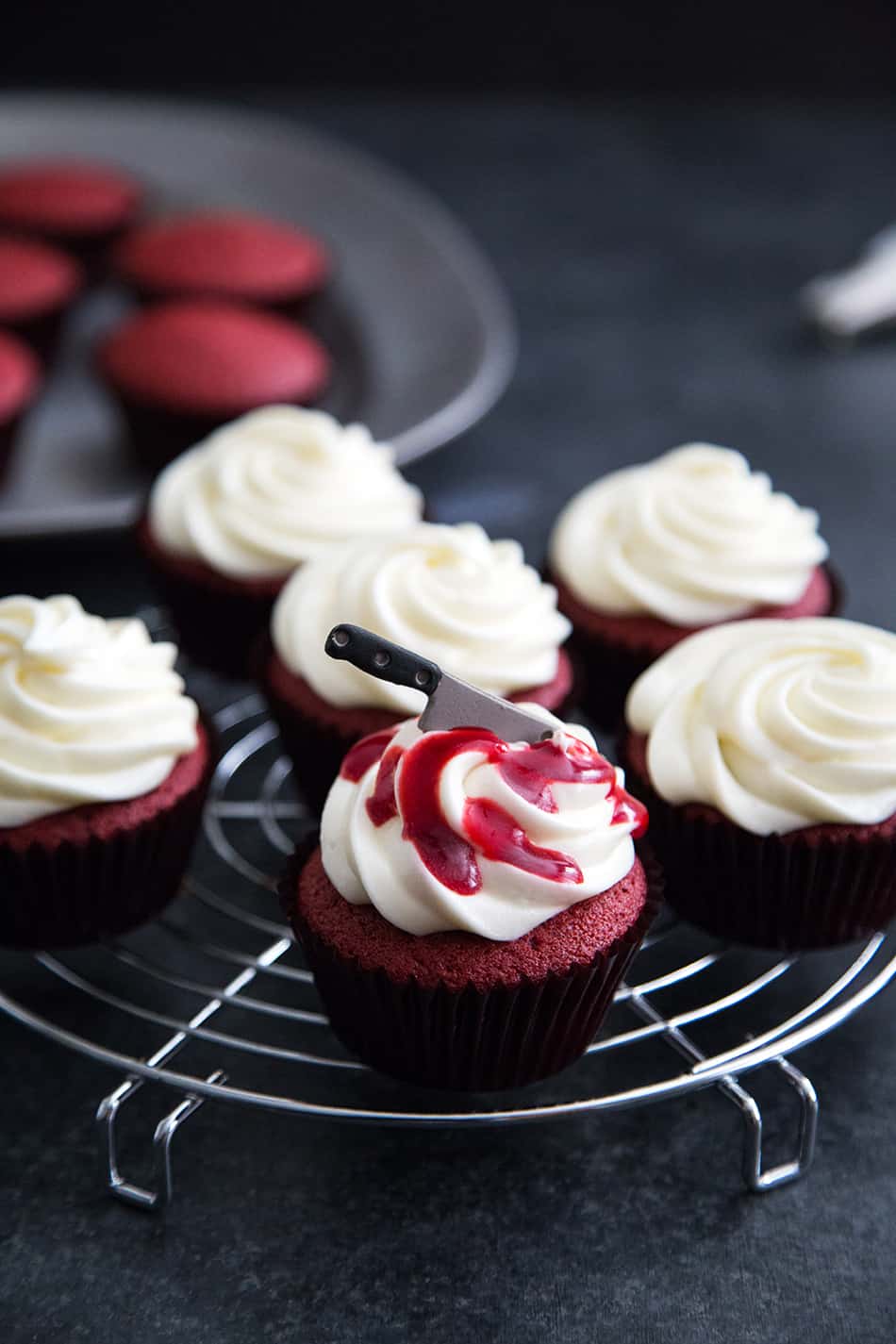 Blood Red Velvet Cupcakes
Yield: 1 dozen standard size cupcakes
Ingredients
1 1/4

cup

all-purpose flour

1/2

teaspoon

baking soda

1/2

teaspoon

fine sea salt

1

Tablespoon

unsweetened cocoa powder

3/4

cup

granulated sugar

3/4

cup

vegetable oil

1

large egg, room temperature

1/2

cup

buttermilk, room temperature

1/2

Tablesoon

red food coloring (liquid)*

1

teaspoon

vanilla extract, or paste

1

teaspoon

distilled white vinegar
Cream Cheese Frosting:
8

oz

cream cheese, room temperature

1/2

cup

unsalted butter, softened

1

teaspoon

vanilla extract

3

cups

powdered sugar, sifted

pinch fine sea salt
Raspberry Coulis:
12

oz

package frozen raspberries

5

Tablespoons

granulated sugar

2

teaspoon

lemon juice

1

teaspoon

lemon zest
Instructions
Preheat oven to 350 degrees F. Line standard 12-cavity muffin pan with cupcake liners. Set aside.

Sift together flour, baking soda, salt, and cocoa powder. Set aside.

In the bowl of a stand mixer, beat together sugar and vegetable oil. Add egg. Mix until combined.

In a separate bowl, whisk together buttermilk, red coloring, vanilla, and vinegar. Add half of liquid mixture to mixing bowl. Mix on low speed. Add half of sifted dry mixture into mixing bowl. Mix until almost combined. Then add remaining wet ingredients followed by remaining dry mixture. Mix until just combined. Scrape down bowl as needed to ensure thorough mixing.

Divide batter among prepared cupcake pan. Bake for 18-20 minutes until toothpick inserted in center of cupcakes comes out clean. Let cool in pan for 5 minutes. Gently remove cupcakes from pan and allow to cool to room temperature on wire racks.
Cream Cheese Frosting:
In the bowl of a stand mixer fitted with a paddle attachment, beat together cream cheese and butter until smooth. Add vanilla. Add powdered sugar in 1 cup increments. Add pinch of salt. Mix until smooth and fluffy.
Raspberry Coulis:
In a medium sauce pot, add frozen raspberries, sugar, lemon juice, and lemon zest. Cook over medium heat until sugar has dissolved, raspberries have thawed, and mixture has slightly thickened. Stir occasionally to prevent raspberry sauce from burning along the sides of the pot. Remove from heat. Strain out raspberry seeds. Keep raspberry coulis (sauce) in the fridge until ready to use.
Assembly:
Once cupcakes are cool, use an small round cookie cutter (or apple corer, melon baller, fat end of piping tip) to punch out a shallow cavity on top of each cupcake.

Prepare a piping bag with a medium star top. Place frosting in prepared bag and fill the cupcake cavity about 3/4's full. Drizzle about 2 teaspoons of cooled raspberry coulis over the frosting. Pipe a large rosette to cover the hole.

Drizzle additional raspberry coulis over frosted cupcakes. If desired, decorate finished cupcakes with royal icing knives.
Recipe Notes
*Note: I used liquid food coloring. Reduce amount of coloring if you use gel food coloring.